A TOTAL of four McStays have played for Celtic, two brothers in the 1920s who were great-uncles of the two brothers who played in the 1980s. On four occasions – 1923, 1925, 1927 and 1985 two brothers McStay won Scottish Cup medals. Willie and Jimmy played in the 1920s and Willie and Paul played in the 1980s. Jimmy,of course, was the manager during the war years, and Willie junior had a career in management as well, although not for Celtic.
WILLIE McSTAY (Senior)
Sometimes called "the tank" (he had served in the Great War) because of his rugged defending, Willie McStay senior (sometimes written McStey in newspaper reports and certainly pronounced by the fans as if it rhymed with the vowel in "mighty", hence the frequent headlines of "mighty McStey") was equally at home anywhere in the defence – right back, left back, right half or centre half, although he always said that left back was his favourite position. He was also an inspirational captain, a brilliant tactician and a reliable taker of penalty kicks.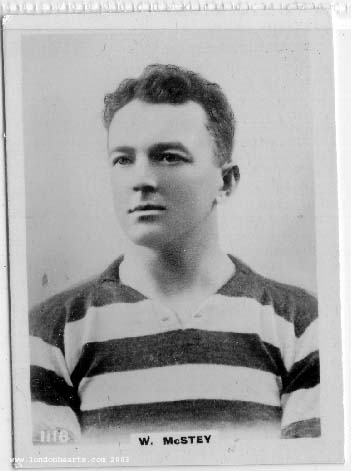 He made his debut on the opening day of the 1916/17 season and held his place in that very fine side which lost only on the penultimate League game and conceded only 19 goals all season – something that did a great deal to cheer supporters up in the face of grim news elsewhere.
He then took part in the latter stages of the war, but came back to dominate Celtic's defence throughout the decade of the 1920s.
While other players like Gilchrist, Cassidy, Cringan and McInally threw tantrums and caused trouble, McStay remained like a rock to rally players and supporters. He was not immune to disaffection, however, nor the "insidious effects of socialism", and history has not been kind to him in terms of why he was not in the team that lost the Glasgow Charity Cup semi final against Rangers in 1923. (He was apparently in the USA considering a career there.)
An intelligent and well-read, gentle, urbane man, Willie realised in 1925 that Rangers were a better team, but before the famous semi final, concocted with Patsy Gallacher the plan that defeated them 5-0, withdrawing totally into defence for the first half of the game and then hitting them hard in the second. He had the ability to nurture young vulnerable players like Connolly, Thomson and McGrory, and it is difficult to overstate Willie's contribution to the cause throughout the difficult decade of the 1920s.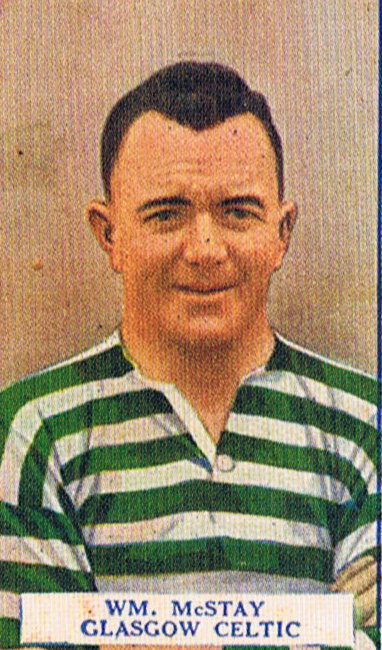 He played equally well for Scotland, latterly as captain. He played in the side that beat England 2-0 at Hampden in 1925 when Scotland won the treble, and was captain a year later when they won 1-0 at Manchester. In 1927, however, he made the tactless remark about how Scotland's defeat was all due to his full back partner Bob Thomson of Falkirk – something that Falkirk people never forgave him for.
He was 35 when he left Celtic in 1929 after over a decade of consistent service. He subsequently had a short time with Hearts then dabbled in Irish football before retiring to his Lanarkshire home and his passion for dogs.
Continue to the next page to read about Jimmy McStay…