NEIL LENNON was probably more elated than he thought he'd be after a win against Hamilton at Celtic Park but the dramatic circumstances of the last few minutes of this match coupled with the Aberdeen fightback at Pittodrie gave last night an extra-special significance for Celtic have now moved two points ahead of the the Rangers in the title race.
"It's a huge psychological lift. We will be vibrant and strong going into the final.
"I didn't enjoy the game but you will see a different team at Hampden – physically and mentally.
"It's the psychology of sport – people are asking about the cup final and subconsciously that was playing on their minds.
"We were flat and we were tired mentally at the end. Hamilton equalised and then we come to life again.
"We deserved to win but you could just feel even before the game that it would be difficult.
"However, I am delighted we won, I am thrilled for the players and I understand why it was a bit flat.
"It's a big win but is it pivotal? Not really. All wins are important.
"We are two points ahead but don't listen to the noise," Lenny said after the 2-1 win over Hamilton, as reported by Scottish Sun.
You sensed that there was tension around the manager at his Media Conference before the Hamilton game. The press were insistent in trying to talk about the (first ever) League Cup final between Celtic and the Rangers but Lenny, probably sensing the danger, was having none if it.
Even the crowd on a bitterly cold and windy night in Glasgow, was lower than usual and a little flat until the latter stages of the match. But what a moment that was when Scott Brown picked his spot in the corner of the net and those of us still inside Celtic Park let out one almighty roar, dancing around in celebration.
Fraser Forster ran the entire length of the park and back again to join in the celebrations at the Jock Stein stand. The big goalie, who had made a brilliant save in the game and was faultless at the shock equaliser, was praised alongside the captain by Lenny on the night to remember at Celtic Park.
"It's a huge goal from Scott. We have won 11 games in a row and we are two points clear.
"Big game players come up in big moments. Fraser made a big save and then Scott scored. He's massive for us.
"Hamilton's goal shouldn't have counted as Alex Gogic is on the pitch when he takes the throw.

"But we should have dealt with it and we got a bit deeper. We were passive at times but we have won."
On that Hamilton goal not counting, there is a focus on the Hamilton boss claiming a foul at Broony's goal from Leigh Griffiths – watching it back I have no idea what he's on about. Up at Pittodrie John Beaton has been apologising to Steven Gerrard for not giving him a penalty (did Neil Lennon get an apology from Kevin Clancy for the TWO penalties he missed at Easter Road? You and I both know the answer to that one…), yet there's nothing been made of the Hamilton player entering the pitch to take a ling throw in. A basic and easy thing for an Assistant Referee (linesman) to pick up surely?
Scott Brown looking up at the scoreboard as the result from Pittodrie was announced was the icing on the cake. Delicious so it was! What a night!
DON'T MISS OUR COVERAGE FROM LAST NIGHT MATCH…
David Potter and the President of Albania give their post match thoughts HERE.
Sandman's Player Ratings are simply UNMISSABLE this morning. Laugh out loud HERE.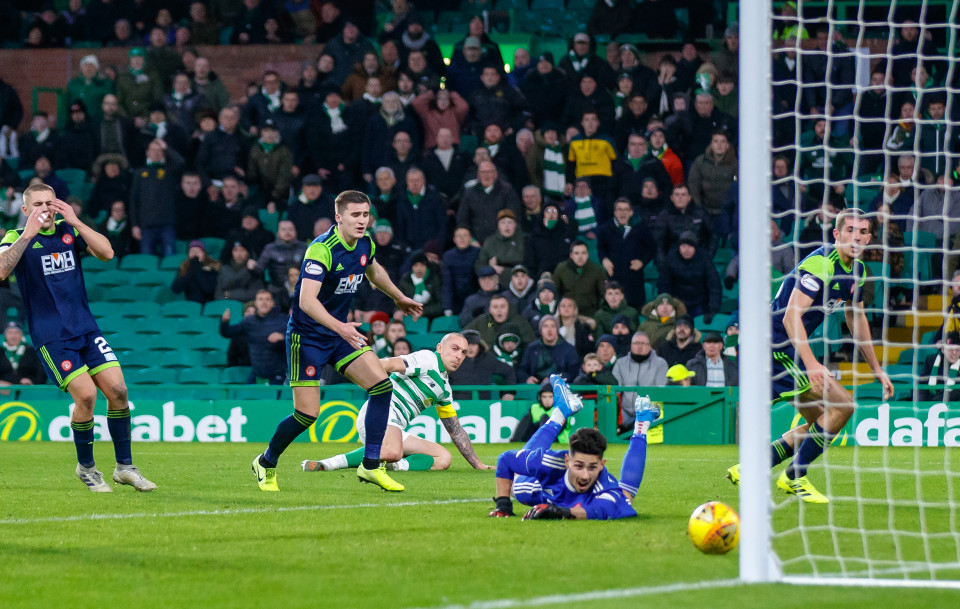 Watch the moment Scott Brown takes advantage of Steve Gerrard's latest slip HERE.
Niall J's post match opinion is well worth a read – see HERE.
And my own match report, another Scott Brown Won the League moment…see HERE.