With the imminent departure of centre back Kris Ajer to Brentford, Celtic were in desperate need of signing a replacement with the Champions League qualifiers just around the corner and on the same day the big Norwegian left Celtic Park, another Scandinavian was on his way in to replace him. On 21 July, 26-year-old Swedish international defender Carl Starfelt joined Celtic on a four year deal from Russian side Rubin Kazan, in a deal thought to be worth £4.2m.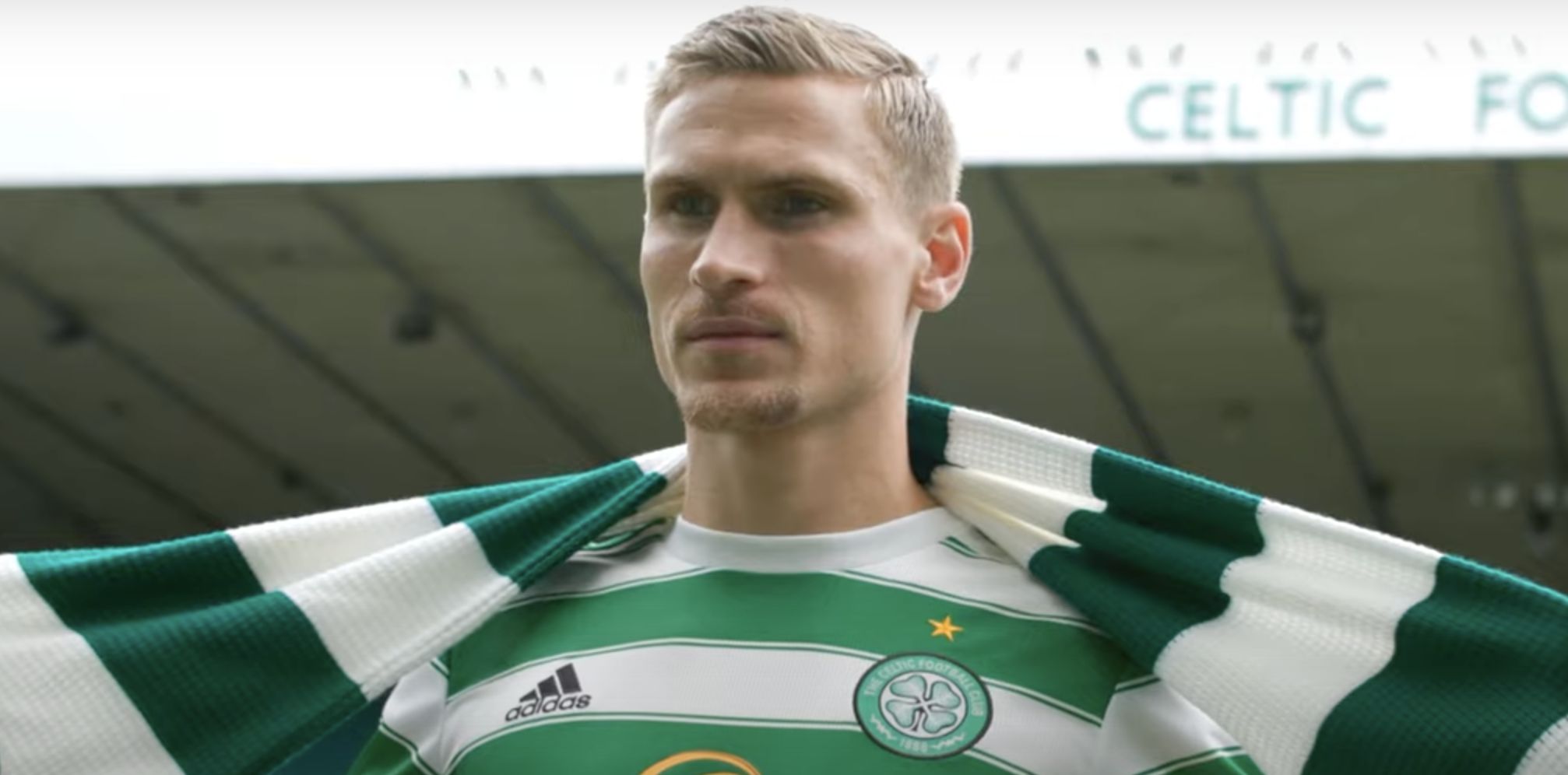 On signing for the club, Starfelt explained both his short and long term aspirations in the hoops. Talking to the official Celtic website he said:
"My hopes are, first of all, to get into the team, to know how the team plays and just get a good start. It's always a little bit of adaptation when you come to a new club.

"I want that to be as smooth as possible, and then we have bigger goals – I want to be successful here, for the team to be successful, to win titles, to play in Europe – I want to do all those things. But I need to focus on the here and now, and right now it's just to get into the group and the team."
Celtic manager Ange Postecoglou was happy to get the deal for the defender wrapped up and was looking forward to integrating his new signing with the rest of the group. He said:
"I am really pleased agreement has been reached and we are really looking forward to Carl joining up with the squad. Carl is an experienced player and someone with the attributes to be a real success at Celtic.

"He is a strong, athletic and committed defender and will add quality to our squad. I am sure he will be a player our supporters will welcome warmly and someone who will be really important for us going forward."
Starfelt was given a chance to cement his position in the starting eleven from the get-go, making his debut in the first league game of the season against Hearts at Tynecastle where the away team fell to a 2-1 loss to their Edinburgh rivals. The Swede struggled throughout the match, and didn't perform much better in a couple of Europa League qualifiers around the same time, looking jittery at times against Jablonec and scoring a dodgy own goal against AZ Alkmaar.
These performances left the Celtic faithful less than impressed with their new recruit. Many expected a more confident, composed defender due to the fact he was a Swedish international and had come highly regarded from his spell at Rubin Kazan. Personally I felt he was due a bye-ball as he had only recently joined and was still bedding in to a new team and new surroundings, a few poor moments during these games shouldn't see us write him off so quickly.
With Starfelt clearly struggling for confidence his performances were a mixed bag. Often he would look more than decent during matches but it seems there was always a mistake in him and often these would prove costly and render all the good moments he had done previously meaningless.
During November Starfelt spent time on the sidelines with a hamstring injury and when he returned he looked far more reassured than before, putting in good performances against Hearts, Dundee United and Motherwell, where Celtic didn't concede a goal.
Then came Ross County away where the Swede got sent off. By failing to control his anger at what was a ludicrous decision to give a foul against him when he got elbowed in the face he got himself booked. He then presented the referee with the opportunity to send him of by making a silly challenge moments later. Dismissed unfairly? Definitely. But he should have been smarter. Put it this way, Scott Brown would never have fell for the trap left by the referee who was clearly looking to send him off.
So far it would be fair to say Carl Starfelt has failed to impress most of us. There is obviously an excuse to make for the Swedish international in that he is being played out of position. He's currently being utilised as the left centre back to accommodate Cameron Carter-Vickers who is playing in Starfelt's more natural position at the right side of the two. This though isn't a strong enough argument to cover his weaknesses.
You could also point to the fact that Celtic currently have the best defensive record in the league and Starfelt has been a big part of that as he has played in 16 games out of the 20 so far. Many though will say this record is in spite the fact Starfelt has played in so many games as opposed to it being due to his presence.
We could forgive his nervousness and lack of confidence at the start but we are half way through the season now and he still looks fragile. As I said before he looks decent at times and you feel he's becoming the player we all hoped he would be then he makes another mistake and his confidence seems to plummet.
Obviously Ange Postecoglou rates the player, when he's fit he is a first choice pick for the manager. Personally from what I have saw so far this season I think Stephen Welsh is the better choice out of the two. Although less refined, Welsh definitely makes less mistakes and is overall the steadier of the two.
Starfelt at his best I believe is the superior player overall but you are always running the risk that he could lose concentration and cost the team points. Welsh is also more adept at set pieces, both in the defensive aspect and when attacking at the other end.
The jury is definitely still out on our Swedish centre back. Unlike players such as Forrest and Taylor, who divide opinion in equal measures, it is more difficult to find vehement supporters of Starfelt. Plenty of us look at performances such as his man of the match showing against Hearts at the start of December and realise there is a player there but unfortunately we haven't seen them sort of performances enough.
Starfelt really will have to improve his consistency over the rest of the season and could do with a few more standout performances in big games to help both his confidence, and our confidence in him. In a title race that looks like it will go down to the wire, any mistakes will be magnified so he really will need to improve.
I genuinely think there is a good player in there and I hope he can prove all his doubters wrong during the second half of the season. Our manager obviously sees something in him, hopefully we will all agree with him by the time this season ends.
Conall McGinty