Well it certainly looks like Celtic aren't going to win Ten-in-a-Row and given the awful start to 2021 with only 3 points won from twelve and 4 games without a win, there is no Celtic supporter out there that we've seen who is still holding out any hope whatsoever that the elusive Ten can be delivered. C'est la vie and all that.
However the next thing we're going to hear PLENTY about is that the 20/21 title win will NOT be theRangers' first ever domestic trophy and their first ever title win but for the club formed in 2012 it's going to be their 55th title win. Scottish Football's Big Lie.
That though is for another day.
In season 2016/17 in pretty much the last effort on goal that Celtic had in the last game of that unforgettable campaign, on Saturday 27 May at around 4.50pm Tom Rogic, with lightning striking the Hampden pitch just behind the big Australian, drifted past three Aberdeen defenders and seeing the white in Joe Lewis the Aberdeen's goalkeepers eyes, and from the tightest of tight angles, found the back of the net to win the Scottish Cup thus making Brendan Rodgers' Celtic side INVINCIBLE. Matt Corr of this parish has even written a (Fantastic) book all about it.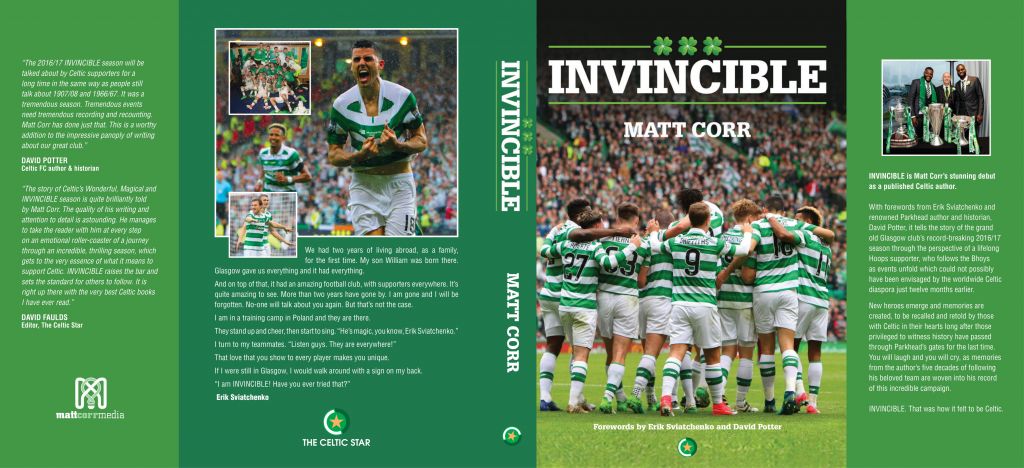 Celtic had already won the League Cup – beating Aberdeen 3-0 in the Final and negotiated 38 league games without defeats with 34 wins, 4 draws and ZERO defeats – thus that Celtic side were called INVINCIBLE.
If any comparison is ever going to be made to for instance The Lisbon Lions then a Scottish side would have to win the European Cup and a domestic Treble. Then comparisons can be made. And if you want to make comparisons to Brendan Rodgers' Celtic side of 2016/17 and use the INVINCIBLE tag then that club needs to win the league and both cups without losing a single game. It's called common sense.
Back to this season and while theRangers have been so far unbeaten in the Scottish Premiership it seems that today history is being re-written yet again, away from the reality and instead into a Trump-like distorting of the truth to create another reality that is more palatable to the hordes who'll eager lap it up.
And it's the MSM yet again serving this alternative reality up. Why? Well, we all know the answer to that one.
Last month St Mirren knocked-out theRangers from the Betfred Cup, winning 3-2. The proof is below for those who would label this claim to be FAKE NEWS.
So we contend that it actually happened. St Mirren beat theRangers 3-2. Indeed today as a result of that win St Mirren played Livingston in the next round of the same competition – the semi-final at Hampden and lost 1-0. That means that Livingston will be in the Final where they will play St Johnstone – they beat Hibs 3-0 in the other semi-final yesterday.
So to repeat that, for the avoidance of doubt, St Johnstone will play Livingston in this season's League Cup Final.  FACT. 
So why are the MSM claiming that Steven Gerrard's side can match Celtic's Invincible season of 2016/17 given that they cannot win the League Cup and haven't even kicked a ball yet in the Scottish Cup?  Celtic fans though haven't been slow to point this out to the hacks – not that they'll care. They know that The Gullibles are, well, gullible.
Here's two replies to this nonsense that should make you smile…
Play St Mirren in the cup again? https://t.co/m6cZMnZlmC

— Richard McGinley (@Richiestoke) January 24, 2021
Step 1 – Invent Time Machine
Step 2 – Beat St.Mirren pic.twitter.com/ODfJuCphud

— 20MT Celtic Podcast (@20MinuteTims) January 24, 2021