Trying to get an answer from the Scottish Government regarding their different treatment towards both Celtic and Aberdeen regarding players' Covid restriction breach of protocols throughout this season has not been easy. That didn't stop The Celtic Star trying…
A quick re-cap. Various Aberdeen players were photographed out in city centre bars after their opening day defeat to theRangers at Pittodrie. Meanwhile shortly after that Celtic's Boli Bolingoli headed over to Spain for a sleep-over after Celtic opening day victory over Hamilton. He arrived back, was on the bench for the game at Kilmarnock and came on in the closing stages.
Nicola Sturgeon's anger was apparent and both Celtic and Aberdeen were told by the First Minister that they would not be playing for their next two games – something that put Celtic on the back foot in the league from pretty much the early stages – and Scottish football was also issued with a yellow card by Nicola Sturgeon, who pointed out she as using language that football would understand and that we all know what comes after a yellow.
Nicola Sturgeon: "I regret that some football players seem incapable of living up to their responsibilities. We can't have privileged players just deciding they won't bother. Don't expect Aberdeen/Celtic to play over the coming week. This is a yellow card. Next time will be red."

— Barry Anderson (@BarryAnderson_) August 11, 2020
When at the end of last year two players from theRangers Jordan Jones and George Edmundson were issued with Fixed Penalty Notices from Police Scotland for being caught breaching the lockdown rules by attending a house party – believed to be a birthday party for a teammate who appeared not to be there – a Scottish Government spokesperson released a statement COMMENDING theRangers for taking swift action agains their two Covidiots.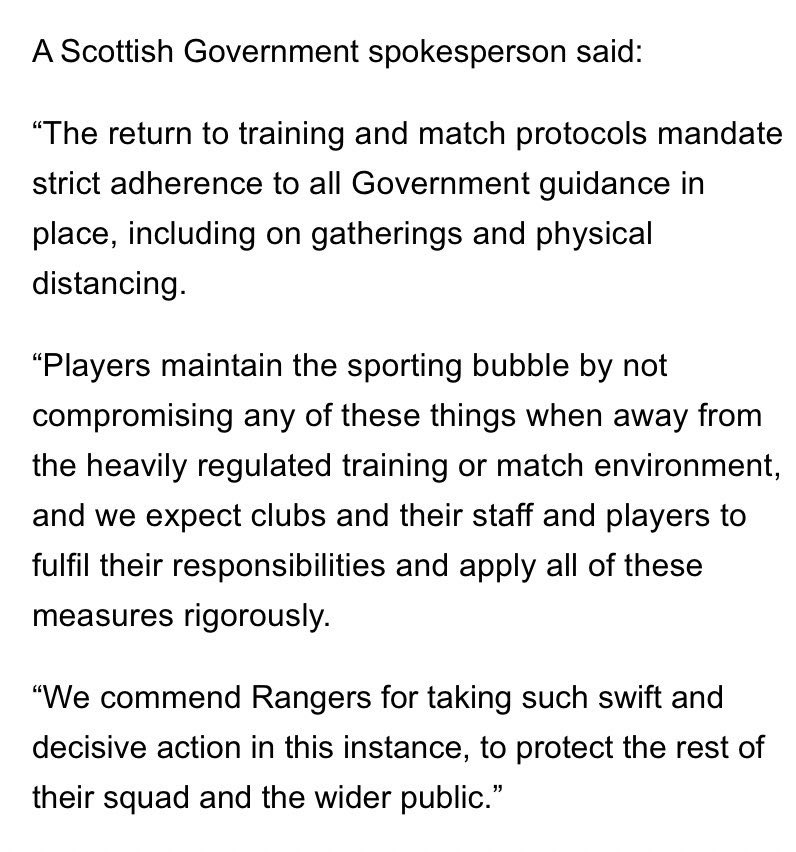 📝 The Scottish Government are commending Rangers on their 'swift and decisive' action after suspending Jordan Jones and George Edmundson.

"We commend Rangers for taking such swift and decisive action in this instance, to protect the rest of their squad and the wider public". pic.twitter.com/nTJekDDGnk

— Clyde 1 Superscoreboard (@ClydeSSB) November 2, 2020
Rangers pair Jordan Jones and George Edmundson each handed 7 game bans by the SFA after the pair breached Covid rules.

— Raman Bhardwaj (@ramanbhardwajTV) November 19, 2020
There was no mention of this latest breach by Scottish Premiership players – unlike on the earlier occasions involving Aberdeen and Celtic players and there was therefore no further threats of yellow or red cards being issued.
Then there was the second breach from theRangers squad, this time involving FIVE players – Nathan Patterson, Bongani Zungu, Calvin Bassey, Dapo Mebude and Brian Kinnear – and the SFA Tribunal into their breaches of the Covid rules was heard yesterday, with a decision expected on Monday. Remarkably these players have been allowed to continue to play – Patterson has actually played in Europa League matches and came on as a substitute at Celtic Park on Sunday.
Rangers confirm 5 players breached Covid rules.

Players to be fined & "dealt with internally" as the club works with SFA & ScotGov to "find the solution in-terms of those boys."

Players are Nathan Patterson, Calvin Bassey, Bongani Zungu, Dapo Mebude and Brian Kinnear.

— Connor Gillies (@ConnorGillies) February 17, 2021
I contacted both my MP and MSP about this with the former, Alyn Smith MP, directing the matter to Bruce Crawford (SNP) MSP for Stirling constituency. Bruce, who is a football man and is a passionate Dunfermline Athletic supporter, understood the point I was making regarding the inconsistencies and promised to raise the matter with the relevant  Minister. Nothing happened though so after another round of chasing up he agreed to write directly to Nicola Sturgeon on my behalf.
Now over the past few weeks I recognise that Nicola Sturgeon has had plenty of more pressing matters to deal with and it has to be noted that she handled these issues that threatened her position as First Minister very well indeed. She has been an outstanding First Minister, has handled the Covid crisis as well as anyone could expect and the SNP will retain the support of many of those reading this – including myself.
That however does not mean that the way the football breaches this season were handled can be regarded as fair, even handed or reasonable. And her party is hardly likely to find much favour with the Unionist leaning supporters of theRangers. But as First Minister party political matters have to be secondary during a time of national crisis. But fairness is essential otherwise people are left disappointed, frustrated and even angry.
Here is the letter that Bruce Crawford MSP sent to First Minister Nicola Sturgeon on my behalf and the reply he received from the Scottish Government yesterday. Make of it what you will. The matter incidentally will be revisited after the Election which presumably she will win…
Ms Nicola Sturgeon MSP
First Minister
Scottish Government
St. Andrews House
Regent Road
Edinburgh
EH1 3DG

22 February 2021

Dear First Minister,

Rangers Football Club

I am writing to you on behalf of a constituent who recently contacted me in relation to the above.

My constituent tells me that five players employed by Rangers Football Club were recently discovered by Police Scotland attending a social gathering in violation of the Scottish Government's public health regulations.

My constituent's view is that there is an inconsistency in the approach being taken regarding this incident, and the one that was taken following breaches by players of Celtic and Aberdeen in August of last year.

My constituent therefore asks why Celtic's game was postponed and the club issued with a yellow card for their breach of the coronavirus (COVID-19) guidelines, while Rangers appear to have committed two such breaches and have not had similar action taken against them, but rather had a statement from the Scottish Government commending their actions after the first breach.

Given the above, I would be grateful for your consideration of my constituent's views and for any comment you are able to provide in relation to the points that he has raised.

I thank you for your attention to this matter and I look forward to your response. Kind regards,

Bruce Crawford (SNP)
MSP for Stirling constituency
THE RESPONSE arrived yesterday and came from Scottish Government DIRECTORATE FOR SAFER COMMUNITIES, DSF: Police Division…
25 March 2021

Dear Bruce Crawford MSP,

Thank you for your email of 22 February to the First Minister for Scotland Nicola Sturgeon MSP, regarding football players reportedly breaching the Coronavirus Regulations. As we are now in a preelection
period, I am responding on her behalf.

Enforcement of the Regulations is a matter for the Chief Constable of Police Scotland. The Police and Fire Reform (Scotland) Act 2012 stipulates that the Chief Constable is responsible for the policing of
Scotland, and is accountable to the Scottish Police Authority for this, rather than to Scottish Ministers directly. These arrangements are in place to ensure public confidence that the police act independently, free from unwarranted Ministerial interference. Therefore, the Scottish Government cannot comment on the police handling of the case that you mention or the action taken by police officers in responding to this specific incident.

Police Scotland have been clear that they will continue to operate under the principle of policing by consent and follow the 4Es approach whereby they will Engage, Explain, Encourage and only then, if faced with wilful and blatant non-compliance, Enforce the coronavirus regulations – by for example issuing a Fixed Penalty Notice -as a last resort to protect public health.

From the outset of the pandemic, the Scottish Government has worked in partnership with the football authorities and clubs to ensure that the appropriate public health measures are in place. The Scottish Football Association is responsible for breach investigations, and the associated relevant sanctions.

The Scottish Government has highlighted on a number of occasions the obligations and restrictions on clubs.

It is vital that everyone, both in professional sport and across the wider population, understands the need to strictly follow all protocols and guidance to stop the spread of the virus and keep the country safe.

I hope your constituent finds this response helpful.

Yours sincerely

Ryan Paterson
POLICE : Powers and Workforce Unit