My review of this book, which I thoroughly enjoyed. If you think it incestuous to use my real name, (I did write a Foreword after all) give me a nom de plume like "Cerameus" (Greek for Potter!) or "Sunny Napoleon Quinn" or something…
Invincible by Matt Corr published by The Celtic Star
The book is well worth the money. It is billed as being ideal for Father's Day, but it could do for anyone's Day, and for those of us on lockdown who weary for the return of Celtic, it is an ideal tonic.
Containing nearly 300 pages, it focuses on the the 2016/17 Season, but it contains such a lot more than that. The author Matt Corr is extremely knowledgeable about Celtic and well travelled in his support of them, having followed them for several decades. His knowledge of some of the European clubs that we have met is quite phenomenal, and the detail that he goes into is absolutely astonishing. We look forward to a lot more books from this quarter.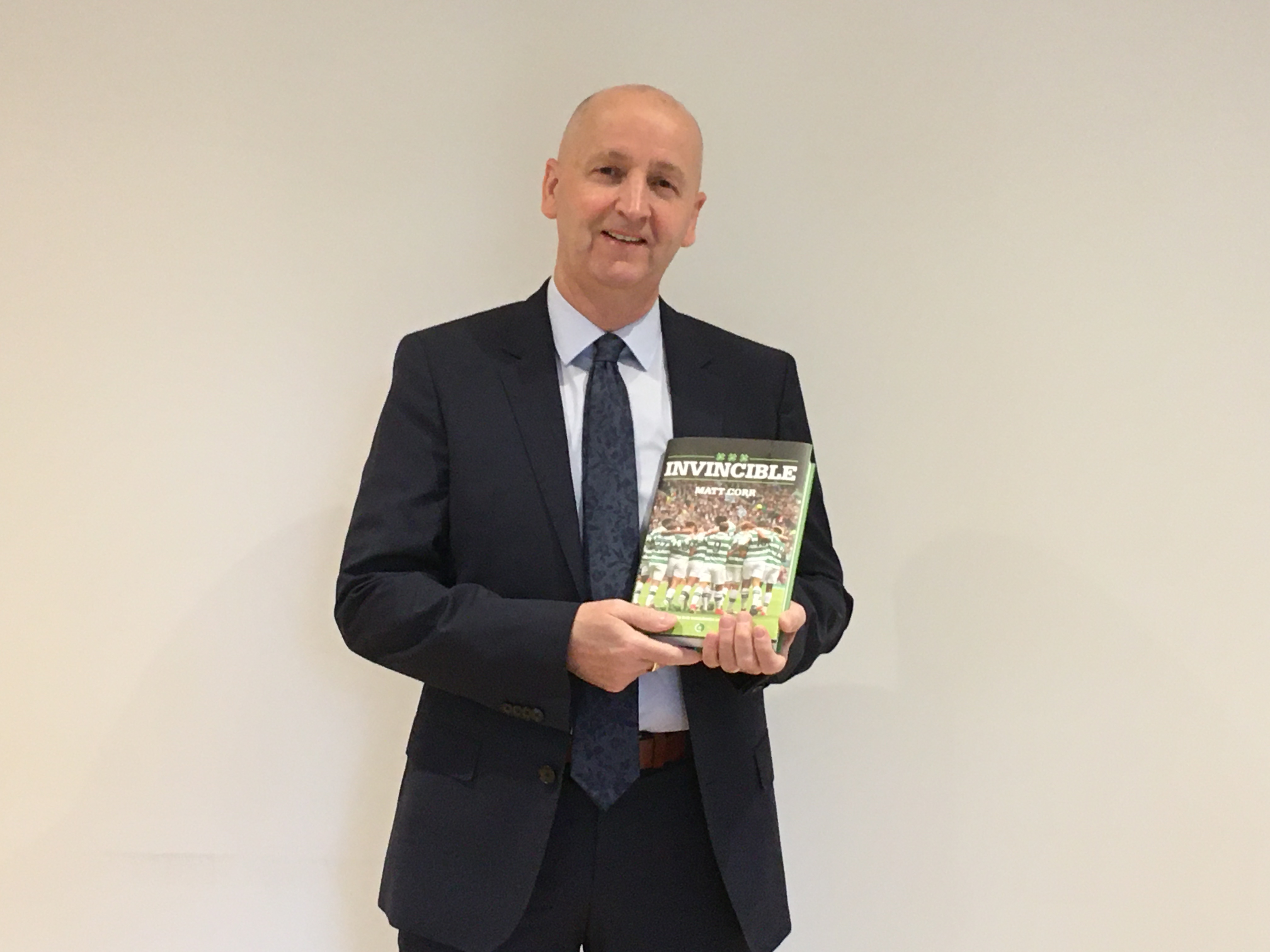 Every game of that fabulous 2016/17 season is lovingly detailed with even quotes from both Managers. The accounts of the game are usually very fair, although the Celtic bias inevitably shines through, and of course the bonus about all this is that the 2016/17 season is almost always good! And I had forgotten how good Scott Sinclair was in that first season!
There was one game in that fabulous season that I felt cheated by and that was the Borussia Monchengladbach game at Parkhead where defeatism was in the air almost from the start, and it was such an odd contrast to the other games that we played that season. No-one could criticise the defeats to Barcelona (although 0-7 in the Nou Camp was a bit high!), and the Manchester City games were examples of what Celtic could have achieved with a little more self-belief even against top class European opposition. The Monchengladbach game in Germany was a different matter and what a shame that Caley-Mac did not have just a little more composure at the end.All these games are described in loving detail in the book, including an explanation about why there is a picture with a man holding up a scarf saying "A German Team". The photgraph puzzled me until I read the text.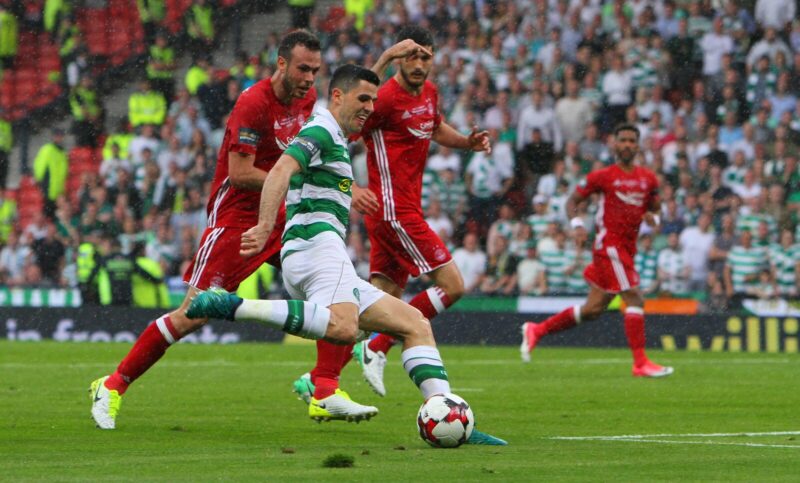 My favourite description is that of Tommy Rogic's winning goal in the Scottish Cup final on page 282. There was a thunderstorm going on at the same time, but the clap of thunder was nothing in comparison with the cry of the Celtic crowd. But there are other great pieces of description as well throughout the book, so that those of us whose memory slips a little from time to time have the opportunity to recall a few things. Oh, and how I loved the honesty about the two times that Craig Gordon might have got the long walk. That game against Alloa I recall well, and how close the men from the Wee County came to getting the better of us that cold night in front of the poor crowd!
Photographs are good, although some could have been a bit bigger. There is one, for example captioned "Kilts and Catalunyans on the Celtic Way" but the point is lost somewhat because one has to look hard to see kilts! But I love the collection of tickets, and the family photos, particularly the cute one of "The Broons".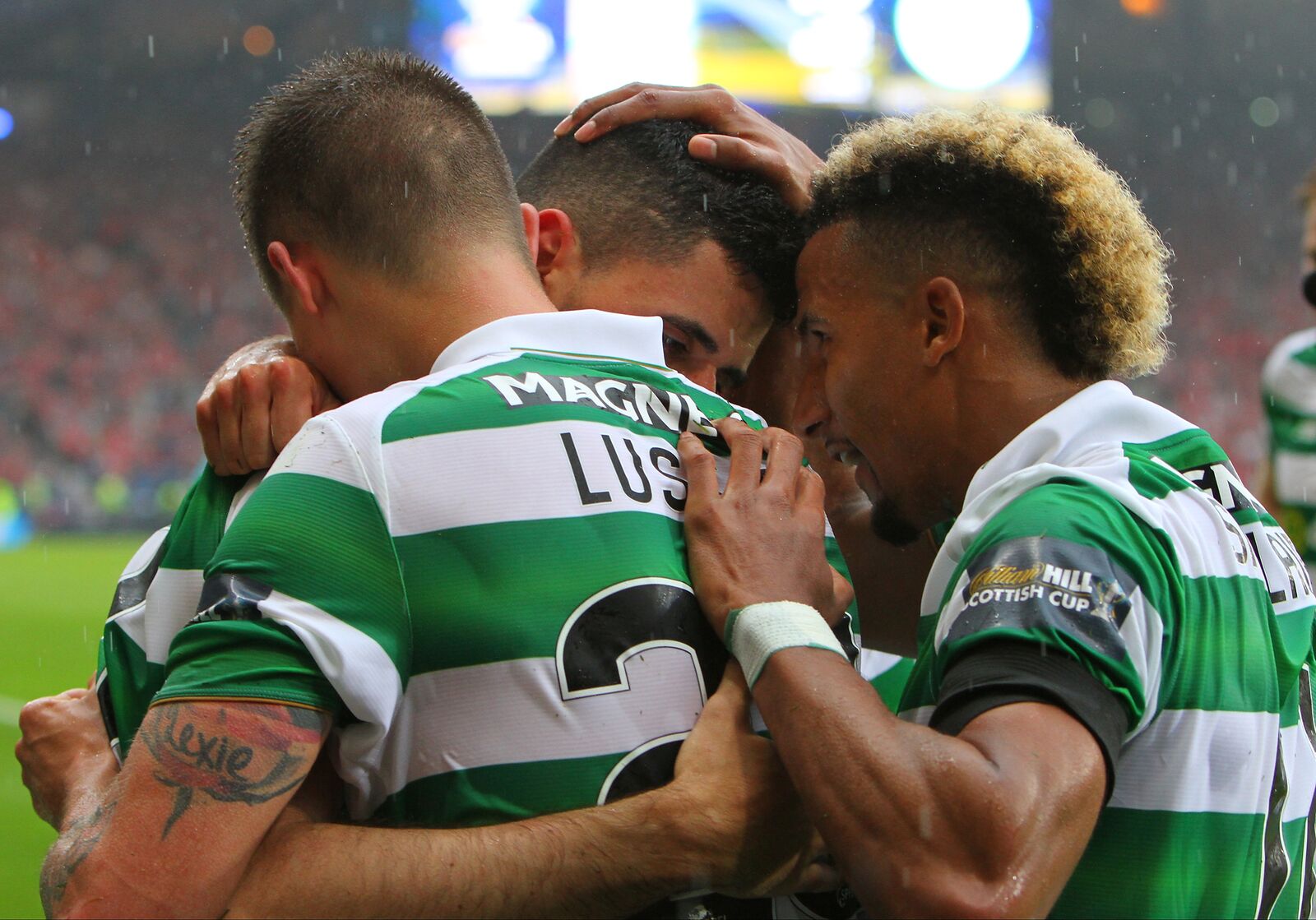 The author's style is engaging with frequent references to his family who share the passion. His late father in particular seems to be on this journey as well. Funny that, there are times when I know that my Dad as well is watching from "the mansions above"! The love of the club shines through this book.
A fine book, well written and with stats at the end. It is more or less bereft of inaccuracies or even missprints (on page 134 he says "given" when he means to say "giving"), but the book would have been all the better of an Index which I know are painful to compile but much appreciated by the reader.
If you want to know anything about 2016/17, you will find it in this book somewhere. You will find an awful lot beside. This book is well worth the money. Order it, and it will soothe the pains and frustrations of lockdown! Well done, Matt Corr, congratulations and thank you!
David "Cerameus" Potter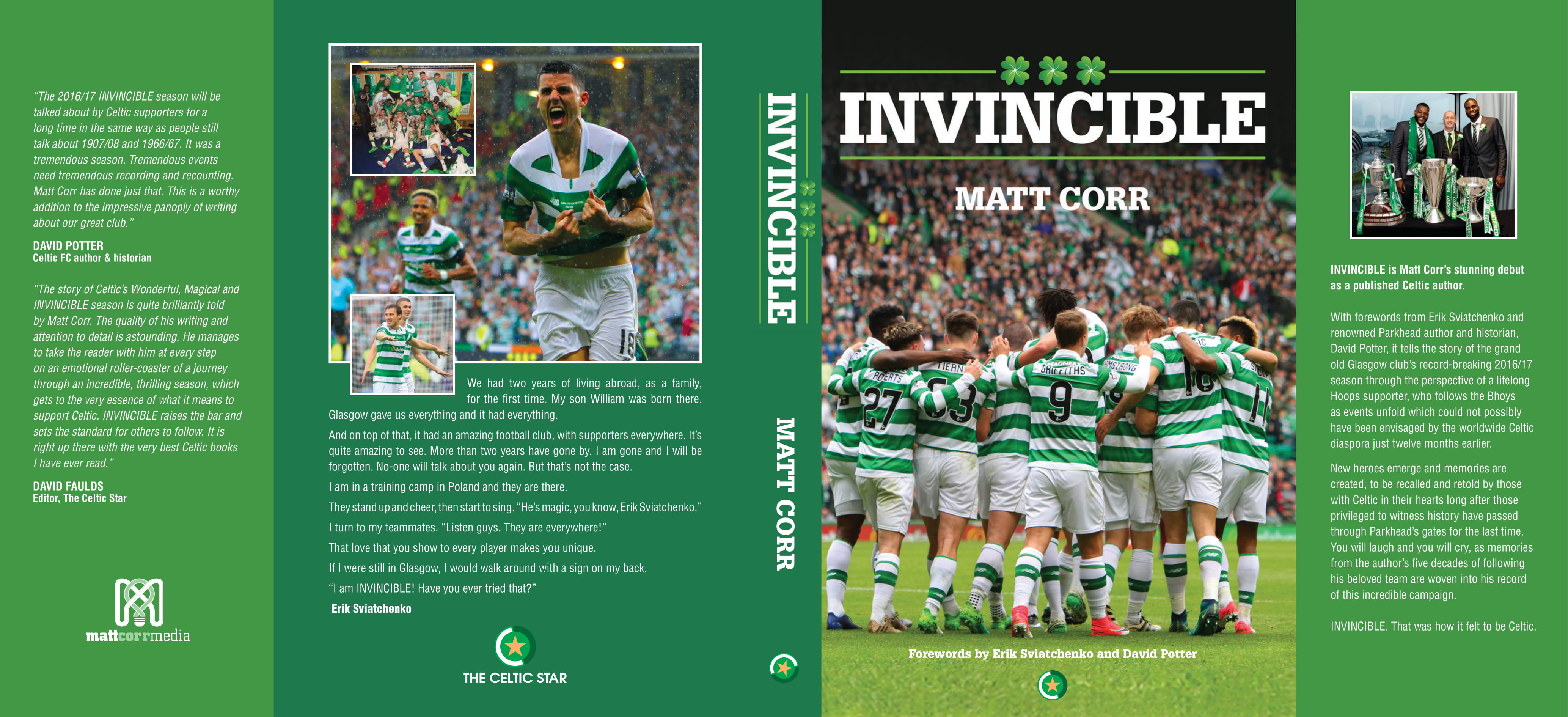 ORDER YOUR SIGNED COPY OF INVINCIBLE
Order your signed copy of Invincible HERE or by clicking on the advertisement below and we'll also send you a complimentary copy of That  Season in Paradise, covering Celtic's European Cup winning season in 1966-67. Together that's a pretty sensational Father's Day gift!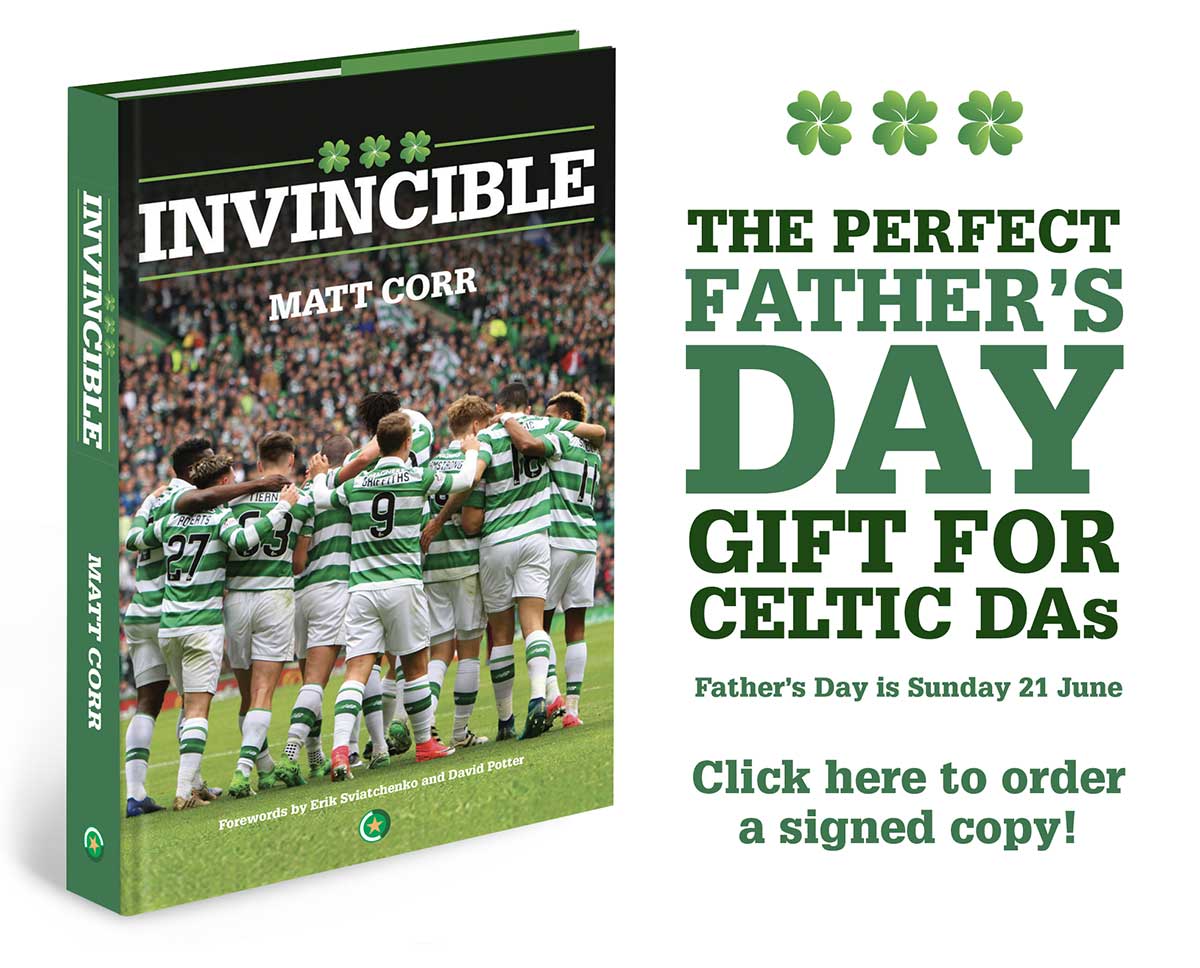 THE CELTIC STAR PROUDLY SUPPORTS THE CELTIC ACADEMY THROUGH CELTIC POOLS – and there has been a big win for one of our readers!
We've been supporting the Celtic Academy on The Celtic Star this year as part of our commitment to give something back to Celtic. Many hundreds of our readers have signed up to the lottery run by Celtic Pools and that is now providing a significant investment into the Academy. And this month a Celtic Star reader actually won the big prize so is many thousands of pounds richer as a result! Congratulations – we were absolutely delighted to hear that a Celtic Star reader won the big prize!
You can get involved too, just click on any one of the Celtic Pools images below and that will take you through to the sign up page! Hopefully you'll be the next one to walk away with the big cheque! It's great fun, especially if there's no Paradise Windfall at the moment and you are directly helping the Celtic Academy – the reason why The Celtic Star is involved!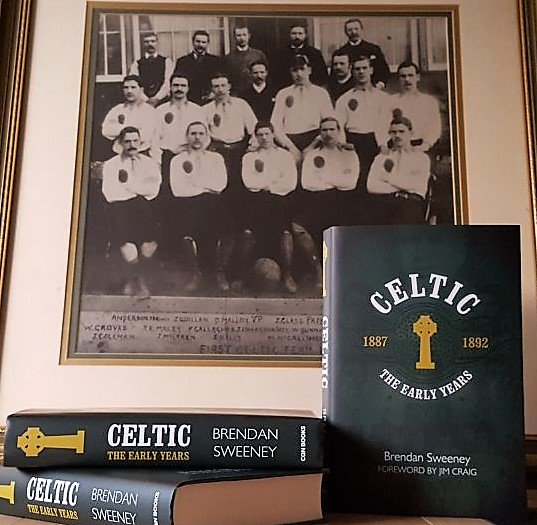 And a word on Matt Corr's new book, Invincible. If you aren't thrilled to have read it, send it back and we'll refund your money. I was delighted to have published Brendan Sweeney's Celtic The Early Years book – and what a read that was – and Matt Corr's Invincible is right up there alongside Brendan's. I can give it no higher praise. It's one of those rare books that when you get to the end you want to go right back to the start and read it all over again!
Editor – The Celtic Star