Callum McGregor is one of only two Celtic players in the current squad to know what it's like to score in the Champions League – with a goal in a 2-1 defeat to Bayern Munich his first ever Champions League strike.
And now with the Champions League draw due to take place this evening, Calmac, as reported in the Glasgow Times will soon know the opposition against whom will lead his Celtic side against in Europe's elite competition – as captain.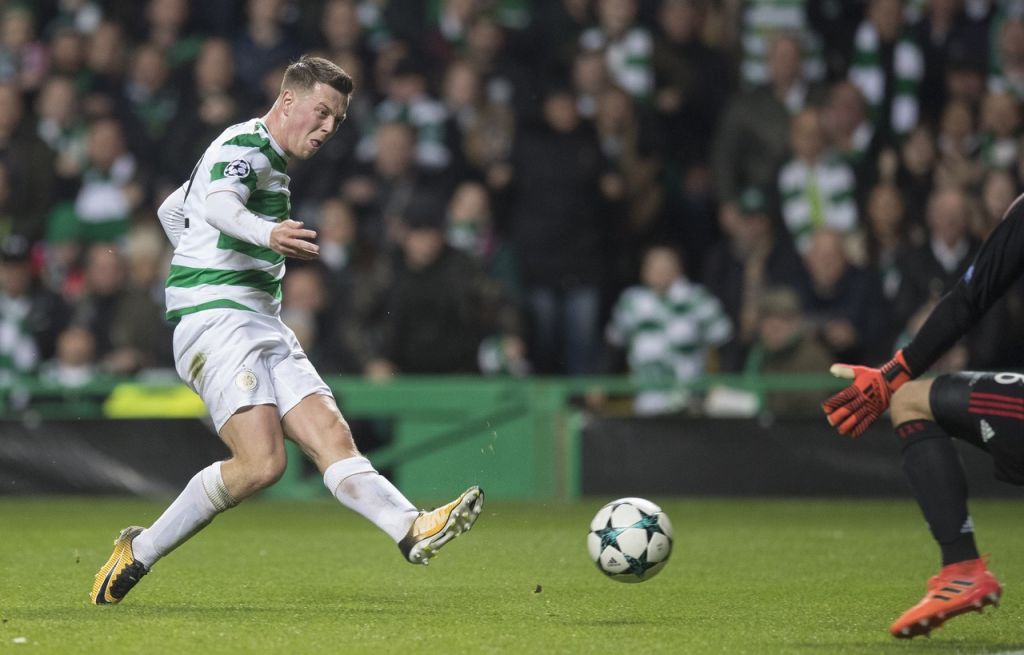 But before all of that he's ready to let his teammates know all about his and James Forrest's – who scored against Ajax in 2013 – goalscoring pedigree at Europe's top table.
"I didn't realise James and I are the only ones left in the squad to score in the Champions League," the Celtic captain said. "I'll need to remind the boys of that one!
"The goal against Bayern was a special moment. When you look back over your career you think about the big nights and that was one of them.
"It was a special feeling to get my first Champions League goal. The result didn't go our way in the end but it was a great occasion and it was a good game."
The experience of playing against Europe's top clubs may be all the Celtic changing room is thinking about today, however, Callum McGregor knows full well there is something else they will encounter that will blow their mind when the action gets under way – the sound of Celtic Park rocking, to an extent many of the current squad won't have experienced before.
"It will be special to hear that music again after a few years," Callum McGregor admitted. "The noise level just goes up tenfold and it created an amazing atmosphere.
"I'm just really looking forward to it. I've already told the a few of the guys what to expect. I've told them it's at another level and they are excited about it. When the games come around everyone will look forward to it and hopefully there will be some special nights.
"I think there's only a few of us left from the last time were in the Champions League. It's a new group and we want to be successful in our own right.
"We don't want to dwell on teams from the past of anything like that, good or bad. We've got some nice experience in the squad as well, but it's a new team and we want to develop and learn together, and create our own experiences."
Like many amongst the support Real Madrid tops the bucket list for the Celtic captain when it comes to possible opponents, although McGregor appears to have avoid studying just who Celtic may pull from Pots one, two and three in this afternoon's draw.
"If we get them, then great. That would be a nice one to tick off the list, but I'm sure whoever we get will be top opponents. This is the top level of European football, it's a great challenge and we're all looking forward to it.
"I've tried to stay away from studying who we could get from pots one, two or three. There are so many top teams in there it we have to take it as it comes. They are all good."
He may have passed on working out who Celtic could face in the Group stages of the Champions League, but one thing Callum hasn't missed avoiding is the qualification process that so often has ended in early European exits for Celtic.
McGregor admits the process can be emotionally draining and can have a psychological impact on the players, as such automatic qualification as a reward for regaining the league title last season has been a pleasant change.
"It's been nice. These games are always really difficult to negotiate. They come thick and fast and you are trying to get up to speed. You come up against good teams and if you're not quite right or a little off it, then you can quite easily get done.
"It's obviously a big blow when that's happened at the start of the season and you have to recover from that and get the league campaign going. Even the games we've been successful in have been tough and emotionally they can be draining.
"You can score five at home and think you're home and dry but these games can turn quickly. It's just nice to avoid all that and go straight in to the group stages."
Avoiding the minefield of European qualification has certainly been an advantage for Celtic. It has meant Ange Postecoglou has had an extended pre-season before Celtic get down to the process of two games a week for the foreseeable future, and that can only have helped the manager prepare his squad for the challenges ahead.
And if the captain gets his way, the European Champions could well be about to visit Celtic Park – and there is no bigger challenge than that tantalising prospect.
Niall J