THIS morning on The Celtic Star we published a worrying article which featured four Celtic men's take on what has been going on at our club and there was also a sting on the tail when Niall J's article on John Park as our potential Director of Football is considered.
The problem with that and indeed the root cause of many of the problems Celtic are facing seems to be our highly paid Chief Executive Peter Lawwell.
The claims made by these four Celtic men should be read by as many Celtic Supporters as possible and the CEO really does need to come forward and explain the position to a support that is still hurting badly after the dreadful events at Celtic Park on Tuesday night.
You can read the original article, Four Celtic men paint an extremely worrying picture about the way our club is being runHERE.
And a follow up article a night to forget for Neil Lennon can be read 'Tuesday night turned into a shambles,' says Niall J, 'Lennon will have to learn from this'HERE.
We asked you to let us know what you thought of the content included within the Four Celtic Men article. Here is a selection of the responses we had had. If you would like to have your say you can email editor@thecelticstar.co.uk or post a comment on Celtic Noise, the new Celtic supporter forum supported by The Celtic Star. Signing up is quick and easy, or you can read first to see if it's for you.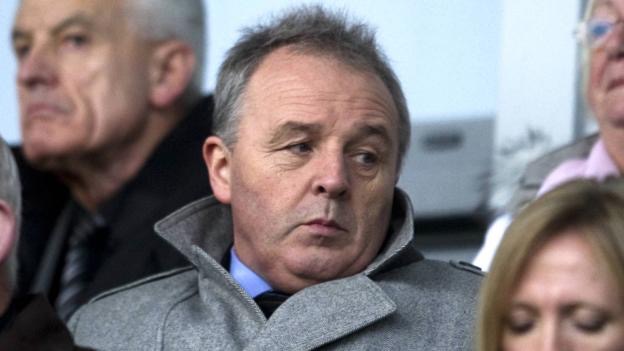 GET JOHN PARK BACK
It's good to see an arrival on the web from someone who knows what is going wrong at Celtic. Have been a supporter for 60 yrs and a share holder for 25 yrs and agree with you about Peter Lawwell. That man thinks he owns Celtic and is getting too big for his boots and is getting far too much money. What needs done is get rid of him. Every year I vote this on my ballot paper but to no avail. We must also try and get John Park back as we need him and never mind what he costs H H
Alex Whittle
THE WORLD CAVED IN
I am interested to hear that Neil Lennon had no input in Celtic's 2 signings that were sat on the bench on Tuesday night, one costing £7 million the other £3 million. With Celtic's reputation for not parting with money easily I find it hard to believe that we signed both players without them being scouted to a high standard.
I think as fans we are quick to judge players at times. Two players who have been here the matter of weeks asked to hit the ground running. I find it hard to defend the manager on this occasion his decision to play arguably our best midfielder out of position was criminal.
I go back to the first leg Bolingoli-Mbombo played 90 minutes had a early booking and still the opposition had 2 shots on target all night yet the manager did not trust him at home with 60,000 there to encourage him. Even saying all that 45 minutes in not a shot on target at home, where was the intensity from the so called flair players? 80 minutes in we have got out of jail at 3-2 time surely for game management. Shore it up, not let's go hung ho and leave ourselves open. Shocking game management, so it all comes to poor decisions both on the field and by the manager. 80 minutes gone, all is good in Paradise, 90 minutes the world has caved in, does anybody remember a Treble Treble? Thank you, just another disgruntled fan
Daniel Hill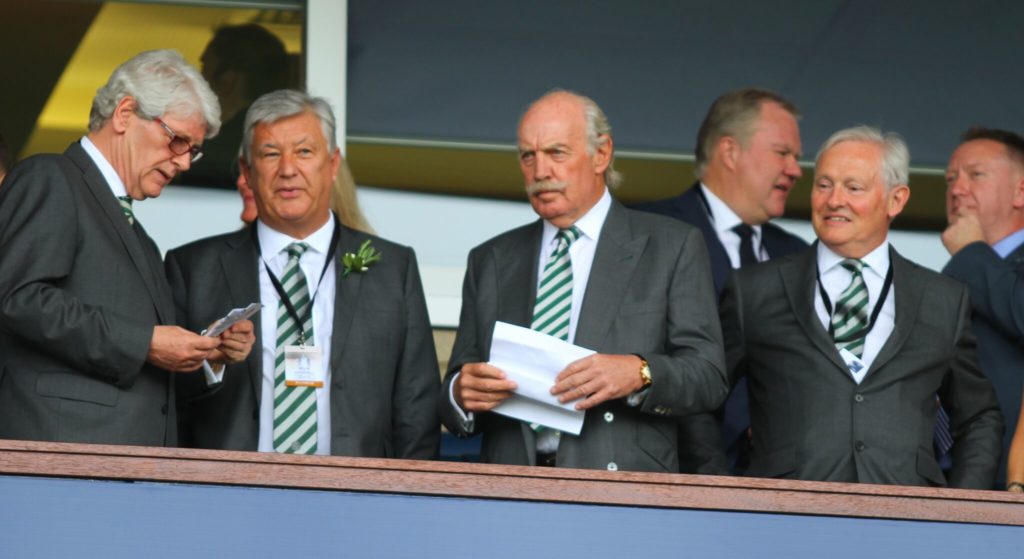 A SHAMBOLIC EXIT
I read your article regarding the 4 Celtic connected guys giving their opinions on our shambolic exit.
To me we will never prosper or function at anything like our true potential as long as Peter Lawwell is calling the shots. He is paid a ridiculously high salary to basically be a shield for our absentee majority shareholder, Mr Desmond.
The only time since his appointment in 2004 that he was not in total control was Martin O'Neill's last season and Brendan Rodgers first 2 seasons. Both experienced, exceptional managers and both realised they could not work with him.
The job as CEO of a business like Celtic should pay £350/400k basic with bonuses for success. Our present CEO regularly trousers seven figures and his bonus is finance related. Scandalous.
Sadly nothing will change. The only way anything could possibly happen is in event of a mass boycott, which will never happen. Even, heaven forbid, losing the league this season would only see Lennon fall on his sword with another Lawwell yes man, JFK stepping up.
Yours in Celtic
Joe Colquhoun Hail Hail
RUN LIKE A CORPORATE BANK
As a Celtic fan living down here for almost 20 years, it's been absolutely madness seeing the current state of Celtic.
Reading your latest article today with the four ( Chris Sutton etc) …the blame does solely lie with Peter Lawwell.
See attached pic: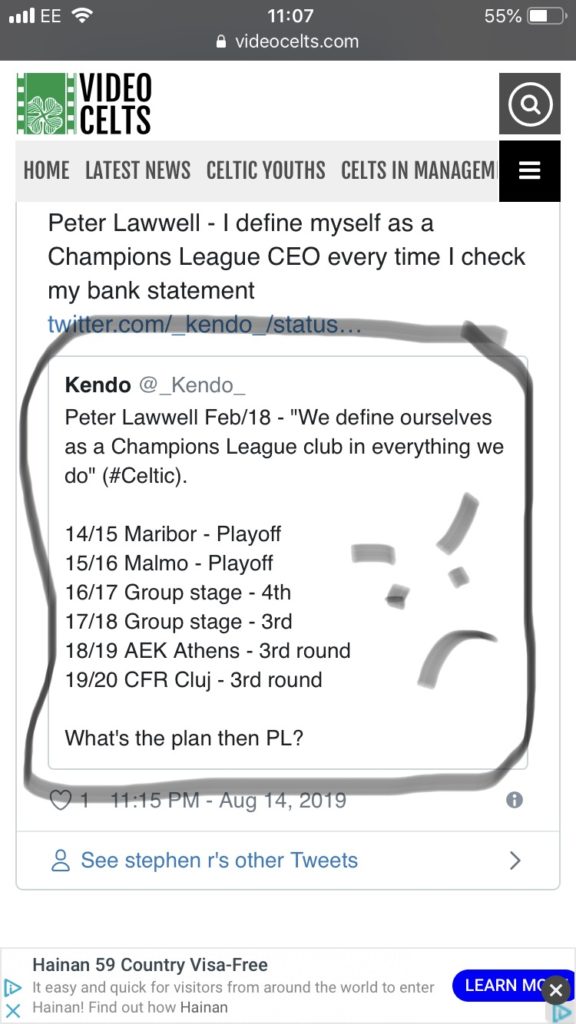 This is very good example showing the mismanagement of funds …we have apparently received more than £100m over the past 5 years (up to KT sale) and you would think we would have had half of that available on new signings…yet with no strategy it's simply fill the shareholder coffers at high level and p**s on the fans …hard working folk who have saved their money on season tickets to watch Celtic in the Champions League…we are a Champions League club but run too much like a corporate bank.
I cannot for the life of me understand why we are still operating with the biscuit tin mentality…. we are not looking for Messi or Dybala (extortionate fees) but we should be going for quality proven players circa £5-£10 with possible £15m for a exceptional player.
We easily generate plenty of revenue despite the farce of Scottish TV and SPFL earnings… we cannot call ourselves a big club with our small club mentality.
For now, we back Lenny and hope we are looking forward to 9/10 IAR
GOD BLESS!
Harvey
LAWWELL WANTS A YES MAN
Having watched all this disastrous situation unwind over the last few years it looks as it there are two camps,the corporate board and the customer, the support. It is like oil and water, they will never mix.
I am not for moment suggesting that we go out and spend what we haven't got but as a player or players contracts come up for renewal we should know well in advance. There is plenty of evidence that Lawwell wants a yes man, we as a support deserve better. The good thing about football is that there is plenty of evidence that footballing matters should be dealt with football men and the board stay away and deal with money. This situation is only going to get worse, so remember when we are the butt of the jokes the board will be cozy with a healthy bank account and healthy bonuses.
William Moorhouse
INVISIBLE BISCUIT TIN
Hi there, just a wee question, do they still have the invisible biscuit tin, and what happens to the cash they got from the Tierney sale to Arsenal? Just wondering.
John Curley
TREADING WATER
In the past we were seen as a club running its finances via the "biscuit tin". With Lawwell at the top we have gone from a tin full of digestive biscuit to a tin full of luxury brand biscuits but only Lawwell can eat from this tin with his large bonuses in his pocket.
As long as he has control of the tin we will not see any major advancement on the park. We are just treading water and have been since Rangers went bust. Now they are spending money they don't have to stop the 10.
Lawwell and the board need to stop acting like ostriches and get their heads out of the sand. We need clarity and answers following this week's debacle.
John
CELTIC PEOPLE TO RALLY
Since Tuesday night's events plenty has been said and written about Celtic. The CEO, major shareholders, manager, captain, new recruits and pretty much everyone else in the playing squad have been blamed.
The truth maybe that the game against Cluj was just "one of those nights"? The truth maybe that it's been coming for a while. It might be that our reluctance last year to spend the extra £250k to get John McGinn over the line was the first domino to fall. (And isn't it ironic that one year later we have happily spent exactly the same fee demanded by Hibs (for McGinn) on a player that the coach patently does not trust ?)
But for me the real truth is that we cannot change what's happened. It's done. What we can do is learn from it. Next week we have a huge game (probably against AIK) to maintain European football. People are saying that our elimination from the UCL means that Lennon won't now have money to spend. I'm not buying that. Now is exactly the right time to invest. Whether that's McKenna, Docherty, Bolasie, Forster, Wanyama, all of them, some of them or others is debatable. But I'm sure the world now knows that our defence needs stabilising.
The guys across town are probably looking forward to the next Glasgow derby more than they have for 6 years? The will have a game plan (and it won't be radically different from that deployed by FCR Cluj) to execute in front of 50,000 of their own rabid supporters. This game is pivotal. If reinforcements aren't in place by then and we lose that game then we will have a real battle. And the window will have closed.
Now is the time for all Celtic people to rally. Peter Lawwell has steadied our ship through many a stormy sea. He'll do it again I'm sure. Peter – lets now send a message to everyone that despite setbacks this club will continue to grow. It will continue to target the right talent. And it will remain successful. We have an opportunity here.
Let's take it. Now is the time.
Mark O'Mahony (STH)
A CHARLATAN
Celtic were built on the basis of helping to make the poor in the east end of Glasgow be able to eat better, and feel better. Not to put over £2million a year in bonuses in the pockets of a Charlatan. On top of a salary. He is not a football man . Celtic matter not a jot to him. Like the Kelly's before him. Remember those days? Get rid of Lawwell NOW. Think of him as a Kelly. He must go. HH
Daniel Differ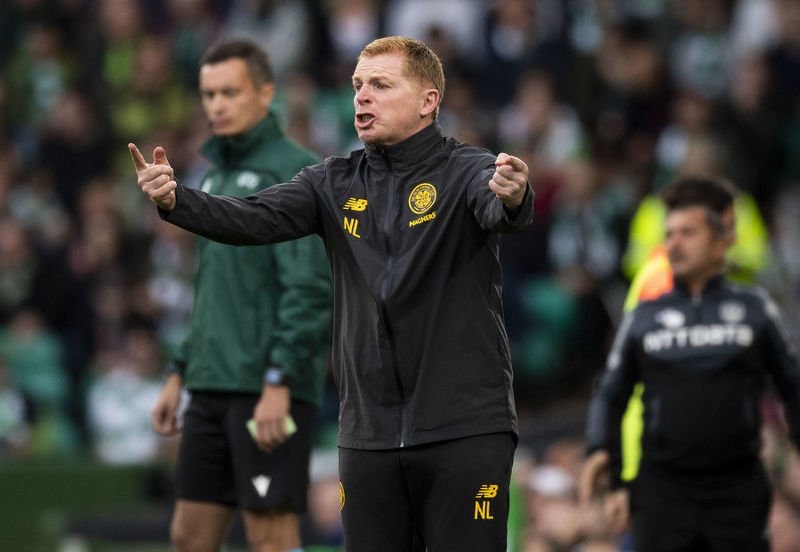 TIME FOR HIM AND LENNON TO GO
Hi, our famous club has deteriorated ever since Lawwell decided he was running the entire club from behind the scenes, to the team picking and transfer dealings, Wanyama, Armstrong , van Dyk, Forster and Dembele have brought in the club millions to say the least without ever replacing them. Not accepting bids for Boyata, Simunovic etc plus our penny pinching offers for players ie McGinn have cost the club millions yet he ( Lawwell) fills his bank balance up yearly to the club's detriment. It's time for him and Lennon to go so that our famous club can get back on track again HH
Jamie Christie
TAKEN FOR GRANTED
I'm an old timer, 63 years flowing Celtic, seen the bad times as well as the good but I'm like many of the fans who are being taken for granted. Peter Lawwell gambles every year with the qualifying rounds. I know we got 3 in but much more is needed and not after we go out. His transfer policy is disgraceful and an insult to a magnificent support…here's hoping things change before it's too late. Hail Hail
Jtrarquair 1945
WAKE UP AND SMELL THE FAILURE
Still in shock, might never recover! You cannot play against any team with 3 or 4 players missing ie. Johnston, Bain, Morgan, Simunovic . You cannot play your most influential midfielder in any other position, ( Cluj must have been laughing up their sleeves) it smacks of arrogance on the part of whoever picked the team.
Celtic supporters should never be taken for granted, it is time to adopt a much more professional outlook and an bin the arrogance. Some people at Celtic thought that the Cluj game was a foregone conclusion, wake up and smell the failure !
Alex Mcaulay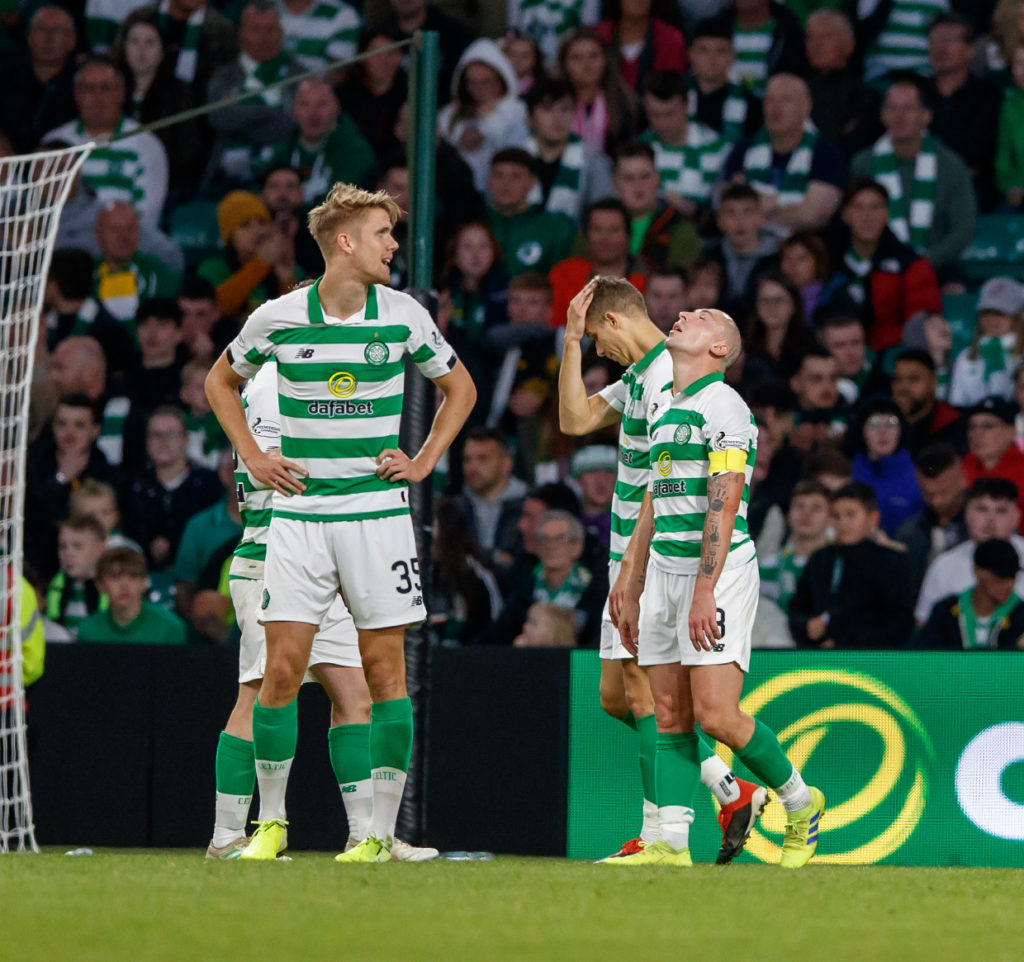 SUCCESS CAN BREED ARROGANCE
Celtic are just like every organisation out there. Things can go really well for a while but then the dynamic changes. The current management team has been very successful, due to hard work, talent and sometimes luck.
For us, this has enabled us to sign some great players who are able to be sold on at huge profit and for the disarray of our main competitors, but nothing stays the same. Success can breed an arrogance in people that they have all the answers, the truth is they have run out of ideas.
They are usually the last people to see this. The signs are already there and are obvious to anybody who wants to look. However, it is only the people who provide the money whose opinion really matters. It is therefore up to the fans and the money men at the club to agitate for change. Our support is ambitious beyond reason given our league, but that is what we want from our board and leaders. Failure is acceptable, but a lack of hope is not.
Charlieboy53
THE MAN'S EGO IS HUGE
The man's ego is so huge it has now cost us two Champions League campaigns because he sees himself as the conductor in chief in all things at Celtic Park. From appointing a manager who won't stand up to him to signing players on his own volition.
There needs to a movement which will force him out of his role at Celtic. Whether that is fans refusing to attend any future European games at home this year or boycotting club merchandise in the run up to Christmas (or at least the threat of). A bit severe? Drastic action is required to change things before we lose 9 in a row. The only team to stop us achieving the 10 is Celtic and we are going on with that.
Lawwell has made fools of us all from appointing Lennon and not even considering interviewing any other candidates to getting all the sychophants along to his Q&A at The Celtic Festival, at the expense of a pre-season friendly at Celtic Park.
McKenna67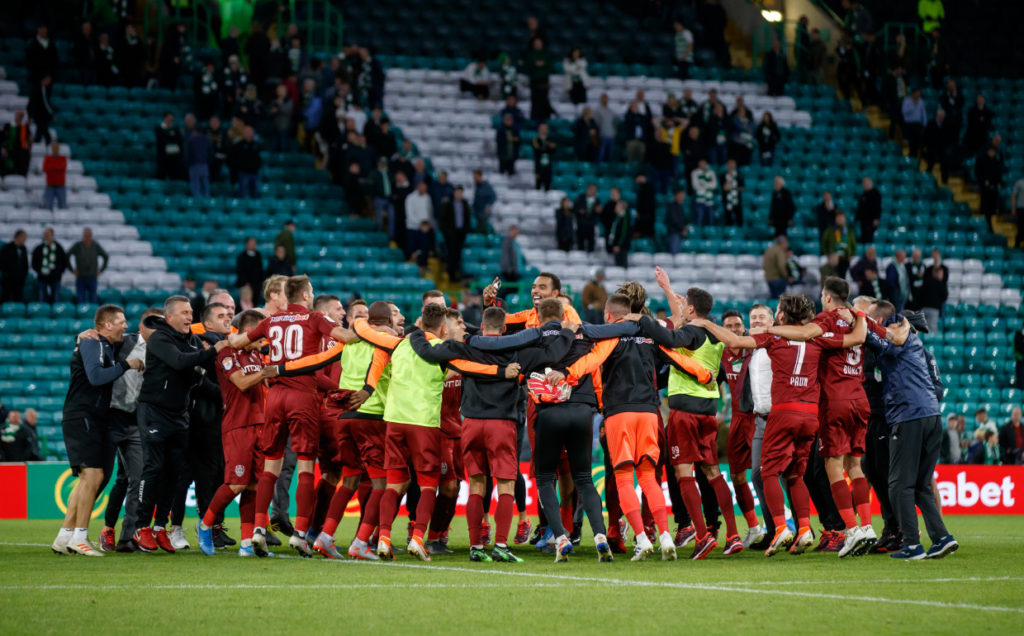 TWO FINGERS TO LAWWELL
Although I'am still raging about the result. I'm pretty sure Lennon knew McGregor couldn't play left back an it was probably two fingers to Lawwell about what's been forced on him. As for Kennedy to be so hopeless yet still be there so long, he is obviously Lawwell's spy in the camp. Lawwell's been sitting pretty for far too long now. It's time for demos to oust him. Forever in Celtic
Kevin Kane
RANGERS SMELLING BLOOD
I've read your article and although the content makes my stomach churn, I can't deny that these have been my worst fears for years. Our club has been suffering from massive negligence going as far back even as the Martin O'Neill days under the current regime, at no point have they ever invested properly and build on a position of strength and success.
This as far as I'm concerned is a disregard for the support and nothing short of contempt. I think the evidence is all there to see and my fear looking forward now is that the damage is so bad, that our dream of doing our 9th consecutive title my already be floundering, the wheels could be about to come off the bus in a highly dramatic and spectacular way with Rangers smelling blood.
I for one would like to see a campaign to oust Peter Lawwell and have Dermot Desmond install a new CEO to take us forward with a focus on building the team to a position of strength before it's too late.
Best regards,
Joseph McPake
WHO IS PICKING THE TEAM?
I would just like to know who at Parkhead is picking the team and talking tactics as the players do not know what to do on the pitch as was very evident on Tuesday night. As for Mr Lennon, I have my doubts about his ability to change the team formation and tactics during a game. I have never criticised a Celtic manager in all my time as a Celtic supporter which spans over sixty years of pure enjoyment (give or take a few games like the one on Tuesday). As for the board I have no faith in them whatsoever. The amount of money that has been spent or wasted players has been an embarrassment to the fans.
Leo Greene
Four Celtic men paint an extremely worrying picture about the way our club is being run