After that game (the 3-1 Scottish Cup replay over Hearts) however, it was job done as far as Gallagher was concerned as Stein resorted to his traditional belief of "horses for courses" moved Gallagher back to the reserves again, or more commonly, gave him a seatin the stand for he was frequently the "reserve to travel" simply because he was such a versatile character.
He was also an emotionally stolid sort of chap who did not throw the toys out of the pram if he did not get a game. He next played in a League match against St Mirren on 9 April when he opened the floodgates by scoring the first goal in what was a 5-0 win for Celtic.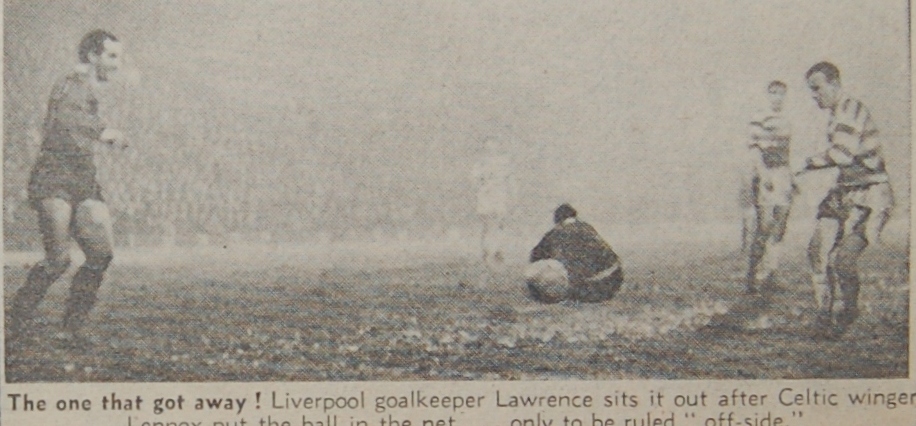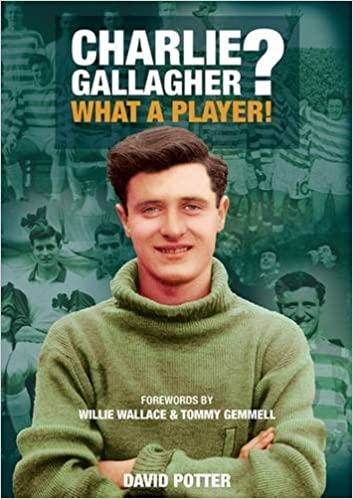 He did not play in either of the games in the European Cup Winners' Cup semi-final against Liverpool – a painful and unlucky defeat. The first game at Parkhead was a 1-0 win – and it should have been a lot more! – but the Anfield game saw Liverpool take a 2-0 lead but thenBobby Lennox scored a great goal, wrongly disallowed by a team of officials who simply could not believe how fast Lennox was!
The bottle throwing of the fans that night was deplorable, but, unlike most outburst of hooliganism which are often unpredictable and irrational, this one didat least have some sort of cause.Some felt that the calming influence of Gallagher might have had a beneficial effect in the cauldron of Anfield, but Celtic had little else to do other than pack up and go home to lick their wounds.
It was not as if they didn't have anything important on their plate for the next game was the Scottish Cup final against Rangers on 23 April!
Bertie Auld was suspended and could not play, and there was also an injury problem with Bobby Lennox. It was expected that Bobby would play but in a last minute decision Gallagher was given the nod in a forward line whichread Johnstone, McBride, Chalmers, Gallagher and Hughes.He had, it will be recalled, missed out in a last minute decision before the League Cup final in 1964. This time he was more fortunate.It was curious however to find that this game – an Old Firm Scottish Cup final – did not receive the hysterical build up in the newspapers which one might have expected. The simple reason was that Celtic had other fish to fry as well.
Liverpool had, of course, been a heart-breaking experience for all at Celtic, particularly as most folk agreed that Celtic had been the better team over the two legs. Indeed, it was now agreed by everyone, even the English BBC, that the great goal scored by Lennox late in the game at Anfield had been wrongly ruled out for offside.Now Celtic had the opportunity to bounce back.
Would they do this? Or would the Liverpool defeat be an infectious one? Both Celtic and Rangers had won the Scottish Cup 18 times each. Celtic had won the Scottish League Cup, but the Scottish League, like the Scottish Cup itself was still in the balance.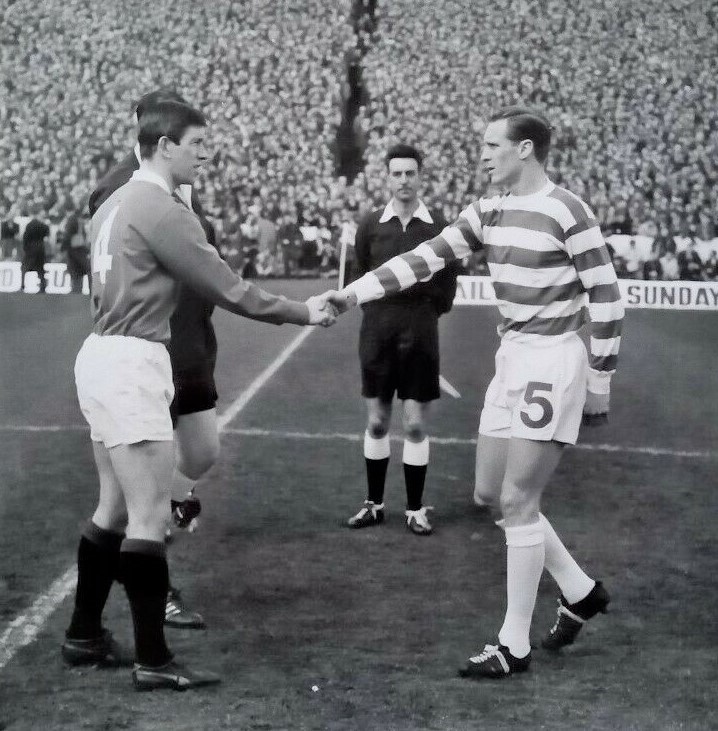 The teams were:

Celtic: Simpson, Young and Gemmell; Murdoch, McNeill and Clark; Johnstone, McBride, Chalmers, Gallagher and Hughes

Rangers: Ritchie, Johansen and Provan; Greig, McKinnon and Millar; Henderson, Watson, Forrest, Johnston and Wilson

Referee: T Wharton, Clarkston
The weather was fine, although there was a breeze blowing towards the Celtic end when Rangers kicked off playing in that direction.
The game was even, and neither team was able to claim any decisive superiority, although there were a couple of occasions when Gallagher might, witha bit of luck, have won the game. One was late in the first half when he shot against the wind and the ball, having beaten Billy Ritchie, just rose over the bar at the last second, and the other was early in the second half when The Evening Times talks of Gallagher "shaking his fist in anger" at Steve Chalmers when Chalmers opted to slip the ball to Hughes rather than Gallagher who was in a far better position to score.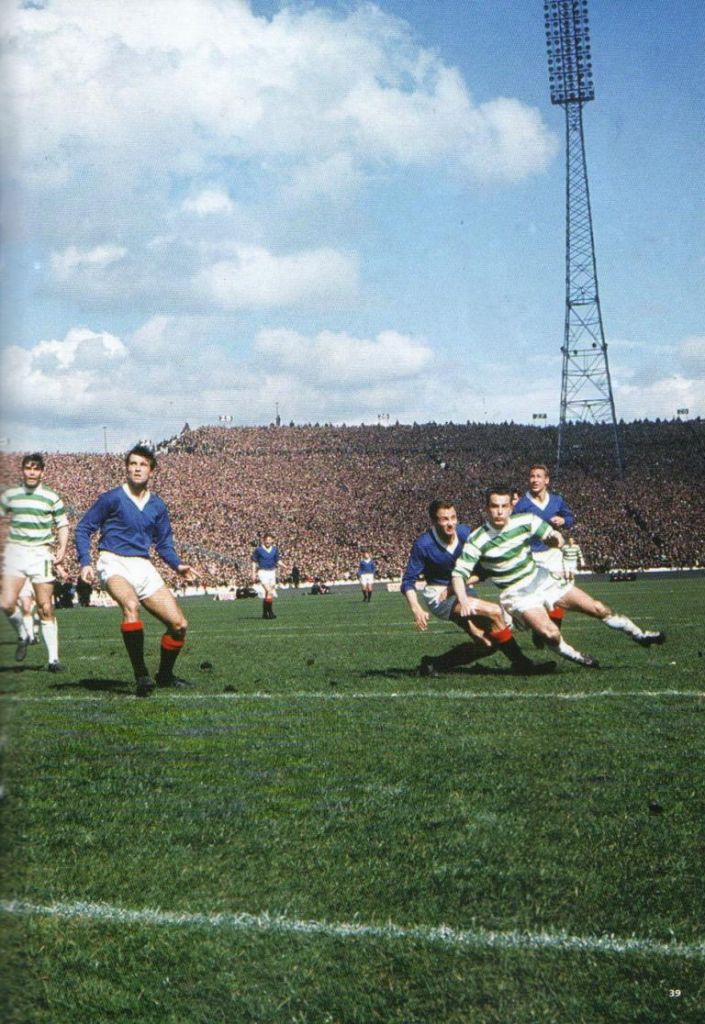 It was indeed difficult to imagine Chalmers and Gallagher falling out, for they were both players renowned for their gentlemanly and sporting approach to the game!Rangers had Jimmy Millar playing at left half. This was in some ways a strange move, for Millar was normally a forward. He was however a dangerous player, and Gallagher had to spend a great deal of time and energy to keep him quiet. Rangers had their moments on the game as well, but Press reports tend to stress that it was a "gritty midfield battle" – often a euphemism for it being a dull game. "Two well balanced teams" was a phrase also much employed by the journalists that weekend. So 0-0 it was in front of 126,552 fans, and the replay was scheduled for the following Wednesday night.
For this game, Stein opted to bring back the now available Bertie Auld. This was naturally a bitter disappointment to Charlie, and it is debatable whether the decision was the right one. Maybe Charlie's cool, assured approach might have won the day as distinct from the more aggressive style of Bertie Auld, but Stein made the decision and Gallagher could only sit in the stand and watch the team fight hard but lose out to the Kaj Johansen goal (praised by the Scottish press "not without cause but without end") late in the second half.
It was a sad game for all Celtic fans, for Celtic were the better side. Gallagher may well have been disappointed to miss out on the final, but he would surely have been encouraged by a letter that appeared in The Celtic View that very day, written by a man who called himself "Rob Roy" of Coatbridge in which he says that:
"He seems to me the present day Scottish inside forward who most closely follows the tradition of Charlie Tully, Ian McMillan (of Airdrie and Rangers) and John White (of Falkirk and Tottenham Hotspur). None of these players was a great back-checker or defender, yet each retained his place in a highly successful team because he could split open a defence with one pass; he doubles the value of the other four forwards. It is not simply the length or accuracy of Charlie's passing which makes him a great player. It isthe unorthodox, sudden "wrong" pass made at the right moment which panics a methodical defence and which all Celtic supporters associate with Gallagher's play".
That was an extremely perspicacious comment by "Rob Roy". The breaking down of a packed defence has long been a frustration for Celtic fans of all ages. So often, teams (and we could point out a few in particular) came and continue to come to Celtic Park with a goalless draw the limit of their aspirations. "Parking the team bus" across the penalty box is the current description. In these circumstances, the attacking team must try the unexpected – the shot from a distance, the pass to a man who appears from nowhere, the threading of a ball through a defence rather than the aimless punt for the ball to be headed away.
All these things Charlie Gallagher was capable of, and it is of little surprise that we find another letter in the same edition of The Celtic View from a Michael Harte of West Lothian wondering why Mr Stein does not deploy Charlie a lot oftener "as he is the most brilliant player on Celtic's books".
That would be some claim, if it were true, and Charlie himself would never have said that. He might even have been embarrassed to read it. He was very much a squad member, even if it meant occasionally that he didn't always get a game.
Now that the Scottish Cup had gone in those heart breaking circumstances, the spectre was frequently raised in the Press and in conversation of whether Celtic could lose the League as well. Did they have the "bottle" to save the League, something that Stein had always said was his priority? Within eight days, they had unluckily lost the European Cup Winners' Cup and now the Scottish Cup, and they really had to concentrate now on the Scottish League in which there were only three games left. They were equal on points with Rangers, but had two advantages in having an extra game and a superior goal average.
Nevertheless, nerves began to play on the Celtic supporters when John Hughes, Joe McBride, Jimmy Johnstone and Bertie Auld all reported injuries after the Cup final.In the event Johnstone and Auld made it, but Gallagher was given a run for the last three games at inside right at the expense of the injured Joe McBride. Bobby Lennox and Bertie Auld made up the left wing. Stein got this one right, for Gallagher brought a degree of calm to the dressing room and the field, (where he showed his virtually unchallenged ability to deliver the best pass) in those last three frenetic games.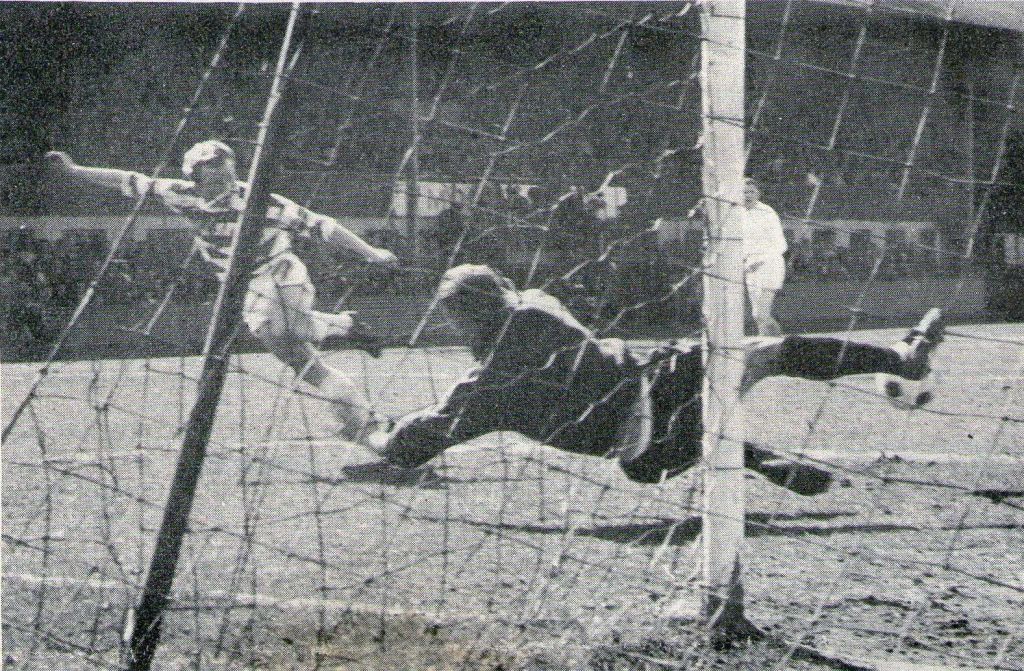 They could hardly have been more difficult – Morton desperately trying to avoid relegation at Greenock, the talented and determined Dunfermline at Parkhead and then Motherwell at Fir Park.The important game was probably the first, and it was a particularly poignant game for Jim Kennedy, one-time colleague of Charlie and now playing for Morton in a fight that would determine the future of both teams. Celtic emerged victorious with first Jimmy Johnstone scoring and then late in the game Bobby Lennox, and Morton were condemned to the Second Division.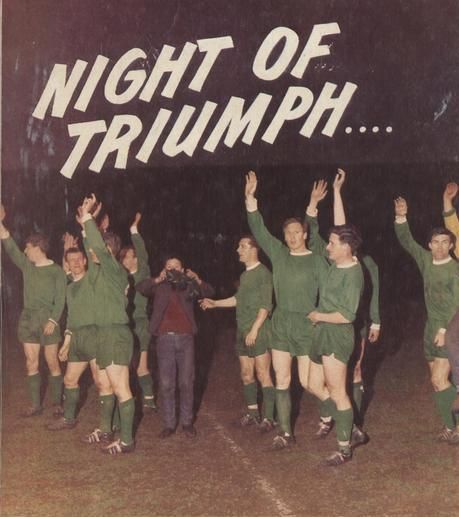 However, the League was not yet secured for Celtic, for Rangers had also won that day at Dunfermline, the team who were due to play at Celtic Park on Wednesday night while Rangers faced Clyde at Ibrox. As The Celtic View pointed out, a win for Celtic would more or less do it, irrespective of the Rangers score, such was Celtic's goal average superiority. If Clyde actually scored and Celtic won, it would be very difficult to see any other outcome than Celtic's first League flag since 1954.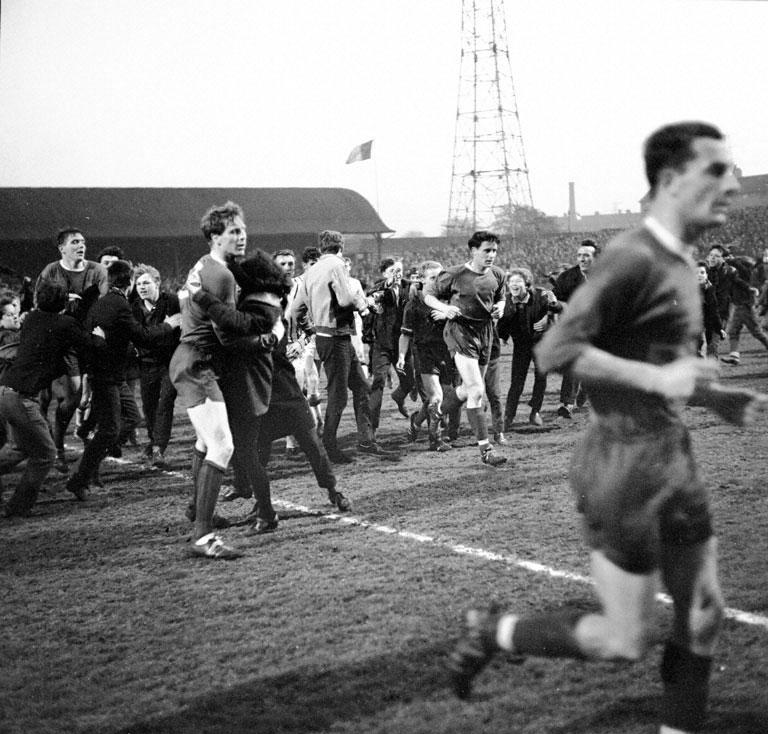 But it was a hard struggle for Celtic that night before 30,000 anxious fans. Alex Ferguson put the Pars ahead on the half hour mark before Gallagher flicked on a Johnstone cross for Lennox to equalise at half time, then Johnstone scored brilliantly in the second half. With the team 2-1 up and so much at stake, Celtic now played a sensible midfield containing game in which the players looked considerably more in control than the panicky fans were. It was in a situation like this that Celtic saw the best of Charlie Gallagher.
He could hold a ball, read asituation and pass to the best placed colleague. He also didn't hide. He was always hunting for the ball, permanently mobile, helping the defence if necessary, bolstering up the midfield when required and always willing to try a shot.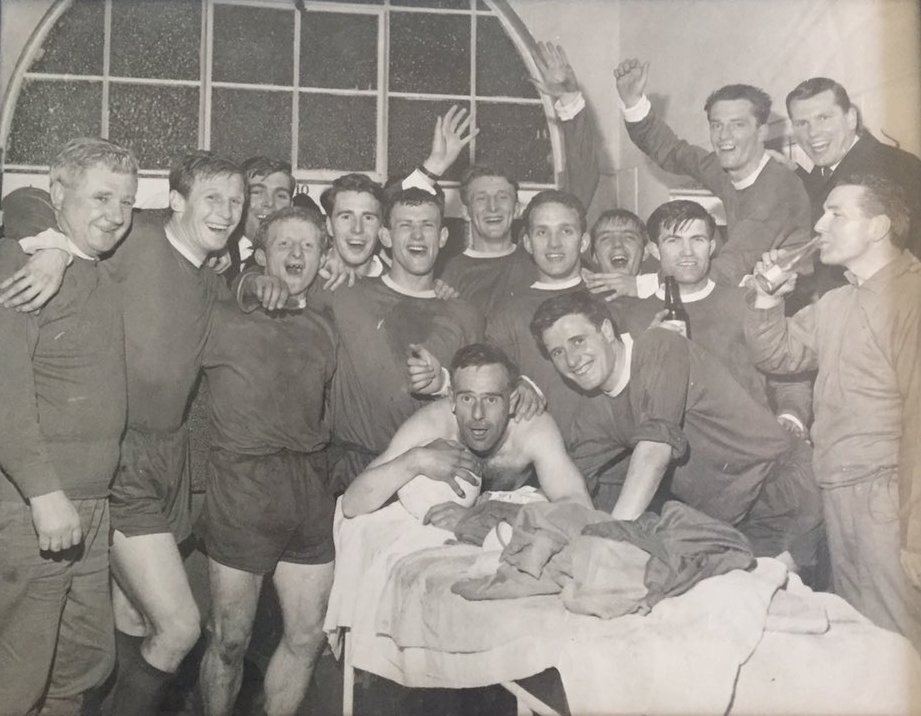 Full time brought relief and even a sense of triumph, as thousands invaded the park. Their joy was premature as it turned out, for the bad news was that Rangers had beaten Clyde 4-0 that night. One goal from Clyde would probably have confirmed Celtic as champions, but it was not to be.As it was, all this meant that Celtic could still be pipped, but only if Motherwell beat them 4-1 or more at Fir Park on Saturday 7 May. Rangers indeed conceded defeat before this game, and Celtic appeared at Motherwell as Champions in all but name.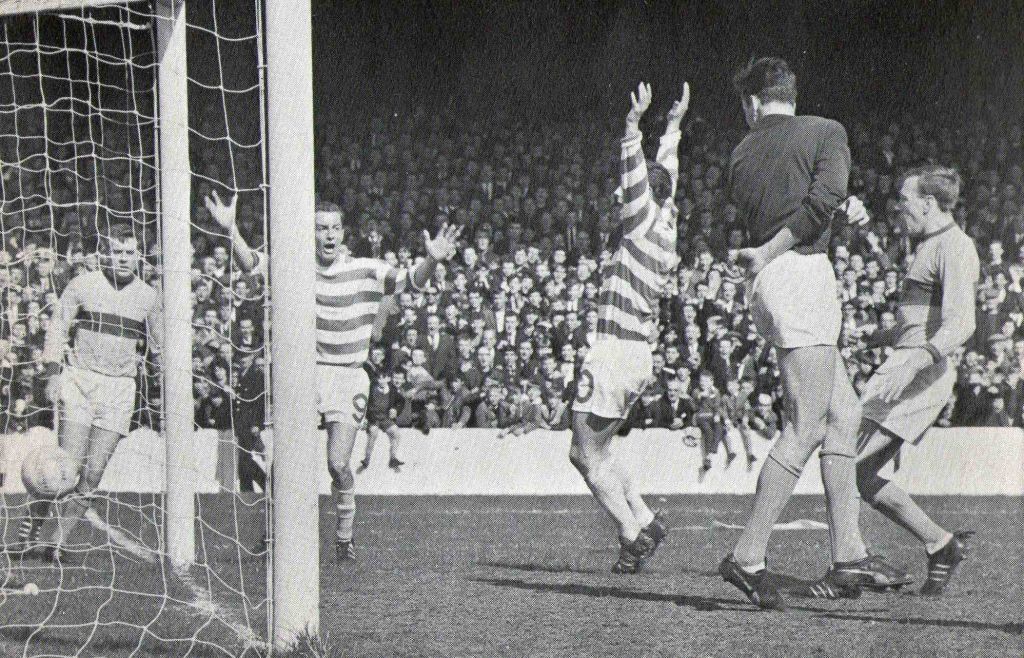 It was by no means the best game that Celtic played all season. Gallagher played at inside right but it was a tense, nervy affair. Celtic, mercifully, won 1-0 thanks to a late Bobby Lennox goal, something that meant Celtic had won the Scottish League for the first time in 12 years, and Gallagher had won his first League medal.
12 years was the longest period of time (if we ignore 1938-1954, which included the war years) that Celtic had gone without being Champions of Scotland, and the triumph was much celebrated. The winning of the League had been Celtic's no 1 priority, and although there had been disappointments in Europe and the Scottish Cup, the winning of the League made up for most of that.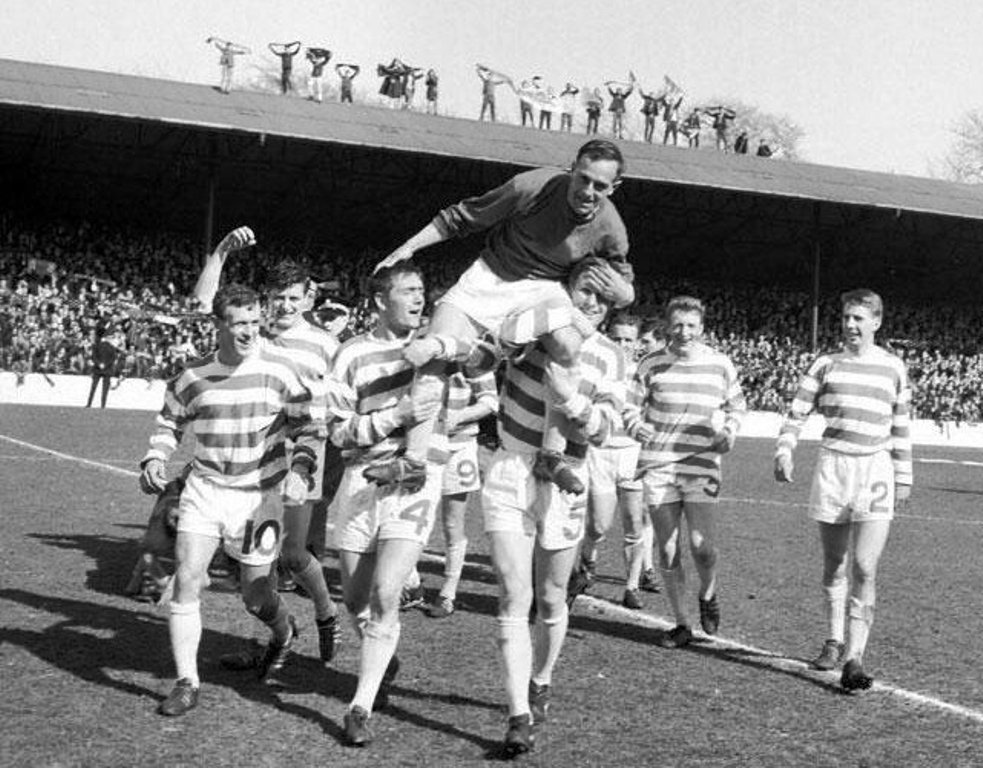 Not even the wildest of optimists, however, could predict that that Celtic would now win 9 Scottish Leagues in a row, beating by three years the record of the great Young, Loney and Hay team of the Edwardian era. Gallagher was in at the very start of that, and remained proud of his contribution.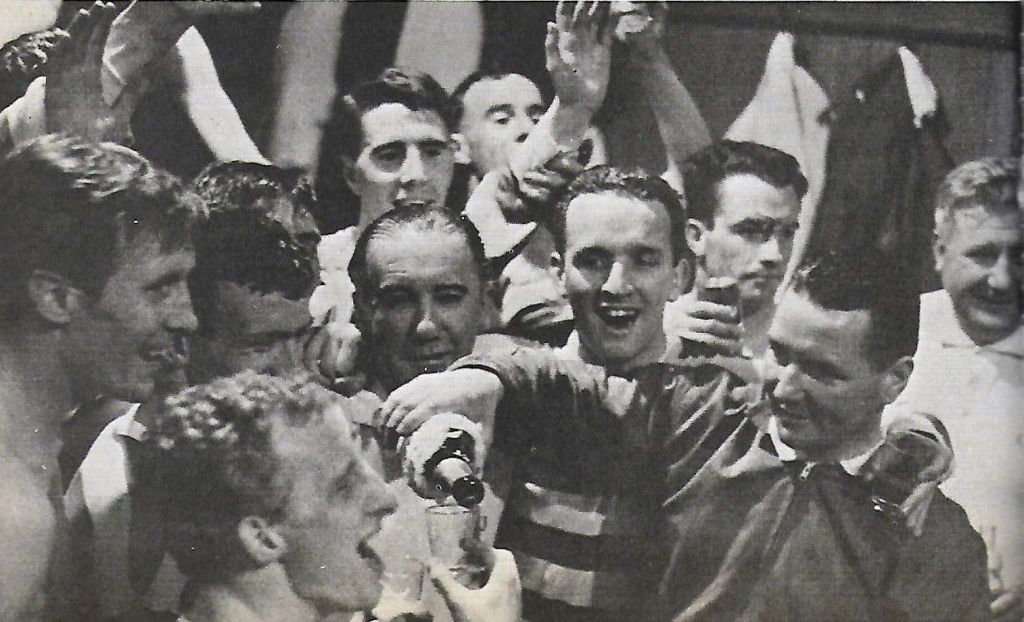 There now followed a tour of America. Historians enjoy telling us about what a great "bonding" experience it was for the 17-man squad who were in the new world from mid-May to mid-June, but it was not perhaps, if one scratches the surface, quite the idyllic occasion that we are led to believe. John Hughes, for example, tells a story which reflects little credit on Jock Stein when Jock failed to tell Yogi that his wife had miscarried.
There was a brawl in a game against Bayern Munich, and Tottenham Hotspur accused Celtic of cheating by using Jimmy Johnstone as a substitute contrary to a pre-existing arrangement. Nevertheless, more good than bad came out of it, unlike a subsequent tour in 1970 (after Gallagher had left the club) which contained little other than disaster.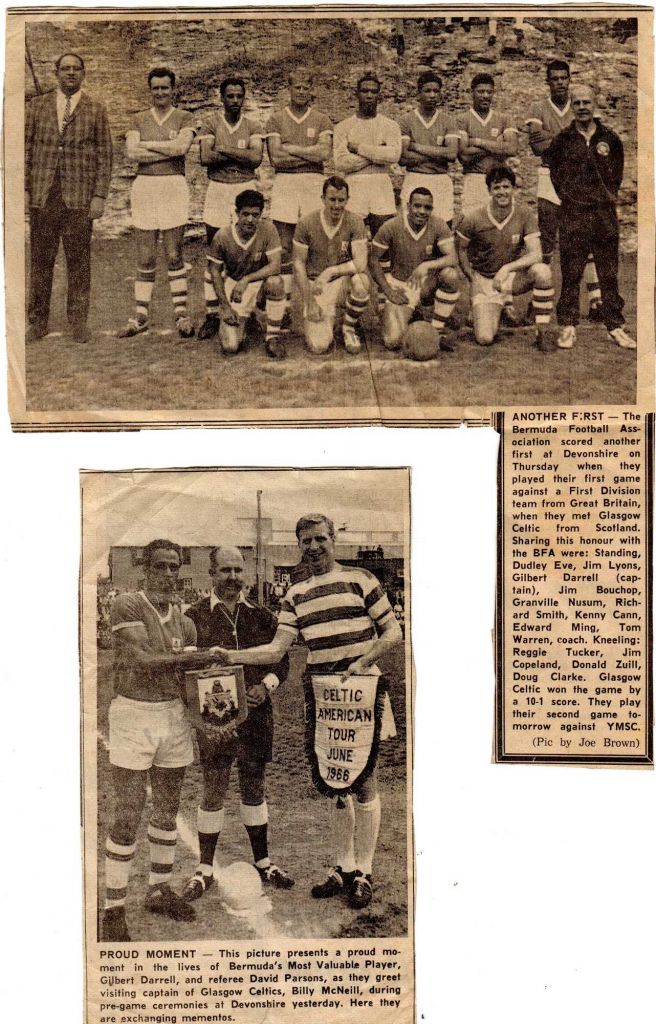 In playing terms, Celtic played 11 games winning eight and drawing three – the draws being played out against Bayern Munich, Bologna and Tottenham Hotspur. But they proved their credentials when they beat Tottenham Hotspur twice, playing some sparkling football and impressing the locals and their many supporters in the New World.
Jim Craig stayed behind because of his finals in Dentistry at Glasgow University, Ian Young and Jimmy Johnstone left early to get married, reserve centre half Frank McCarron had a bad dose of sunburn in Bermuda, and there were occasions when there was a distinct shortage of players with Sean Fallon and Neil Mochan on the verges of a most unexpected comeback!
These players may or may not have been on the fringes of becoming the greatest team on the planet, but they were still just young lads, most of whom not having had a great deal of experience of life outside Glasgow and its immediate environment. It was therefore, a great learning experience, not least for Charlie Gallagher who had the honour of scoring the last goal of the tour in the 88th minute of the game against Atlas of Mexico in Los Angeles, something that gave Celtic a 1-0 victory and ensured that they could fly home on 15 June undefeated.
There had been one sour note as far as Gallagher was concerned. His wife Mary was in America at the same time, unknown to the Celtic management, and turned up unexpectedly at a hotel where she was given a less than hearty welcome from Jock Stein! This was of course, according to Charlie, quite in character for Jock who did not want women any place close to the players when there was a job to be done. There was a small piece of hypocrisy in all this, for Stein was not above a little flirting with players' wives at club functions, and the occasional attempt to impress them with his singing (he had not a bad voice, according to Charlie). But when business was to be done, he was quite capable of being unpleasant and boorish to members of the fair sex.
It had been a great season for Celtic and for Gallagher. He had played well, but still could not be guaranteed a place in the team – but that said a great deal more about the quality of the team than it did about the ever ready and ever pleasant Charlie Gallagher. Time for a rest for the Celtic squad as they sat back and watched the World Cup in England. 1966/67 would soon be upon them.
David Potter
To be continued…