Much was the talk of a League and Cup double now at Celtic Park, but such talk was sadly premature. The danger signs were up when the team lost 0-2 to East Fife at Bayview in the League Cup quarter final first leg. Fortunately, that game was just a first leg and the damage was more than adequately repaired at Celtic Park, but there were also a couple of dismal draws against Clyde and Dundee United followed by a 4-2 defeat by Hearts at Tynecastle.
With the benefit of hindsight, it is easy to spot the reason. It was lack of leadership. One of the most difficult tasks that a Manager has is to deal with success. He must prevent heads from getting too big, and to keep the feet firmly on the floor. The win over Rangers should have been a springboard for success. Sadly it wasn't and that was because of the lackof an effective Manager.
Jock Stein would have made a huge difference, but he was still with Hibs. In addition, there was a loss of leadership on the field in Billy McNeill who would be out of action until the middle of November. John Cushley, his deputy, was adequate but he lacked the inspirational ability of McNeill, and the team was allowed to flounder. Yet it was not all bad news either, for he team did not suddenly become a bad team, and progress was made in the Inter Cities Fairs Cup against a tough Portuguese side called Leixoes, and also on 29 September  Gallagher scored the crucial goal which put Celtic into the Scottish League Cup final.
He had just recovered from a stomach bug, picked up probably in Portugal in the 1-1 draw the previous week and which had caused him to miss the 4-2 defeat at Tynecastle. It was a good feeling for the club to have reached the Scottish League Cup final for the first time since the 7-1 game. They had defeated Morton 2-0 at Ibrox with Gallagher, in spite of being badly fouled in the first half by ex-Celt Eric Smith, scoring the second goal late in the game with an "unsaveable" shot after it had begun to seem as if theGreenock men were beginning to make a comeback.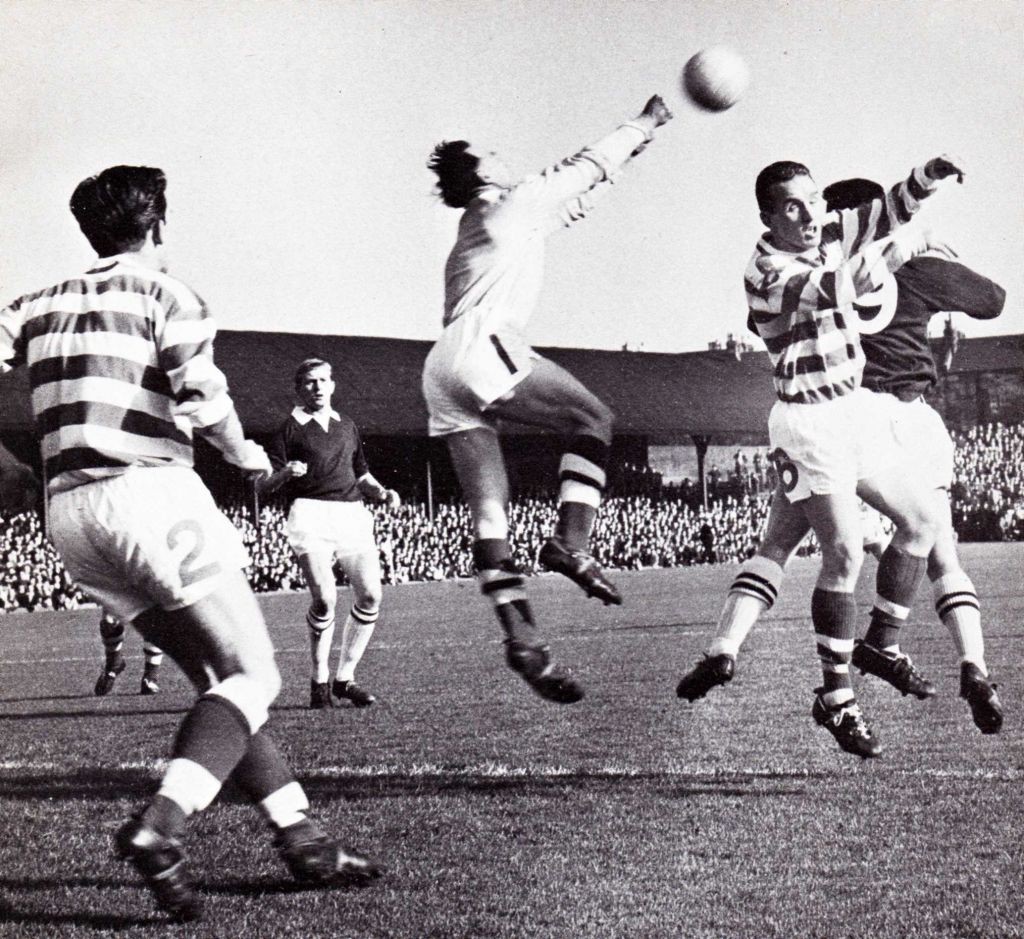 The opponents on 24 October 1964 were to be Rangers who had just pipped the luckless Dundee United for a place. There was thus to be a new test for Celtic. Having beaten Rangers at Parkhead in the rain in September, could they now consolidate and win something tangible? Or was the old Celtic defeatist attitude and inferiority complex going to kick in once again? But bad luck struck Celtic when Leixoes came to Celtic Park for the second leg. The first leg on 23 September had already seen Celtic in the wars (some players came back complaining that they had been suffering from mosquito bites, and Gallagher and Clark claimed they had bite marks inflicted on them by Leixoes players!) and of course Steve Chalmers and Ian Young were sent off, for reasons obvious only to the French referee.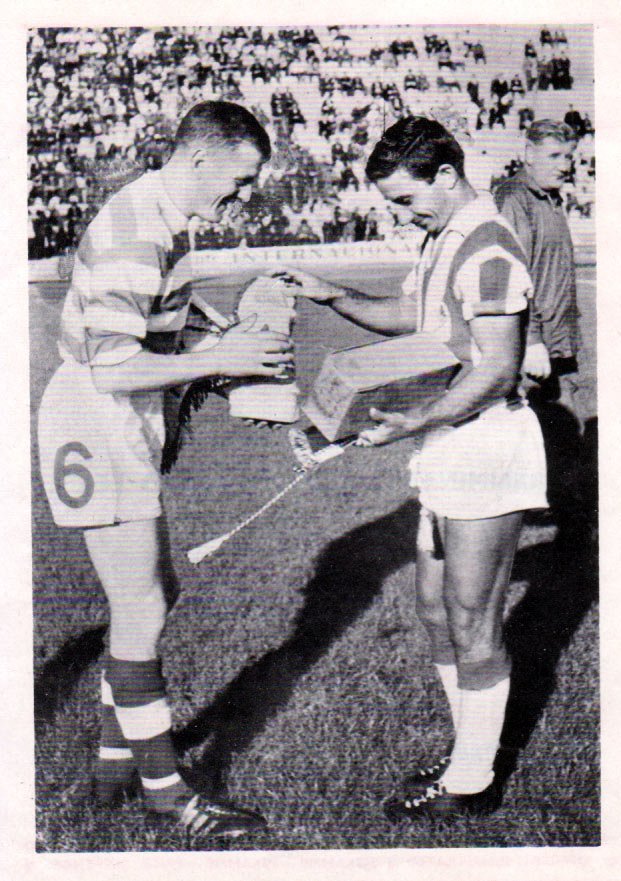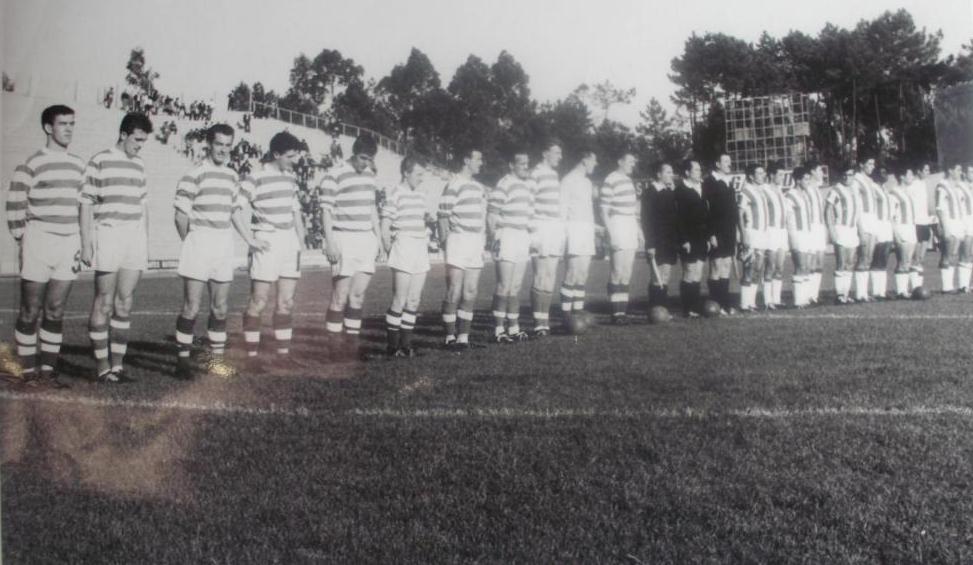 Young's ordering off was for retaliation, while Chalmers' "offence"remains a mystery. The mild-mannered Jimmy McGrory described it all as a "damned disgrace" while Bob Kelly said that he would pay for the French referee to come to Scotland to explain his decisions! All this was bad enough and highlighted the problems of travelling to Europe in those days to face brutal teams and incompetent referees, but the second leg at Parkhead on 7 October was a great deal worse, certainly for Gallagher when he was taken off with a bad injury to his leg.
Whether it was a deliberate attempt to injure him or simply a mistimed tackle, no-one knows but one inclines to the former. It certainly would have been in tune with the rest of the game, made notorious by the repeated manhandling of the English referee by the Portuguese after a couple of penalties were awarded to Celtic. Ten man Celtic won 3-0, but it was an empty victory over a side with little idea of how to play football.
The English referee, Ernie Crawford from Doncaster, might have sent some of the Portuguese players off, but he was at least competent enough to prevent mayhem from taking over completely. Gallagher's injury was a bad blow to both him and Celtic, for it effectively prevented him playing in the Scottish League Cup final.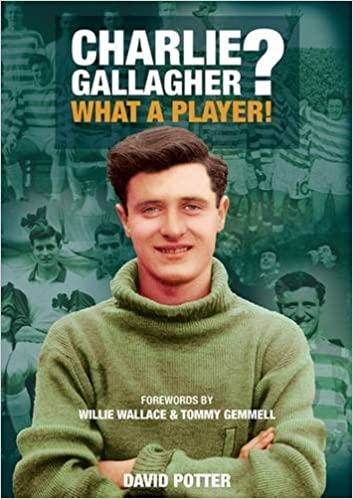 By 24 October, the day of the final, he was actually fit, but he was not quite MATCH fit and in a narrow decision, Jimmy McGrory and Sean Fallon (or was it Bob Kelly?) gave Divers the nod, rather than Gallagher. It would have to be admitted that Divers had played well in the intervening three games against Aberdeen at Pittodrie, and against Morton and St Mirren at home, scoring in both home games. Indeed, Celtic seemed to have recovered from their bad spell, and several newspapers had tipped Celtic to win the League Cup.
Some 9 days earlier in the British General Election, Harold Wilson's Labour Government had been returned after 13 years of Conservative rule. The parallels were strikingly obvious. Celtic too had been in the doldrums for too long.
Was their run of misfortune about to come to an end as well? Gallagher was included in the 13 to be taken to Hampden. It must have been after 2.00 pm (the kick-off was 3.00 pm) when he and Bobby Lennox were given the heart breaking news that the forward line was to be Johnstone, Murdoch, Chalmers, Divers and Hughes.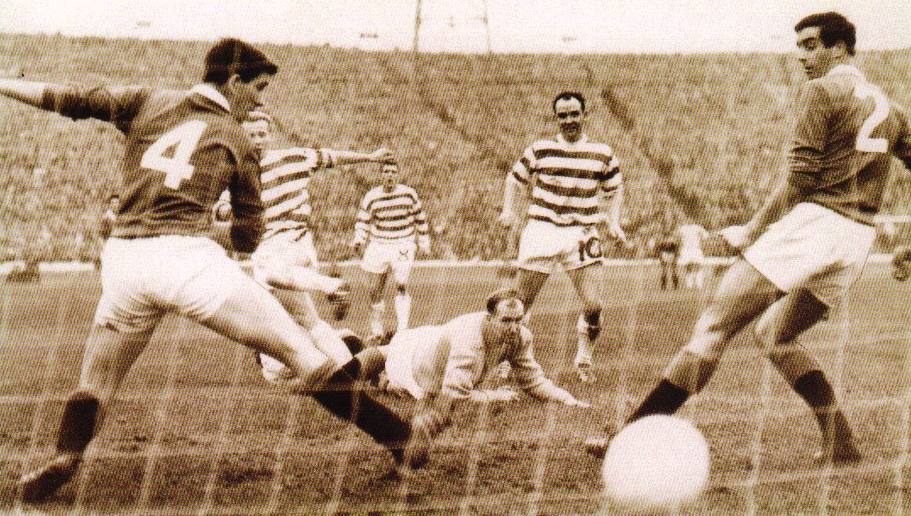 It was disappointing, for Cup finals do not come around very often, but he was able to see the reason why he was not chosen. Had he passed a fitness test and played in last week's game against St Mirren, he would have been chosen, but in the circumstances, a League Cup final against Rangers was hardly the place to take a chance on a man who had been out for three games and was not yet guaranteed to be totally fit. And yet Alec Young in the Scottish Daily Mail asks the question whether Divers was actually match fit. Divers was a languid looking player and often gave the impression of not being totally active. There were medical reasons for this in John's case, and he was certainly always on the slow side .
It was in truth a difficult and cruel decision for the Celtic management team to have to take, and it was cruel for Gallagher who had done so much to get Celtic to the League Cup final. Nevertheless, he accepted the decision philosophically and phlegmatically. Charlie thus had to take his seat in the stand (there were no substitutes in 1964, of course, otherwise things might have been different) to watch yet another of Celtic's horror stories.
Neutral sources and history books say that this was one of the better League Cup finals in the standard of play by both sides, but Celtic fans look back on it with nothing other than unhappiness. Celtic started off playing towards their own expectant supporters (who probably outnumbered those of Rangers) at the King's Park End of the ground.
They played well, but missed several chances –one by Jimmy Johnstone in particular, another by Bobby Murdoch and a stonewall penalty claim was turned down by referee Hugh Phillips when Jimmy Johnstone was blatantly brought down by Davie Provan. Celtic were clearly the better team but the self-destruct button had already been pressed when Jim Forrest scored two goals in quick succession, and the heads dropped.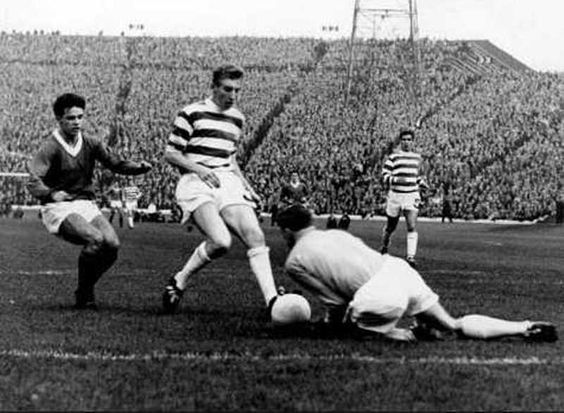 Chalmers claimed that he had the ball over the line, but photographic evidence did not support that contention, and Rangers began to take control. It was at this point that a man beside me on the King's Part terracing made the perceptive point "This is whaur ye miss Charlie Gallagher. He can read a game. He can control things. He can slow it down and look for someone to pass to".
Yet Celtic gave themselves a lifeline late in the game through Jimmy Johnstone, Hard though they tried however, an equaliser did not come, much as it would have been deserved in the opinion of all neutrals. As the full time whistle came, depression settled on the Celtic End, and it would be a long time before any of us felt better. The win in September in the Parkhead rain had been a flash in the pan, if one could use such a metaphor about that weather!
Gallagher, though absolved from any blame in the League Cup final, was as shattered as everyone – but there was worse to come.Celtic now hit the free fall button, as often happens in the wake of a defeat by Rangers. Gallagher was brought back for the trip to Kilmarnock on the Wednesday night, but he must have wished that he wasn't, for the team, with a collective death wish about them, collapsed pitifully and lost 5-2.
Even that distressing score line gave a better impression of the game than was justified, for Celtic's two goals came late in the game after they had been almost totally outplayed. Frankly, this was a Celtic team which lacked any sense of direction, purpose or even heart. Gallagher scored the second of the two goals but by that time, there were hardly enough Celtic fans left to raise a cheer, most of them having departed to the pub or now sitting disconsolately in their buses waiting the trip back home.
Kilmarnock would, of course, go on to win the League that year and it was an excellent example of what they could do when they cut out the rough stuff, but for Celtic, it was an abysmal performance.The next game on Hallowe'en was a victory but hardly a convincing one. Before a crowd of less than 10,000 at a desolate Parkhead, Celtic beat bottom club Airdrie 2-1. Gallagher was injured in the first half and had to be played on the left wing where his value was limited. Steve Chalmers scored two goals, but when Airdrie pulled one back, it was only some good saves from goalkeeper John Fallon that kept the Lanarkshire men from earning a draw.
The silence as the crowd drifted away was quite eerie. Normally there was some sort of cheering or animation after a win ,but not today. The feeling was that Celtic were definitely on the slide. Words like "finished" were again being used – and it was still October!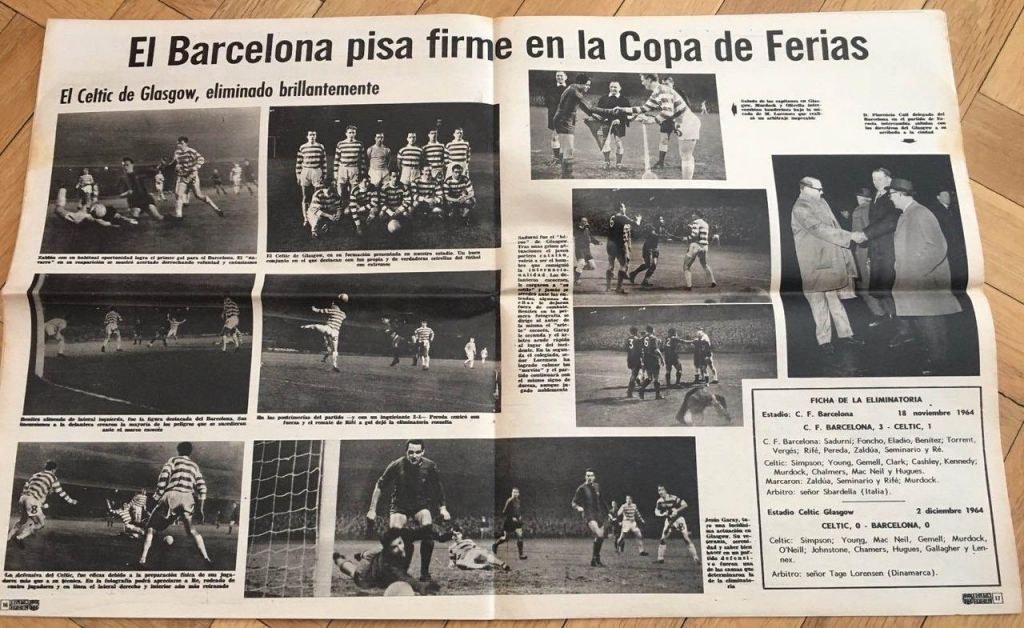 Gallagher's injury meant that he missed the next three games. It was no accident that without his craft, the three games were lost, a 0-3 defeat to an incredulous St Johnstone at Muirton, a 0-2 defeat to Dundee at home on a day of tremendous rain and thunderstorms, and then a 1-3 defeat in Barcelona on a game where the team at least were not disgraced and in which the defence was tightened by the return of Billy McNeill. Veteran Ronnie Simpson also came in for his Celtic debut – against Barcelona!
Charlie returned for the game against Falkirk at Parkhead on 21 November, and on this occasion the team played a lot better. They got off to the best possible start when Hugh Maxwell, a new signing from Falkirk, (ironically enough), scored within the first minute against his old teammates, but this was in any case a far more settled performance with Bobby Murdoch at right half (which many supporters thought was his best position) and Charlie Gallagher at inside right. John Hughes scored another two goals, and Celtic were deserved 3-0 winners and got a deserved round of applause from the poor crowd of 15,000.
Another 3-0 win followed this time at Cathkin Park, home of Third Lanark. No-one realised it at the time but this would be Celtic's last ever visit to the home of the grand old Glasgow club. They would be relegated in 1965 and would fold after two awful seasons in the Second Division. Already they were clearly struggling with their stadium (once the venue for Scotland Internationals) visibly falling apart and rumours abounding about problems at the bank on payday.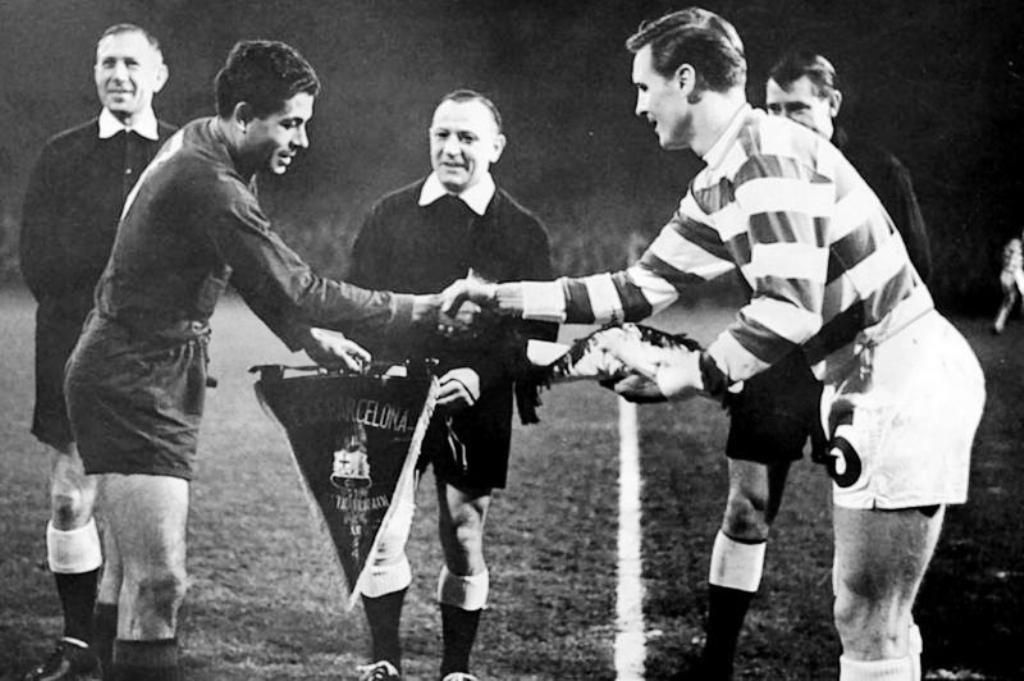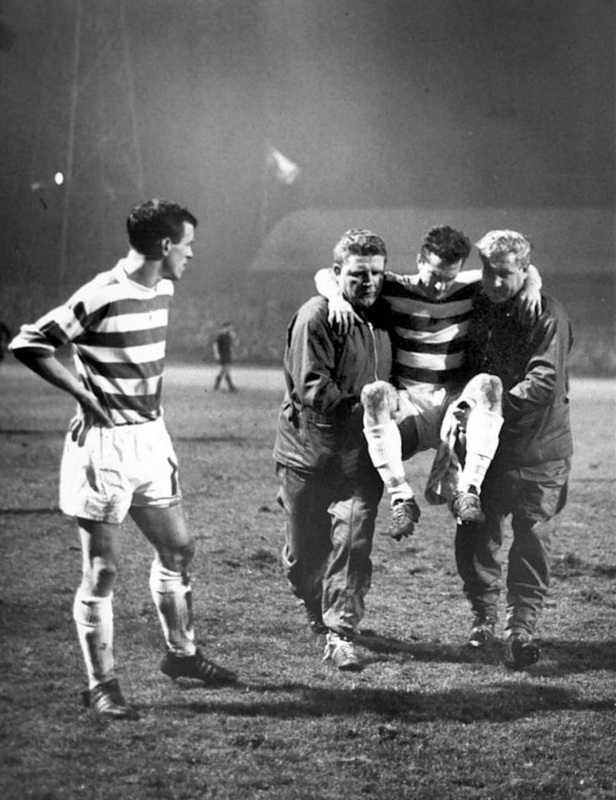 On this damp Glasgow day, Celtic simply took them apart with Gallagher playing well, laying off passes for the other forwards and earning plaudits from various journalists.This mini-revival even gave some of us hope that we might overturn the deficit against Barcelona on the Wednesday 2 December . That proved to be a little over-optimistic but 43,000 turned up at Parkhead to see a tolerably respectable 0-0 draw.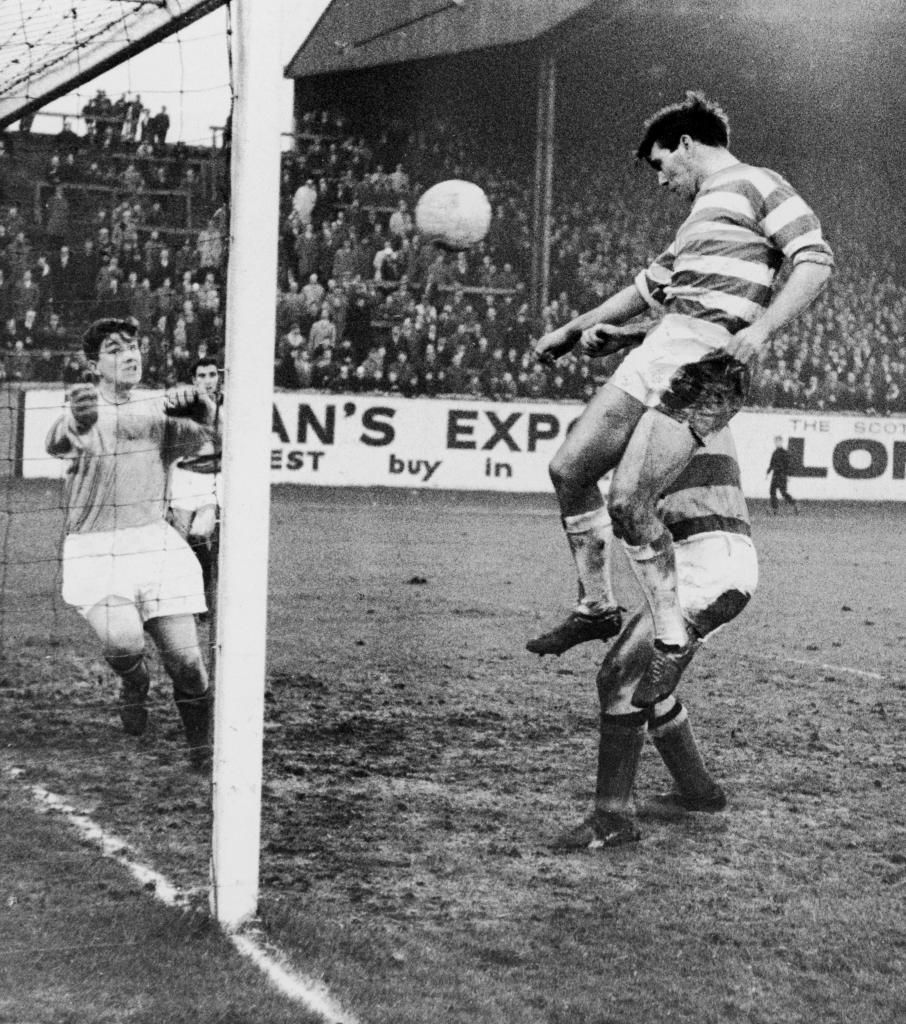 The next game against Hibs at Parkhead was fogged off, but the week after that Celtic went to Firhill and in a good game of football won 4-2 against Partick Thistle. Charlie was deployed at outside left that day – such was the Celtic penchant for chopping and changing – but he excelled there as well, scoring a brilliant goal from 40 yards which caught everyone by surprise to equalise for Celtic, and having real bad luck with several other efforts.
The crowd was a small one on a cold December day but the old clich of "Firhill for thrills" certainly applied that day. The odd thing was that in spite of Celtic's appalling form in September and November, they were not considered to be totally out of the League race. Rangers were also showing some dreadful and inconsistent form, and there were about seven teams "in the mix" – both Edinburgh teams, Dunfermline, Kilmarnock and Dundee as well as Celtic and Rangers.In such circumstances with all teams beating each other, no one team emerged as clear leaders or likely winners.
The common perception however was that Rangers would turn it on in the spring and the other teams would continue to cut each other's throats or generally "blow up",as often happened with provincial teams. That particular prediction would prove to be wide of the mark, and it would be a genuinely very exciting League race that year, involving neither Celtic nor Rangers!
But for Celtic the mini-revival hit the buffers when Dunfermline came to town on 19 December. This was the game that really got the Press using words like "crisis" in the context of Celtic Park and highlighted the fact that the club really were in a mess, and that changes really had to come. The game against the Pars was actually a good game and Celtic could, in other circumstances, have considered themselves unlucky, but the paltry crowd who were lighting bonfires on the terracings to keep themselves warm, were less charitable.
They used the abundant litter that permeated the ground before the police stopped them even doing that! On the park, Celtic were simply not getting the breaks.For one thing, Tommy Gemmell, an increasingly influential if occasionally still accident prone player, was injured in the first half and had to play on the left wing. For another, Dunfermline were a good side and able to fight for their 2-1 victory with a late goal from Alex Ferguson.
Celtic's goal came just before half-time when Gallagher scored with a low header from a Johnstone cross, deservedly praised in the Press. But the atmosphere at the end was sour and now even more were heard the "we're no comin' back" cries of the disgruntled. The fact that it was midwinter, cold and bleak made life all the more depressing.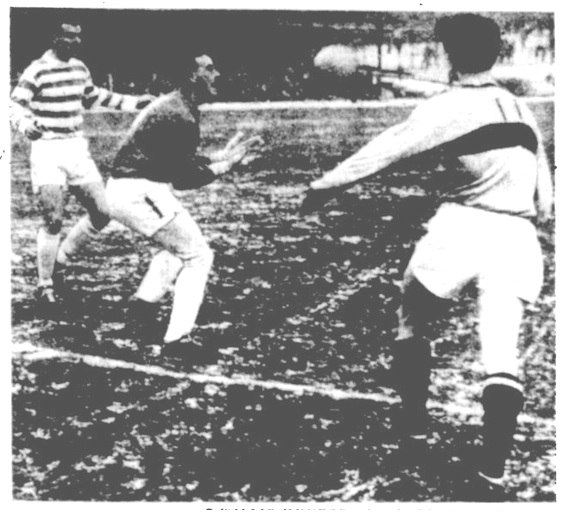 For some reason, either injury or another odd selection decision, Gallagher missed the Boxing Day game at Celtic Park against Motherwell– a competent enough 2-0 win with John Hughes playing in sand-shoes and scoring two goals – but he returned for the first Celtic horror show of early 1965. The New Year's Day game at Ibrox saw Jimmy Johnstone sent off before half-time and Bobby Murdoch missed a late penalty which would have given 10-man Celtic a deserved draw, then the predictable happened when Clyde came to Parkhead on 2 January – a Celtic team, still thinking of yesterday's disaster, could only draw amidst widespread booing and general frustration from the low crowd.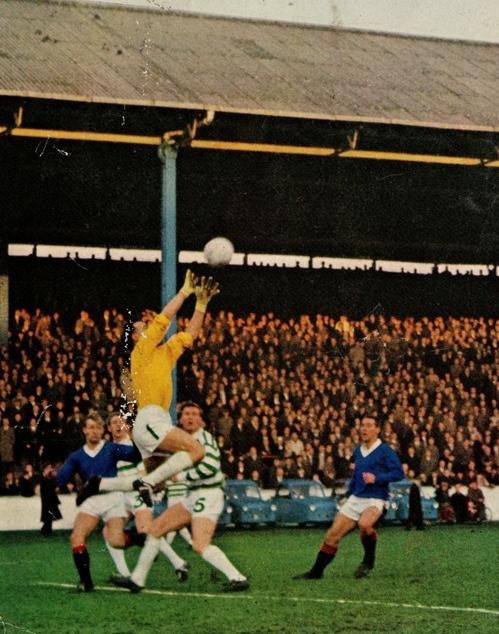 The pitch was hard, and Charlie seldom thrived in such conditions. The Scottish Daily Express is particularly severe on him when it says "Gallagher couldn't put a foot right on the slippery surface and couldn't control the ball properly". Sadly, this comprehensive damnation was echoed by the opinions of most supporters who were now openly using yet again, the word "finished" to describe Celtic.
Indeed, the current regime had not long to go. They were "finished". More pain was inflicted by Dundee United at Tannadice on 9 January before a small but defiant travelling support who were determined, like some people on the Titanic, to go down with the team while others had fled. But then in the following midweek, something significant happened. Bertie Auld was brought back from Birmingham.
Bertie of course should never have been allowed to go in the first place in 1961, and the fact the Chairman Bob Kelly who did not like Bertie nor his attitude agreed to this, might have alerted us to the thought that someone else was behind all this.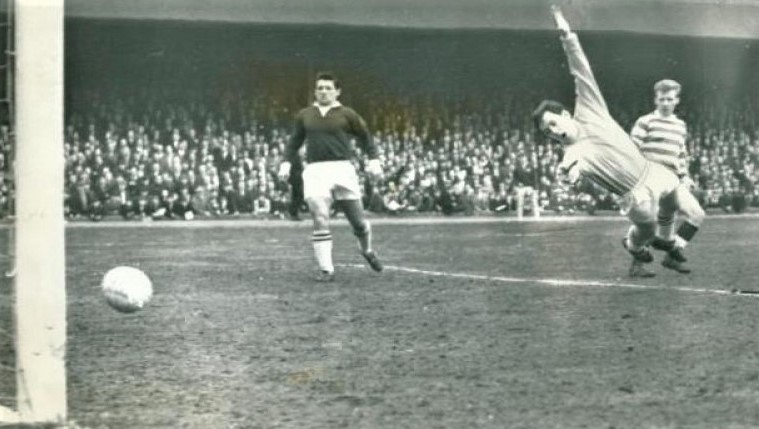 Bertie made his return in a game against Hearts on 16 January. It was another day of grim Glasgow rain, and although the team fought with a certain amount of determination, they went down 1-2 to a good Hearts team who were going well in the Scottish League. Gallagher had a few good passes, but newcomer Bertie Auld looked out of place on the left wing and never really contributed. The attendance of 21,000 looked respectable but it was misleading for it was probably the only occasion in history when the Hearts supporters outnumbered the Celtic ones at Parkhead. They even came into the Jungle (for there was loads of room!) trying to find some shelter from the dreadful January rain. Probably they did not realise that the Jungle had holes in the roof, but in any case it was better than nothing!
Charlie was not adjudged to have played well in all this – and indeed he disappeared from the first team after the defeat by Hearts – but neither did anyone else perform in what must have been an appalling atmosphere to play football with little in the way of off the field leadership. Training arrangements continued to be poor and team selections were erratic, quixotic and unpredictable. Some players, notably McNeill and Murdoch, were beginning to talk about moves to England or even emigration to Australia. Charlie himself wondered about moving for the appearance of Bertie Auld might also have been considered to be a threat to his position. But he was not to know (although there were plenty of rumours) that dealings had been going on behind the scenes about changes in management.
He did know however that he was now out of the team and would remain so for some considerable time. Yet once again he bit the bullet and did his best for the Reserves. By the time that he did come back into the first team, things had changed, and changed utterly as WB Yeats said about the Easter Rising of 1916.
Indeed, a "terrible beauty" was about to be born.
David Potter
To be continued…