International Recognition and Lisbon, Part 1… Celtic Fisticuffs: When Charlie belted Billy McNeill and Parkhead joy at Berwick Rangers shock in the Scottish Cup for Rangers…
Season 1966/67 is an immortal one in the annals of Scottish football, let alone Celtic FC. It was the one year in which Scottish football attracted the attention of the world and only a few very churlish people dared to deny the status of Celtic as a world class power. The shame was that it has never yet been repeated, and indeed did not last very long, but anyone who was alive in 1967 will recall the euphoria and ecstasy of it all and will to this day retain the hope, the ever dwindling hope, that it can happen again.
Charlie was of course very much part of all this, but was not, sadly, one of the eleven who won the beautifully ugly big trophy that immortal day of 25 May in Lisbon. But Stein was always very careful to emphasise the idea of it being a squad who won the European Cup and indeed Charlie has his own little piece of private glory, as we will see. Yet it has remained a bone of contention over the past 54 years as to who exactly did win the trophy. Was it the 11 who played in the game, or was it the whole squad? It has to have been the whole squad, and really must
include Charlie for, although he did not play in Lisbon, he did have a key role in getting the team there.
But to begin at the beginning, Charlie continued his honourable tradition of winning the Glasgow Cup – his third. The Cup was officially won on 7 November 1966, but some would argue that it was won as early as Tuesday 23 August when Celtic beat Rangers 4-0. Lennox scored three goals and McNeill one, but it was a fine performance by a team which had started the season well, and which was still hurting from that unfortunate experience of the Scottish Cup final the previous season.
It was also the night that Stein showed his undeniable ability as a Manager in two respects. Gallagher had not yet played for the first team that season. The team had started well and already included a 4-1 defeat of Manchester
United in its portfolio, but Jock was always a great one for giving everyone a chance, and Charlie was drafted in at inside right for the Ibrox game with Joe McBride moving to the centre forward position and Steve Chalmers given a rest. He felt that the craft and calmness of Gallagher would be vital in the cauldron of Ibrox.
But the other thing that Stein twigged was that Kaj Johansen was no real goalscorer. His "wonder strike" of last April was in fact a fluke, (John Hughes will admit that he should have been shadowing him in that Cup final replay and would have done so but for a slight knock) but it had gone to the heads of everyone at Ibrox. Kaj would therefore never be able to resist the pressure from the Ibrox terracings to have another go. He would thus go forward at every opportunity leaving gaps at the back, and making the Rangers defence rely on John Greig to an excessive extent.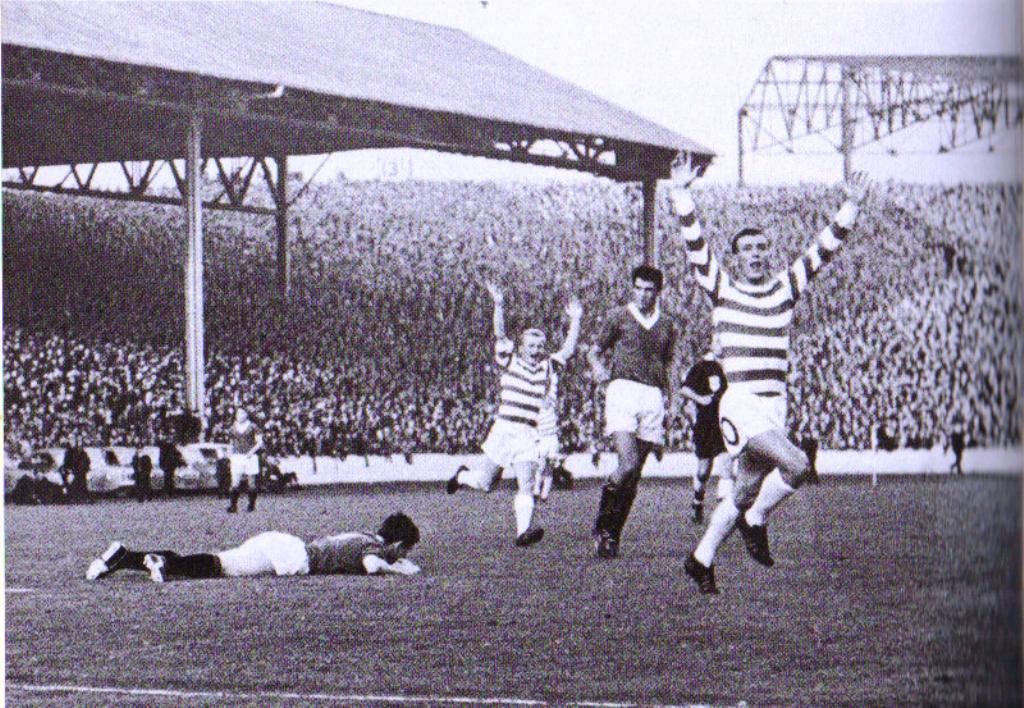 Greig could not, however, on his own cope with the speed of Bobby Lennox. Stein told Gallagher and Murdoch to feed Lennox at every opportunity. This they did and Lennox scored a hat-trick, the other goal having come from a cute Gallagher through ball to, of all people, Billy McNeill.
Charlie also played in the other two Glasgow Cup games. Against Queen's Park on Monday October 10 along with fringe players like Danish goalkeeper Bent Martin and Ian Young, a fine full back but no longer guaranteed a game in this fine side, Charlie was given a game in a regulation 4-0 defeat of Queen's Park, scoring a goal in the process.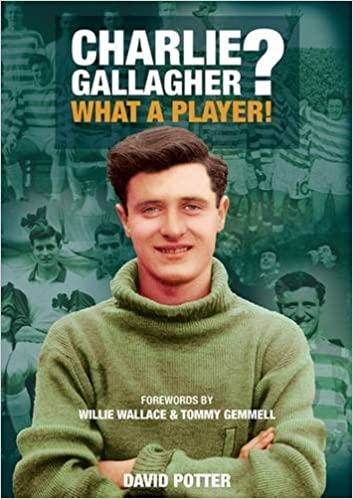 The final against Partick Thistle was also played at Celtic Park on Monday 7 November 1966. He owed his selection in this game because Jock Stein was in a bad mood with some of his players! A couple of days previously, Celtic having played superb football all season so far, suddenly decided to have a bad game and could only draw with St Mirren on 5 November.
It was by any standards a feckless performance but there were extenuating circumstances in that Billy McNeill was out injured and Bobby Murdoch was (wrongly) sent off in what seemed like a case of mistaken identity. In addition, it was the first dropped point of the season! Tommy Gemmell was hardly a success at centre half, but it was the forwards who seemed to lack the guidance of McNeill more than the other defenders.
The draw came a week after Celtic retained the Scottish League Cup in a tight 1-0 win over Rangers. Charlie, sitting in the Hampden stand, no doubt went through all the horrors of hell as Rangers piled on the pressure in the second half, and Celtic were indebted to Willie O'Neill's goal line clearance and a few fine saves from Ronnie Simpson. Then on the Wednesday night, Gallagher had been given a game against Stirling Albion and had played well in the 7-3 goal fest. He sustained a slight injury in the first half and was taken off as a precaution, so was out for the game against St Mirren.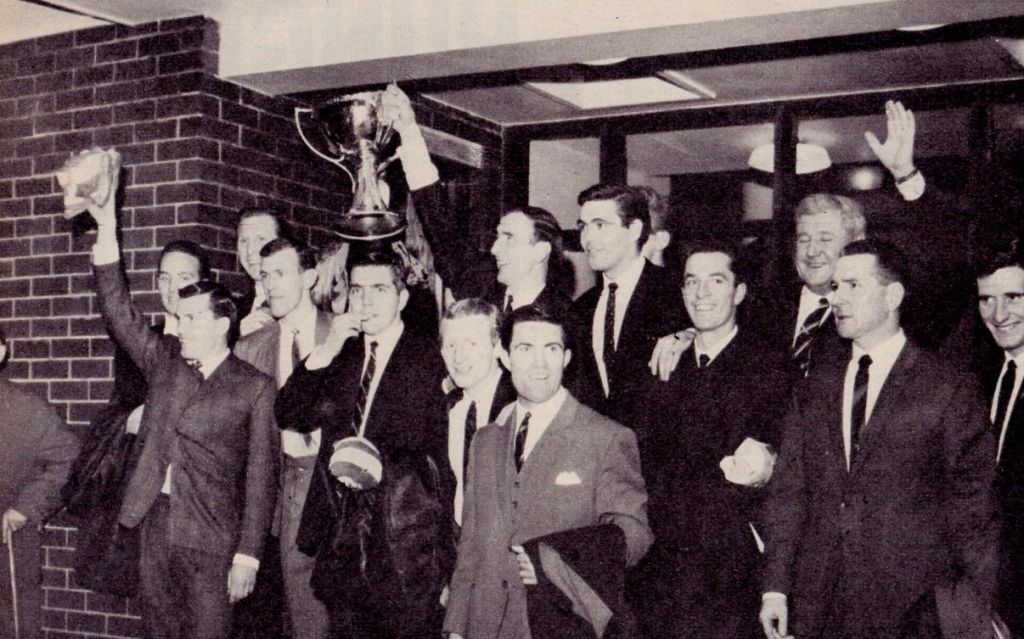 It was by no means a bad performance, or if it was, it was an isolated one. Nevertheless, Stein and the Celtic crowd had come to expect better, and amazingly some so-called fans turned on their players. That makes sense in the context of the Stirling Albion game was well, for to the astonishment of all press and journalists, the crowd turned on them there as well. Celtic were 7-1 up, then Stirling Albion came into the game and scored a couple
of well-taken goals to make the score 7-3. Catcalls and boos were heard – and this was with the team four goals up, and having already shown off the Scottish League Cup which they had won on Saturday!
The angry Stein shared this mood. He seemed to blame Jimmy Johnstone for it all. Jimmy was dropped, Steve Chalmers was put on the right wing and Charlie, now recovered from his minor knock, was brought in at inside right for the Glasgow Cup final.
31,000 saw a marvellous Celtic performance with another 4-0 victory and Celtic had now already won two pieces of silverware, the Glasgow Cup joining the Scottish League Cup won nine days previously! Gallagher played well – one of the goals came from one of his free kicks – and Celtic were cheered to the echo at the end, with Partick's
Manager, the ever gentlemanly Willie Thornton, a Rangers legend and winner of the Military Medal in World War II, joining in the praises of Celtic. It was a shame that the Glasgow Cup had not been contested in season 1965/66 (because they couldn't find dates for it!), for if Celtic had won it, it would surely have meant yet another Glasgow Cup medal.

At the end of January, the ever versatile Charlie found himself playing on the right wing in a Scottish Cup game against Arbroath at Parkhead. He was covering for the injured Jimmy Johnstone. The men from Angus put up a brave fight, but were clearly being overwhelmed with the score at 3-0 half way through the second half. The game was going nowhere special, but suddenly with nothing particular happening on the field, a loud outburst of cheering was heard in the Main Stand. The noise spread round the ground, and with still nothing happening on the field, all of Parkhead was a frenzied cauldron of excitement with people cheering waving scarves, pummelling each other on the back and hugging and kissing each other indiscriminately.
He suspected what had happened, virtually unbelievable though it was, but it was only when the crowd started singing "The Rangers are out of the Cup", that he knew for certain. Berwick Rangers had beaten their Glasgow counterparts in a result that stunned all the footballing world!The news came before Celtic's game had finished, for there had been an early kick off in the small town of Berwick.
Charlie did not play too many League games that season but he was quite happy to play in the reserves and to know that he was a very reliable member of the squad. Not that everything was always totally harmonious of course, for as always with fit young men all striving for a place in the team, there was inevitably a certain amount of tension. Charlie tells with relish the time that he actually punched Billy McNeill!
This distinctly uncharacteristic behaviour came about when Stein arranged a few very competitive training games at Barrowfield in which the winners were given a bottle of orange juice and the losers got nothing! Gallagher was playing against Billy McNeill who was giving him a hard time with niggling fouls and a few verbals. Charlie took it for a while, but then suddenly the red mist came down and Charlie belted his captain! Stein saw it and immediately ordered him off the Barrowfield training ground and told him to come and see him in his office at Celtic Park when they all got back.
It was like a bad boy having to see the Headmaster! Fearing suspension, a transfer to some Third Division English team or even, perhaps the sack for "violence", Charlie approached Mr Stein with dread, knowing that Jock did not particularly like him and that he had maybe been looking for the opportunity. But to his surprise, Stein, while telling him that he was a little out of order and that he shouldn't do it again, said it was good that he was able to look after himself! Aggression was not really a great part of the play of the gentlemanly Charlie Gallagher! And he is proud of the fact that he was never booked or in trouble with referees at Celtic Park.
Gallagher made it up with McNeill – not that that was a huge problem, for McNeill regarded Charlie very highly indeed – and the incident was forgotten about by the next day. Indeed it may even have been a plot hatched up by Stein and McNeill to provoke a little more aggression from Gallagher! It was just as well that the Press didn't get to hear about it, otherwise more would have been made about it than need have been.
In later years when spats between Tosh McKinlay and Henrik Larsson, then between Artur Boruc and Aiden McGeady reached the press, an inordinate amount was made of them. There was also the famous occasion when Bobby Evans and Charlie Tully came to blows. A few days later they beat Rangers 7-1!
David Potter
To be continued…