Season 1961/62 was actually, in many ways, a better season for Celtic with some really good football played but we were still haunted by the plague of inconsistency and unreliability. Charlie missed more or less the whole season, playing only once at the end of the season. Yet he had not been "sacked" by the club. He was kept on, for it was always said that he was "in their plans" for the future. But in the meantime men like Mike Jackson, John Divers and others were preferred to him in the rather crazy and erratic selection procedure which prevailed at the time, if indeed there was anything to justify the use of the word "procedure".
The Scottish Cup was, once again, the main talking point and the best chance of an honour in 1962. Cowdenbeath and Morton presented few problems, and then there was one of the best games ever seen at Tynecastle as Celtic came back from the dead against Hearts to win 4-3. A similar resurrection was seen in the next round when Third Lanark came to Parkhead and were 3-1 up at half time. Celtic then rallied and went 4-3 ahead before conceding a late equaliser. Such was the crowd interest that the replay had to be played at Hampden rather than the inadequate Cathkin, and Celtic won 4-0. But then came the awful day of 31 March when Celtic inexplicably went down 0-3 to St Mirren in the semi-final.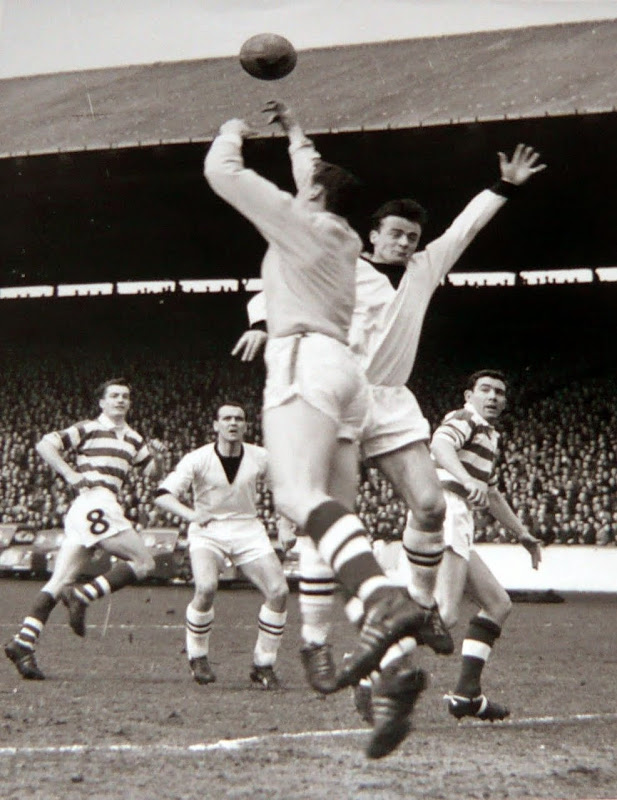 The defence was unnerved, apparently, by captain Dunky MacKay's odd decision to play against the wind when he won the toss! That was sheer immaturity and the behaviour of some players was frankly childish, particularly as Celtic had beaten the same opposition 5-0 at Love Street the Monday before! But what made things a million times worse was the invasion of supporters, apparently trying to get the game abandoned!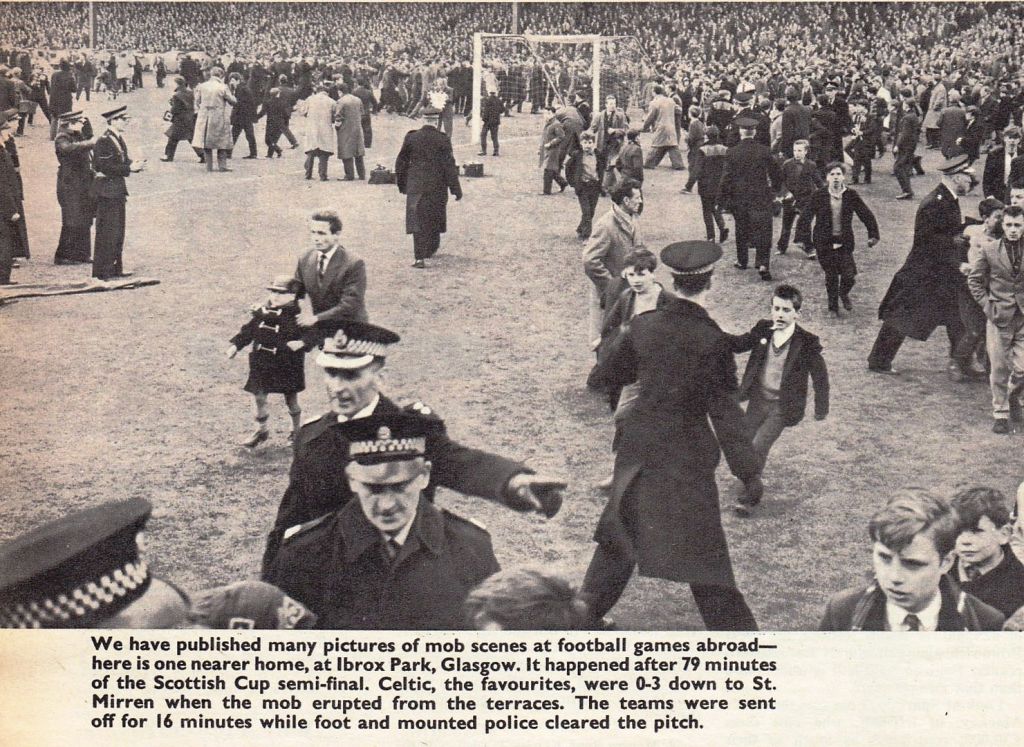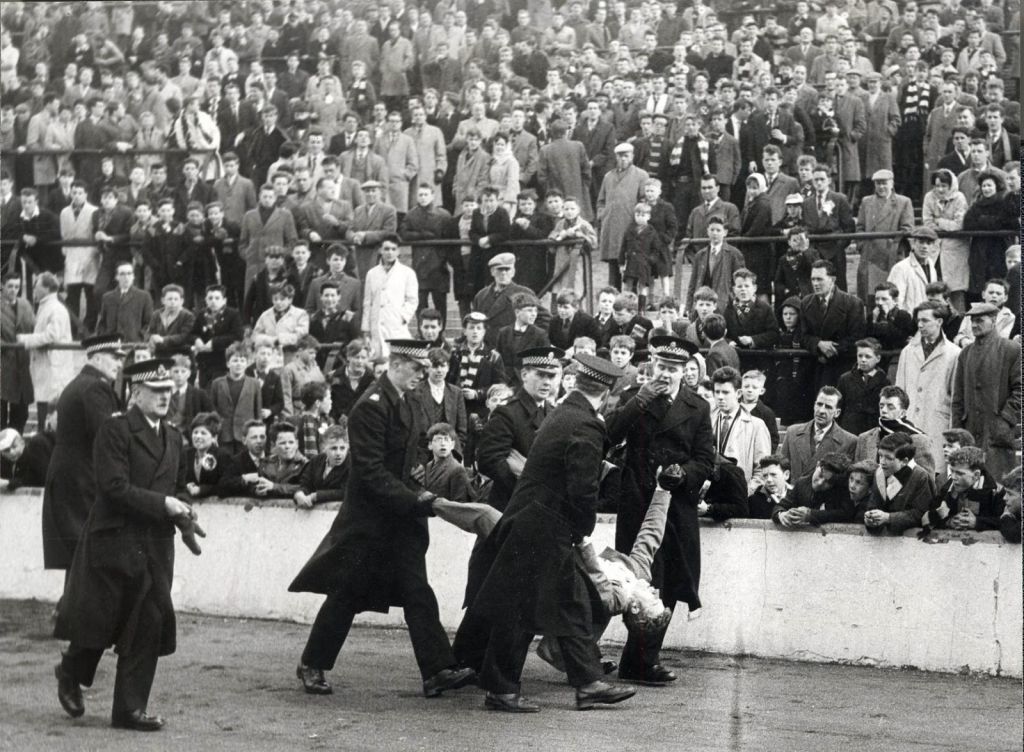 It was inexcusable and although there can never be any justification for hooliganism, this unsavoury occurrence showed how high the levels of frustration were among the disillusioned and baffled support. Dundee won the League this season for the first time – and deservedly so – yet there was enough from Celtic to make one think that Celtic were a possibility for honours. Some great games were played, notably in the month of December, – a 5-1 taking apart of Partick Thistle, an epic 4-3 against Hibs and a comprehensive 4-0 beating of Raith Rovers meant that they were on the crest of a wave at the festive season.
Christmas was thus spent in pleasurable anticipation of what was to come in the New Year. But bad weather put paid to the New Year fixture against Rangers at Parkhead and a few others, and this seemed to knock the young team off their stride. Three feckless draws followed in January against Kilmarnock, Third Lanark and Motherwell and effectively, Celtic were reduced to outsiders yet again.
Yet, when they were good, they were very good. Twice they wiped the floor with St Mirren and twice paid Dunfermline back for the Scottish Cup of last year. They beat Dundee in early March, thus seriously impairing Dundee's charge for the Championship, and then on the April Holiday Monday against Rangers earned a point which should have been two, thus putting Dundee back in the race again. The talent was clearly there; it was consistency which wasn't.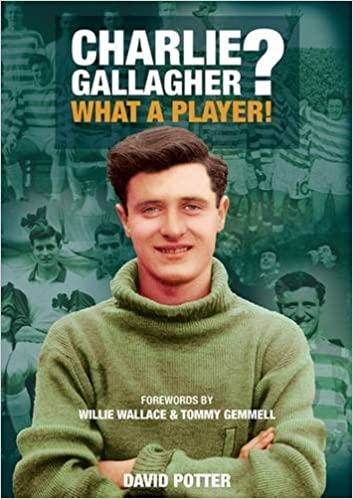 A feature was the sad inability to beat smaller teams. They lost at Falkirk in September, triggering the customary outbreak of hooliganism in that town, at Stirling in February and at Airdrie in March, before the worst
of them all – an absolutely awful defeat to Raith Rovers at Parkhead on the day that they should have been playing in the Scottish Cup final. It was this game which was the catalyst for the return of Charlie Gallagher, currently playing sporadically in the excellent reserve team.
In one respect however, his life took one step forward. Celtic players were frequently invited to Dinners and other social functions organised by Roman Catholic Churches. On Saturday night, he and left winger Bobby Carroll and goalkeeper Frank Haffey were invited along to St Palladius RC Church in Dalry, Ayrshire. Naturally sociable and pleasant he went around talking to various people, including a young lady of his own age called Mary.
She told him that, although her father was a die hard Celtic supporter, she herself knew little about football and was no great fan of the game or the team. This was in spite of the fact that she had been brought up across the road from Celtic Park, in Janefield Street and told him that, when she was younger, she and her sister Dorothy used to go in at half time, when the exit gates were opened, to collect all the bottle tops with a view to making some money out of them! This was indeed a common phenomenon of football crowds in the 1950s and 1960s, which of course, for a variety of reasons would simply not happen today. She told him that she worked for the Gas Board but had been invited to this function because she did some typing in her spare time for the priest.
The two of them talked for a while, made arrangements to see each other some other time, and romance soon blossomed.
On the football front, Charlie was mature and realistic enough to accept that he has to bide his time in the reserves. He was still in his early 20s and realised that he still had several years ahead. He had always been
assured that he figured in the plans, and kept working away. He was now aware that perhaps the right wing was not the best place for him, and the Celtic management team began to wonder this as well, playing him in one
or other of the inside positions in the reserve team, although he was still deployed on the right wing as well.
Steve Chalmers had started off the season in the right wing position in the first team, but was then moved to inside, something that brought him to the verge of International recognition. Gallagher might at that point have wondered about a re-instatement to the right wing to accommodate Chalmers, but the right wing spot went to the worthy Frank Brogan. Bobby Lennox was also given a game against, of all people, League leaders Dundee, but still no recall for Charlie Gallagher.
April 1962 was difficult for Celtic. The fallout of the St Mirren semi-final on 31 March had been immense with despair the order of the day. Apart from the inexplicably bad performance of the team, the fans had rioted and managed to get the game stopped. No-one yet knows what triggered the invasion. It may indeed have been a deliberate attempt to get the game stopped with St Mirren leading 3-0; it may have been an attempt to dodge the many missiles and bottles coming from higher up the terracing or it may simply have been a few misguided youths having a bit of fun on an otherwise depressing day.
To the credit of Mr Kelly, Celtic immediately conceded the game after referee Alistair McKenzie of Coatbridge led the players off, so that even when the pitch was cleared and Celtic scored an irrelevant goal through Alec Byrne, the whole thing did not matter. Celtic were out of the much cherished Scottish Cup and in serious danger of losing credibility in every respect. The cynics among us speculated that, if Celtic had not had such a huge support and generated so much money, they might even have been banned from the Scottish Cup for a year or two because of the indefensible conduct of the fans. It was a grim time to be a Celtic supporter or player with perhaps the only slight comfort being the performances of Pat Crerand and Billy McNeill in the Scotland team which beat England 2-0 on 14 April.
The following week saw Celtic at rock bottom. Rangers won the Scottish Cup beating St Mirren fairly easily 2-0 (a result which says something about how bad Celtic had been in the semi-final), Celtic managed to lose 0-1 to Raith Rovers at a desolate Parkhead with a lot fewer than 10,000 being there, the proceedings "scarcely good enough to raise a cheer" as The Evening Times puts it, while Charlie Gallagher played in front of about 100 diehards at Stark's Park, Kirkcaldy against Raith Rovers Reserves.
The team lost that one as well, but Gallagher played at inside left in a forward line of "Newman, Lennox, McBride, Gallagher and Murdoch". The McBride was not Joe who would not join the club for another few years, and who the "Newman" was, we can but speculate, but if someone had said that two of these guys would win a European Cup medal in five years time, and another would be a reserve in the final, that man would have been a candidate for a visit to a psychiatrist.
Yet Charlie had been quietly plying his trade at inside left (sometimes inside right), and good reports had gone back about him – not least because he did not cause trouble and did whatever he was told – so much so that in this dark hour of Celtic's history, he was recalled. Charlie made his re-appearance for Celtic in the last League game of the season on Monday 23 April at Fir Park, Motherwell. About 7,000 bothered to turn up to see what was actually one of Celtic's better performances of the season and finished up with a very convincing 4-0 victory. Gallagher was played at inside right and "fitted in well with the rest of the forward line" according to Peter Hendry of The Evening Times. He should, of course, have been there long before then.
That might have been the end of the season, but there was still the Glasgow Cup. Clearly losing out in importance and prestige from its heyday, this tournament had seen Celtic, earlier in the season, reach the final to play Third Lanark. It was normally played in October, but it was often difficult to find a place for it in the crowded calendar, particularly since the Second World War with the arrival of the Scottish League Cup. But the Glasgow Charity Cup, usually played at the end of the season, had now been officially discontinued, and an attempt was now made to play the Glasgow Cup at this time. It was still something, and there was a beautiful old Cup and medals for the winners. For Celtic, now trophyless since October 1957, (if we discount the now defunct Glasgow Charity
Cup) it was something to go for and assumed a certain importance in the eyes and minds of Celtic fans and players, among them Charlie Gallagher who had played well enough against Motherwell to be included in the Glasgow Cup side.
The final was played at Hampden on the evening of Friday 4 May1962, attracting a crowd of about 20,000. Celtic had won the trophy 20 times and Third Lanark 3, the last time being in 1908/09 when they beat the great Celtic team of Jimmy Quinn and Jimmy McMenemy in a result which shook Edwardian Scotland to its core. 1962's final was a dreadful game, although Celtic had more of the play in a 1-1 draw. John Hughes scored the goal but Billy McNeill missed a penalty kick. Charlie is mentioned as having played well but on one occasion was "off target with his shooting". The replay was scheduled for Celtic Park the following Friday night.
This was an astonishing game. If it had been a Scottish League game, it is doubtful whether it would have been played because the pitch was flooded in several areas following torrential rain. But there was a certain
enthusiasm from both sides to get the game played, and referee Mr Tom Wharton agreed. Yet at one point in the first half, "Tiny" (as Mr Wharton was called, paradoxically because of his huge bulk) stopped the game to get the ground staff to mop up the pitch. Their efforts seemed to yield little fruit, but the game restarted and almost immediately Celtic scored with a left foot Gallagher drive.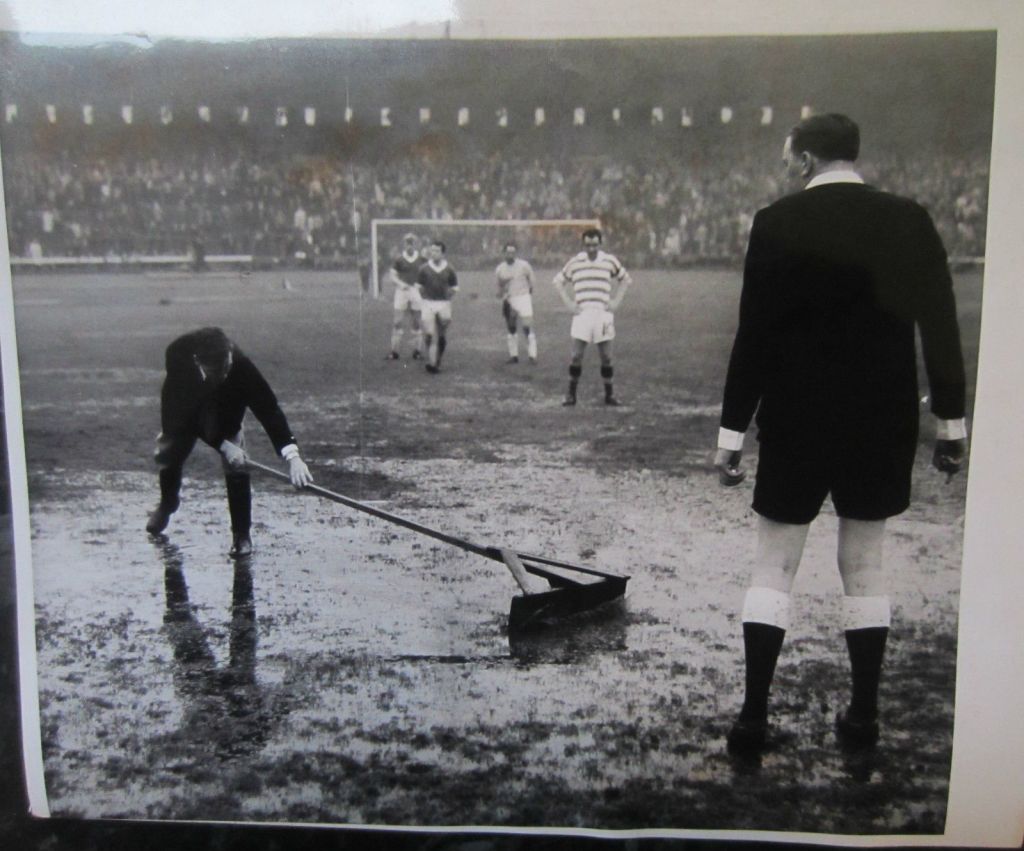 In the second half, the rain had now stopped and conditions marginally improved. A squad of ground staff worked on the pitch at half-time and by the time that the players came out again, there was little trace of the water. But things looked bad for Celtic when Billy McNeill was taken off injured, and late in the game, Celtic were 2-1 down. But spurred on by a small but vocal crowd of about 12,000, Celtic equalized through a Hughes header, then with time running out, won a free kick a few yards outside the penalty box. Charlie Gallagher took it and crashed a brilliant goal past veteran Third Lanark goalkeeper Jocky Robertson.
The full time whistle brought disproportionate scenes of wild celebration with Celtic boys invading the field as if they had won a trophy of far greater importance. But it was something, and stand-in captain Jim Kennedy took the trophy to great cheers and scarf waving. Cyril Horne, the respected writer of The Glasgow Herald singles Gallagher out as "the most skilful player on the field", and most supporters left the ground wondering why Gallagher had not been playing earlier in the season, particularly in the awful semi-final against St Mirren where his silky passing skills might just have provided some illumination of the Celtic gloom.
Gloom it certainly was in 1962, but there was at least some hope on the horizon. One recalled yet again the Greek legend of Pandora's box which released many evils on the world, but also released Hope. The Glasgow Cup had provided some sort of sting in the tail and offered a certain amount of Hope. Gallagher had been part of that.
There were also Pat Crerand and Billy McNeill. Celtic supporters, forever hopeful and optimistic, passed summer 1962 hoping that their team would at last "arrive" in 1962/63 and lift at least one major trophy that everyone so craved. Dundee had shown that good management could win Leagues, and that the financial resources of Rangers needn't be an insuperable problem. (That Rangers weren't insuperable was also proved by their dismal failure in Europe against Standard Liege.) But good management was the key thing – and it was something that Celtic did not have.
David Potter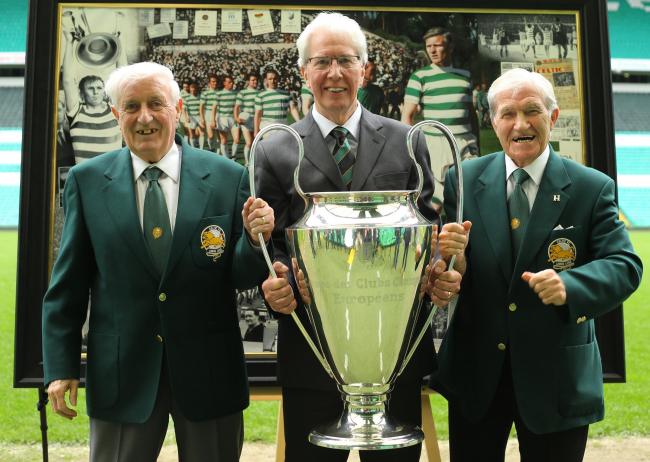 From David Potter's wonderful biography "Charlie Gallagher? What a Player!" published by myself in 2016. Continues tomorrow only on The Celtic Star…