The 1965 Scottish Cup Final was played on a bright, breezy spring day in front of a crowd given as 108,000 but which was probably a great deal bigger than that, given the amount of children lifted over the turnstile and the amount of young men who were able to climb over the wall. Allowing for Dunfermline supporters and neutrals (in 1965 a remarkable amount of people, genuine football fans, went to every Scottish Cup final, no matter who was playing) it would probably not be an exaggeration to state that Celtic fans made up over 80,000 of that crowd. "We'll forgive everythin, Cellic, everythin, as lang as ye just win the day" seemed to be the motto or war cry of the green and white brigade.
When the teams came out just before 3.00 pm, Charlie would have seen green and white all over the ground with the isolated pocket or two of the black and white of Dunfermline. The huge King's Park terracing was grossly over-populated by Celtic fans with overcrowding particularly bad near the top. If Gallagher had not known already just exactly what Celtic meant to so many people – and how could he not know that? – here was the proof. It was indeed Celtic's Day of Destiny.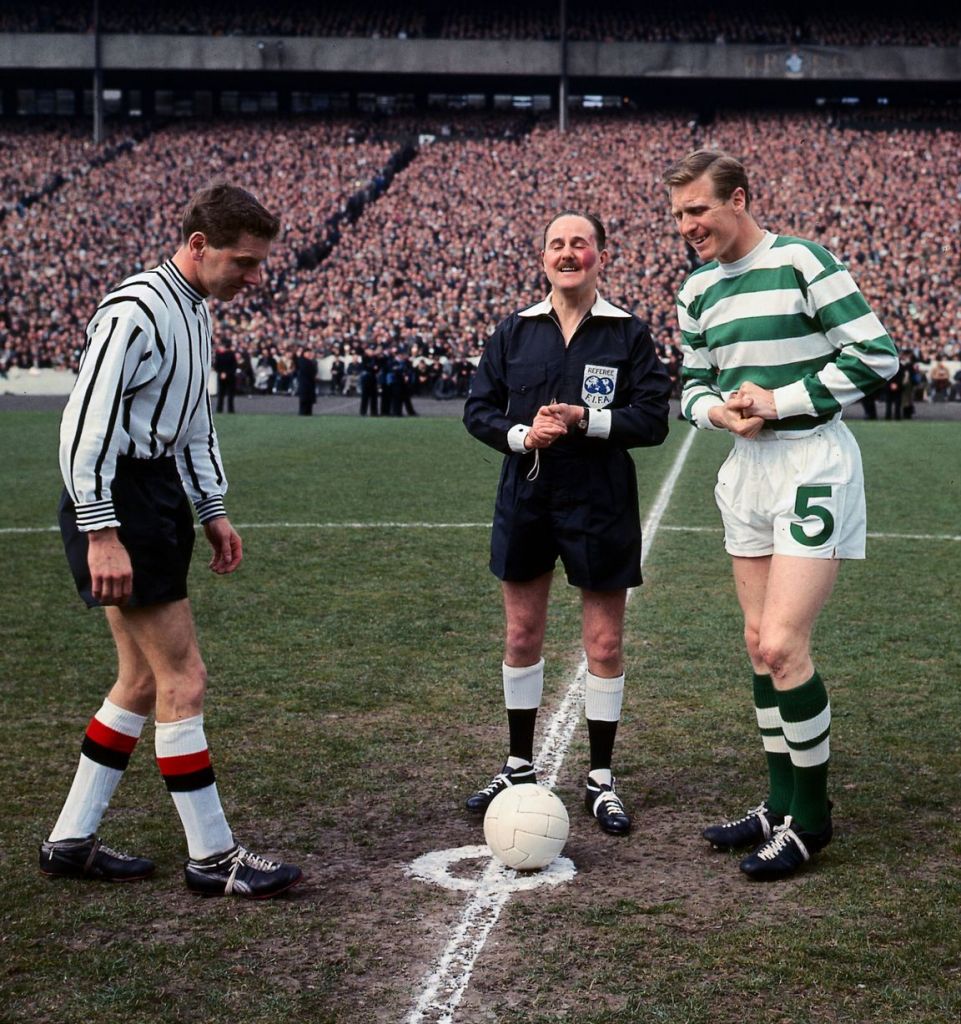 The teams were:

Celtic: Fallon, Young and Gemmell; Murdoch, McNeill and Clark; Chalmers,
Gallagher, Hughes, Auld and Lennox.

Dunfermline: Herriot, W. Callaghan and Lunn; Thomson, McLean and T.
Callaghan; Edwards, Smith, McLaughlin, Melrose and Sinclair

Referee: H Phillips, Wishaw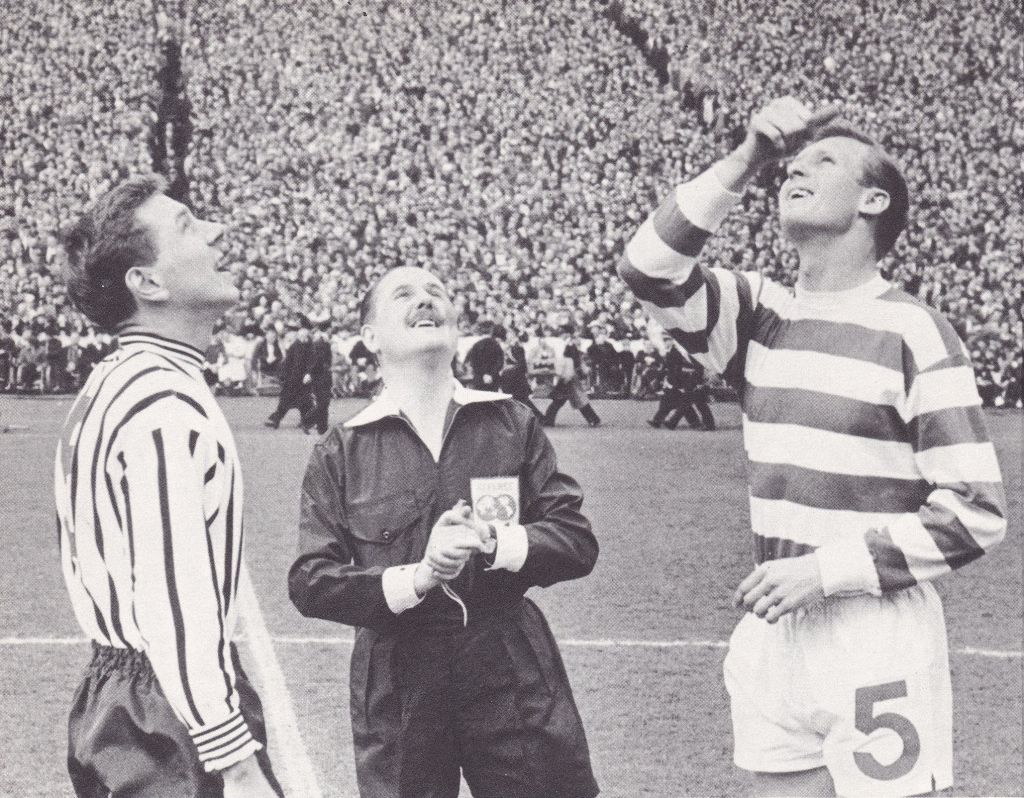 Celtic started off playing towards the King's Park End – the traditional Celtic End, as distinct from the Mount Florida End where Rangers supporters congregated on Old Firm days – but it was Dunfermline who drew first blood with a well taken goal from that crusty character called Harry Melrose. But Celtic had now settled a little and were better able to cope with the swirling wind. Slowly Gallagher and Murdoch began to make inroads and round about the half hour mark, Charlie Gallagher, with his slightly hunched shoulders which made him so easily recognisable even from the top of the huge terracing picked up a ball about half way inside the Dunfermline half, took a step or two forward, beat a man, changed the ball from his right to his left and crashed a terrific shot which looked destined for the net, but seemed to rise just a fraction in the wind and smacked against the bar.
Believe it or not, the sound of the ball hitting the bar was heard in many parts of the ground in spite of the noise of 108,000 people! But the cries of chagrin from the serried ranks behind that goal changed from exasperation
to expectation when it was seen that the ball did not go over the bar, or even bounce back into play but in fact rose straight UP in the air, and not only that, but Bertie Auld was rushing in to head the ball in when it came down!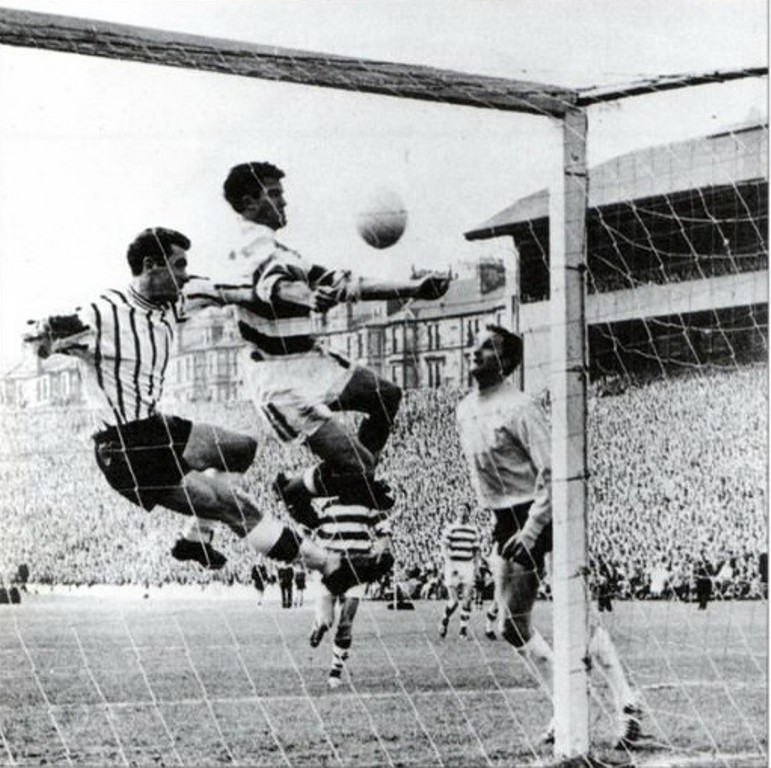 Celtic were level, Bertie sat in the back of the net milking the moment, but congratulations were also due to the ever modest Gallagher for his terrific piece of play. It was not exactly his first great moment but it was the first time that he played a crucial part in the changing of the course of Celtic history. It was also one of the Scottish Cup final's most remarkable goals, and would have been much more talked about, had it not been overtaken by even more momentous events.
1-1, and half-time approached. The interval would give Celtic a chance to regroup and mount an offensive in the second half. But then disaster struck when the Pars were awarded a free kick on the edge of the box. A loudspeaker announcement came just at the wrong time, distracted the Celtic defence, and the ball was passed to John McLaughlin, a man with a fine Celtic name, who beat Fallon with a fine angular drive. Minutes later, referee Hugh Phillips blew the half-time whistle and Celtic trudged off, depressed and disconsolate.
The depression on the terracing was commensurate with that in the dressing room. Celtic had been (marginally) the better team, but Dunfermline had availed themselves of the opportunities presented to them. There did of course remain 45 minutes, but it was hard not to recall an almost parallel situation in this season's League Cup final when Celtic had the better of the game, but half time had seen them pegged at 0-0. Then Rangers got the breaks in the second half. It was even worse now, for Celtic were actually behind.
What exactly Jock Stein said at half-time will never be known for, apart from anything else, it is protected by "dressing room confidentiality" and none of the players seem clearly to remember in any case! Charlie himself has no great recollection. John Hughes, no great lover of Jock Stein, described him as "remarkably laidback" with "a word in our ear" and an "arm over an individual's shoulders" with none of the "acid tongue" that he would use in
later years. He probably didn't say any more than "just keep doing what you are doing and the goals will come" sort of platitudes. Indeed, the team had little to reproach themselves for. They were unlucky to be behind.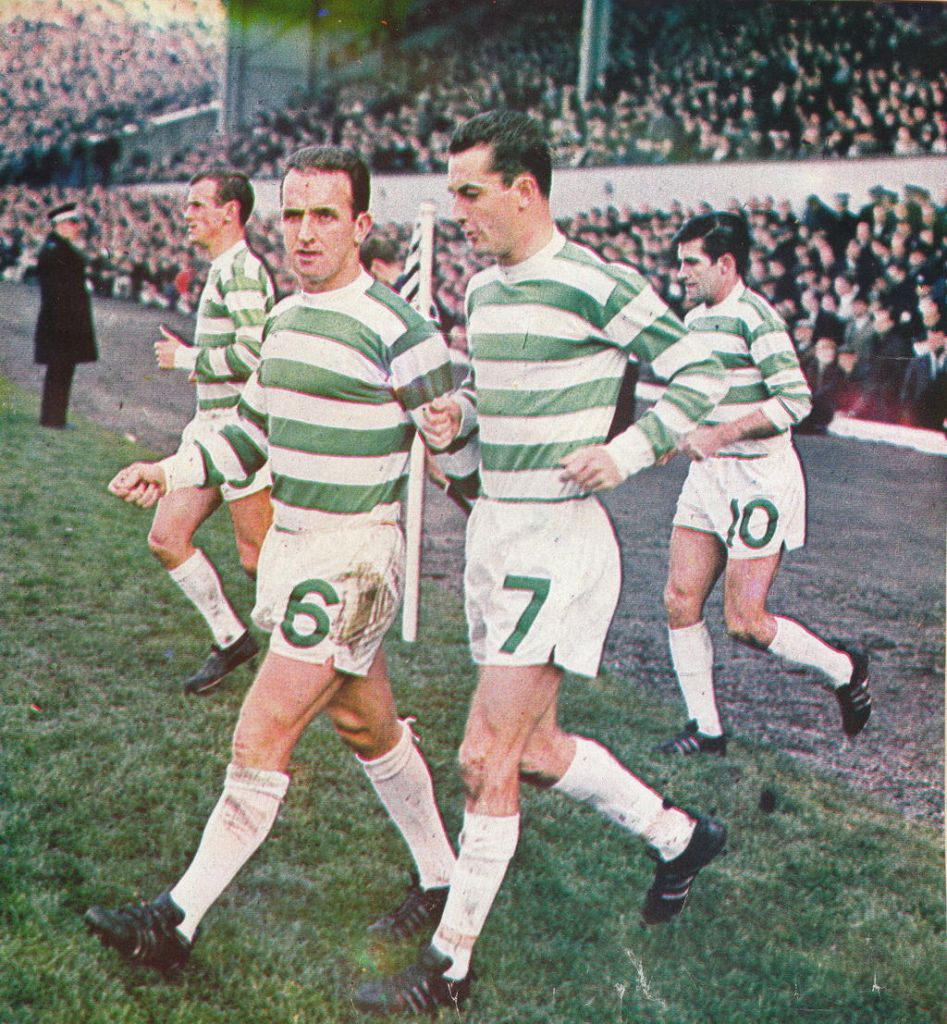 But this was a real Celtic team who knew how to fight back. Auld and Lennox combined brilliantly to level the scores just after half-time, and then a real battle began with both sides coming close, never more so than when John Fallon saved brilliantly from Alex Edwards, grabbing a ball that seemed to have gone behind him and over his head. Gradually, Celtic's midfield of Gallagher, Murdoch and Auld began to get the ascendancy, but a replay on Wednesday night now began to look more of a possibility.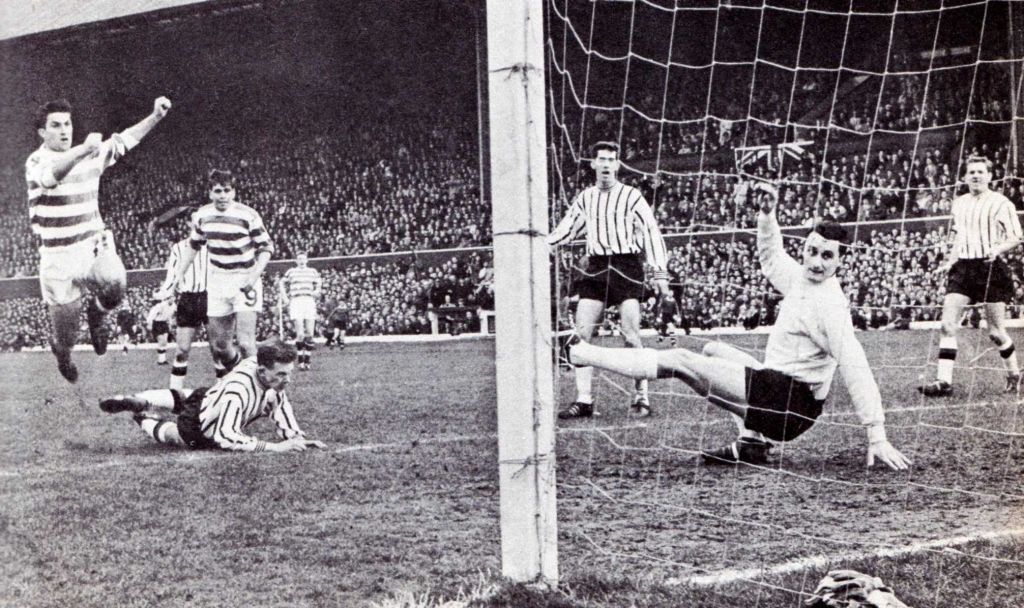 Indeed, many of the crowd would have welcomed that, for they would have enjoyed a relief from the tension. Most people were cynical enough in addition to suspect that the authorities and the clubs themselves would have welcomed an extra game and another big gate!
But Destiny was beckoning for Celtic and for Charlie Gallagher. Nine minutes remained when Celtic forced a corner on the left on the Main Stand side of the field. Across trotted (newspapers always use the word "trotted" when a player takes a corner kick!) Charlie Gallagher.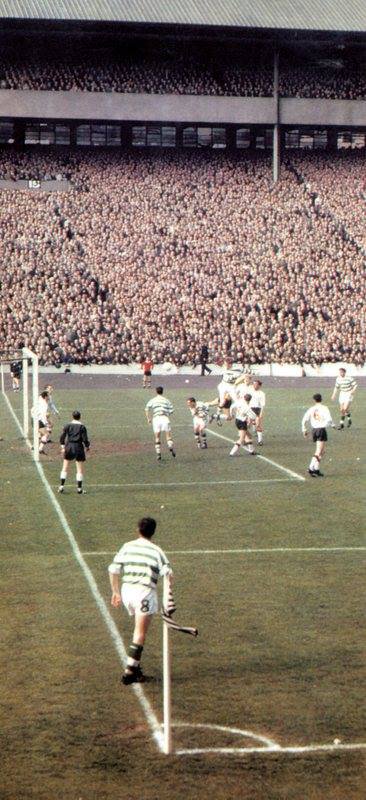 The move had been rehearsed and Charlie knew that McNeill would come up for the corner. This ploy was new enough, however, for it to carry the element of surprise for the well-drilled and organised Dunfermline defence. Even as he shaped to take the kick with his right foot for an in-swinger, he noticed McNeill starting his run. Charlie sent over a perfect corner at exactly the right height with the right pace and the angel of Destiny, Captain Courageous of all the Boys Own yarns, Billy McNeill arrived just at the right time to propel Celtic to a decade
of unprecedented glory.
High up on the East Terracing, as far away as you could get from the action without being outside the ground, your back was pummelled, people you had never seen before hugged and kissed you, your feet left the ground as people shouted "Billy McNeill! Billy McNeill! Billy McNeill!". Someone ventured to suggest it might have been Tommy Gemmell with the fair hair. "Was it hell! It was Billy McNeill! Billy McNeill!"
You simply could not make all this up. The next nine minutes were painful for all the fans as the green and white flags gradually began to wave with more and more courage and conviction. Bertie Auld was capering and wasting time making great play with the pile of policeman's coats stacked near the corner flag. Dunfermline got the ball over the half way line, and we all held our breath, but Ian Young booted the ball down the field. We tried not to think of the wilderness years which might have been coming to an end. "Just kick the baw onywhere Cellic".
Fortunately, Charlie Gallagher did not obey this advice and passed the ball about sensibly to Bobby Murdoch and Bertie Auld, until referee Mr Phillips signalled full time to unleash an enormous tide of emotion. Gentle reader, you cannot imagine what it was like on that King's Park terracing with tears, hugs, embraces, singing, dancing and general madness. It really had to be experienced to be believed.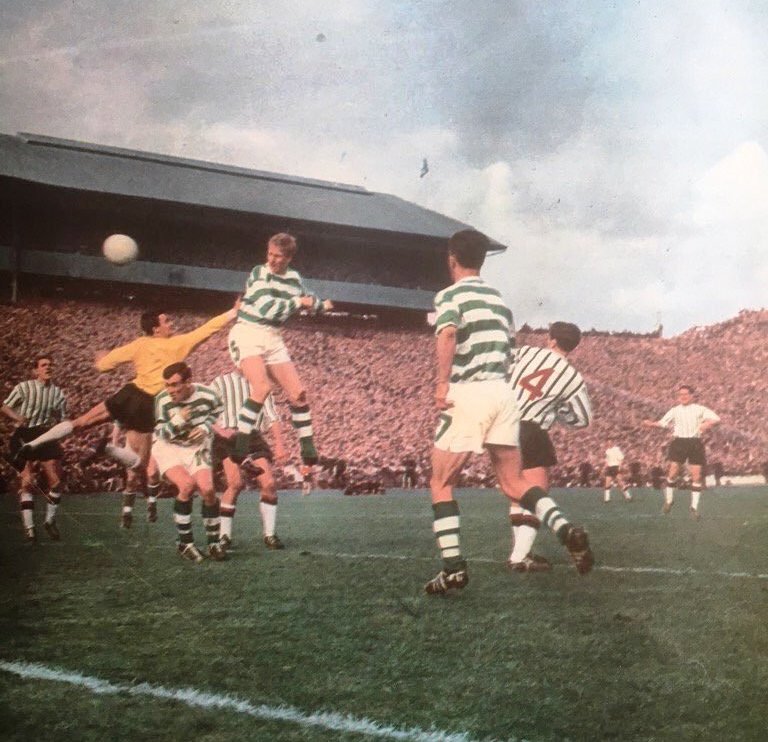 Tom Campbell and Pat Woods in The Glory And The Dream, still one of the best books ever written about our club, describe the winning goal and its aftermath thus "Another corner, this time on the left, to be taken by Gallagher, hurrying over to place the ball. Across it comes, a high, floating ball and too far out for the keeper, but he has left his goal…somebody is there – McNeill… and his header rages into the net. For two seconds, Hampden's vast bowl was still, stunned by the sudden shock of decision, and then erupted into bedlam; the roar continued minute after minute and its prevailing note changed; it was not merely the burst of joy that a goal produces, rather it was a tumultuous welcome to the future and the instinctive realisation by all Celtic's support that the young men had grown up and that nothing, now nor in the years to come, would withstand their collective spirit. McNeill, the young captain, had emerged from nowhere to score the goal that history demanded. As a member of the team in the past he had delighted in the joy of victory and been despondent in the misery of defeat, but now in full maturity he stood revelling in the moment of triumph".
This is fine literary stuff, and captures the flavour of the moment, although this author cannot in all honest claim that he experienced any "instinctive realisation" that "nothing…would withstand their collective spirit". Rather he was standing at the top of the East Terracing, gripping tenaciously the post that indicated stairway 25, and praying to God to allow Mr Phillips to blow that whistle!
Charlie went out of his way to shake the hands of all the Dunfermline players. He knew how they were feeling, and there were some fine players among them, several of them Celtic supporters in their boyhood, and of course Tommy Callaghan would join Celtic in 1968 in circumstances which we shall discuss. The Scottish Cup was presented – the green and whites collecting the Scottish Cup! – and Charlie was given his medal. It was his greatest day. The team came up to show the trophy to the exultant fans on the East Terracing, quite a few of whom were unashamedly in tears, having feared that this moment would never come. A veteran supporter who had seen Scottish Cup finals since Joe Cassidy in 1923, and who had played his part in the liberation of Italy in 1943, stated quite emphatically, that he had never seen anything like this.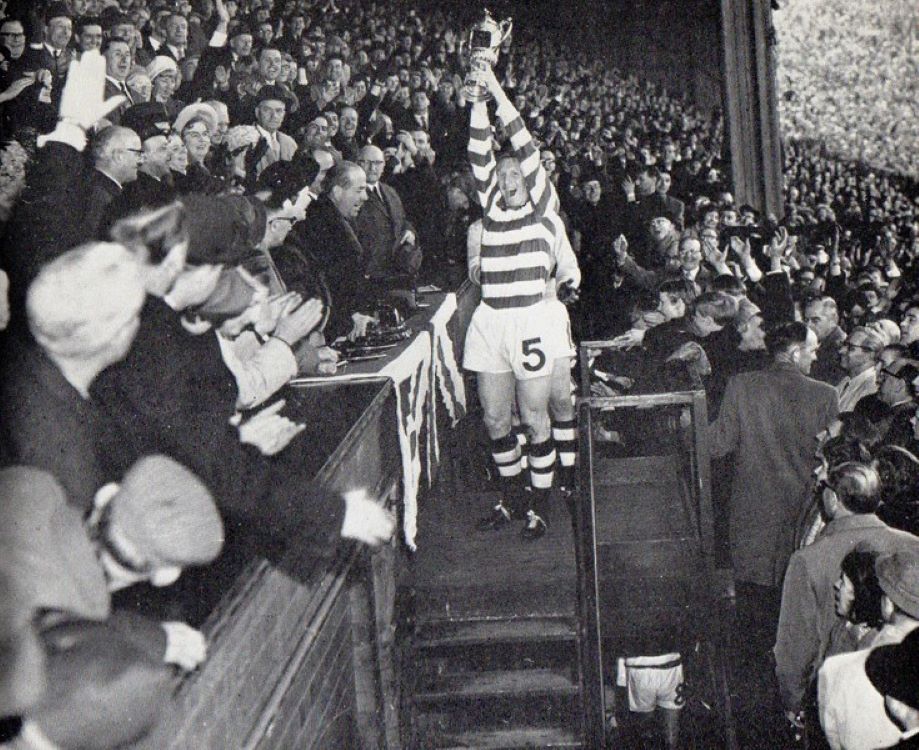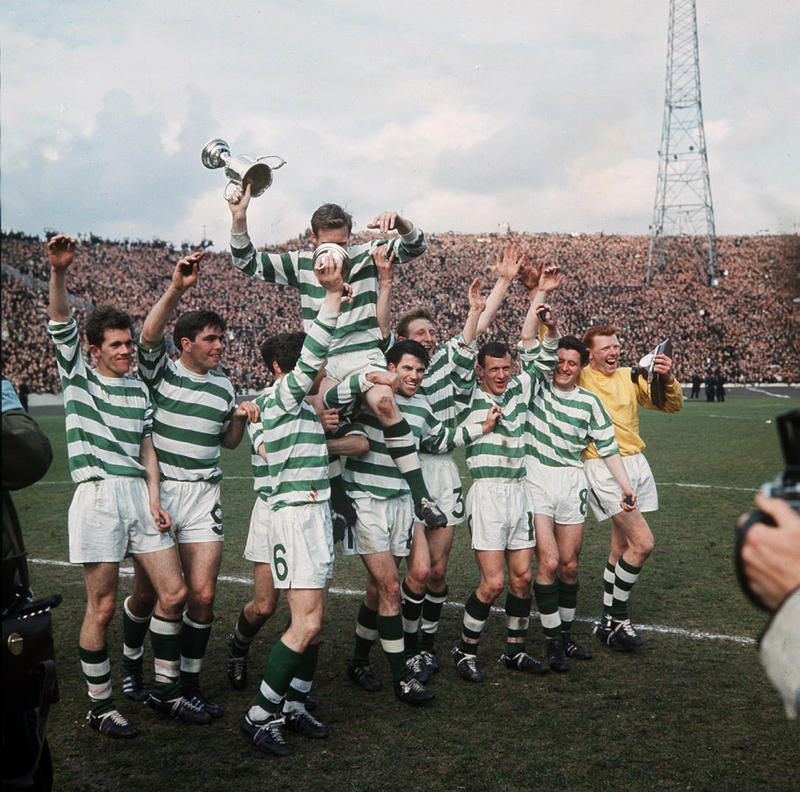 There was a sequel in the dressing room. Jock Stein had, apparently, said at one point that it was difficult to imagine a successful Celtic team with both Bertie Auld and Charlie Gallagher in it, because they were both the same type of player. Bertie came up to Charlie and said "Come on, put on your medal, and come and talk to him". The self-effacing Charlie would never have done this on his own, but the street wise cocky Auld had no such qualms, and he led Charlie to the smiling Stein. "Hey boss, what was that you said about us no' being able to play in the same team?"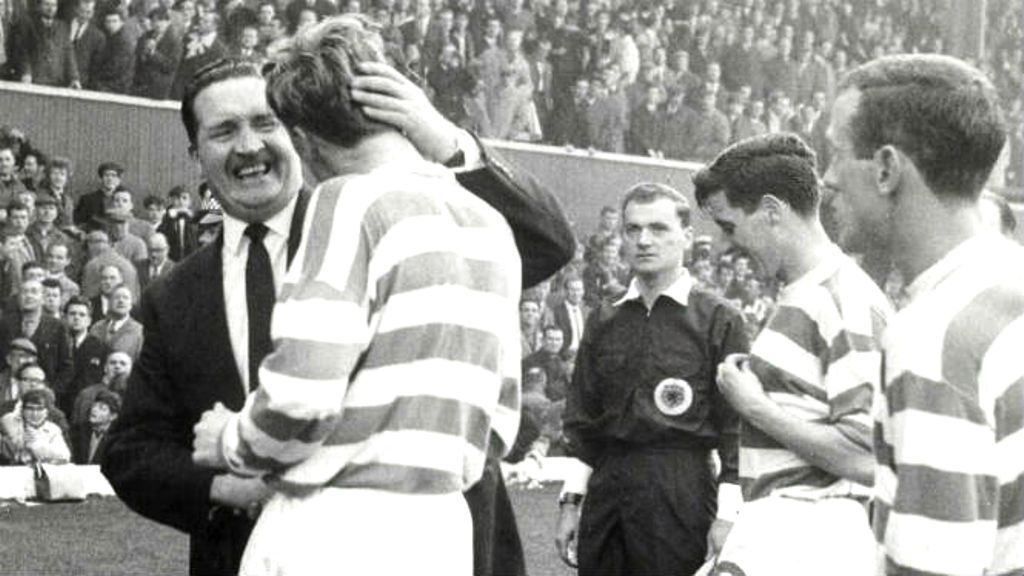 Normally such insubordination – and sheer impertinence – would have earned a suspension or even a transfer to another club, but these were special circumstances, and Stein, although temporarily discomfited, made a quick riposte and turned to beam on someone else.
The next few hours passed like a dream for Charlie Gallagher with the bus going through thousands of Celtic fans in the heartlands of the Gorbals to the Central Hotel for the celebration meal, and the bus being stopped several times by the sheer pressure of the fans. Charlie, of course, recalled the day when he had been one of the fans running to see the team with the Coronation Cup of 1953. Now he was on the bus waving in triumph to the adoring thousands. And in the front of the bus was the source of all the euphoria, the Scottish Cup, now won by Celtic for the 18th time.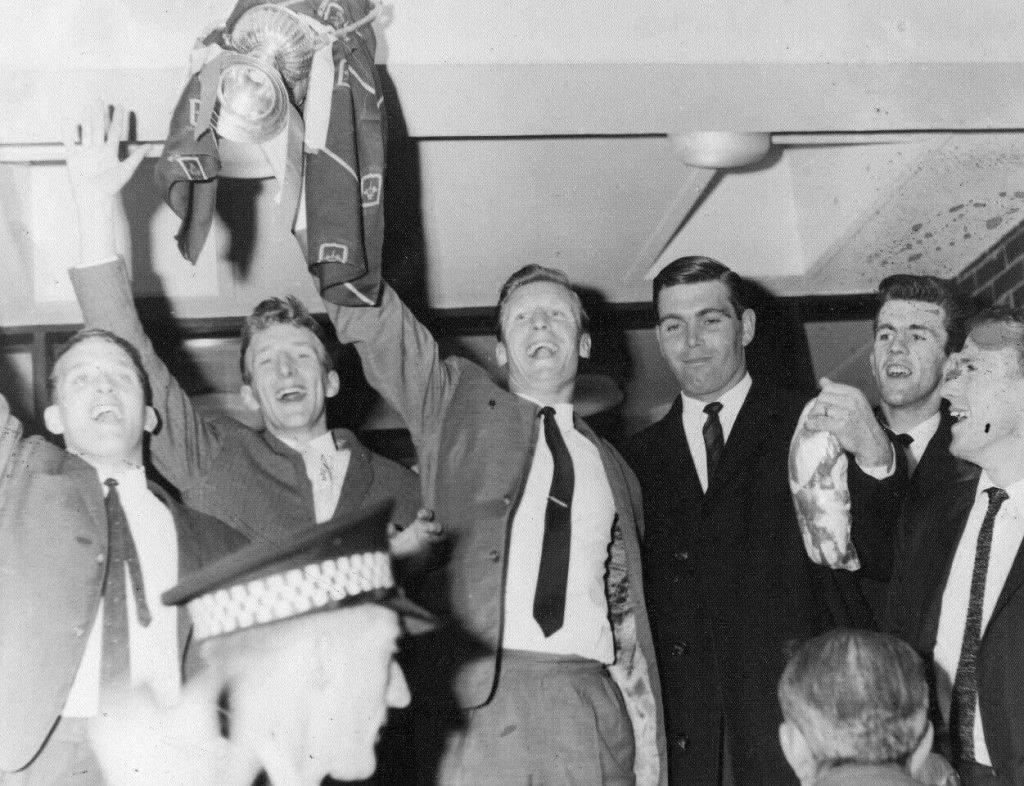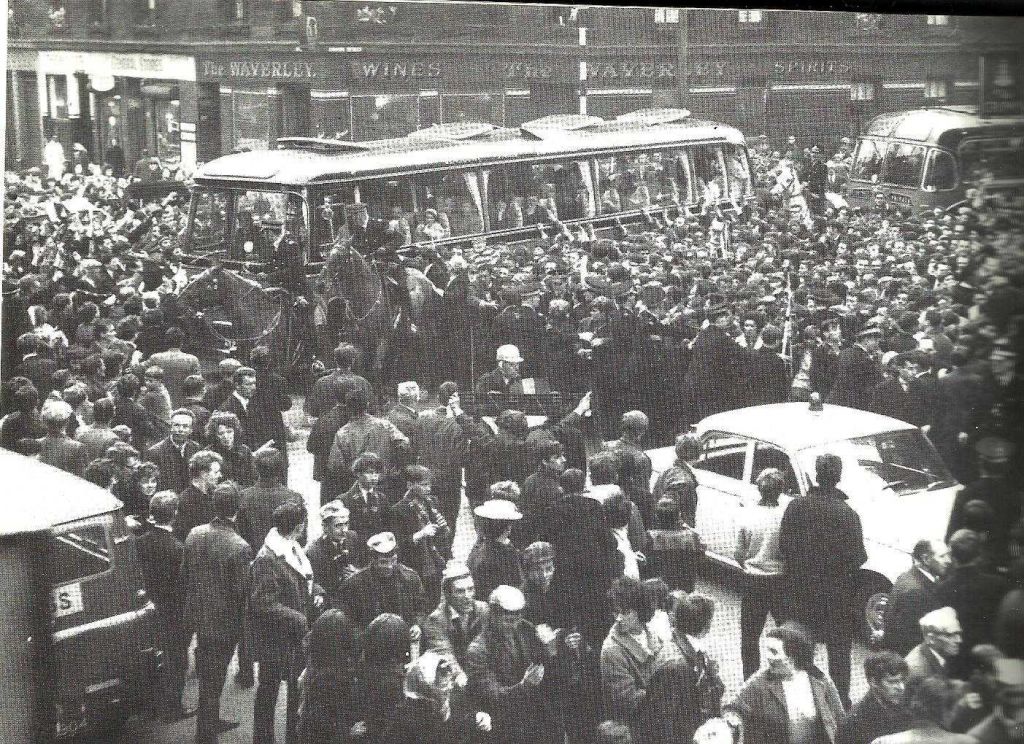 Seldom had it been won in such dramatic circumstances by any team, and never had it meant anything like as much to the supporters of Celtic. They had now won it 18 times. Charlie Gallagher remains so proud to have played such a significant part in this proud day of Celtic history.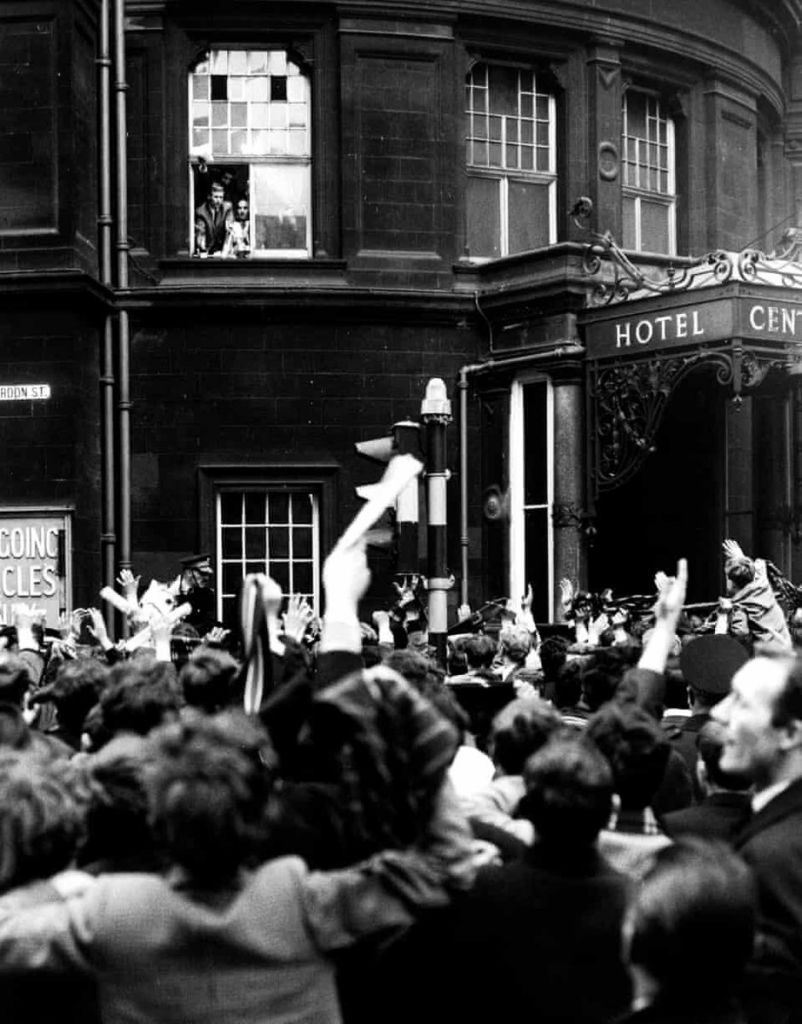 The team and their wives (who were all friendly with each other) had their meal in the Central Hotel, near Central Station, and then some of them went to Charlie and Mary's new flat in Wellshot Road near Tollcross to celebrate. (Goalkeeper John Fallon didn't, though, for his wife had gone into labour and gave birth the following day!) Charlie tells a story about this occasion. They were all queuing for a fleet of taxis to take them to Charlie's house, when Charlie was approached by a couple of fans from Bishopbriggs whom he knew well. They asked if they could come to the party. The answer was a polite but firm "no", so they asked again, asking as well what the "kitty" was for the drinks. They were told 100, a large amount in 1965, and they promised they would double it if they were allowed to come. True to their word, they did just that, then spent the evening, happily dispensing drinks to the players! As drink was involved, it was a fair bet that Mr Stein was not invited!
Celtic winning the 1965 cup final set them off on an incredible run of success which would see them winning 25 major trophies in 12 years. pic.twitter.com/qnGJOJBxD2

— Lisbon Lion (@tirnaog_09) July 26, 2021
The players watched the highlights of the game on TV. Bob Crampsey, of course, one of Charlie's old teachers at Holyrood, was very much involved in STV's coverage and praised the contribution of Charlie. This provoked cries of "teacher's pet" and "that's yer faither, Charlie" and other things about Charlie from the other players! It was believed that Crampsey, basically a Queen's Park supporter but sometimes finding it hard to hide his admiration of Celtic, never said anything bad about Charlie. It was a great night, and although the team were as yet far from world beaters, it was now abundantly clear that something big was happening for Celtic.
Supporters changed overnight. Shy, diffident, insecure youngsters suddenly began to talk about football with confidence, assurance and happiness. Gnarled old veterans who used to hold the floor talking about Patsy Gallacher and James McGrory now smiled and yielded gracefully to their sons and grandsons who sang the praises of Bertie Auld, Billy McNeill and the new Gallagher. The exile in the wilderness was over.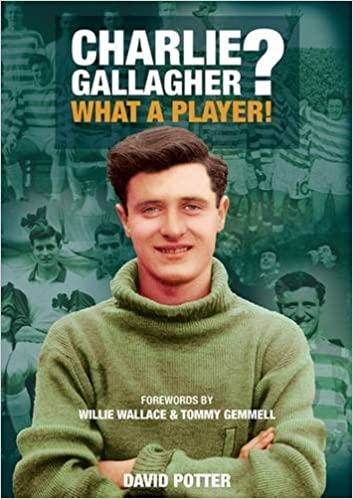 Parkhead was Paradise once more. The Celtic people had risen. Historians, football ones included, love to play "what if ". If Celtic had not won that day, Celtic would still, under Jock Stein, have gained some sort of success, one feels, in Scotland at least. He was too good a Manager and the players were all sufficiently good that the
perpetual continuation of the wilderness years a la Newcastle United would probably not have happened, although one can never say with certainty. But it is certainly difficult to imagine Celtic winning the European Cup in two years' time. It was just as well that Charlie found Billy's head that afternoon then, wasn't it?
And there was even more to come in 1965. In the midst of all this, everyone seemed to have forgotten about the Glasgow Cup, won by Celtic in 1962 and 1964 and how nice it would be if Celtic could win it again so that the Scottish Cup could have some company in the Parkhead Boardroom! Rangers were coming to Parkhead on the night of Friday 30 April.
First Celtic had to play their last irrelevant League fixture. Ironically enough it was at Dunfermline. It might not have been irrelevant for the Pars had they not failed to win their second last game against St Johnstone.
As it was, Kilmarnock having won the Scottish League with their epic 2-0 win at Tynecastle on Saturday – Kilmarnock's greatest ever day, perhaps – the game had little at stake. True to Celtic's habit this season of Stein
not really bothering with fixtures that did not matter, he gave Gallagher, Young, Auld and Lennox a rest and the team went down 5-1, thus giving the Fifers a little feeling of revenge for what must have been a somewhat
devastating experience for them on Saturday. Dunfermline's supporters tend to be a reasonable lot, and we were magnanimous enough to feel a little sorry for them. But Dunfermline's glory days were not yet over.
That was on Wednesday 28 April. Two days later at Celtic Park, a 41,000 crowd turned up to see the Old Firm Glasgow Cup tie. It was a more orthodox Celtic side, but frankly it was a dreadful performance with Rangers playing virtually all of the second half with only 9 men thanks to injuries and even at that with outfielder Davie Provan in the Rangers goal.
Hardly surprisingly Celtic won, but only 2-1 and even the most ardent of. Celtic fans was able to admit that on the night the glory really belonged to the gallant Rangers. Celtic fans were now sufficiently secure in themselves to admit that!
This game, of no lasting importance if you are not interested in the Glasgow Cup, showed however the fundamental shift that was now going on in Scottish football. For the past decade, Rangers had had all the luck, winning games that they should have lost, getting the benefit of dodgy refereeing decisions and seeing Celtic, in particular, freeze whenever they saw them. This had now all changed, and such are the ways of the world, it would now be Celtic that would get the breaks more often than not. No-one can ever explain all this, but there is certainly in football a thing called momentum which ensures that when you start winning games, you keep on winning them. Celtic were now beginning to get lucky – and all because of that great game in the Scottish Cup final.
For Rangers, the whirligigs of time had indeed brought their revenge. Nemesis had appeared. As far as Celtic were concerned, however, there was nothing lucky about the Glasgow Cup semi-final in which Celtic beat Clyde 3-0 with first half goals. Clyde made a fight of things in the second half, but by then it was all too late. 12,500 spectators enjoyed this game on Monday 3 May, and on Tuesday 11 May, Celtic finished off a great season by beating Queen's Park 5-0 at Hampden to lift the beautiful Glasgow Cup.
Gallagher played well that night, and the season thus finished on a high note with a second winner's medal for 1965. 17,851 saw Lennox score twice, then Chalmers, Auld and Murdoch in what was really a rather one-sided game. The story went that the Scottish Cup sitting bedecked in green and white ribbons in the Parkhead Boardroom was so delighted to see the beautiful Glasgow Cup appear as well that she burst into song and sang "Take my hand, I'm a stranger in Paradise"! But then again, so were we all!
Then Celtic played a friendly in Austria against Vienna at the end of May. Already without some players who were with the Scotland squad (as indeed was Jock Stein who was temporary Manager of Scotland), Gallagher was also not chosen for the Austrian game, and Celtic lost 0-1.But it was a meaningless occasion, more of a holiday as a reward for winning the Scottish Cup rather than anything else.
Thus ended the remarkable season of 1964/65. British military historians talk about the Battle of El Alamein in 1942 in the Second World War in terms of "before El Alamein we never had a victory; after it, we never had a defeat". Celtic fans could look upon the Dunfermline Cup final in similar terms, even though the statement would not be quite literally true.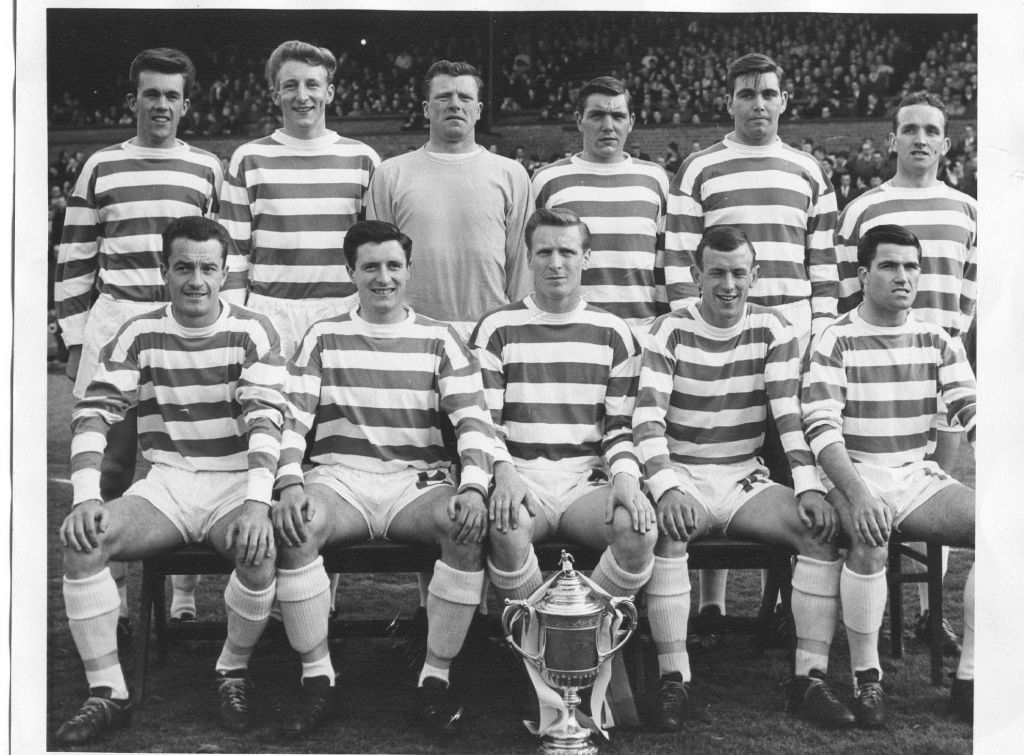 Things changed on 24 April 1965. It was a "hymn for the dawn of the free" in the words of a rebel song. "Goodly news, goodly news do I bring, youth of Forth; Goodly news shall you hear Bargy Man. For the boys march at morn from the South to the North, led by Kelly, the Boy From Killan". How appropriate these words were!
It is often said that Celtic, like the race that shares their name, have extremes of joy and sorrow in large measure. This was certainly true of that season and for the newly wed Gallagher in particular who had been part of the euphoria at the start of the season, then the pain following the League Cup final disaster, the change of manager when he was out of the team, then being brought back in apparently only to allow Murdoch to play right half, but very soon claiming a place in his own right, and now he had two medals! There was a great deal to look forward to in summer 1965. Things had got better. They could get better yet, although much would depend on Gallagher's rather uncertain relationship with the prickly Jock Stein.
But in the meantime Celtic supporters everywhere thought, ate, drank, talked and slept Celtic. No doubt Charlie Gallagher did the same. The contrast with previous summers could hardly be exaggerated. In the past few summers, Celtic supporters had welcomed the summer with the fine weather and a relief from their sufferings. Now we could hardly wait for August with statements heard like "The fixtures will soon be out, and the season starts seven weeks come Saturday".
David Potter
To be continued…