The new season 1965/66 simply could not come quick enough. It was a wonderful time to be alive and to be a Celtic supporter. Not only was there the Scottish Cup to play over and over in our memories, but there was also the promise of things to come under this dynamic new Manager whose declared aim was to make Celtic "the best in Britain". Even that would turn out to be an understatement! There was an early sign of his intent, for in early June Stein bought Joe McBride from Motherwell, a man of many clubs but Celtic-daft and now where he wanted to be.
The media, often accused in the past (and not entirely without cause) of being pro-Rangers now swung round. They were manipulated brilliantly by Jock Stein who organised Open Days for the Press, fed them coffee and biscuits, gave them stories to fill the pages in the quiet month of July and allowed them to photograph the players training, which was made far more enjoyable and rewarding than ever before for the players themselves who clearly relished the spotlight – even naturally shy men like Charlie Gallagher.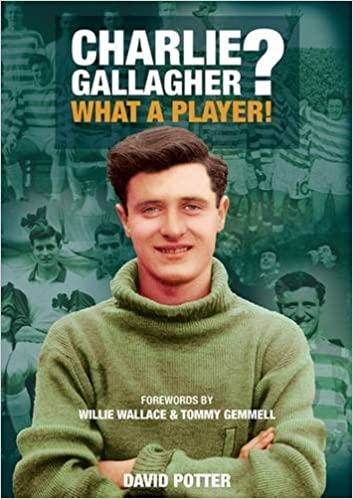 Training, instead of the turgid repetitive lapping of the track became a pleasure. This had always been a bugbear of Charlie in the past, that training was simply poor. Now it was imaginative and even a little fun. It was hard work certainly but made competitive and enjoyable all under the watching eye of Jock Stein, frequently seen with his tracksuit supervising things.
Neil Mochan had been appointed trainer before Stein arrived. This had been another excellent decision of Bob Kelly who had swallowed his pride to appoint Mochan, for Neil had never seemed to be a favourite in his playing days. But Neil had so much to offer. With Sean Fallon and Bob Rooney at Celtic Park as well, things were certainly on the move.
Three pre-season games had been arranged in summer 1965 against Motherwell on the Isle of Man, against Shamrock Rovers in Dublin and against Sunderland at Roker Park. Sunderland were now replete with two men of undeniable Rangers connections. Ian McColl had "left" (or was he sacked, as he claimed?) the Scotland job and was now the Manager of the Mackems. And of course there was Jim Baxter whom Rangers had been finding a little difficult to handle of late. Baxter had not coped well with the rise of Celtic in Scotland and the consequent lessening of the spotlight on him. He had recovered from his broken leg, but would never really be the same again.
Charlie did not play in the Motherwell game – a 1-1 draw, and played only in the first half in Dublin scoring the first goal before he was taken off at half-time to give Steve Chalmers a game on this light-hearted occasion which ended up 7-0 for Celtic against mediocre opposition.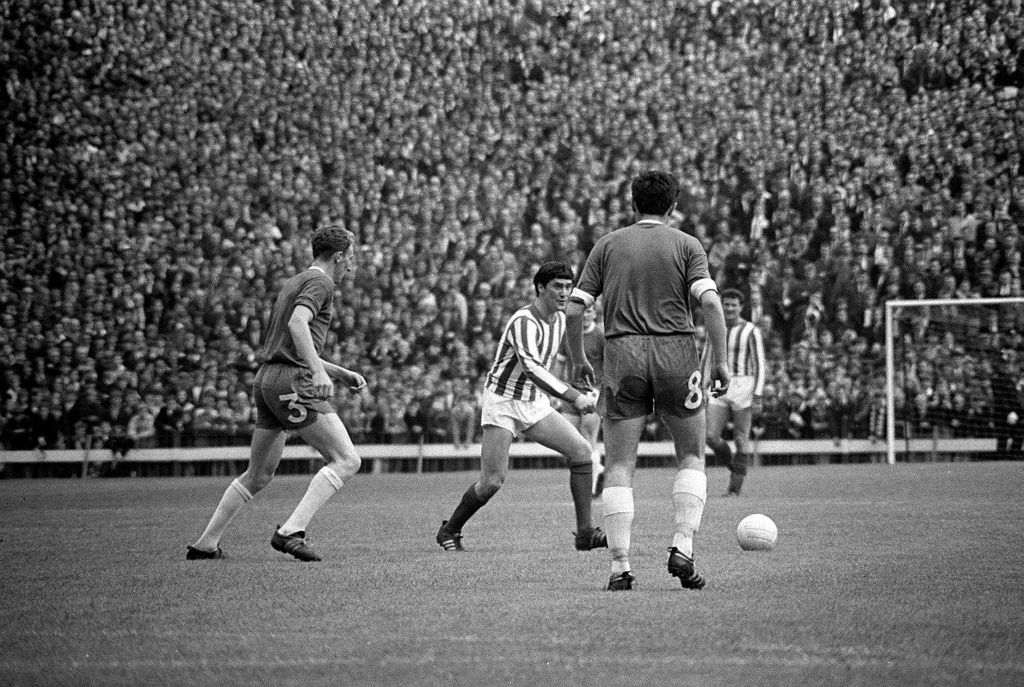 Equally impressive were both Gallagher and Celtic in the 5-0 defeat of the far more competitive Sunderland at Roker Park, but the game was overshadowed by darker events. This was the spectre of hooliganism, both in the ground and in the surrounding area including pubs and railway stations.
There were several factors – the Scotland v England flashpoint, the Rangers influence on Sunderland, the addition to the Celtic ranks of a few Newcastle supporters who had developed a sudden love for the green and white, a hot day, loads of drink available – but basically the whole thing was a disgrace. As always, Celtic apologists would say that Sunderland's fans attacked first, but it always does take two to make a fight, and in the first ever edition of The Celtic View Jock Stein minced no words.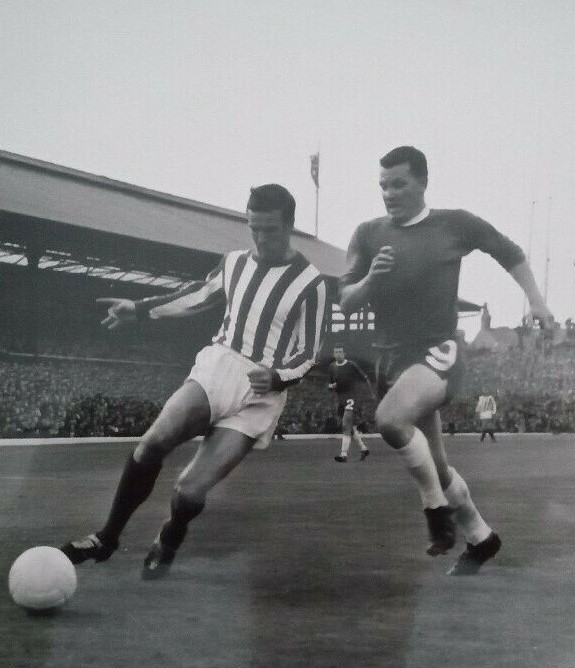 This could not be allowed to go on. He would frequently say that the elimination of hooliganism was as important as success on the field. He would eventually succeed in both his objectives. All this thuggery was a shame because Gallagher's performance on the field got nowhere near the credit and the praise that it deserved. Playing for the injured Bertie Auld, Charlie distributed passes to all and sundry, clearly outclassing Jim Baxter who would never reach any great heights for Sunderland, riding tackles, now and again earning a reluctant ripple of applause from Sunderland season ticket holders and not being afraid to have a shot himself as Celtic simply tore the home side apart.
This area, albeit football mad, had been deprived of good football for some time – and indeed still is – but Gallagher's performance that day was one of the best they had seen since the days of Raich Carter or Len Shackleton. Jim Baxter on the other hand failed to perform, and had the indignity of having an orange thrown at him!
And then Celtic returned to Scotland for the real stuff. They were in a difficult League Cup section of Motherwell and the two Dundee teams. Celtic had, we recall, lost last year's League Cup final and indeed the Scottish League Cup was Celtic's least favourite tournament with only two wins in the 19 years of its existence. Amazingly, East Fife had win the trophy on three occasions, before Celtic even appeared in a final! Mind you, one Scottish League Cup won was the immortal 7-1 in October 1957 and the other was the year before that in 1956. But as Celtic were
traditional poor starters to the season, the League Cup had been littered with many failures.
But April 1965 had changed a lot of things, not least that Celtic now had a winning mentality. They now expected to win tournaments. Certainly the crowd for the first competitive game of the season – at Tannadice Park on 14 August contained the largest contingent of Celtic supporters seen for many years in the city of Dundee. Gallagher of course had bitter memories of this ground where he had scored the "goal that never was" in the League Cup of 1962.
On this occasion, the weather was beautiful and the crowd was colourful and cheerful. They received, however,
a severe blow to their dreams when they went down 1-2 to Dundee United, one of the Dundee United goals being scored by ex-Celt and friend of Charlie Gallagher, Bobby Carroll.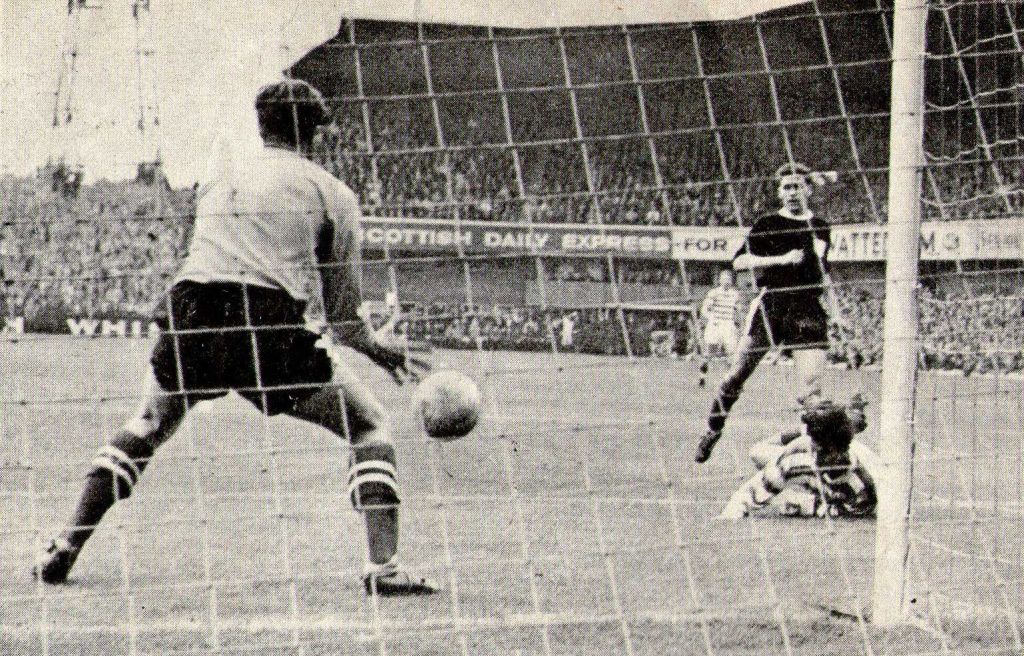 One might have been forgiven for thinking that the world had come to an end, such was the talk about balloons bursting and Celtic having built up their support only to shatter their dreams with a defeat. Seeing the result in some sort of perspective did not seem to come into it. For one thing, it was away from home at a difficult venue. For another Celtic were without John Hughes and Joe McBride. In addition, Dundee United's winning goal was scored when Bertie Auld was off injured receiving attention for over-stretching himself scoring Celtic's equaliser. But the main thing was that it was only the first game of the season!  At least another fifty games remained!
Jock Stein was not immune to the hysteria. Gallagher had not played well at Tannadice, but it was surely a knee-jerk reaction to drop him and replace him by John Divers, a man who had been in danger of being transferred, ironically enough, to Dundee United that summer. To be fair to Jock, this move seemed to work, for Divers scored the only goal of the game in a curiously lacklustre performance against Motherwell.
That at least was a win, but when the team went down to Dundee at Parkhead on the Saturday, things began to look bad for Celtic. Charlie was still out of the first team, playing for the reserves at Dens Park that day and scoring a brilliant goal. But Celtic had now lost two League Cup sectional games, and really could not afford any further reverses if they were to qualify for the quarter finals. The League Cup bogey seemed about to strike again.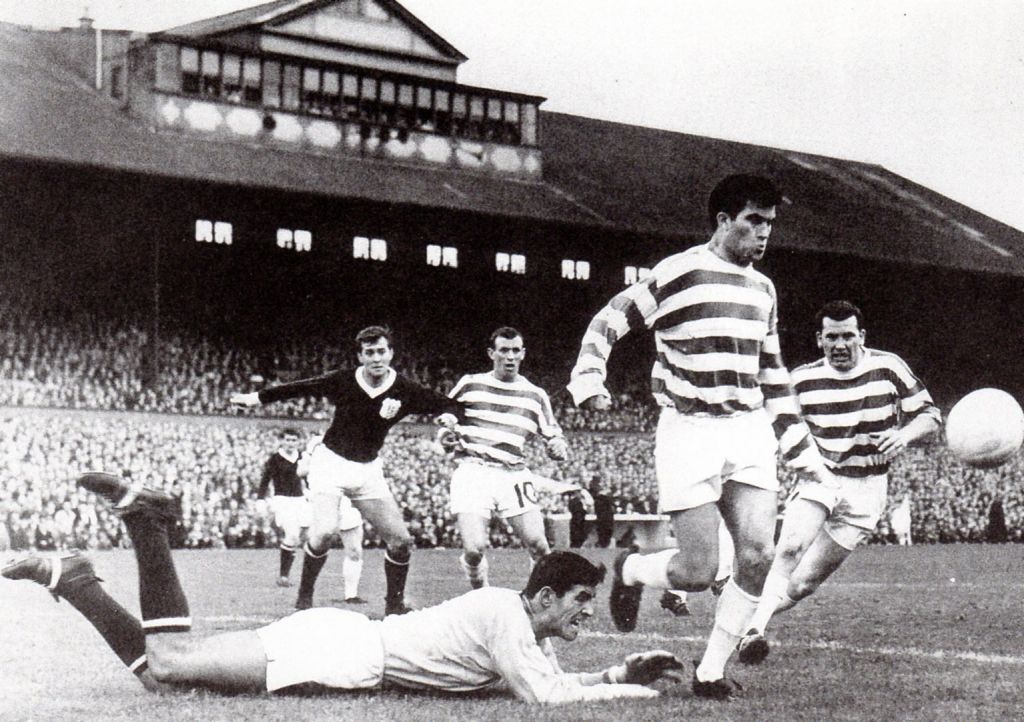 But before that could be addressed, there was the opening League game to be played. The fixtures in those days saw everyone playing once against all the three teams in their League Cup section, and then before they started the reverse round of fixtures, there would be a League game played on the Wednesday night, the first League game of the season. By sheer chance, the fixture list had thrown up another game at Tannadice Park. No-one could blame computers in 1965 – it was simply stupid, as it appeared. Far better surely to have a game against someone not in the same League Cup section?

Well, maybe not, as far as Celtic were concerned. This game would turn out to be a highly significant game in the history of the club for it was the first game of Celtic's nine League Championships in a row. It was also a game in which Jock made the right decision, even though it appeared to be a whimsical one at the last possible moment, of dropping Jimmy Johnstone and Bertie Auld and replacing them with Steve Chalmers and Charlie Gallagher. Jock was always a great believer in "horses for courses", a phrase that he used a lot in The Celtic View, and in any case it would "gee up" (Jock's love of horse racing frequently got the better of him) the rest of the squad.
Celtic turned it on that night, winning 4-0 and Gallagher was outstanding, setting the tone of the game within the opening five minutes when he crashed a shot against the bar at the Shed end of the ground. The bar shook visibly for a long time after that, but so too did Dundee United, overwhelmed by the sheer power of this dynamic young Celtic side. John Divers, Joe McBride, Tommy Gemmell and Ian Young with a penalty got the goals while the much vaunted Orjan Persson got himself an early bath from referee Bobby Davidson for taking a wild kick at Tommy Gemmell. And Dundee United's supporters, normally much praised for their gentlemanly encouragement of their team, dented their haloes considerably by throwing coins at Celtic goalkeeper John Fallon!
It was a token of great things to come. Charlie might have thought that he was in for a long spell in the side, but then John Hughes became available after suspension. Gallagher had been playing on the left wing (nominally, at least) at Tannadice on Wednesday night, but now found himself out of the team when Dundee United played Celtic yet again at Celtic Park on Saturday. Gallagher was not given an outing for the reserves at Tannadice on the Friday night, a game which Celtic won 4-2, because there was a chance that he might have played for the firsts on the Saturday. He was therefore idle, but enjoyed his experience of sitting in the stand watching his team mates
demolish Dundee United again.
Gallagher's role as 12th man was confirmed in the next game against Motherwell. Two League Cup sectional games remained, both of which were away and both of which Celtic simply had to win if they were to qualify. But then Joe McBride called off injured for the game at Fir Park against his old team mates at Fir Park, Motherwell, so John Hughes was put in the centre and the ever willing Gallagher took over on the left wing.
More arguments on supporters' buses and in pubs centred on John Hughes (Yogi Bear, as he was called) than on anyone else. This had always been the case even before the arrival of Stein. He was brilliant on his day, but he was infuriatingly inconsistent. He could score great individual goals, but had some awful days as well. But at this stage he had a good relationship with and enjoyed the confidence of Jock Stein, so Jock was prepared to tinker with the forward line on occasion to suit him – Yogi could play in the centre or on the left wing, another source of argument on the terracings as to where his best place was – and Gallagher was moved around as a consequence.
A less mild mannered man than Gallagher might well have taken umbrage at all this, but he was quite happy to be in and out of the team. This was, of course, one of his strong points – that he was a good team man with no tantrums or transfer requests or causing trouble. He played at Motherwell on the Wednesday night, and played well in a good 3-2 victory, the margin of victory being a little deceptive for Motherwell scored in the last minute after Celtic had been well on top throughout. Gallagher played a part in the making of the first goal, taking a corner kick and trying to find the head of John Hughes who just missed the ball. But John had taken a couple of defenders with him and the ball came to Chalmers who slipped it to Lennox to finish the job.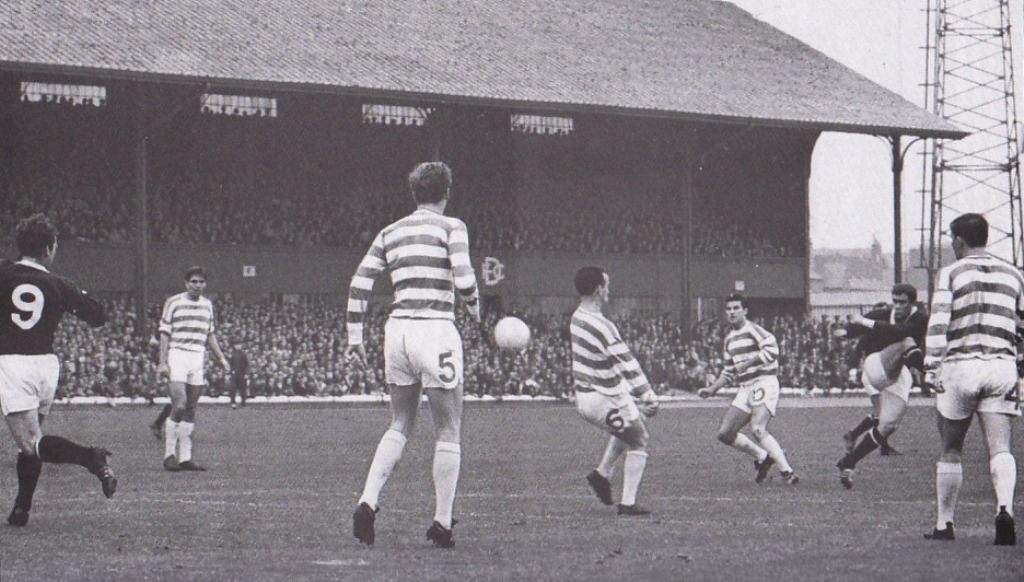 All this meant that Celtic merely needed a 0-0 draw at Dens Park, Dundee on Saturday to qualify from the section after they had appeared to be dead and buried. Gallagher travelled to Dundee with the team but was once again he was the forward who had to drop out when Joe McBride reported fit enough to play in the centre allowing Hughes to be on the wing. It was a last minute decision, but Gallagher accepted things gracefully.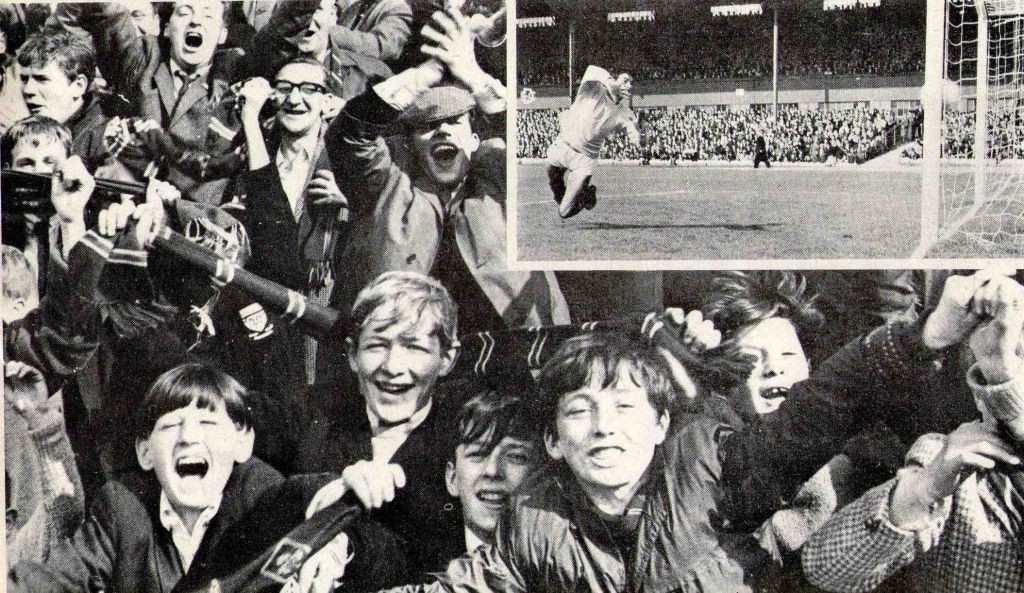 It was a great pity, especially for men like Gallagher that the substitute rule was not yet introduced. His versatility would have made him an ideal substitute, but Scotland, conservative as always, resisted the idea of substitutes. It had been introduced on a limited basis in England that year – one man allowed to cover for an injured man – but it would be the following year before Scotland managed to achieve even that. Things were changing though, and it was clear nonsense (and dangerous nonsense at that) to see badly injured players hobbling about lest their team went down to less than 11 men.
Thus Gallagher was a spectator and indeed supporter (he always had been that and would continue to be all his life) in the funny shaped Dens Park stand. As it turned out the three players whom he might have aspired to replace, and whom he had replaced in the past – John Divers, John Hughes and Joe McBride – were the men who scored the goals in Celtic's 3-1 victory, Celtic's best result at Dens Park for many years.
John Hughes's goal, in particular, was one of his best ever in that it all happened so quickly. He beat Scotland right back Alec Hamilton on the left wing, charged across the field parallel to the goal and about 30 yards away from him, then suddenly, almost without turning, hammered home a great shot. It was one of these moments when there was a moment of stunned silence before the crowd took it all in, then Dens Park erupted at such brilliance. Celtic duly qualified after Joe McBride confirmed Celtic's victory with a late header.
Happy days, then for Celtic as summer 1965 gave way to autumn.
David Potter
To be continued…