Summer 1962 saw Gallagher, as he did most summers at that time, spending his holidays in Ireland. Pat Crerand was there as well. There they played some illegal professional football. There was an unofficial competition going on there, and Charlie and Pat were given a game for one of the teams and were duly paid for it, secretly and illegally. Had news of this got back to Scotland, there would have been a great deal of trouble, and it is hard to imagine Mr Kelly defending this!
On one occasion Pat and Charlie's team were playing a team from the North, and there were one or two sectarian overtones to this, but it was only when the other team came out that they saw that their captain was none other than their old friend Bertie Peacock! It was, they kept telling each other, a good way of keeping themselves fit for the new season! And there was also some money!
Summer 1962 with a new pop group called the Beatles now beginning to appear was an optimistic one. The World Cup was being played in Chile but as Scotland were not there, and there was no great TV coverage, little interest was paid to it. Now, more and more it was beginning to be felt that this season coming up was to be Celtic's big breakthrough. Crerand was a superb player, and he and McNeill were now serving Scotland with distinction, and it was felt that if Celtic could just get a break, glory would soon follow.
Mr Kelly was not slow to tell the Press that his youth policy was now maturing and that his Celtic team had "arrived". As if to prove this point that they were now fit to be ranked with the best, Mr Kelly had arranged a friendly with Real Madrid. Some called that optimism, other would describe it as "temerity".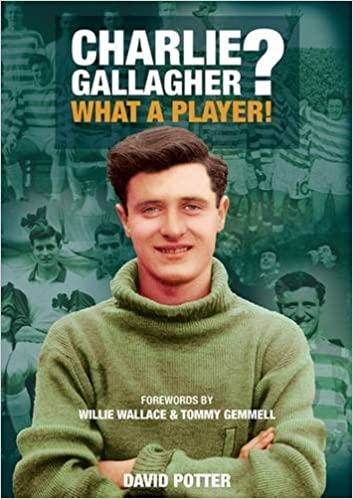 Alas, 1962/63 was another of Celtic's horror stories where poor management was the order of the day in the shape of the selling of their star man (whom they did not replace) and constant, baffling and unnecessary ringing of the changes, particularly in the forward line with Gallagher frequently the blameless victim of irrational and ill-thought out decisions.
The League Cup sectional draw could hardly have been tougher for Celtic. True, Rangers had been avoided but Celtic had been paired alongside Hearts and the two Dundee teams. Dundee were, of course, the Champions of Scotland in 1962 and Hearts had been Champions in 1960 and 1958. The Edinburgh side had won the League Cup on three occasions in recent history, and Celtic fans still recalled with a chill of horror the Scottish Cup final of 1956 when a curiously lacklustre Celtic team had been paralysed into catatonic inactivity by Bauld, Wardhaugh and company.
Dundee United were the new kids on the block. They had been promoted from the Second Division in 1960, they had prospered on the back of the success of their neighbours from across the road and they would always put up a good fight, especially at home in front of a passionate and noticeably young support.
It was this young generation which was lost to Celtic in Dundee. In previous decades the descendants of the Irish immigrants who had come to settle in Dundee, working in the whaling industry and then the jute factories which took over after the end of the American Civil War in 1865, would have naturally drifted to Celtic. Dundee United were a poor Second Division team. But this was all changed by the rise of Dundee United (founded in 1909 specifically as the Irish team in Dundee and known until 1923 as Dundee Hibernians) who had been in the First Division before but now showed a desire to stay there with the building of a new, bizarre looking stand that turned a corner. They were also well financed by a lottery called Taypools. This new arrival on the First Division scene gave the Dundonian youngsters of Irish extraction an option, other than the under-performing Celtic, in the Jute City's boom years of the early 1960s.
It was anybody's section, but Celtic must have fancied their chances with a home tie against Hearts for their first game. Charlie did not think he would be playing, but he was part of the squad, and he suddenly found himself in the team, owing his advancement to some quixotic happenings concerning fellow inside forward John Divers. The forward line for the first game against Hearts on the sunny, but windy, day of August ought to have read Lennox, Divers, Hughes, Murdoch and Byrne. Bobby Lennox had played a few games last season, but it was to be the debut of Bobby Murdoch at inside left.
Divers set out from his home in the west of Glasgow driving his car in loads of time. He suddenly remembered that he had left his boots at home. Normally, of course, they would have stayed at Parkhead but John had taken them to Hampden on Wednesday where he was playing in a Charity Cup game for Glasgow against Manchester United before an astonishing crowd of 82,000 – such was Glasgow's love for football in 1962. He had scored for Glasgow but Manchester United had won 4-2.
Naturally he took his boots back home with him, but now he had left them there. He turned round and went back for them, but by then the traffic had increased. He was caught in traffic jams and failed to reach Celtic
Park by the appointed time.