But if Charlie was on the side lines as far as Celtic were concerned in season 1966/67, there was compensation from a rather surprising source. All his days, Charlie would tell everyone that he supported Ireland rather than Scotland. He is not anti-Scotland as many Celtic supporters sadly are, but has his own reasons for supporting Ireland.
His parents were from Donegal, the cradle of Celtic FC in many ways, and he recalls spending many summers in his childhood in Donegal. But the main reason, of course, for his support of Ireland is that he played twice for them. Indeed he is very proud of the little piece of history that he created in becoming the first Scotsman to play for Ireland.
People with a sense of humour can compare him with James Connolly in 1916, for he was born in Scotland (in Edinburgh) and "played" for Ireland, as it were, in the tragic circumstances of the Easter Rebellion of 1916.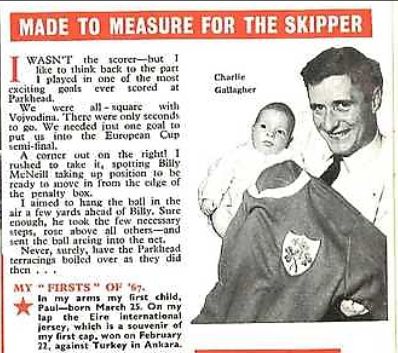 Charlie's involvement with Ireland's football team started one day in January 1967 at training, when Sean Fallon, Celtic's Assistant Manager and himself of course an Irishman from Sligo, approached Charlie and asked him if he would like to play for Ireland. Charlie's answer was "I can't. I was born in Scotland." Sean then told him that the rules had been changed so that men of Irish heritage could play for the national team.
Shay Brennan of Manchester United and John Dempsey of Chelsea had already taken advantage of this ruling. This of course opened the doors to many people of the Irish diaspora, but no Scotsman had as yet been invited. Charlie chuckled at the idea and carried on training. But as he was not at the moment commanding a place in the Celtic team, the idea of playing for Eire seemed remote.
It would probably be true to say that Association Football in the Republic of Ireland was not particularly strong in 1967. It was certainly nothing like the obsession that it was in Scotland, for example, and struggled to compete against Gaelic Football and Rugby Union, a sport incidentally which successfully manages to incorporate both Irelands – North and South – and making people in mainland Britain, who do not understand the complexities of the situation, wonder why this sort of thing does not happen oftener!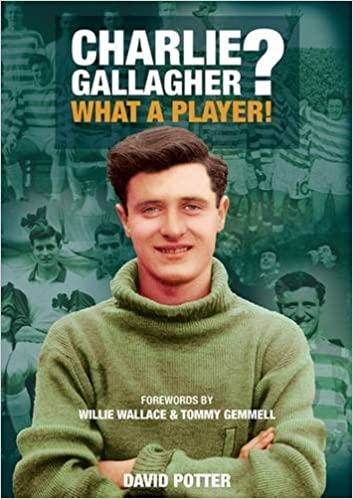 A myth used to permeate the Celtic areas of the west of Scotland to the effect that the whole population of the Republic of Ireland spent Saturday afternoons glued to their radio to find out how Celtic were doing. This was not really true. Donegal and some areas in the northern part of the island were recognised as pro-Celtic, but "indifference" would be the best word to describe how many Irish people felt about Celtic. Some supported an English team like Manchester United, and everyone in Ireland knew about Celtic and vaguely hoped that they did
well, but the idea that fleets of boats left Southern Ireland to come to see Celtic playing in a Scottish Cup final, for example, is absurd.
The European Cup would change that to a certain extent, for that would make everyone sit up and take notice with even Eamon de Valera getting a chance to meet Jock Stein and the European Cup, but in early 1967, Celtic was no big deal for most of Ireland.
Not that Celtic or men with Celtic connections hadn't had their moments in southern Ireland. Jimmy Quinn in 1908 scored four goals for Scotland against Ireland in Dublin and found himself briefly called "the uncrowned King of Ireland", a title more commonly associated with the late Charles Stewart Parnell, and Jimmy Delaney almost won an Irish Cup medal in 1956 with Cork Athletic which would have looked good beside his Scottish, English and Northern Irish ones!
It would also be a mistake to in any way underestimate the feelings of "Irishness" which permeated Celtic FC and had done so since the early days of the club. We are not talking here about rebel songs and anthems sung by the support. We are talking about what the club itself did. Michael Davitt, the Irish patriot had on 19 March 1892 planted shamrocks on the new Celtic Park, on 26 August 1922 the flags at the ground had been lowered to half-mast for a game against Hamilton Accies in remembrance of Michael Collins, the Irish rebel murdered in the Irish Civil war between Free Staters and Republicans, and 1952 had seen the prolonged and successful struggle to be allowed to keep flying the Irish tricolour over Celtic Park when George Graham of the SFA had tried to have it removed.
It was significant that support for Celtic was stronger in Ulster, for in the North, of course, there existed also the opposite. Any action has a reaction, as any scientist will tell you, and because loads of people in Northern Ireland from the Protestant community supported Rangers, it was only natural that the Catholic community would actively support Celtic. The Royal Ulsterman and other ships that crossed to Scotland could be busy and indeed tense places on the Friday night before and the Saturday night after Celtic v Rangers games.
The time was, of course, when there was a Belfast Celtic, but they had folded in 1949 after serious rioting at their ground. This support transferred itself to Glasgow Celtic, although some moved to Cliftonville or some other Ulster team other than Linfield, who were the acknowledged "Orange" team of Northern Ireland! And Belfast Celtic's best ever player, Charles Patrick Tully, joined Celtic in 1948.
This man very soon became a cult figure in Glasgow and was much talked about throughout the late 1940s and 1950s. No Roman Catholic could ever play for Rangers, of course, but Celtic opened their doors to everyone, and one often wonders what the Orange bigots made of Bertie Peacock, a man of a Protestant background from Coleraine who became captain of Celtic and Northern Ireland and distinguished himself with both!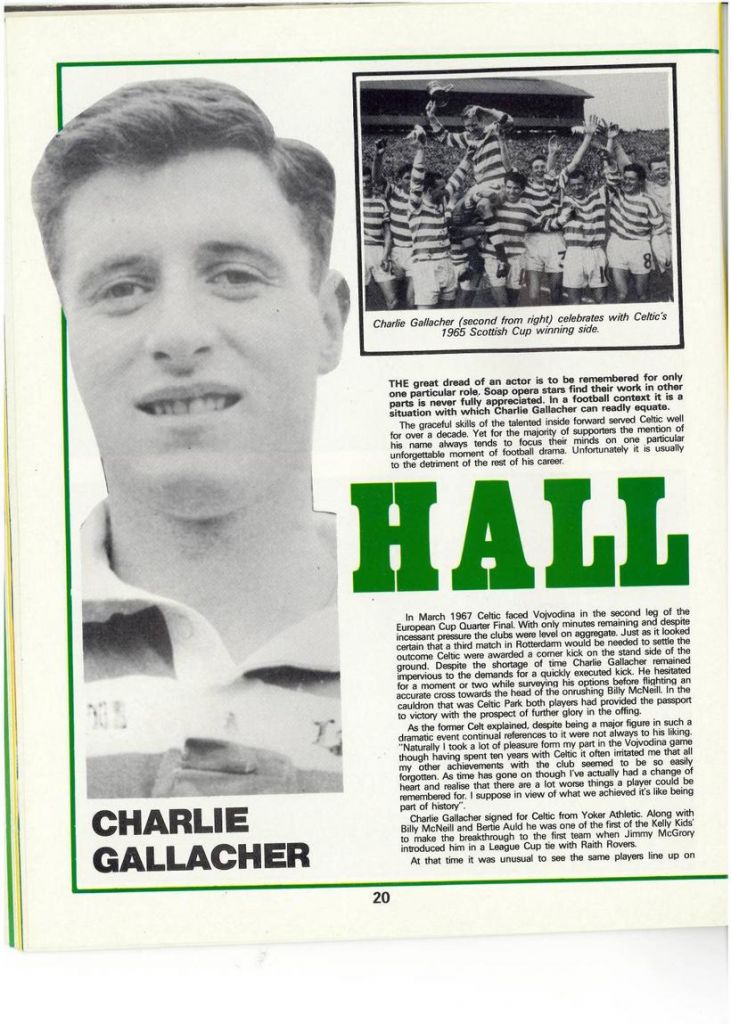 Charlie Gallagher was a squad man for Celtic in 1967. The team were doing well, but the big talking point in Scotland that winter was the unaccountable collapse of Rangers in the Scottish Cup. In a season that would soon bring a Scotsman called Charlie Gallagher to play for Ireland, Rangers went out of the Scottish Cup to an English team. This was to another team called Rangers, Berwick Rangers who played in the Second Division of the Scottish League, and also in the Scottish Cup, rather than in the English League and the English Cup. Their ground, Shielfield Park is however, a few miles over the border in England. On 28 January 1967, they beat Rangers 1-0 – one of Scottish football's biggest ever upsets.
Two weeks after that, Gallagher starred for Celtic as they beat Ayr United 5-0, and then a couple of days later, the announcement was made that Charlie had been chosen to play for the Republic of Ireland on the grounds that his parents were both Irish. Johnny Carey of Manchester United fame was the Manager, but what that word "Manager" actually meant, we cannot be sure in the context of 1967. He probably did not choose the team, which was in fact chosen (like Scotland's team) by a committee of Selectors, and it would appear from what we have seen earlier that Sean Fallon was at least consulted and was probably very influential in the decision.
Sean would in later years also play an influential part in Charlie's career after he left Celtic, as we shall see.
Charlie's cousin Pat Crerand, who was born in the Gorbals, but considered himself more of an Irishman than a Scotsman, would have loved to play for Ireland, and had the rules been changed earlier, might have done so. By 1967, however he had played 16 times for Scotland – and usually with distinction. In his hard hitting autobiography Never Turn The Other Cheek he tells an amusing story about his International debut.
As it turned out, his debut was, ironically enough, against the Republic of Ireland at Hampden on 3 May 1961, only a week after that dreadful Scottish Cup final against Dunfermline. As the players lined up for the National Anthems, Pat could not bring himself to join in God Save The Queen which was then considered to be the National Anthem of Scotland. Had it been Scotland The Brave (Flower of Scotland, that most dreary of dirges, had not yet arrived), Pat would have had no problem, but the Royal Family and the British upper class conjured up so many negative feelings after what they had done in Ireland. On the other hand, when the band played the Irish national anthem The Soldiers' Song (very familiar, of course, to Pat from Celtic Park), he found himself humming along!
Such feelings however did not prevent him playing a brilliant game for Scotland in the 4-1 win, nor did he ever really play badly for Scotland, his best game being arguably the game at Hampden on 14 April 1962 when. Scotland put an end to a 25 year hoodoo and beat England 2-0.
Charlie's first International game for Ireland was a qualifier for the 1968 European Nations Cup, and was against Turkey in Ankara in a land even more forbidding and unknown that it is now. The news went down particularly well with Celtic supporters everywhere. There had of course been Ireland (both North and South) internationalists who played for Celtic before, some great ones like Patsy Gallacher, Charlie Tully, Bertie Peacock and Sean Fallon, but Charlie was the first "Glasgow Irishman" to be chosen to play for the country that many still considered to be the land of their birth.
Jock Stein was delighted as well. He was, of course, himself very Scottish, but, understanding the proclivities and sympathies of the Celtic support, was clever enough not to minimise or play down the Irish connection.
He exploded in print in The Celtic View to welcome the news, and then to mark the occasion, decided to make Charlie the nominal captain and to give him the honour of leading Celtic out onto the field for the next game against Elgin City on 18 February in the Scottish Cup. The modest Charlie was overwhelmed by all this, but he was cheered to the echo every time he touched the ball with the Jungle (the covered enclosure which was reckoned to house the real hard liners of the Celtic support) churning out The Soldiers' Song and other Irish favourites like Sean South of Garryowen as Celtic beat the gallant but overawed Highland League team 7-0.
He was due to meet his Irish team mates in a London hotel before flying to Ankara. He duly went there and to his astonishment they were all in the bar, their opening gambit being "What do you want to drink?" Charlie, naturally shy and diffident, was virtually a teetotaller and lived under the stern regime of Jock Stein who tried with an almost obsessive ferocity to prevent his players from touching alcohol. He did not always succeed of course with some of his players, but Gallagher agreed that anything that might impair his fitness was to be avoided. Yet here were his new team mates enjoying a pint before they set off for the game. Jock Stein would have had a fit!
In any case there was another perceived problem. The "Dubs", for example, tended to be a bit exclusive, and there was possibly even a little resentment of this Scotsman who was very much an outsider. There must be in all clubs a certain "esprit de corps", and clannish behaviour and cliques must be broken up. It is very difficult for the Manager to do this when he only sees the team for a few days. Newcomers must be welcomed.
Gallagher had a particular problem in that he had met only a few of his new team mates. In some cases he did not even know their names, although he did team up and make friends with Al Finucane, another "outsider", if that is the right word to describe a man from Limerick! Al was a "Home Irishman" in that he did not play for an English team, so he immediately had something in common with Charlie. He had also at one point, apparently, in the past been watched by Jock Stein and Sean Fallon with a view to joining Celtic.
Charlie uses the word "animals" to describe Turkey's players and their fans, and, although honoured to play in International football, frankly did not enjoy the experience of playing in Ankara. The team lost 2-1 at
the 19 Mayis Stadyum. Noel Cantwell of Manchester United scored for Ireland in the last minute to put a respectable face on the score line, and although Charlie was delighted to have represented Ireland, he was nevertheless glad to return to Glasgow.
The team was: Alan Kelly, Mick Meaghan, Noel Cantwell, Charlie Hurley, Joe Kinnear, Al Finucane, Mike McGrath, Johnny Giles, Eamon Dunphy, Frank O'Neill and Charlie Gallagher.
There was an aftermath. It was one of the few occasions on which Jock Stein was actually wrong – something that hurt the big man. The whole incident was caused however by some colossal and indeed breath taking and scarcely believable incompetence on the part of the Football Association of Ireland. A few days after his return to Scotland, Charlie was called in to the Manager's office. The conversation ran along the lines of "Are you not proud to play for your country?" "Yes, of course, I am, Boss" "Then why didn't you pick up your Irish cap?" "But, I did,
Boss". "No, you didn't, because here it is here. They've sent it on to me to give to you." "Well, there must be some mistake, Boss, because my cap is at home", and he brought it in the next day to prove it.
Diligent enquiries then followed, and to cut a long story short, it was indeed a mistake, but some mistake! There had once been a Mick Gallagher who played for Hibs and he earned one Irish cap in 1954. This cap was intended for Mick, but questions, surely, have to be asked about why it was 13 years later before it was sent on, and why it was sent to the wrong Scottish club!
Admittedly, they both wear green and claim tenuous Irish origins, but they are in different cities, and 13 years is a long time for a cap to be hanging around in an office waiting to be sent on to the man who won it! It is little wonder than Irish football was not held in particularly high regard at this time! It also seems that Mick was
none too fussed about playing for Ireland!
David Potter
To be continued…