Often a victory over a Second Division team is looked upon as an empty victory but Morton in 1964 were no ordinary Second Division side. And Charlie had played his part. Indeed, Rodger Aitken in The Sunday Mirror went as far as to say that "Charlie Was Their Darlin'".
He played in another game – a miserable 0-1 defeat at Dunfermline – at inside left before giving way to John Divers, then he played a game against Airdrie on the right wing. This was a comic sort of match, beginning
in a blizzard which continued until nearly half-time. Celtic, out of the Scottish League race and with European commitments pending, played a weakened team with people like Samuel Henderson, Frank Brogan, Paddy Turner and Charlie Gallagher all getting a game. Less than 10,000 folk huddled under Broomfield's inadequate shelters to see a 2-0 victory with the football surprisingly good in the awful circumstances.
But effectively Gallagher was now out of the team for a spell. Because of his versatility and willingness to play all over the forward line, he was normally the reserve who travelled with the team. It is a pity that substitutes were not allowed in 1964, for Charlie would surely have been given more of a chance. Celtic duly beat Slovan Bratislava to reach the semi-final of the European Cup Winners' Cup, although it did not look that way when the game at Parkhead finished with Celtic only 1-0 ahead, and that was through a Bobby Murdoch penalty. A fine performance abroad however meant that Celtic won through.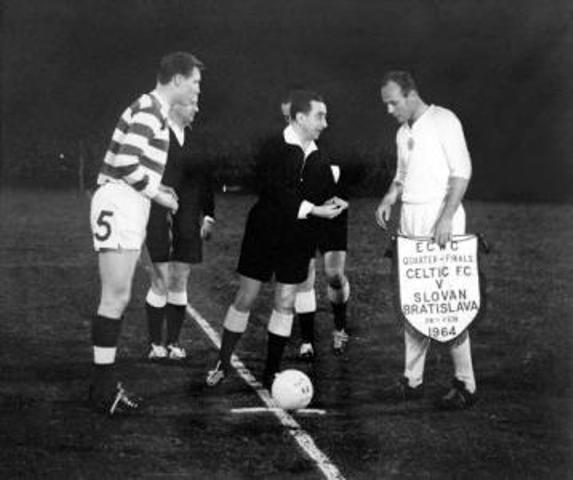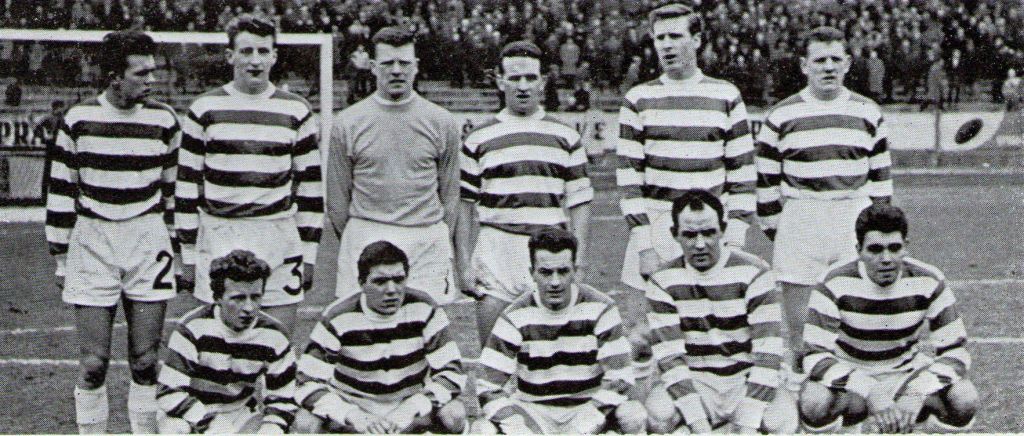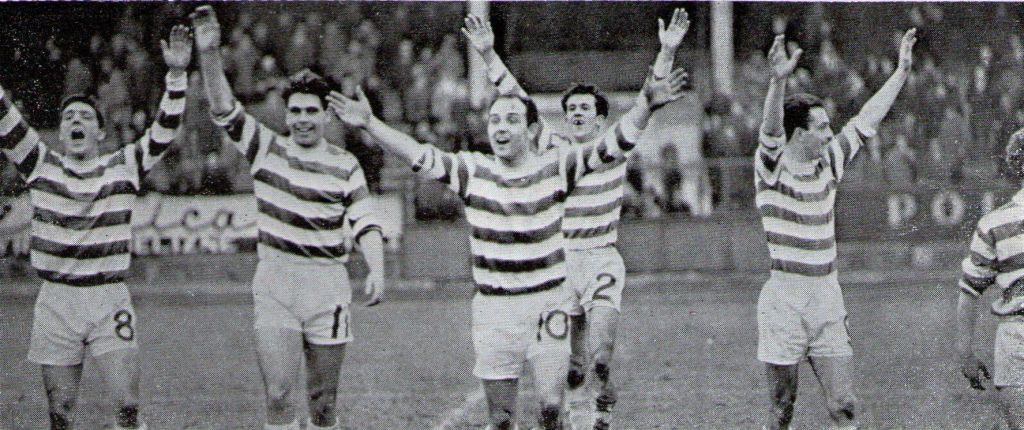 The trip to Bratislava was a good one, and the team were welcomed back by an enthusiastic bunch of supporters desperate for success, but it was not forthcoming at Ibrox on the following Saturday in the Scottish Cup. Sadly, once again Celtic collapsed to Rangers losing a goal on either side of half time, and never really after that looking like they were likely to get back into the game.
The team selection was a funny one that day as well with Frank Brogan on the right wing and Jimmy Johnstone at inside right with Bobby Murdoch pulled back to right half because of an injury to John Clark. Gallagher, in these circumstances might have hoped for a call up, but all he could do was sit and watch that day which effectively killed off Celtic' season, at least as far as Scotland was concerned.
He may have now begun to worry, yet again (it was becoming an annual occurrence) about his future. He was no longer a Kelly Kid who would one day mature, develop and "arrive" as the saying went. He was now 23 and he should have been commanding a place in the team in the opinion of many of the supporters who appreciated his ball play, his superb passing ability and his thunderball shot which was deceptive in that he did not look as if he possessed the ability to hit a ball with such ferocity. But 1964 was not finished with him yet. Indeed, as had happened in 1962, he was brought in after the damage had been done. Once again the stable door was locked after the horse had been stolen!
Celtic had won the Glasgow Cup on Wednesday 25 March but in a somewhat pedestrian and uninspired performance before a crowd of about 14,000, winning 2-0 over Second Division Clyde. John Divers had scored
the second goal but had not played particularly well (indeed his form had been indifferent for some time). This triumph (such as it was) masked a general malaise at the club. On the Saturday before, they had gone to Rugby Park to lose 4-0 to the strong going Kilmarnock and the forwards had not really got going. On the other hand, the Reserves, well marshalled by Gallagher had sparkled to beat their Kilmarnock equivalents 4-1. The time seemed ripe to make a change. Indeed, on the day after the Glasgow Cup win, The Evening Times says categorically that the forwards were a flop, and that this was not European form.
Accordingly, when the few supporters turned up at Motherwell on Saturday 28 March for a meaningless League game, they discovered that Charlie was at inside left. This was a rare outbreak of common sense. Charlie Gallagher, the best ball player on their books, was given a start and in a position in which he could do himself justice. They were rewarded by a far better team performance, a 4-0 win for Celtic who played good attacking football from the start.
It was indeed one of Celtic's better performances of the season and it was a shame that it attracted so little attention. Only 8,000 were there, with the attention of the media focussed on the Scottish Cup semi-finals of that day in which Rangers edged it 1-0 over Dunfermline at Hampden while at Ibrox Dundee impressively beat Kilmarnock 4-0, the same Kilmarnock who had over-run the Gallagher-less Celtic at Rugby Park the previous week!
And Gallagher, with silent but grim determination, now seized his chance. Dundee, arguably the best footballing team in Scotland at the moment, came to Celtic Park on Wednesday 1 April to play a postponed game. The 17,000 crowd saw Alan Gilzean put them one ahead in the first half. But Celtic then started to play some fine football, inspired by Gallagher. Yet they could not score, with Chalmers in particular having an off night and
being unable to convert a barrow load of chances.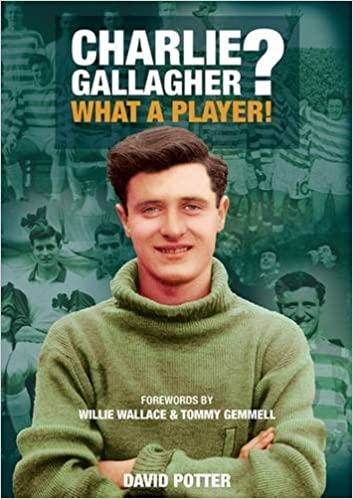 Then with 15 minutes to go, Gallagher equalised in a way that made everyone wonder what the problem had been hitherto.
He picked up a ball in the middle of the Dundee half, made a yard or two, then simply lashed the ball home from about 35 yards. It was another of these memorable moments when there is a split second of pause so that everyone takes it all in, and then an explosion of acclamation and joy and an invasion of youngsters, who had had little cause to express themselves in this way before.
They were duly shooed back into the terracing and everyone then began to ask just why Gallagher had not been in the first team earlier, for shooting like that would have been exactly what we needed at Ibrox in our Scottish Cup demise.
But there was still a game to be won, and Celtic now pressed and pressed until with almost the last kick of the ball, the luckless Steve Chalmers eventually scored with a tap in to give Celtic a victory which actually put them second in the League! Yes, things could have been a lot different in 1964!
The next game at Muirton Park, Perth was a lot less happy for Gallagher and Celtic. Rangers finally won the League Championship that day and Celtic could only draw 1-1 with St Johnstone. Indeed, but for a last minute save of a penalty kick by John Fallon, St Johnstone would have won.
But Gallagher had no reason to reproach himself. Indeed, he probably strengthened his position in the team, because his main rival, John Divers, was also given a game that day and played very badly, even being (unfairly) described as "lazy" by some supporters. Jock Stein, in the meantime, had moved from Dunfermline to Hibs and took charge of them for the first time that day. Some supporters felt that Celtic might have gone for him…
David Potter
To be continued…