Making hisInternational debut for Ireland was not the highlight of the 1966/67 season as far as Charlie Gallagher was concerned. He was not in the team which lost to Vojvodina in Yugoslavia, but was given a game in the St Mirren game which followed immediately. This was a fine 5-0 win in the Paisley wind and rain, and then Stein made his fateful and inspired decision to keep Gallagher in the team for the visit of Vojvodina to Parkhead on 8 March. This time it was at the expense of Bertie Auld who had limped off at Love Street, but who had apparently recovered. Nevertheless, Stein had a hunch that Gallagher was the man for the occasion.
Once again, Stein got it right. Celtic equalised through Steve Chalmers, and the tie seemed to heading for a play-off in neutral Rotterdam. With very little time left, Jimmy Johnstone forced a corner on the stand side of the field as Celtic were attacking what is now known as the Lisbon Lions end of the ground. Across trotted Charlie to take it. The fans all recalled the 1965 Scottish Cup final when Gallagher took the corner which allowed McNeill to propel Celtic to glory. Could the same happen again? It did. Charlie sent over a high one, the flying angel of destruction arrived yet again in the shape of Celtic's captain, and the ball hit the back of the net to put Celtic into the semi-final!
Yet it might have been different. As he was about to take the corner, he saw Jimmy Johnstone, tailed by two Yugoslavs come across to him. The thought occurred to him to take a short corner, but he decided against it for two reasons. One was that he was not sure how long there was left, and a short corner would inevitably have wasted time. The other was that, as there were two defenders with Jimmy, this meant that there were two fewer in the penalty area! The instructions from Jock Stein had always been in these circumstances NOT to use Jimmy. He was to be the decoy. McNeill started his run, the ball was perfectly flighted, and Parkhead erupted.
Two seconds after the game restarted the referee blew for time up. It had been that close, and Celtic Park went hysterical. "Aye, Jock cut it fine tonight" was the verdict of the Press box, but it meant that Celtic were now in the semi-final to play the Czechoslovak Army side Dukla Prague.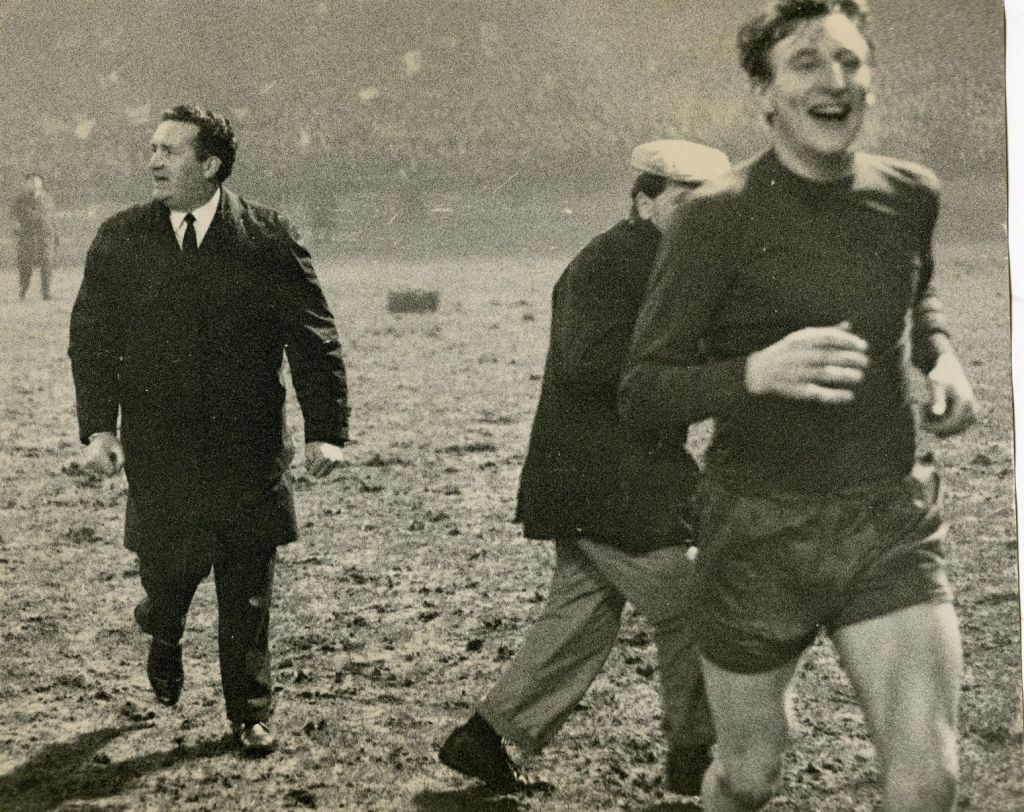 Sadly for Gallagher, however, his corner kick would be the last ball he would kick for Celtic in the European Cup, for he would lose out to Bertie Auld for the other games of the campaign. He did however play a handful of domestic games for Celtic that season, notably in the replay of the Scottish Cup semi-final against Clyde. The team had played dreadfully in the first game, but in the replay, one of the rare games when Bertie Auld and Charlie Gallagher played together, Celtic treated their fans to a superb display of football to put themselves into the final where they would beat Aberdeen, but without Charlie who was, as often a reserve. But what a reserve! And it is surely no disgrace not to manage to command a place in that fine team. But he was always ready, willing and able.
But he had domestic concerns. A big event occurred in his family life on 25 March 1967. Celtic beat Hearts 3-0 at Tynecastle that day – Charlie wasn't playing, and the Reserve game at Parkhead was rained off – but, more importantly for Charlie back in Glasgow, Mary gave birth to a boy to be called Paul. This happy event was tempered by severe complications however to Mary who needed to have an operation after the birth for ovarian cysts. Her condition however did not prevent her from going to Lisbon for the European Cup final, even though when she got back, her doctor disapproved! Nor could she deny it, for there were pictures aplenty of all the wives in Lisbon, and Mary was undeniably there!
In the meantime, the International scene had not yet passed Charlie by. The Turkish trip may have been a bit of a nightmare, however much he enjoyed the experience of playing for the country of his parents, but Charlie enjoyed a great deal more his next and last (as it turned out) game for Ireland. This was a home tie against Czechoslovakia at Dalymount Park, Dublin on Sunday 21 May, a matter of some four days before the European Cup final in Lisbon.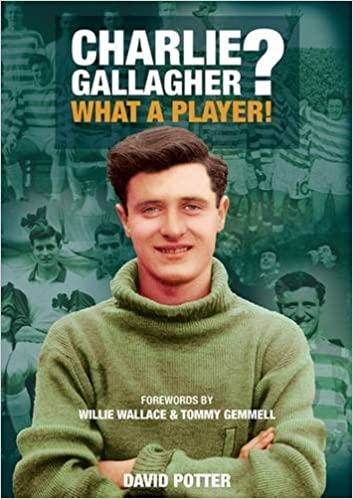 Charlie possibly realised that he wouldn't be in the Celtic 11 for Lisbon, but he was very much part of the squad, and had to be at the ready for last minute emergencies. He was thrilled nevertheless to be given another chance to play for what he now saw as his native country, and was given the blessing of Celtic to go and do so.
It would be impossible to minimise the footballing atmosphere in Glasgow and in Scotland in general in those heady days of May 1967. Celtic and Rangers were both in European Cup finals, and even Kilmarnock had reached the semi-final of what was then called the Inter Cities Fairs Cup and was the equivalent of what is now the Europa League. As important as anything for a Scotsman was the fact that Scotland had defeated World Cup winners England at Wembley as well a few weeks ago, and for Celtic fans, there was the domestic treble of the Scottish League, the
Scottish Cup and the Scottish League Cup. It was the first time they had ever done that. But dwarfing them all was the small matter of the European Cup final in Lisbon.
Charlie had not been a regular in the Celtic starting XI which was now generally Simpson, Craig and Gemmell; Murdoch, McNeill and Clark: Johnstone, Wallace, Chalmers, Auld and Lennox. But he had played in a few key games – the semi-final replay of the Scottish Cup against Clyde for example – and had usually done well. But he had played in one very disappointing game – a 2-3 defeat to Dundee United at Parkhead, a few days after the Scottish Cup win over Aberdeen at Hampden and a game in which Celtic might have won the League if they had even earned a draw.
Because the team did badly that night, Charlie found himself side-lined for the next game, the game in which they actually did win the League against Rangers at Ibrox. Effectively, the team that won the League that day would also be the team for Lisbon.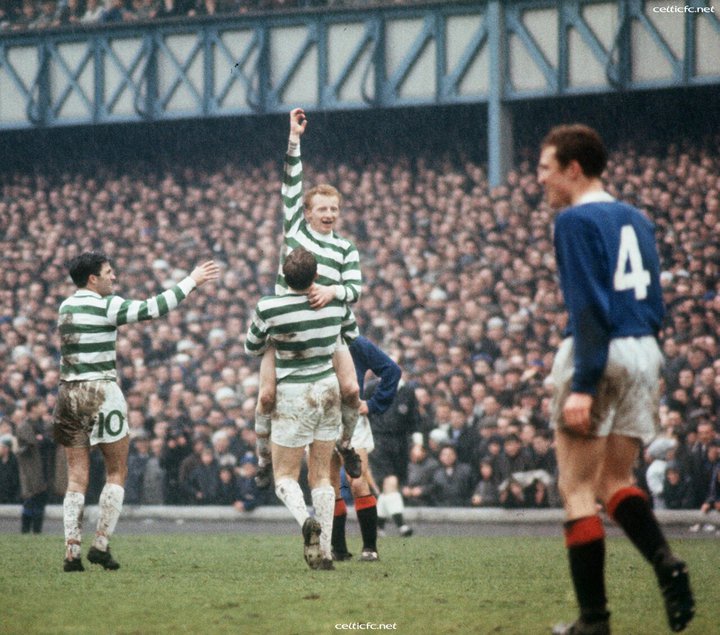 The atmosphere in Glasgow, as we have said, was electric but considerably less so in Dublin. Dublin had not yet developed into being the vibrant, cosmopolitan centre that it would became in the early years of the 21st century. It had not yet entirely exorcised all the ghosts of 50 years ago, as was seen when Nelson's Column in O'Connell Street had been blown up in March 1966, and it was starkly obvious in any case that Dublin was not really a football-minded city.
A disappointing crowd of 6,257 saw a makeshift Ireland team plagued with injuries and withdrawals go down 0-2 to a strong Czechoslovak team, some of whom were familiar to Charlie for he had experienced Czech football a month previously when Celtic played Dukla Prague in the European Cup semi-final, even though he had not actually played
against Dukla. By this time Charlie Hurley was the player-manager, but Eire were outclassed by a fine professional Czech side who scored a goal in each half and ran out 2-0 winners.
The Irish side was Alan Kelly, John Dempsey, Mick Meaghan, Theo Foley, Charlie Hurley, Eamonn Dunphy, Ray Tracey, Andy McEvoy, Al Finucane, Charlie Gallagher and Oliver Conmy.
The programme for the game is interesting. Tribute is paid to Johnny Carey who had now resigned from the post of Manager, and the Editor feels it necessary to tell his readers about Czechoslovakia, starting with the strange sentence that "Czechoslovakia is the (sic) socialist country, situated in the very centre of Europe. He then talks about "famous hospitality" "murmuring forests" and "a real paradise for huntsmen". It gives every impression, in fact, of having been lifted straight from a tourist guide!
There is also a mention of the game in 18 May 1938 in Prague which ended in a 2-2 draw, which in fact was the first encounter between the two nations. One would have liked to have known more about the political background to this game between two young nations, neither of which had existed 20 years previously and one of which was about to be torn apart by Adolf Hitler!
By the time that Charlie got back to Glasgow on the Monday, he found the city in a state of barely controlled hysteria with some Celtic supporters already well on their way to Lisbon, and a few green and white scarves
dotted round the airport. Charlie himself had no time to dawdle either, for the team flew out early on the Tuesday morning, and by Tuesday night they were training hard at the stadium itself, as tension rose inexorably all
over Scotland, England and Ireland, which now began to show a distinct interest in the fortunes of the "émigré Irishmen" as they were called in one Irish newspaper.
The next few days passed in a whirl. For the fringe players it can't have been easy, for although Stein had made up his mind who was going to be in the XI or XII (the regulations in 1967 allowed a substitute goalkeeper so John Fallon was named for that job), no-one ever knew when a sudden injury or illness would prevent someone from taking part. In the case of Gallagher who was a utility player for the whole forward line and indeed the midfield as well, there was more chance of a sudden call-up than anyone else.
It is always difficult in those circumstances. No-one ever wants to see a colleague injured, but Gallagher would not have been human if he had not wanted, in his heart of hearts, to play. No-one was injured in the warm up however, and Gallagher watched the game like all the other supporters. He and the other reserves were given a seat more or less on the halfway line at the front of the Main Stand. If any supporter wonders what Charlie's emotions were, all one has to do is examine one's own emotions on that roller coaster of a night, for there was no greater Celtic supporter than Charlie Gallagher.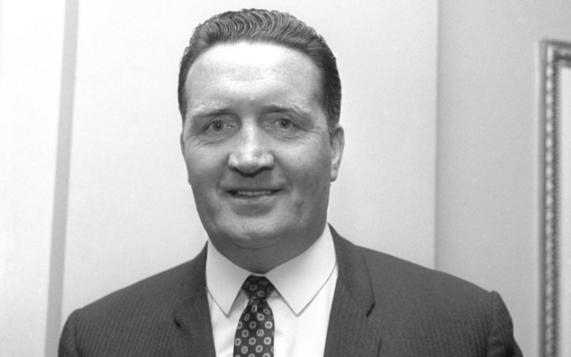 He experienced the disappointment at the early dubious penalty, frustration at the repeated failure to score
and then the ultimate glory when we did score. He also had a great view of McNeill fighting his way through the crowd past where the reserves were sitting on his way to collect the Cup!
John Fallon and John Cushley however had been detailed to grab the bench on the other side of the field that Stein wanted and before Herrera could grab it!
The hours after the game no-one can remember all that well, but Charlie is given the credit for allowing a female Brazilian journalist to get past the policemen and the jobsworths and then gain access to the Celtic dressing
room. Quite a few people who were at the after match dinner stated that the players were all struggling to take in exactly what had happened.
The team came home on the Friday night to a deserved heroes' welcome, even though it meant being transported round Celtic Park on what looked like a coal truck! It was in fact a builder's lorry owned by RD Stewart. Some of the other fringe players talk about feeling a little out of things, but Charlie had no such emotions. After all he was a Celtic supporter in any case, but he also could feel that he played his part in the triumph by his substantial, indeed decisive, contribution to the Vojvodina game.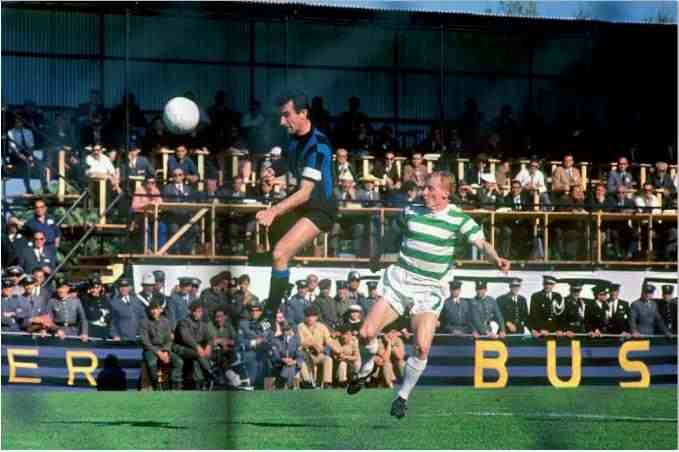 He had played in 20 games in that remarkable season in which the team won every competition it entered into. To be a member of that squad was indeed a great honour, and that fact that he never actually played in the European Cup final in Lisbon is no disgrace, and indeed the pain, if one can call it that, was alleviated by the fact that he was a close friend of all his "rivals" for a place in the team.
It took a long time for the enormity of what had happened to sink in. Celtic, the team that Charlie had loved all his life and whom he had joined almost a decade ago, were now the champions of Europe, joining Real Madrid and a very few others. None of the big English teams that the BBC kept telling us about had ever managed to do that, and yet Celtic, who had never looked vaguely like winning any Scottish trophy until 1965 had now won the European Cup. Charlie had been part of that.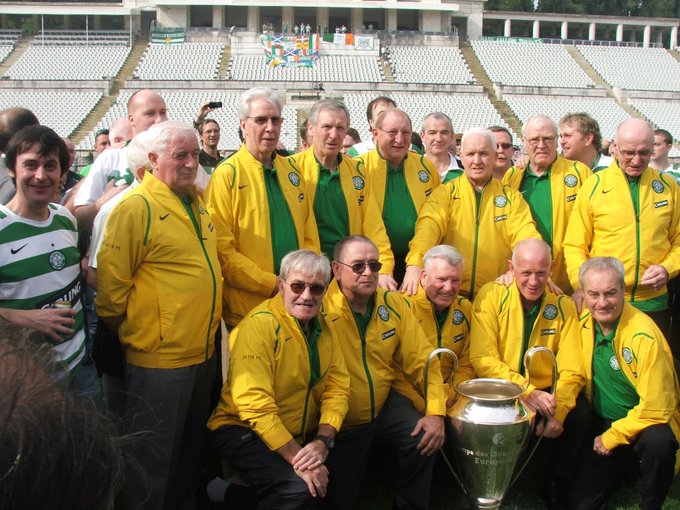 Supporters too were finding this hard to grasp. Was this actually the same team who had had perished miserably to Dunfermline in the Scottish Cup final of 1961, whose supporters had rioted when they had folded to the incredulous St Mirren in the semi of 1962, whose supporters had deserted them en-masse in protest against their feckless display against Rangers in the final of 1963 and who had then managed to succumb five times to Rangers in 1963/64?
The answer was yes and no. Yes, it was the same green and white jersey, yes it was the same ground, the same supporters, to a large extent the same players…but there was one vital and visible difference called Jock
Stein. He had taken Celtic by the scruff of the neck and made them the best team in Europe.
Ah yes, Jock Stein! Celtic without him would have been like Hamlet without the Prince! Gallagher, like many other players, must have asked himself how he actually felt about the Boss. There could be no doubt about his technical footballing nous and ability. He was a genius, and he was also painstaking in his research on other teams, his attention to detail and his strictness with his own players about punctuality, keeping fit and, particularly, staying away from alcohol.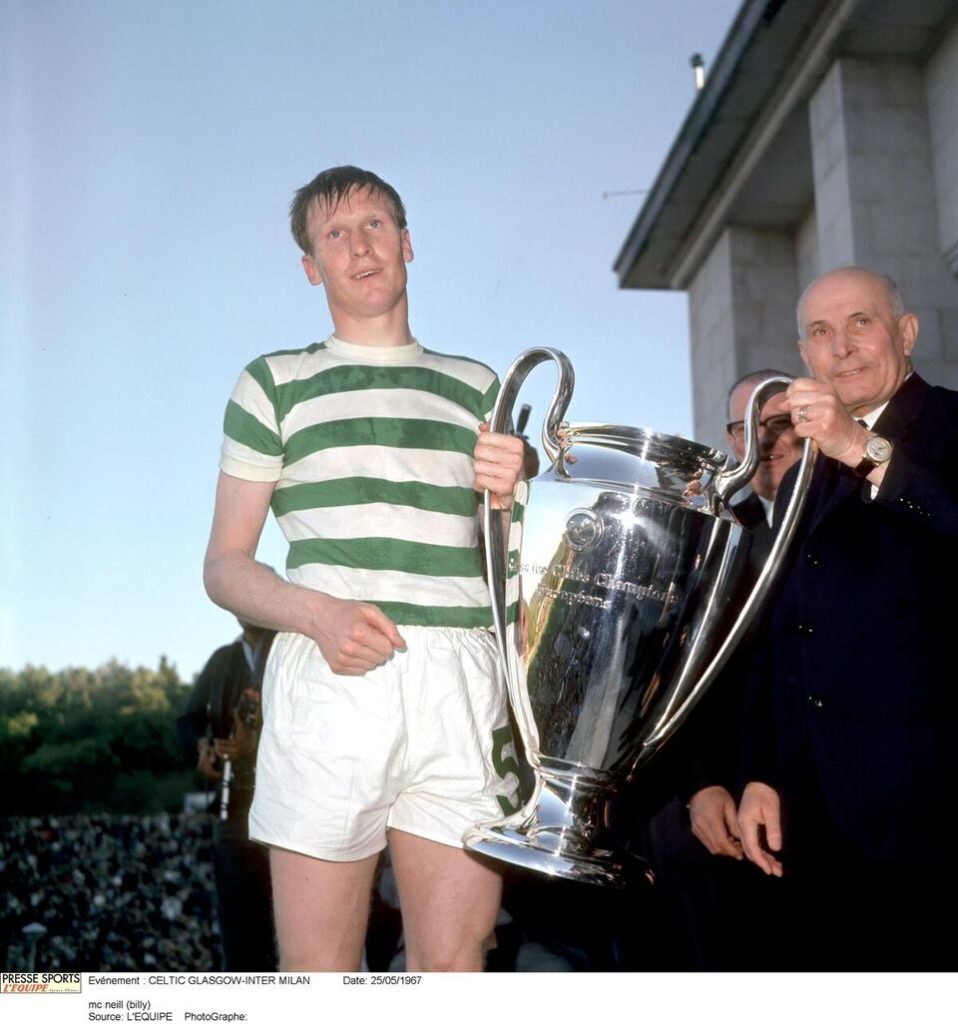 Yet Gallagher disliked the way that he treated some players, not least himself, for, to the players, Jock was never the "favourite uncle" sort of character that he liked to portray himself to the fans whom he always said were the life's blood of the game. "Football, without fans, is nothing". It would be fair to say that he was a totally different character to his players in comparison to what he was to his fans.
Gallagher also wondered about where he himself went from here. Would he have preferred to try his luck in England with a team who would guarantee him a regular start? Or even in Scotland with a team like Motherwell or Hearts who would have welcomed him and his talents?
He was now 26, and not getting any younger. All these considerations must have weighed on his mind, but a look at the terracings that night as the building construction lorry went all round the ground must have answered his question. There was still no team on earth like the Celtic.
But, in any case, the season was not yet over. Less than a fortnight later, Celtic took to the air again this time to Madrid to play in the testimonial game for Alfredo di Stefano. Some of the fringe players were given a game in Madrid, notably John Fallon in the goal, but Charlie did not take part.
Nevertheless he knew that there would be a future for him at Celtic Park when the new season came round in August. Indeed he did not want any kind of future other than a green and white one. And of course that summer he had a new baby. His wife recovered from the various surgical and medical procedures necessary, but that took a fair amount of time. A new baby is a demanding thing to have to deal with at any time. It looked for a spell, in view of what had happened during the pregnancy and birth that Mary and Charlie would not have any more children. In that, the medics were wrong, as we shall see.
David Potter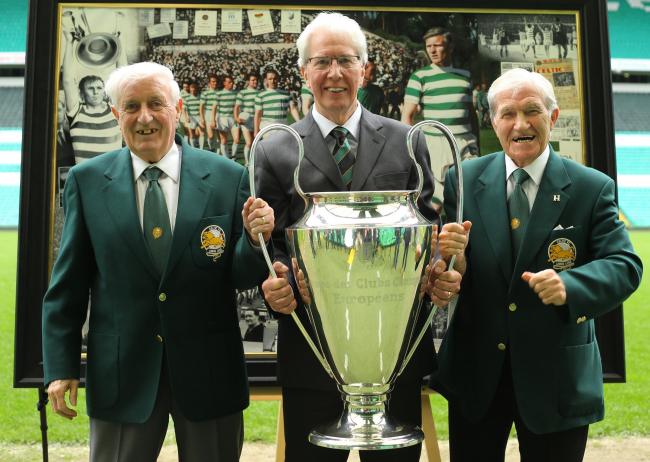 To be continued…