Chelsea defeated Real Madrid 2-0 at Stamford Bridge tonight to seal their place in the UEFA Champions League Final. Goals from Timo Werner and Mason Mount sealed the win for Thomas Tuchel's side, vindicating the decision of Russian oligarch Roman Abramovich to replace club legend Frank Lampard with an experienced, top level coach. Sound familiar?
Neil Lennon and Celtic were in a rut at the end of last year, with a win in the dead rubber against Lille and a Scottish Cup Final penalties win over Hearts masking the enormous failings of this season. Failings that have been amplified and cruelly played out on the park with our rivals taunting us. How could things have been allowed to get this bad. The Celtic board have a lot to answer for. It was the board that persisted with Neil Lennon when it appeared obvious last October that the Irishman was unable to turn the fortunes of this team around. Instead of following a tried and tested formula in modern football, Celtic stuck with the club legend and have been left to reap the rewards. A first trophyless season in over eleven years.
Lennon and some players will bear the brunt of the year that Celtic lost the ten but in truth, decisions that were taken in the boardroom resulted in the dismal display on the park as well as players likely playing for themselves.  The club will need an enormous rebuilding effort in the summer and there will always be calls of we cannot win everything and that the incredible Quadruple Treble team had to break up eventually. However, Tuchel's appointment took Chelsea to a FA Cup Final, The Champions League Final and also swapped their mid table status for the top four, something that was unimaginable at the turn of the year. They will be favourites to challenge Pep Guardiola's Man City next season for the English crown.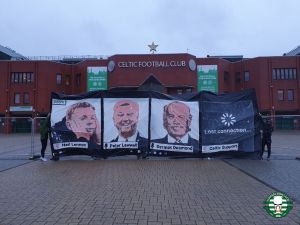 Chelsea said that the decision to sack Lampard was as a result of 'leaving the club mid-table without any clear path to sustained improvement'. If you will cast your mind back to October and November, Celtic appeared lost with the same mistakes costing goals, points and ultimately the season. It is a case of what if. What if Celtic had acted sooner? What if the club had acted swiftly and ruthlessly? What if the club take too long and the new manager is left with an uphill struggle from the start? All are valid questions and concerns; alas, the powerbroker are the only ones that can answer these questions.