ONE of the advantages — probably the only advantage — of living 5,000 miles west of Glasgow is that the transfer window closes here before the sun goes down. Having the advantage of still being awake and usually on my third cup of coffee for the day, we watched to see if Celtic made any further moves as the clock reached 12 in Glasgow while striking the bewitching hour of 4 p.m. in California, but as it turned out nothing happened and we're going with what we've got.
And after seeing the deadline pass, without any further additions and without any late departures, I went go have dinner.
Yes, we stayed put, much to the dismay of some greeting fans who insist on Celtic spending money like a drunken sailor on shore leave on players just for the sake of signing someone — anyone — to fill in for adequate players who are coming off injuries and soon to return to the pitch.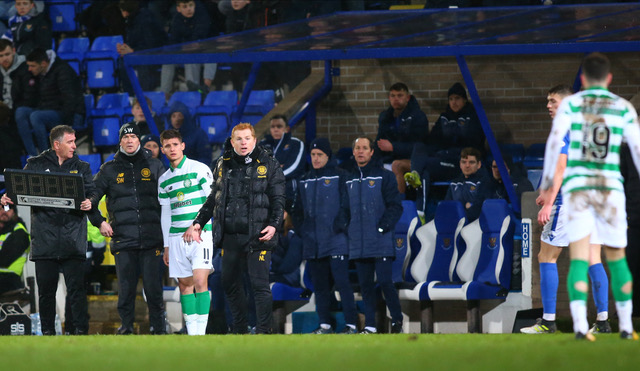 I'm with Neil Lennon: "We have a good squad, decent depth, and once we get a few injuries back we will be fine."
Contrary to what the armchair gaffers and PlayStation pundits might think, Lennon is right. Rather than acting like we're on the brink of relegation, they might want to look at the bigger picture.
While there was also hair-on-fire panic during the last transfer window, in the end it was one of Celtic's best in recent history. One can hardly make an argument against the fact that Fraser Forster, Hatem Elhamed, Mohammed Elyounoussi and Jeremie Frimpong have made a significant impact on the club.
Even Moritz Bauer and Boli Bolingoli-Mbombo — both unfairly criticized by some lately in the questionable objectivity of the Scottish football press, let alone the cesspool known as social media — are decent players who have shown they can contribute.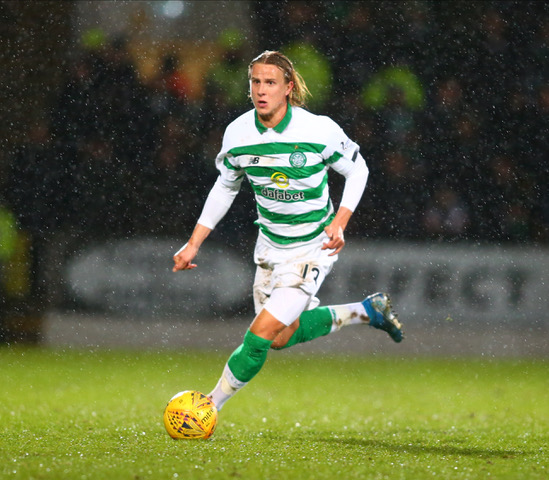 Leaving out the two new additions (we'll get to them in a minute), Odsonne Edouard and Leigh Griffith are turning into a tag-team scoring machine. Greg Taylor rightfully may have bought himself a start in future games with his play against the Aints — sorry, the Saints — on Wednesday. Olivier Ntcham, who many thought was packing his bags (and the Sunday papers are already linking him with a summer move to Southampton, is actually showing no signs of leaving while playing remarkably in the midfield.
Scott Brown has been shutting down critics who say he has lost a step by having a banner year that defies his age. Until injured, Ryan Christie was unstoppable. I could go on until you are lulled into a coma of boredom, but the fact remains that the team is solid despite injuries.
But speaking of injuries: Christie? Back. Elhamed? Back soon. Elyounoussi? Back soon, hopefully. Jeremie Frimpong? Also back soon hopefully. All of them are joining Jozo Simunovic and Tom Rogic, now back from long-term injuries and getting back into form for the rest of the season. Jozo is unlikely to be involved today on Hamilton's artificial surface.
So, who climbed in the window during this transfer cycle? Let's take a look at the pair who joined the club this month.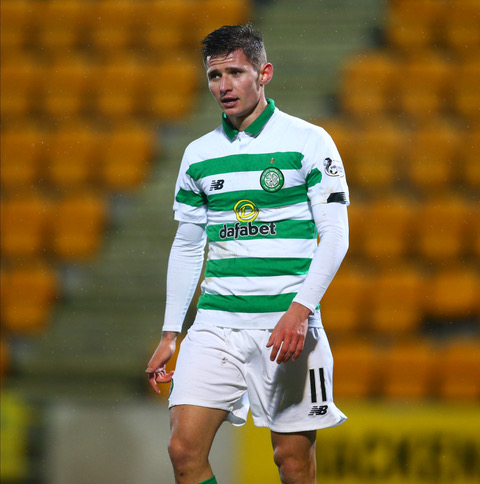 Patryk Klimala
I have a friend here in the San Lorenzo Valley who is a huge Bayern Munich fan, and he's pretty much plugged in to European football in general and Polish strikers in particular. He speaks highly of Patryk Klimala, dubbing him "Klimalendowski," after Bayern's Polish striker Robert Lewandowski.
All joking aside, Polish Paddy's 10 minutes against St. Johnstone did little to show his abilities — and that was outlined in Sandman's ratings of the St. Johnstone game — but in those 10 minutes, he showed some speed and crossing skills in a cross that, had it not been slightly deflected by a panicked Saints defender, could have been his first assist. In addition, Klimala rejected a ball from the near post in the Saints' final corner in injury time, saving the clean sheet for the Hoops.
In his introduction at his signing, Klimala said that signing for Celtic is a big step up in his career, and he insisted he is ready to prove his worth. If this brief introduction is an indication of what Klimala can do, then his wide range of talents are a welcome addition to the club.
Incidentally, he takes the number 11, which was worn quite succesfully by the recently departed — OK, a little dramatic, recently departed to Preston North End, that is — Scotty Sinclair.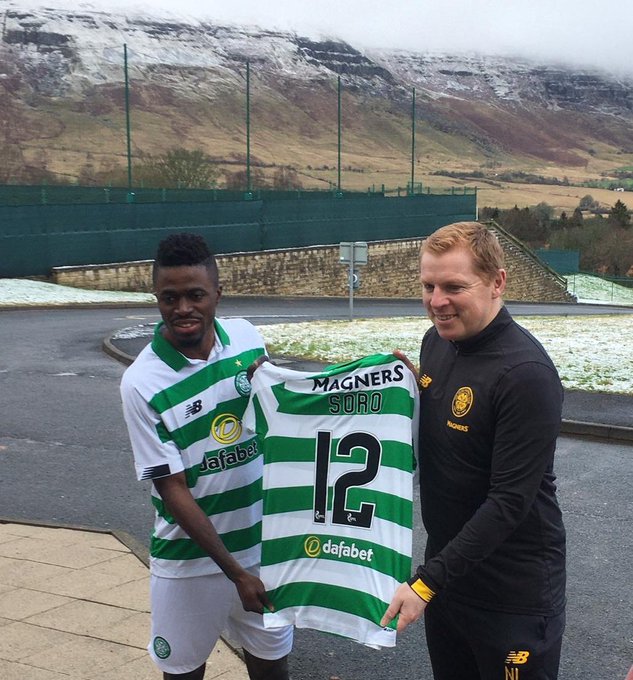 Ismaila Soro
First things first: Apologies to The Proclaimers (and sing along if you know it) . . .
"My heart was broken, my heart was broken,
Soro, Soro, Soro, Soro . . ."
While it may be too early to purloin the Hibs' song for our own purposes, Ismaila Soro arrives to bolster Celtic's midfield. The Ivorian signed a four-and-a-half-year deal with the Hoops after a multi-year stint with Israeli club Bnei Yehuda.
The gaffer has high praise for Soro. In a recent interview on Celtic TV (watch below), Lennon said, "He'll bring a bit of quality and support in the midfield area. He's had a good career so far and has played in some tough leagues. He's come from a team who, while they're not the top team in Israel, he's stood out by a distance with his performances there."
We're looking forward to it.
Larry Cafiero
Check out Larry's American blog all about Celtic – '67 in the heat of Felton, a view of Celtic FC from the Central California coast by Larry Cafiero.
ALSO ON THE CELTIC STAR…
'Short memories,' says Lenny, 'Forrest is entitled to a bad couple of days'…see HERE.
Help raise money for Celtic Youth Development by joining the £1 weekly lottery and you could win up to £25,000 – just click on any one of the photographs below to join. Lots of our readers have already done so and they're now doing their bit to help fund Celtic Youth Development that can deliver the stars of tomorrow and beyond. And you might even win a few bob too!