A FAKE NEWS report that labelled supporters as racist has been condemned by a Scottish club in a hard-hitting statement that makes it clear that it will not stand aside and say nothing while their supporters are wrongly labelled as racist in the Scottish media.
But sadly we are NOT talking about Celtic defending our support from the outrageous, defamatory and damaging accusations that emerged from an agenda driven press box at Celtic Park after the recent Glasgow Derby between Celtic and the club that Peter Lawwell likes to call Rangers.
Instead we are referring to a statement today from Rossvale Juniors who have defended their supporters and indeed those of their opponents on the day, Rutherglen Glancairn by forensically taking apart the Fake News report in the press line by line and instead telling the world what did happen at the game.
It appears that there was one moron at the game and the officials handled the matter in the proper fashion. Both clubs stand together in the statement that deals with the facts and exposes the lies.
Here is the statement in full…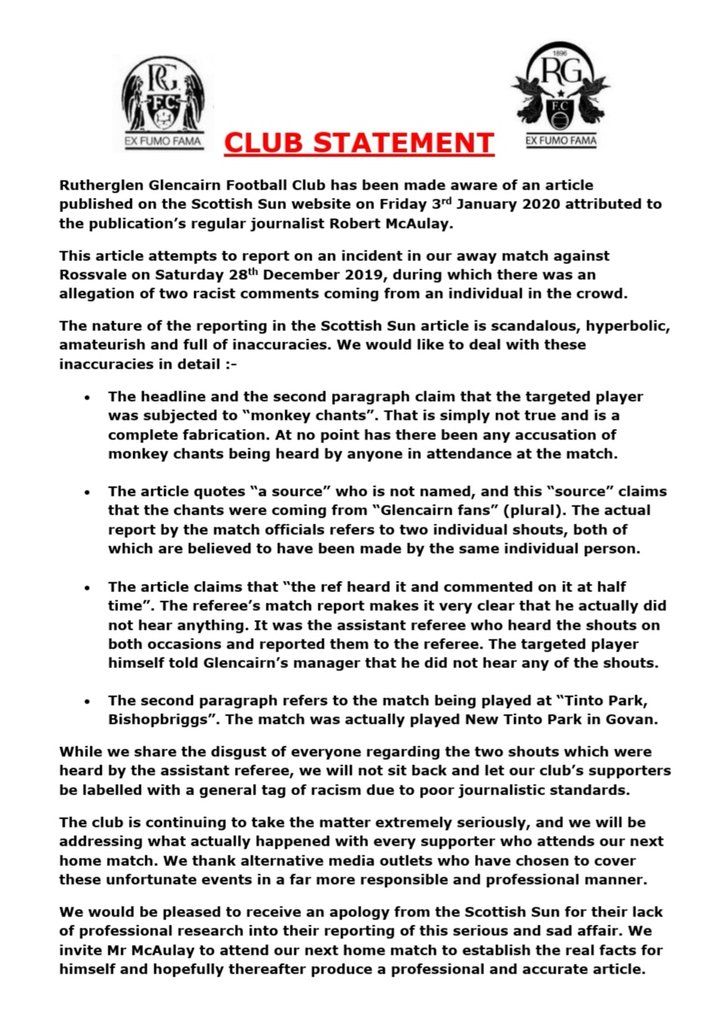 Now why can't Celtic do that for the Celtic Support. Over 58,000 of us went along to the game on 29 December and afterwards we were branded as racist by various journalists including that bloke from ITN, who said he'd seen the video but wouldn't share it.
The video in question was indeed hard to find. You suspect that had it actually contained the racist remarks attributed to it, then it would have been plastered everywhere, just like the media did with that video from Ibrox with the clear racist abuse directed at Moussa Dembele – oh wait!
The video from 29 December does NOT contain any racist abuse. There are two clear insults within it but neither could regarded to be racist by any reasonable person – and that is exactly why this video has not been shared.
So ask yourself this. How come Rossvale Juniors and Rutherglen Glencairn are big enough to stand up for their support, even when there was ONE idiot at that game who let the Junior game down badly – but Celtic are Mute despite there being no evidence of racist comments from the Celtic Support?
As A Club Rossvale Juniors Fc stands side by side with Rutherglen Glencairn on this Statement ….@scotsunsport
We both await an apology https://t.co/Gt8sfac4YS

— ROSSVALE JUNIORS FC (@RossvaleJFC) January 7, 2020
Earlier today we published YOU DID THIS and if you missed it please catch up now.