Callum McGregor spoke to the Mainstream Media yesterday ahead of this evening's 6pm kick-off against Aberdeen in the Scottish Premiership – the game that Nicola Sturgeon herself postponed before COMMENDING theRangers for their first major protocol breach at the end of last year. It's all gone a bit quiet from Nicola and his Deputy regarding the second breach which happened at the weekend, although the Ibrox club are investigating themselves and Alex Rae is telling the world that any fringe or youth players involved mould be punished and made an example of while any first team stars should be protected as they have a title to win. At least there is some truth in that approach from Rae, a guy who won titles via the unlawful EBT scheme back in the day.
The press though have at least been consistent. When one of the big Glasgow clubs is involved in a covid story they are going to be all over it right? Well, yes (in Celtic's case) and no ( when it comes to the 2012 version of theRangers).
GO COMPARE….GO COMPARE…. pic.twitter.com/qy1IpUZggL

— Boristhehead (@BigPatsy01) February 16, 2021
— Cluster One (@ClusterOne2) February 16, 2021
"Take away the Ten-in-a-Row factor, in any season we haven't been consistent enough to be Champions. It was a once-in-a-generation thing that we were trying to achieve so you can understand the frustration and sensitivity around it," McGregor admits.
"But we tried to look at it as a normal season and regardless of whether it is one in a row or ten in a row, consistently we haven't been good enough to go and win the league."
That consistency seems to have returned after the home defeat to St Mirren, the first since the early 1990s, with four straight wins, and tonight McGregor and his teammates will be looking to make that five against an Aberdeen side that hasn't scored for five games.
"The last four games have been good and our performance levels have been good," McGregor admitted. "We've been scoring goals and defending a lot better and it is positive but there are not too many games to go so it's a bit frustrating in that sense. But we need to keep performing and see where it takes us.
"It's a bit frustrating that we didn't find that form when we really needed it. But we have to keep playing and keep being positive and seeing where it takes us. The focus has to be on the performance levels and the results so it's just a case of keeping going.
"It's been tough. When you're so used to winning and being consistent, when it's not happening it hurts you. I think that's one of the good things about the squad – it does hurt us as players. It matters to them. They care about it and you can see that in their faces and their demeanour.
"We just want to be positive and try to win as many games as we can. We will then go away this summer and come back with a positive mindset to go again."
Glad to hear that Callum is talking about coming back after the summer, words you wouldn't have heard from too many of his teammates including talisman Odsonne Edouard who as Neil Lennon admitted yesterday was extremely disappointed that he never got the move he was looking for last summer.
Even without the fans in the stadiums this season McGregor also believes that the intensity of the support's feelings has had an impact and certainly surprised and startled at few of the more recent arrivals at the club.
"When you're not used to the intensity of it, it might have. For a few of the guys it is their first season up here. It's the best place ever when you're winning and when you're not it's really tough so it's been difficult for the guys to come in and see that intensity. That's the challenge for them.
"You have to come in here and be at it and keep winning. That is the demands we have as players and as a club – we have a winning culture and those demands are on."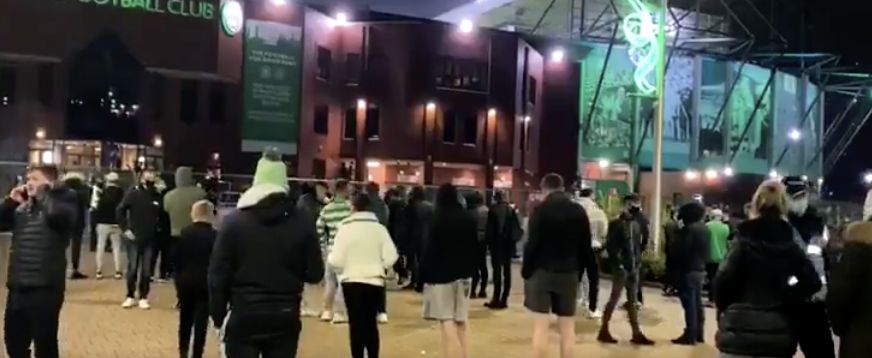 "When you're so close to it and have grown up your whole life around Celtic then inevitably it's going to
hurt you more than some others. That's obviously a challenge for me in being from Glasgow and being at Celtic for so long.
"That's just something I have to take on my shoulders and deal with best I can. It does hurt even more but I then feel I have the responsibility to try to change it as much as possible and that's what I'm trying to do.
"When you put football against a world pandemic you can see where the difference is. Obviously us as footballers our full life revolves around football and you dedicate your whole life to it.
"For us, when we win on a Saturday it's the best feeling in the world and when we lose it's the worst feeling in the world but you put it up against people losing their lives and the world dealing with a pandemic and getting back to normal, then football is miniscule in that scale.
"It's just obviously around football and people working in football that expectation is always there to deliver, regardless of whatever the situation is outside of football."
Watch the full Celtic Media Conference with Callum McGregor below…
🎙️ "We need to keep working hard and keep trying to win the next game and the one after that."

Full #CELABE Media Conference with Callum McGregor is now available on our YouTube. #CelticFC 🍀

— Celtic Football Club (@CelticFC) February 16, 2021
🍀 #𝗖𝗘𝗟𝗔𝗕𝗘 𝗺𝗮𝘁𝗰𝗵𝗱𝗮𝘆 🍀

🆚 Aberdeen
🏆 Scottish Premiership
⌚️ 6pm CPT
🏟 Celtic Park
🚫 Behind closed doors
📺 Live on @CelticFCPass
💻 Live on @CelticTV (ex. UK & IRE)

𝑪𝒐𝒎𝒆 𝒐𝒏 𝒕𝒉𝒆 𝑯𝒐𝒐𝒑𝒔 🟢⚪️

— Celtic Football Club (@CelticFC) February 17, 2021