HAVING just been rewarded by Celtic with a new, bumper 5 year contract, Callum McGregor looked back to when he heard the news that the club had rejected an approach from Leicester City, managed of course by former Hoops boss Brendan Rodgers, for him.
In broadly similar situations Moussa Dembele took to late night social media to force through his move while Dedryck Boyata went on strike, but there was no chance that Callum McGregor would act inappropriately when he heard that Celtic weren't interested in selling him to the Premier League side.
"I'd never do that. Celtic have given me so much. I am so thankful to them for the opportunity to play at such a huge club. It was never in my mind to get upset or anything.
"I have a job to do here and we have had so much success here. I am really enjoying my football and all you want to do is get on the pitch and do your best for the club, the fans and yourself.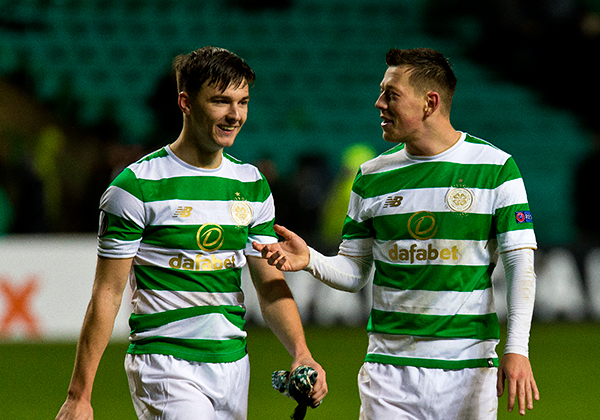 "It's nice to get that interest. I had a good relationship with the previous manager. He goes away and there's that link that he wants you.
"It's nice as it shows you were doing something right for the time he was here. You take it as a compliment but as soon as it passed, I've been totally focused on football.
"It wasn't really on my mind. Since the season started I have been playing every three days. So I've just been focused on the games. It's been total football since June and the games are racking up.
"I've just been focusing on my job and the manager has been first class with me. I wasn't really that up or down. It was about getting fit and taking it from there.
"I'm delighted to get it done and create that stability. Brendan texted me just to say 'Congratulations, you really deserve it'.
"He said he was happy for me. I just sent him a text back saying 'Thanks very much for everything you have done as well'."
I caught the start if the Arsenal game against Vittoria from Portugal yesterday in the Europa League, and Kieran Tierney was playing with a bunch of reserves. Arsenal could have lost 3 goals in the opening stages of a match that ended 1-1, the woodwork and one great goalkeeping kept them in it, in the pretty much empty setting.
Kieran Tierney did swing in a decent cross from the left early on that the Arsenal strikers just failed to get on the end of, but other that that he looked something of a lost soul, in the wrong movie.
Just think Kieran, you could have been playing alongside Callum and Co in Rome tonight!
McGregor mentioned Tierney yesterday. "You see Kieran doing so well down at Arsenal. He's made that step and, naturally, you look at it and think 'I do fancy a bit of that at some point'.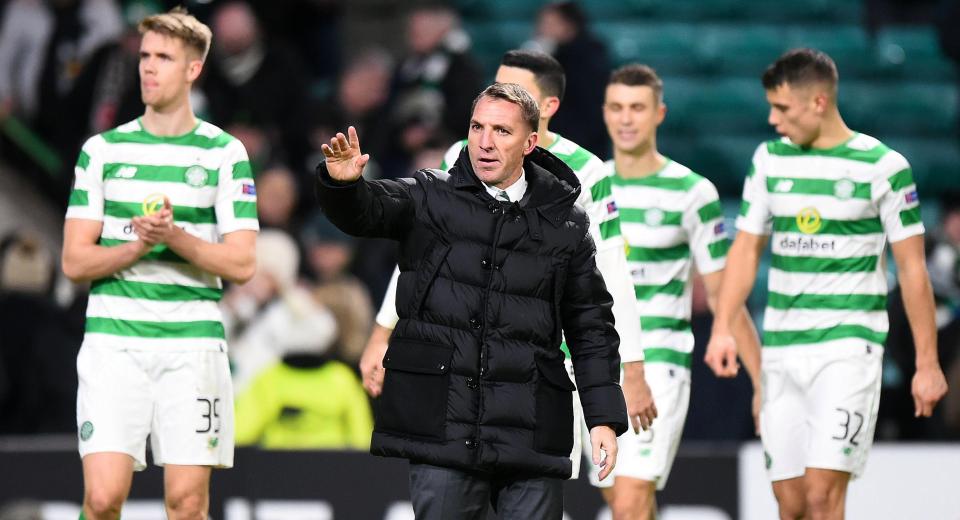 "But, again, you take it as a compliment that you are doing your job well. We spoke about it but ultimately the decision was made to renew my contract here. I'm delighted."
The former Celtic keeper Alan Rough reckons that Celtic are simply protecting their asset for future transfer interest in McGregor – what an outrageous suggestion, accusing Peter Lawwell of thinking about the money!
Yet whether Rodgers will come back for the Celtic star midfielder or not is not something any of us know, if as in the Tierney situation, a bid of a pre-determined amount is submitted – in his case £25million, then the player and his agents will have the right to be informed and will be allowed to make the decision.
That's probably the case here too, and while we are speculating, Rodgers obviously knows how these things are done at Celtic.
Yet it might not even be from Leicester City as Rodgers is increasingly being linked with a move to Arsenal as we reported last night
That would of course re-unite Rodgers with Kieran Tierney and our former manager has been speaking about Tierney's decision as a Celtic supporter, to leave the club and join Arsenal for professional development reasons in today's Daily Record.
"The very first week I was there (at Celtic) I was told that there was interest from Arsenal for around about 10 million quid.
"Peter Lawwell was very clear that this was an opportunity that was there for Kieran. But obviously we didn't want the player to go and it was my job to try to convince him to stay.
"You have to be transparent with players in a situation like that so I just said, 'Listen, we could have a great cycle here. I really want to develop you and make you a better player'.
"I think very quickly he enjoyed the training, he enjoyed the work and he enjoyed the culture we were trying to create. Thankfully he decided he was going to commit to another deal which was absolutely great news for us all.
"He was a big talent and we wanted to hang on to our best talents.
"So he stayed and he gave everything to Celtic, increased his market value and then ended up moving there for the price that he did.
"You could see right away in that first period that he had that will and desire to get to the very top. He had come through a number of injuries as a younger player but he developed his body over the course of the time I was there. He became a really strong, aggressive, powerful player. He was very robust too given the number of games he played.
"He was unfortunate with a couple of injuries but there was absolutely no doubt about his mentality. He wanted to succeed so it's absolutely great to see him move to that level.
"On a personal level I'm really looking forward to seeing him again (Arsenal play Leicester at the weekend). I've exchanged messages with him since he moved to Arsenal and I've been looking out for him to see if he's playing. He's obviously been unfortunate that he was injured when he signed and there is always that settling in period required.
"So there will always be that communication and I will watch him from afar in the games as I do with all the rest of the players I worked with.
"But, yes, I'm looking forward to seeing him as he has a great smile and he's a good boy."