Celtic and Vasilis Barkas have, according to a report from Greece, reached an agreement that terminates the player's contract one year early and allows the flop Greek goalkeeper to find a new club without the complication of Celtic looking to recoup some of the £4.5m spend signing him from AEK Athens in July 2020.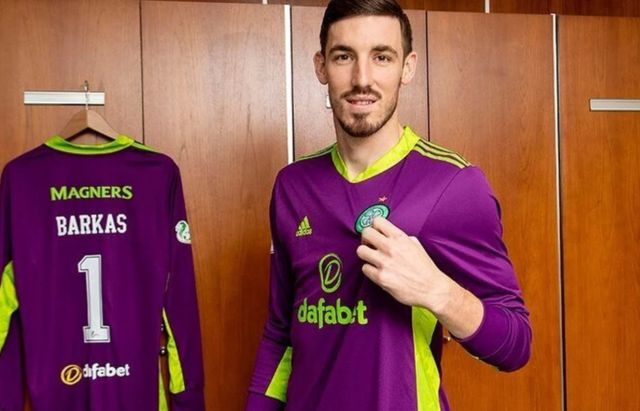 Celtic of course will have one benefit, saving the wages that would be due to Barkas next season,
"Celtic and Vasilis Barkas have an agreement and Greek GK will be free. Celtic's benefit that they will not pay the last year of his contract," respected Greek journalist Giannis Chorianopoulos, who broke the news of Barkas joining Celtic three years ago, has reported this morning.
❗ Celtic and Vasilis Barkas have an agreement and Greek GK will be free. Celtic 's benefit that they will not pay the last year of his contract. Official soon 🟢@CelticFC #Celtic #CelticFC #Barkas
Full story here 👇

— Giannis Chorianopoulos (@choria80) June 3, 2023
The translation of his report reads as follows:
'Vasilis Barkas did not have the development he would have liked and could have when he left AEK and Super League 1.

Things didn't go as expected at Celtic, but this chapter is ready to "close" for the Greek goalkeeper.

But let's look at his progress so far. It's been three summers since it was the most expensive No1 deal in Scottish history.

More than twice the transfer fee that Odysseus Vlachodimos had in Benfica, Celtic paid for the "gloves" of Vassilis Barkas!

There was never chemistry between them and from the moment Joe Hart became a "Celtic", the international Greek goalkeeper "ran out" of the roster of the country's champion.

Again good that this year Utrecht paying 50% of his contract gave him competitive life after a year of inactivity.

According to our sources, Barkas, who just turned 29 the day before yesterday, has found a formula and will be released by Celtic, who desperately wanted to "save" the money of the last year of his contract. Something that Sportime confirms in what it previously wrote about the player.

In fact, Barkas already has the next stage of his career ready, which will hardly be in Greece, since he wants to continue abroad. We will have names and addresses soon.'
🇬🇷 | 𝙄𝙩'𝙨 𝙊𝙫𝙚𝙧 𝙁𝙤𝙧 𝘽𝙖𝙧𝙠𝙖𝙨 🧤

Celtic have reached an agreement with Vasilis Barkas in that he will now be released by the club following a disastrous transfer from AEK Athens.

The Greek goalkeeper cost Celtic around £4.5M & made just 24 appearances.

[@choria80] pic.twitter.com/JhxqzBuZbb

— Everything Celtic (@aboutceltic) June 3, 2023