Last we looked back at a European Cup match 50 years ago when Celtic were 2-0 down at the interval to Irish side Waterford. The situation was resolved in the dressing room at half time – Jock Stein was less than impressed with his players – and together with a substitution and a tactic change, Celtic went on to win the game by 3-2.
However this was the second leg, with the first leg being played a few weeks earlier in Dublin and Celtic had won that match by 7-0 in front of a crowd of over 50,000 (this being the reason Waterford moved the game to Dublin's Landsdowne Road. Willie Wallace opened the scoring in 18 seconds, went on to score a hat-trick, with Bobby Murdoch and Lou Macari both netted doubles.
But it was the footage we showed from RTE that caused some not inconsiderable interest among the Celtic support in 2020 about what happened at that first leg in Dublin just over 50 years ago. It appeared that there was a running battle and it was Celtic on Celtic hooliganism.
So what actually happened that night and why did these fights take place. Remember too that the Waterford players in the return leg were given a standing ovation from the Celtic Supporters at Celtic Park, which incidentally attracted a much smaller crowd than the game in Dublin.
We know a man who would undoubtedly have been at the game and ho for many years has been involved in running the Dublin CSC. His late father was also the founder of the first ever Celtic fanzine, The Shamrock which as we've told you previously annoyed the Celtic Board sufficiently that they were inspired to set up their own newspaper – and the Celtic View was born. The club still haven't properly thought through how to work with the fans media with apparently one or two puppets in attendance at the record Glasgow Derby no doubt as a reward for services rendered.
Anyway back to the trouble at the Waterford v Celtic European Cup tie in Dublin 50 years ago in 1970. Here's our article from last week which includes the footage of the incident we referred to.
Waterford go two up at Celtic Park after "Terrace Thugs Clash" in Dublin.

..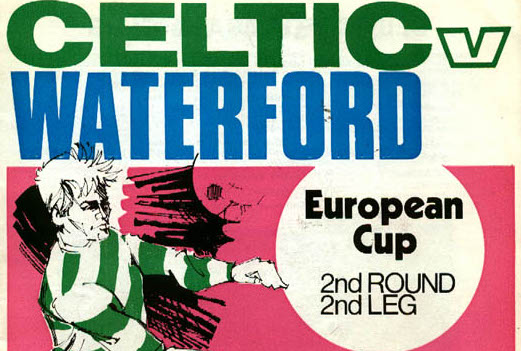 Waterford helped themselves to a 2-0 lead at Celtic Park fifty years ago this evening. Billy McNeill sliced a clearance past Evan Williams to give the Irish side an unlikely lead after 18 minutes in a match that Celtic had started very poorly.
Things went from bad to worse for the side who had played in the European Cup Final at the San Siro in May that year, losing in extra-time to Feyenoord. Celtic upped their game after that early setback with Willie Wallace unlucky with an effort that hit the bar. Bobby Lennox then went close as another goal – this time for Celtic looked certain.
Unbelievably though it was the visitors who grabbed a second of the night with just 530 minutes played when Matthews for the better of Craig for speed and beat Williams to double the Irish side's lead – much to the bemusement of the Celtic support in the 19,000 crowd.
This was getting embarrassing and you can imagine Jock Stein being less than happy as he read the riot act to the team which incidentally was Williams, Craig, Gemmell, Murdoch, McNeill, Hay, Johnstone, Lennox, Wallace, Connelly and Hughes.
It seemed to work. Stein moved John Hughes to centre forward and brought on Harry Hood to replace Lisbon Lion Bobby Lennox and those changes paid off immediately with Big Yogi pulling one back for Celtic in the first minute of the second half after excellent work form Jimmy Johnstone. And it was Jinky who grabbed a double, scoring on 56 minutes to level the score before grabbing the Celtic winner with 13 minutes left to play to secure a win on what was an uncomfortable and almost embarrassing night for Jock Stein and his players.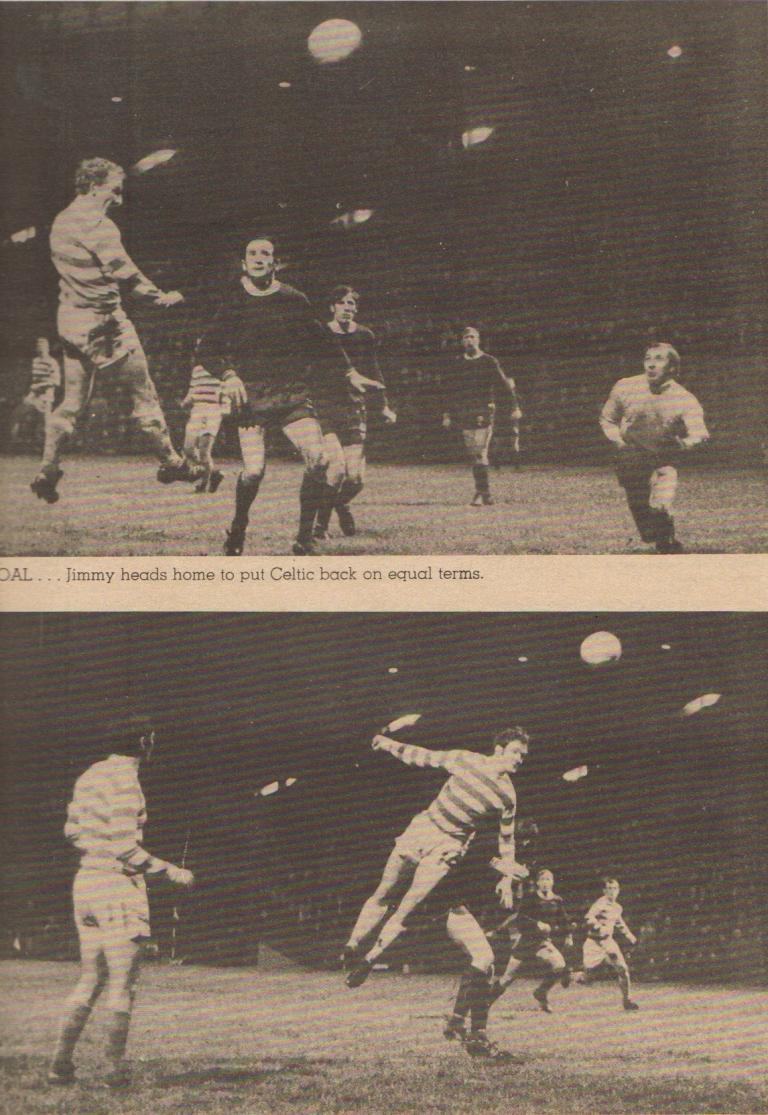 Can you imagine what Twitter would have been like at half time on this day 1970? HashtagSteinOut and the like no doubt. The Waterford team, for the record was Thomas; Bryan, Brennan; Maguire, Morrisey, McGeough; Casey, Hale, Kirkby, O'Neill, Mattthews and they were given a well-deserved standing ovation from the Celtic support at the final whistle.
There was no chance of an upset though. In case you were wondering this was the second leg of the European Cup tie and a few weeks earlier Celtic had travelled to Dublin (Waterford had moved the game to Landsdowne Road to accommodate a huge crowd) and won 7-0 so the aggregate score was Celtic 10 Waterford 2. That game in Dublin was marred by some pretty disgraceful scenes as the two sets of fans engaged in a running battle. There's footage at the end of this article.
4th November 1970
European Cup
Celtic 3 Waterford 2

Celtic: Williams, Craig, Gemmell, Murdoch (Brogan), McNeill, Hay, Johnstone, Lennox, Wallace (Hood), Connelly, Hughes

Scorers : Hughes (45′), Johnstone (56′, 77′) pic.twitter.com/b0kTwoNbOC

— Sureitsza.tmg (@sureitsza) November 4, 2020
TERRACE THUGS CLASH – The headline on RTE
As you might have noticed from the headline above there was actually significant crowd trouble at this European Cup second round first leg between Waterford and Celtic in Dublin, which had a crowd of over 50,000.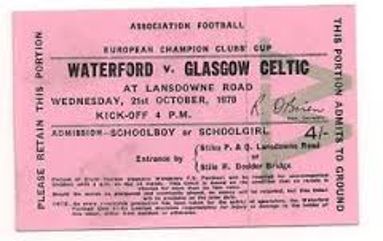 "Crowd trouble at Lansdowne Road during a European Cup tie between Waterford and Glasgow Celtic.
"Waterford faced Glasgow Celtic in the first leg of their second round European Cup tie at Lansdowne Road in Dublin. During the first half of the match, after Celtic score their third goal, a brawl breaks out on the terraces at the Lansdowne Road end.
A lot of nasty stuff going on behind the goal Celtic are attacking into at the moment.
"One of the Celtic fans brandishes a flagpole and uses it a weapon. The crowd scatters in panic, with some football fans taking refuge on the pitch.
I think they can forget about football.
"For twenty minutes running battles rage up and down the terraces. At half-time the Danish referee Kaj Rasmussen delays the start of the second half until order is restored and bottles and cans cleared from the pitch.
At the final whistle the score is Waterford 0; Glasgow Celtic 7."
An RTÉ News report broadcast on 21 October 1970. The commentator is Jimmy Magee.
You can watch the footage of this crowd trouble HERE.
Neil Doogan on what happened that night in Dublin…
Just a couple of points on Waterford v Celtic game in 1970 sad to say the trouble was caused by mainly Celtic fans from Scotland and Northern Ireland fighting with each other. The game as a contest was effectively over after half an hour and behind the goal at the Landsdowne Road end where Celtic fans had congregated fighting broke out which was a sad reflection on both elements of our support.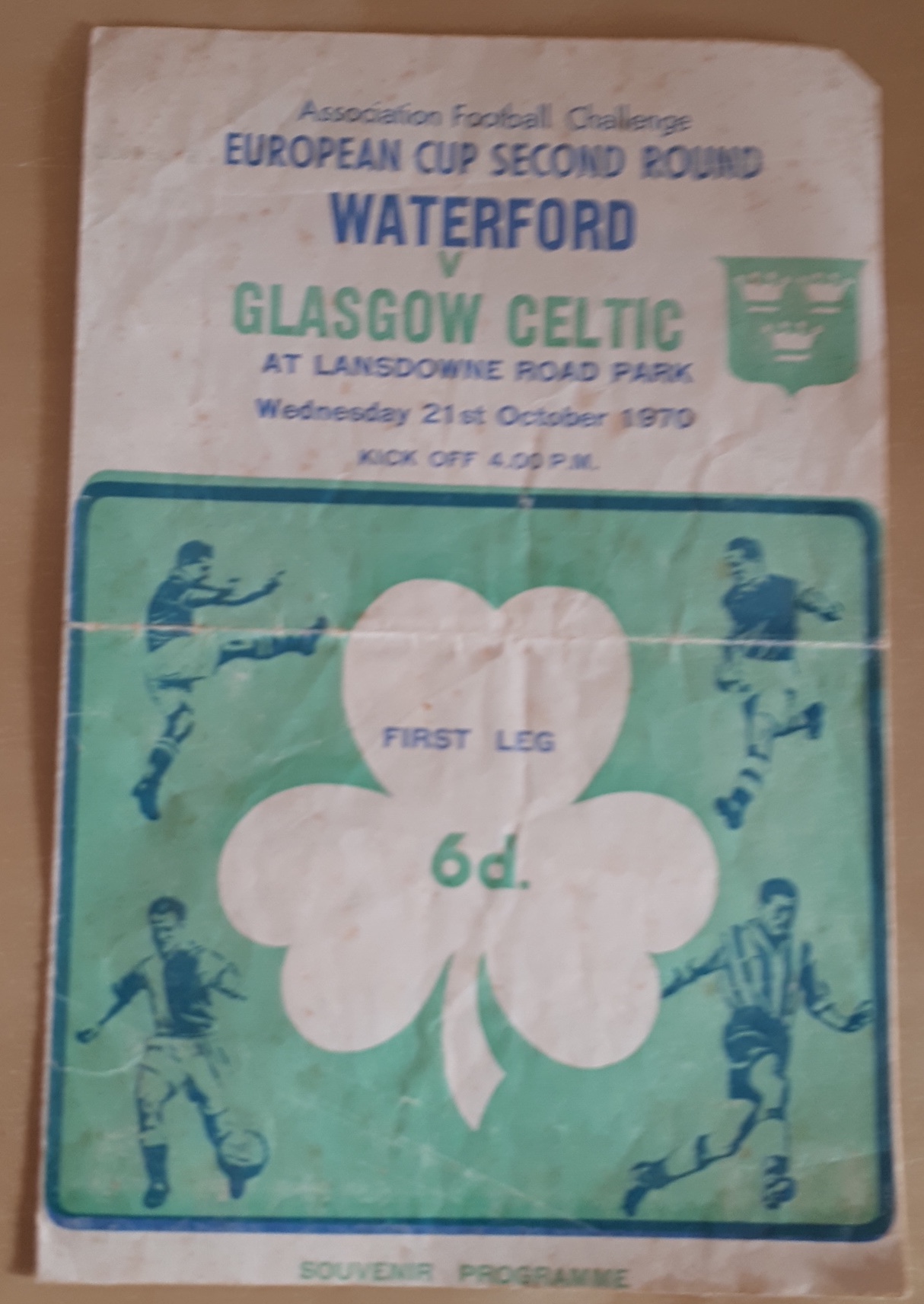 Much drink had been consumed prior to the game and bravado became the order of the day.One must remember 1970.was the year the troubles in Northern Ireland took off in a serious manner and young men had an air of lawlessness about them when they travelled to Dublin or other parts of the 26 counties I witnessed this on a number of occasions at games in this period.
This is not to excuse other Celtic supporters who participated in this event as it reflected badly on all Celtic fans. As someone who was involved in the Dublin CSC for many years the the standards of behaviour have greatly improved due to Clubs being much stricter regarding membership.
One of the best things to happen was the formation of the Associations of Celtic Supporters Clubs for the whole of Ireland North and South.
A footnote to your article was the mention of Jimmy Magee as commentator of the film clip of the game. Jimmy was a great friend of Billy McNeill and said the best bunch of players he ever met was the Lisbon Lions and believed that no group of men from such a small radius could have achieved such success from anywhere else in the world.
I enclose the programme for the Waterford v Celtic game.
Regards
Neil Doogan
This is now time to keep the faith.