WE have just covered the supporters views after the latest charges by UEFA were announced yesterday afternoon. The debate is raging on forums like Celtic Noise and elsewhere and we dipped into the conversation there to provide you with a flavour of the various opinions that are being expressed in what is always a heated debate.
There are many hardcore opinions around the 'No Pyro No Party' philosophy while there is an equally strong element among the support who have zero tolerance left for those supporters who they believe are wilfully harming our club and talking us down the road to a partial stadium closure – and we all know what part of the ground will be selected for this!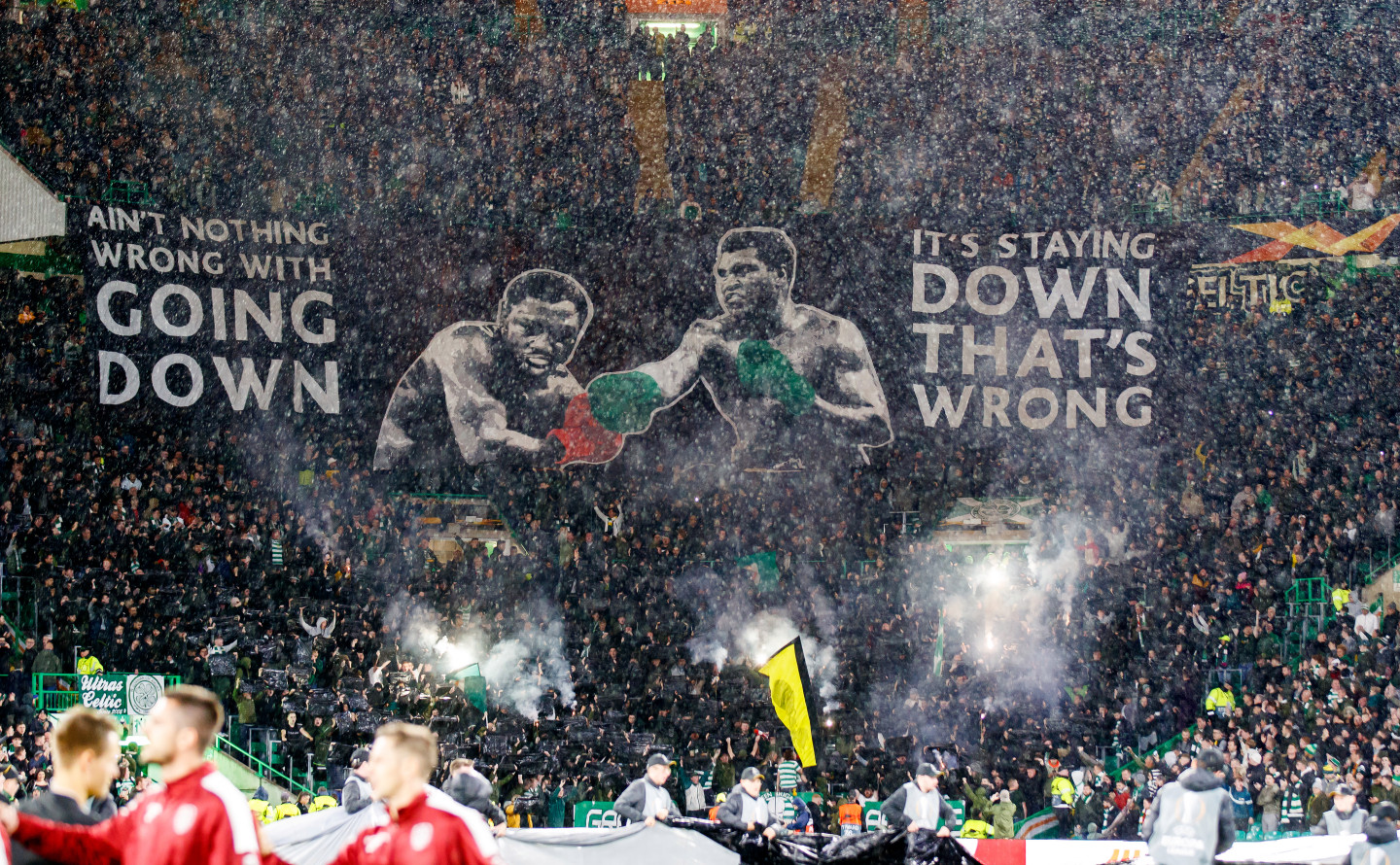 This afternoon Celtic have released an official statement where they plead with those responsible to bring the practise to an end and will also be taking their own measures to make sure that this is indeed the case.
It seems Celtic's patience has also been exhausted by the repeated breaches relating to flares and fireworks not being allowed inside football stadiums.
Here's a video which shows the flares or fireworks used at the game against Cluj last Thursday night…
"Following the latest UEFA charge against the Club for the use of fireworks at Celtic Park, it is with real disappointment and frustration that the Club needs to appeal again for this behaviour to stop," the official Celtic Statement began.
"UEFA's stance on the issue of pyrotechnics is unequivocal and very well-known.
"The Club has been sanctioned on numerous occasions and yet, very disappointingly, this behaviour by a small minority persists.
"The serious safety concerns associated with such behaviour are obvious, as is the reputational damage which this behaviour and these charges have on the Club. In addition, the numerous financial penalties placed on Celtic continue to come out the pockets of supporters who invest in the Club.
"Celtic will be introducing further measures in order to deal with this behaviour. It has to stop.
"The club does not want it, our supporters do not want it and UEFA will continue to punish the Club whenever it occurs as it is a clear breach of their regulations. It really is as simple as that.
"Given the number of repeated offences, we should also be very aware that there could be further, very serious repercussions which could have hugely detrimental consequences for the Club and our supporters. It is hugely unfair that the enjoyment of Celtic matches could potentially be affected by the negative behaviour of a tiny minority.
"Additionally, in the interests of all our supporters' safety, it is imperative that all fans when attending matches at Celtic Park use their designated seat. This is important in ensuring a safe environment.
"Our supporters are fantastic and we greatly value the huge contribution you make to the Club. It is the positive support of our fans which makes the difference, week in, week out.
"Our win against CFR Cluj last Thursday represented another great European night on the pitch for the Club. Supported brilliantly by our fans, the team were magnificent in driving us to top of our Europa League group. This should be our focus.
"Neil Lennon, our players and our backroom team will be doing all they can to deliver a similar performance against Lazio.
"The Club and our supporters need to work together to make sure pyrotechnics and any other form of unsafe behaviour have no place at our matches."
Here's the flavour of supporters' opinions from our earlier article…
Fireworks as Celtic Supporters debate Pyros in Paradise after latest UEFA Charge
ALSO ON THE CELTIC STAR…
Celtic Star urges opposing teams to be more adventurous against Celtic
'Scotland are crying out' – McGarvey urges Griffiths to focus on getting fit as Clarke turns to Shankland
'Lennon's teams get the ball forward quicker, It's more exciting than it was under Rodgers,' Celtic legend
Ajer's Errors – Physically Fine but Mental Fatigue likely to be the Root Cause