Daniel Molloy was born in Bridgeton to second generation Irish parents in 1862. His Irish born grandparents had settled in the area in the 1820s, where they were employed as handloom weavers.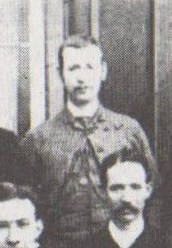 It is unclear as to where he was educated, but one could speculate that he would have attended his most local Catholic school, upon its opening in 1874 – Sacred Heart. Sacred Heart was a school where Brother Walfrid taught and Molloy could have come into contact with him here. Regardless, Daniel would have met many Celtic founding fathers through his social exploits as a member of the Irish National Foresters, the Irish National League and the League of the Cross (St Mary's parish). As evidenced by these memberships, Irish politics and Catholicism was important to Daniel at a young age, something which encompassed the lives of almost all of the men who founded Celtic.
Daniel Molloy was a very popular person. He was an everpresent at social events and used to play the fiddle at Celtic FC gatherings after matches, whilst John H McLaughlin would play the piano, or the legendary Neil McCallum would sing political Irish songs.
By 1887, Molloy was working as an ironmonger's traveller, or sales representative as we may call it today. He lived on Adelphi Street, Bridgeton, with his wife and two young children. At this time, of course, Celtic were founded. Daniel was involved in the establishment of Celtic from its inception. He was also present at the opening of the original Celtic Park, when Hibernian played Cowlairs in 1888. After the match, a reception was held at the George Hotel, at George Square, Glasgow. Molloy was present at the function and entertained those in attendance by performing Irish songs such as 'God Save Ireland' and 'Wearing Of The Green' on the fiddle.
Daniel Molloy was one of the youngest members of the original Celtic committee, which was put in place in 1888. He was a likeable, upbeat and jovial character, which ensured he was re-elected in 1889. A year later, he would step down as he emigrated with his family to America. The Molloy's settled in New York after arriving at Philadelphia. The famine memorial in the city demonstrates that many other Irish citizens, or those of Irish extraction, also arrived in Philadelphia by boat, to seek a brighter future, right up until the early 1900s.
When in New York, Molloy's wife gave birth to two daughters, yet sufficient employment to sustain the larger family was difficult to come by and the Molloy clan had no choice but to return home to Scotland five years later. Indeed, in October 1895, the Molloy family sailed on the City of Rome ship from New York to Glasgow. When back on home soil, Daniel returned to Celtic as a matter of priority. He was a keen supporter of the club and was involved in assisting the committee in an unofficial capacity. Then, in June 1896, he made a serious attempt to be re-elected onto the club's committee at the AGM. Unfortunately, he very narrowly failed to do so, but he remained a popular man at the club.
Like so many of the founding fathers, Daniel Molloy was very ambitious. Thus, it comes as no surprise that he moved to Rutherglen and went into the wine and spirit trade. As a comical character and entertainer, he was well suited to being a publican and his business was steady. Meanwhile, he maintained his association with Celtic and its directors, as evidenced by the fact he named John Glass, John H McLaughlin and Joseph Shaughnessy as trustees in his will.
As seems to be far too commoplace when writing about these great Celtic men, Daniel Molloy suddenly passed away on 9 December 1899. His death, caused by Hepatitis, at the age of 37 came as a great shock to his friends and family. He was laid to rest at Dalbeth Cemetery.
Following his funeral, a comical story emerged, which was originally printed in the Herald newspaper on 22 May 1888. It told of Molloy's dabbling in the wine and spirit trade before he became a publican on his return to Scotland. The anecdote went that there was a court case in Hamilton Sherriff Court, for an offence that took place in Wishaw, when Daniel Molloy sold two gallons and a quart of beer to a woman on a Sunday. He was heavily fined as it was a second offence!
Daniel left behind his widow (Elizabeth) and four daughters, who later moved to Girvan in Ayrshire.
Click on the links below for articles on other Celtic Founding Fathers:
Patrick Welsh – William McKillop MP – John Glass – Hugh Darroch – Dr John Conway – Michael Cairns – John O'Hara
Support Celtic Youth Development
Help raise money for Celtic Youth Development by joining the £1 weekly lottery and you could win up to £25,000 – just click on any one of the photographs below to join. Lots of our readers have already done so and they're now doing their bit to help fund Celtic Youth Development that can deliver the stars of tomorrow and beyond. And you might even win a few bob too! And a special thank you to all The Celtic Star readers who have already signed up and are now supporting youth development to give us the Celtic Stars of the future…