David Meikleham was born in Rothesay in 1852. He was an anomaly among the Celtic founding fathers in that he was born into a Catholic family without any Irish ancestry. Almost every other member of Celtic's first committee identified as Irish, whether through being born in Eire or a descendant of those who were.
Before his tenth birthday, David and his family had moved to Glasgow, settling on Broad Street in the Calton. At the age of 19 he moved with his parents to Hunter Street, along the road from an old army barracks in the Gallowgate. David's father, William, opened a shoe repair shop nearby and David began working in it as a shoemaker. This would have brought him in to contact with another future founding father of Celtic, John O'Hara, who was the leader of the Shoemaker's Union.
In his personal life, David Meikleham married Robina McLaughlin at St Alphonsus Catholic Church in 1873. The couple had 13 children (six boys and seven girls) and lived together on Shuttle Street, which was located just off High Street in Glasgow city centre.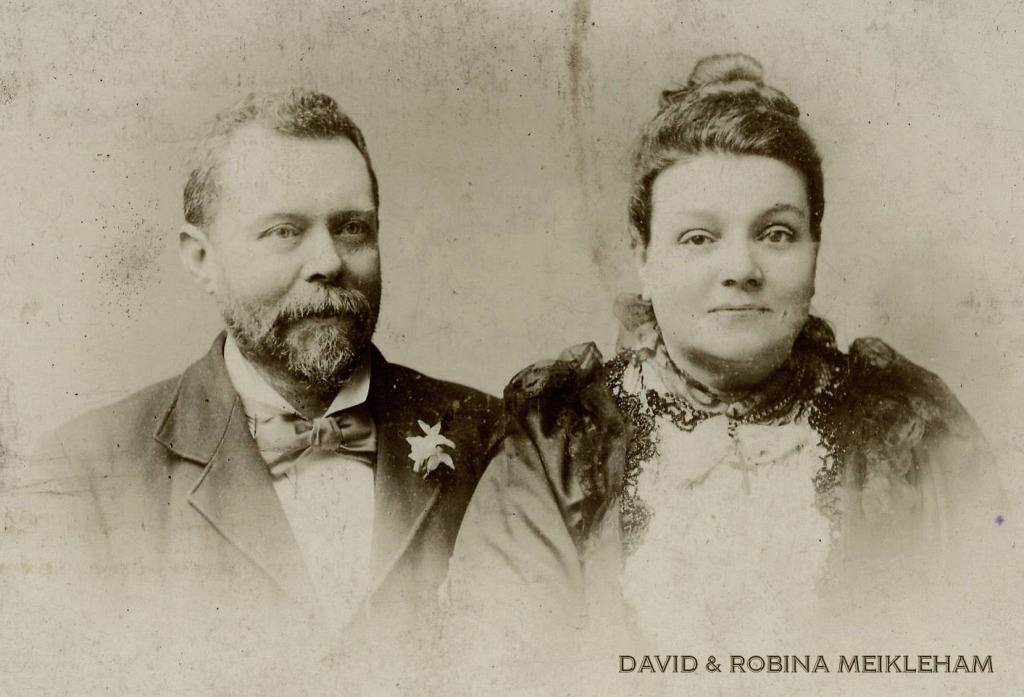 David soon decided to go it alone in the business world, building his own shoemaker's shop to the point whereby he employed seven members of staff in 1881. Five years later he took his large family back to the Calton, purchasing a house on William Street (now Templeton Street) and integrating into the local parish where he had married. The parish was dominated by Irish people and their descendant community. However, the Catholic Church in Scotland had pushed for the integration of the small number of Scottish Catholics and welcomed them to join their congregations. Meikleham did just that, becoming popular in the community and enlisting as a member of the local Catholic Union in 1887. His role with the Union increased quickly as he was tasked with representing St Alphonsus parish on the Central Committee of the organisation.
Aside of joining the Catholic Union, Meikleham also became a member of the Caledonian Catholic Association in Glasgow. He was somewhat of an enigma in that he was a Catholic, solely proud of his native Caledonia and a middle class individual. Yet, he had gladly worked with many Irishmen through his different memberships and parish involvements. On the flip side, Meikleham was a longstanding member of the establishment team of the day, Queen's Park FC. The Spiders weren't fond of signing Catholic players, they were largely anti-Irish and very much middle-class. It's somewhat of an oxymoron that he would maintain links with that club for so long, whilst simultaneously supporting so many Catholic causes. Nevertheless, Queen's Park were one of the most successful teams in world football at the time so he certainly had the sporting understanding to go with his middle class business status and prestigious aura.
Boasting several qualities that would be useful to Celtic, especially being a Scottish middle class individual with sympathy for the Catholic plight in Glasgow; David Meikleham joined the Celtic project at a very early stage. He was involved the preliminary meetings to discuss the establishment of the club and appeared as a member of the club's first committee.
His role became more important in 1892, when Celtic moved to the their new stadium. Meikleham was named as one of four leaseholders and remained such until the landlord was convinced to sell the site to Celtic on a permanent basis in 1897. He was also part of the group that went to Nottingham to retrieve Neil McCallum and Sandy McMahon, who were taken south by English agents without the offer of compensation being made to Celtic. Along with Meikleham, the group consisted of John Glass, James Curtis and Sandy McMahon's brother!
McCallum was retrieved easily, yet Nottingham Forrest kept McMahon on the move. Fortunately, David Meikleham found him on a random street and grabbed hold of him, before jostling him into a taxi! Cue a wild west style chase as the pair made way for the local train station, with Forrest officials in pursuit. Unfortunately for the English club, McMahon was taken to Manchester, where the rest of the Celtic delegation met him. He was then placed on an additional train, which arrived in Glasgow without detection. This was Meikleham's greatest ever contribution to Celtic as in those pre-professional days the Hoops didn't get transfer fees for the loss of star players. The result of losing McMahon permanently would have been damaging to the club's success and would have depleted the attendances at matches. Thanks to his eagle eyes, Sandy 'Duke' McMahon would go on to play for Celtic on over 217 occasions, becoming one of the early legendary figures in the club's history.
In 1893, David Meikleham had a dispute with some staff at his business, who went on strike. Not only was this an ironic position given that David was a Union member, but it also meant that he was investigated by the Boot and Shoe Operatives Union, which was ran by John O'Hara, with whom he helped to establish Celtic Football Club. In a letter to the Glasgow Herald newspaper, printed on 21 February 1893, Meikleham stated:
I notice from the report of the Glasgow United Trade Council in your last issue, that that body has been in correspondence with the Home Secretary regarding a strike which I had with men in my employment, or as stated in your report, in connection with the action of a certain reformatory and industrial school in doing work for a shoemaker who has a dispute with his men, the shoemaker being myself. Now I wish to state exactly the position of matters which is as follows:- On 30th November last I spoke to my foreman regarding two of my men who I had reason to believe were not doing their fair share of work. There is no piece-work in my employment, the wages being what are called set weekly wages. Shortly after I had spoken to my foreman, and on the same day, one of those men came to me and asked if I was going to reduce his wages. I said no, I had no intention of reducing his wages nor those of any of the men, but that I hoped he would do a little more work. This man immediately thereafter reported to the other men in my employment that I was going to reduce my men's wages. This is not correct. I did not intimate a reduction of my men's wages, nor did I intend to make any reduction of wages. And I spoke to the men individually and collectively and told them so. However, for some reason best known to the men, they struck work and said they would not do any further work for me unless I would tell them how much work each is required to do. I told the men that up to that moment we had never had any dispute about wages, and it was rather an extraordinary thing if, on complaining to my foreman about a couple of my men, who I thought were not doing what I considered was a fair amount of work, that should be a pretext for all the other men striking work. To put myself right with the men's association, on 2nd December I wrote their secretary, Mr Park, the following letter. 
(letter outlines the above points, almost word for word)
Now I believe that at a meeting of the Boot and Shoe Operatives Union, which was held on the Thursday after the receipt of my letter, the matter of the so-called strike in my shop was discussed, but although the secretary had my letter as above quoted before him, with a request therein that he should read the same, the secretary, for some reason or other best known to himself, declined to do so. I have never had a strike among my employees; I have never intimated a reduction of wages; my workmen are all on set wages. I am still paying my men in the same way as I was before the strike and I should like therefore to know what reason the Glasgow United Trades Council have to interfere where there was no reduction of wages intimated on my part and no advances of wages asked by my workmen. I may mention that I pay my men according to merit and that the average wages of men in my employment is 27s per week. It is true some of the better men, who, in my opinion, are much more skillful than others, get a little more – say from 30s to 32s per week – but I consider that the men who get these higher wages from 30s to 32s per week are better worth their money than men in receipt of from 24s to 26s per week, and I am perfectly willing to pay the minimum wage to all competent workmen. I am not aware that any trades' union can contest me paying one man more than another man, provided I give all my men a fair day's pay for a fair day's work in the recognised pay in the trade. I may state that it would be impossible for me to fix any particular quantity of work that each man in any employment should do, there being so many different classes of work that a man may have to do in one day, and thus is well known to my men. I have no objection, and never had any, to pay the minimum wage of 27s per week to competent workmen, and this the men who were lately in my employment know perfectly well.
D. MEIKLEHAM
Following the strike by his staff, Meikleham struggled to fulfill jobs and in order to relieve the backlog of work, he turned to a Celtic committeeman and player – Tom Maley. Maley was the superintendent at Slatefield Industrial school at the time, where shoemaking was one of the trades taught to pupils. Generously, he agreed to help a fellow Celt out, which incensed Meikleham's staff. The men on strike felt that their action had been undermined by Meikleham's shifting of production and thus wrote a complaint to their union, who in turn contacted the Glasgow Trades Council once more. Thereafter, the issue was handed up the chain to the Secretary of State again, who immediately demanded that Tom Maley stop assisting an employer who was in dispute with his workforce.
It is unclear as to how the issue was finally resolved. Though Meikleham's name appears in the list of Scotch Bankrupts, in the 24 November 1900 edition of the Glasgow Herald, suggesting he lost staff members and custom as a result of the feud. The bankrupt note reads: Carrying on business as slipper manufacturer at 146 London Street, Glasgow. Creditors to meet in the Faculty Hall, St George's Place, Glasgow, 3rd December at twelve o'clock. Chas Byrne, writer, 122 Wellington Street, Glasgow agent.
During the seven year intervening period between the strike and his bankruptcy, Meikleham maintained his work with Celtic. He could be found stewarding at the club's annual sports days with the rest of the committeemen, whilst he also took a keen interest in the Celtic Cycle Club. By 1895, he was duly nominated to be Vice-President of the Celts, but he lost out to John H McLaughlin on that occasion; his nomination having been refused by Tom Maley!
A year later, on 28 November 1896, Meikleham was the centre of another strike dispute. This time the strike was being held by three Celtic players; the legendary Barney Battles, Meechan and Divers. The Celtic committee described the trio as "malcontents" and said that they would "never kick a ball for the club again." In addition, Celtic later contacted the Scottish Association Committee to request that the dissenters were suspended. However, in more immediate terms, the Hoops were playing Hibernian at Celtic Park that day and Meikleham was needed in action.
The match was delayed by 15 minutes when the three men refused to take to the field, their strike coming in the wake of recent criticism from the press. The trio said that they would play if Celtic barred the pressmen from the media box, but Celtic weren't willing to do so and thus manager, Willie Maley, and Crossan, who had not played in over a year, filled two of the three positions as the Bhoys took to the field with ten men. Meikleham was immediately tasked with heading to Hampden Park, doing so by horse drawn carriage. The Celtic Reserves were playing against a Queen's Park second string at the national stadium, and his job was to get Tom Dunbar from the Celtic team and return him to Paradise as quick as possible! Extraordinarily, David Meikleham managed to get Dunbar back to Parkhead in time to play the second half for the first XI. The match finished 1-1.
Little over six months later, the 1897 AGM brought an end to amateurism and Celtic became a limited company. Despite his middle-class business life, Meikleham left the club at this stage, seeking no further involvement with the Hoops once the ideal of charity was no longer primary. This suggests that like many of the founding fathers, he kept his business life separate from Celtic, which was a charitable, sporting and perhaps Catholic pursuit for him.
After leaving Celtic and declaring himself bankrupt, Meikleham bounced back by going into business in the telephone industry, which was in pioneering stages at the time. From there, he became a sales manager at a local Post Office, which was a position he held until his retirement.
He lived to the ripe old age of 87, one of the few founding fathers to live to a long life. Passing away in May 1938, a month shy of Celtic's Jubilee Dinner, David Meikleham was laid to rest in Dalbeth Cemetery. His grave lies yards from John Glass'.
Click on the links below for articles on other Celtic Founding Fathers:
Patrick Welsh – William McKillop MP – John Glass – Hugh Darroch – Dr John Conway – Michael Cairns – John O'Hara – Daniel Molloy – Joseph Shaughnessy – James Curtis – Joseph Nelis – Francis McErlean
Support Celtic Youth Development
Help raise money for Celtic Youth Development by joining the £1 weekly lottery and you could win up to £25,000 – just click on any one of the photographs below to join. Lots of our readers have already done so and they're now doing their bit to help fund Celtic Youth Development that can deliver the stars of tomorrow and beyond. And you might even win a few bob too! And a special thank you to all The Celtic Star readers who have already signed up and are now supporting youth development to give us the Celtic Stars of the future…