FRANKLY, we had given up all pretence that we were interested in the football. It was that clock in the corner of the TV screen that was attracting all the attention. The football on the field was turgid and unimaginative. The crowd was the smallest ever in recent times for a Scottish Cup final – only 36,915 in a Hampden Park that was still being renovated (as it had been for the past 15 years!) to see a hard-working but uninspired Celtic against a tough, occasionally brutal but very determined Airdrie.
This was far from the great Airdrie sides of 70 years ago with Hughie Gallacher and Bob McPhail. This was a team of what might be described as "honest journeymen" managed by an old enemy of Celtic called Alec McDonald.
But you couldn't really rate the Celtic team as much higher than "honest journeymen" either. There was Paul McStay, a man who was a great player but suffered from having to play in times when Celtic were far from their best, and there was John Collins, on his day as good as anyone. The rest of the team were decent players, but no more than that. The team had been characterised all season by an inability to kill teams off – tending to draw games rather than win them. From 26 October until 31 December, there had been an appalling catalogue of seven draws, and there was the obvious joke about the difference between Celtic and Cardinal Winning. Well, the Cardinal was Winning!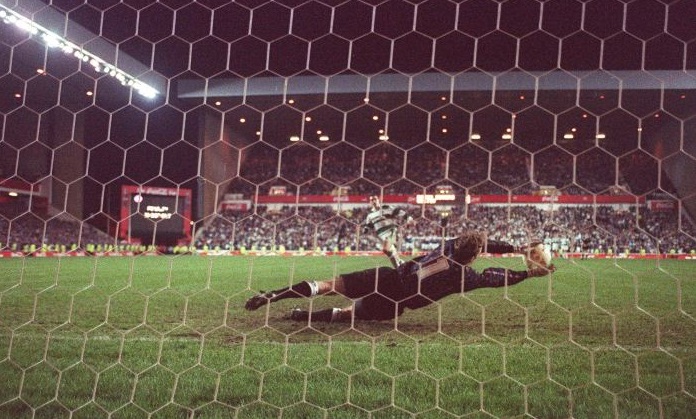 One of the "draws" in that period had been in fact a defeat. I refer to the League Cup final at Ibrox on 27 November when Celtic "drew" 2-2, but then went down in a penalty shoot out to First Division Raith Rovers. This would have to be a collector's item in the museum of Celtic horror stories. 2-1 up late in the game, a goalkeeping error, then 30 minutes of poor football played by exhausted players, before the agony of the penalty shoot-out. Rarely, in fact never, have I seem such a shattered support. We needed to win that one, and we had been denied yet again. We began honestly to question just how much of this we could take.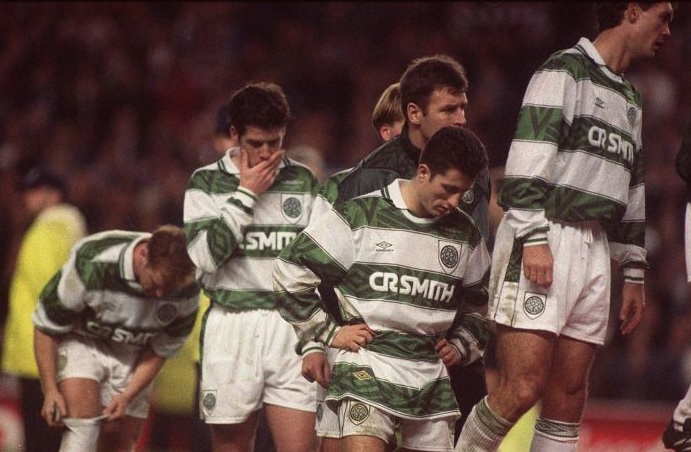 We did not even have a home that season. We did have a far more positive management set-up since the coup of March 1994 and the deposition of those who had destroyed all that we held dear, but as Celtic Park was now more or less levelled to the ground, we had to play our games at Hampden. This did not help. And the day after that Raith Rovers game, anyone who drove a car along London Road saw, physically and metaphorically, no Paradise, no balm in Gilead, almost "the abomination of desolation". Celtic looked "finished", a word that was heard distressingly often on supporters' buses that awful Sunday night.
Except they weren't. The players and manager Tommy Burns were hurting just as much as we were, and determination was there. Quality however was still lacking, even though round the New Year we signed a big Dutchman by the name of Pierre Van Hooijdonk. Pierre would, in due course, disgrace himself, but for the moment, he buckled to and form began to show a slight, barely perceptible improvement.
The Scottish League was once again a no-no, but in the Scottish Cup, without in any way playing spectacularly, progress began to be made. We were helped by having three home draws at Hampden against none too startling opposition, and also by Hearts, normally the worst of them all for folding against Rangers. This time they rose to the occasion and beat Rangers 4-2. (Truth to tell, Rangers were no great shakes but got off with murder because there was no Celtic to speak of!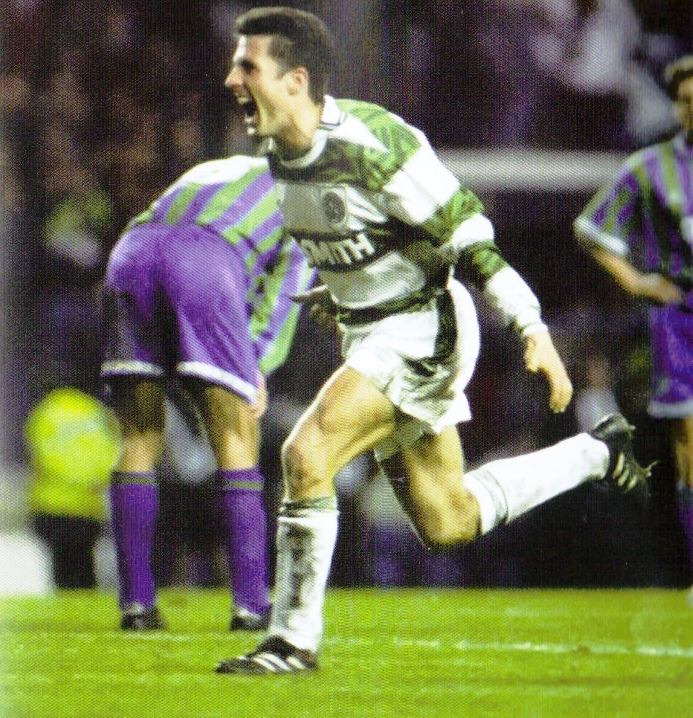 The semi finals saw a dreadful 0-0 game against Hibs in which Celtic were very lucky with a few refereeing decisions, but then a far better performance in the replay which we won 3-1 with goals from Falconer, O'Donnell and Collins. This set up a final against Airdrie, who had put out Hearts. This did not seem like too demanding a Cup final. Airdrie were a First Division team, after all.
But then again, so too had been Raith Rovers!
Tickets were hard to come by, and so it was the BBC TV coverage with commentator Jock Brown for most of us. We were wearing that odd strip with some bands broader than the others, but at least it was green and white (1994/95 had, apart from anything else been characterised by some hideous reserve strips!) and we had Royalty there. Always great lovers of the Royal Family, we had hoped it might be someone more distinguished than the Duchess of Kent, but she was pretty.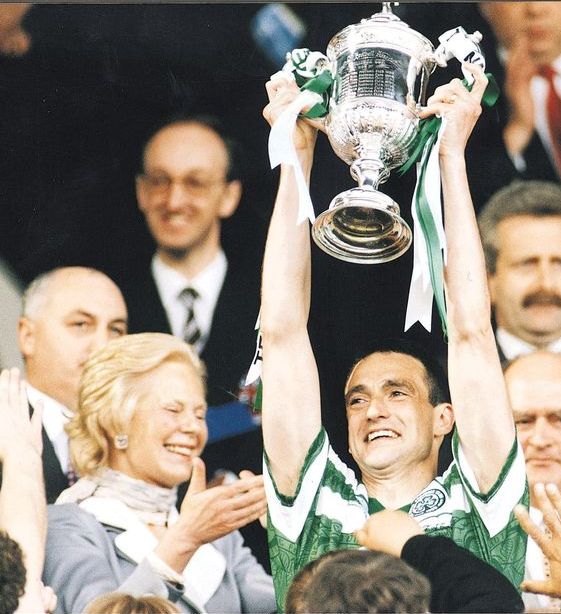 A great lover of tennis at Wimbledon and possibly not really aware of the intensity and passion of Scottish football, she was kissed by the Airdrie players while the Celtic players gave her a more respectful and polite handshake, but she does clearly say "Paul, Well Done!" as she handed over the Cup to the man who had been through all the horrors of hell, Paul McStay.
The game itself had been far from great. An early goal when Pierre Van Hooijdonk headed home a Tosh McKinlay cross, a few more missed chances, and we all feared the dismal "failure to kill off a side" syndrome re-asserting itself, but Peter Grant, playing through a barrier of pain, showed what it means to be a real Celt, and eventually referee Les Mottram blew for full time.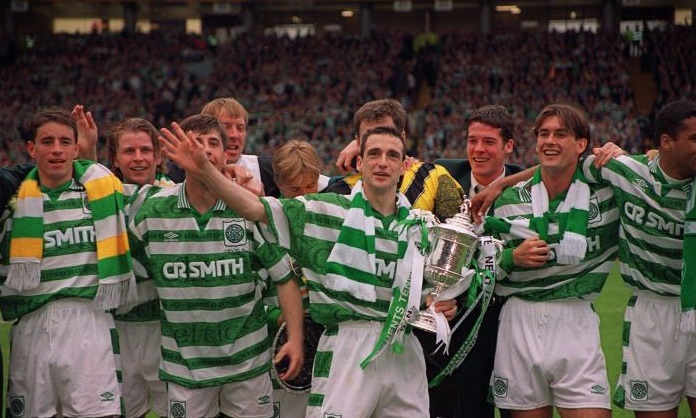 It was anything but classic vintage Celtic Scottish Cup final stuff, but nevertheless it was the 30th Scottish Cup success. Relief mingled with joy that night. We had not won anything since 1989, but now we were back on track, as we hoped. But in the words of the great John McCormack song of World War One "There's a long, long trail awinding into the land of my dreams…" Paradise had not yet totally returned, but we did this day get at least a glimpse of the promised land. And oh, how we appreciated it! Oh, how we needed it! Summer 1995 meant that we could enjoy our summer holidays for the first time for six years.
David Potter