Tangled Up In Blue by Stephen O'Donnell. Review by David Potter
It is hardly any great surprise to me to discover that Mr O'Donnell has received a few uncomplimentary reviews (bordering on hate mail) about this book. Indeed there is something rather pleasantly funny in so any Rangers supporters coughing up for a book that they perhaps imagined would be one of the more common sycophantic books about "Scotia's Darling Club".
This book tells the truth – sometimes the quite unbelievable (to someone like me born in a non-Catholic background in the East of Scotland) truth about Rangers. What the Church of Scotland used to say in the 1920s about the influx of Roman Catholics would have been by no means out of place in central Europe at that time where other bigots were more concerned about Jewish people.
The astonishing thing was that Rangers bought in to that, and the depressing thing was that they were successful, and that many non-bigots started to support them and were thus sucked into that appalling bigotry – something that lasted well into the 1960s until Jock Stein and Lisbon changed all that.
Scotland's shame indeed!
Perceptively the author makes the point that in fact it was Celtic who beat Rangers in their Cup Winners Cup final in 1967, (as indeed it was Celtic who beat them at Berwick, in my opinion). It was even to an extent Celtic who bankrupted them as they spent so much money trying to buy success in Europe (indeed they came close in 1993) – all so that they could say that they too had won the European Cup.
The book details lucidly and without any unnecessary complications the steps towards Valentine's Day 2012. I have to admit that the first time I heard the ditty "We're having a party when Rangers die", I was shocked, and even more so when supporters of other teams took it up as well!
It was not only Celtic that they had upset – but then again if you allow your Manager to have his photograph taken beside Mrs Thatcher at Ibrox (the picture is in the book) then you cannot really expect people in Scotland to like you! Do Rangers supporters from Larkhall and Govan really vote Conservative? Mind you if you live in a council flat and worship the wealth of the Royal Family, then anything is possible, I suppose. To each his own, but "the man o independent mind, he looks and laughs at a' that" said Robert Burns, (a freemason incidentally -shocking!) and that is good enough for me!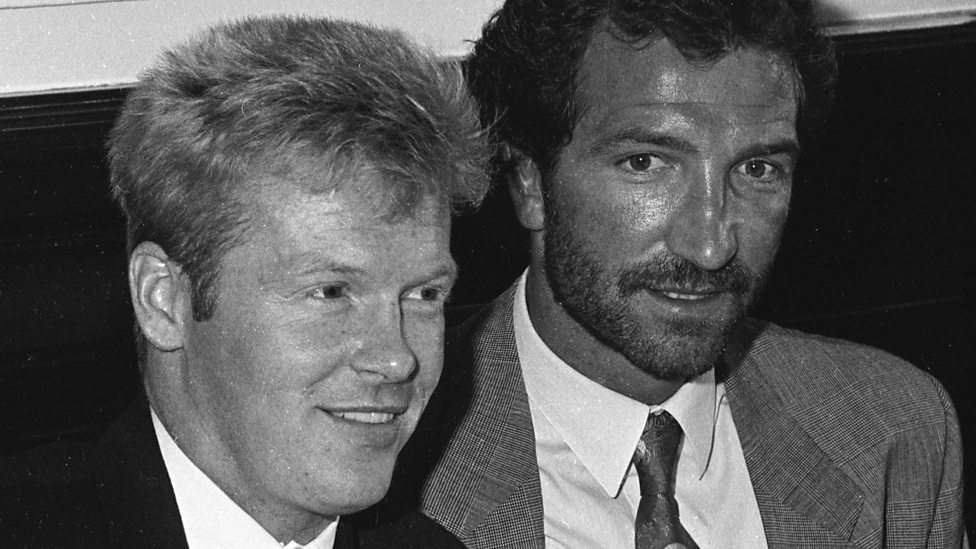 I learned a few things from this book – Don Kichenbrand in the 1950s went to the ridiculous extent of joining a Masonic Lodge to disguise his Roman Catholicism, Bill Struth used to have a whole rack of suits at Ibrox and changed at least once a day, the same man sometimes sang over the tannoy at Ibrox, Gordon Smith did not rate John Greig very highly at all, and Walter Smith used a word beginning with the letter c (and no, it wasn't "catholic"!) to describe Maurice Johnston. Ah well, Walter, that's something you have in common with the good people of Parkhead!
Good Rangers people? Yes, there have been some. George Young, Eric Caldow, Ray Wilkins and Davie Meiklejohn to whom the author might have given a little more credit for his part in the John Thomson business. Meiklejohn was an Elder in the Church of Scotland – a genuine and sincere man, I am told – and read the lesson at the memorial service to John Thomson, as well as his famous stilling of the storm of booing when John lay dying on the field. Other Rangers players are a lot less likeable.
Full marks to Stephen O'Donnell for having the courage to write this book. It is well worth the cover price and it is one of these books that you will read within a couple of days – but will also use it for reference. Buy it!
David Potter
Here is another short extract from Tangled Up in Blue courtesy of the book's author Stephen O'Donnell
RANGERS' ATTEMPTS TO CONQUER EUROPE UNDER WALTER SMITH END IN PAINFUL FAILURE
Time to get moving, here's a scene to warm the heart. Have a great day HH pic.twitter.com/q40eNVXpGj

— Lisbon Lion (@tirnaog09) August 27, 2019
Hope sprung eternal in the qualifying round for the Champions League, where Rangers had been eliminated in three of the previous four seasons, when the club were paired with Cypriot Champions Anorthosis Famagusta, surely a more beatable opponent than their previous adversaries at this stage of the competition. A stilted performance in the first leg at Ibrox gave Rangers a 1 – 0 win, thanks to a strike from Durie, which was followed by a more assured, but still tense and nervy, display in Cyprus, the goalless draw seeing Smith's side through to the tournament's group stages for only the second time.
Rangers were subsequently drawn in a tough section, which included Juventus and Borussia Dortmund, two teams who would contest the final of the competition only eighteen months later. Abject humiliation followed; after losing their opening fixture in Bucharest against Steaua, with McLaren sent off in a 1 – 0 reverse, then drawing at home to Dortmund, Rangers were routed by Juventus in Turin, 4 – 1 the final score, although, at 3 – 0 down after twenty-three minutes, the Italian custom of easing up and showing a reluctance to embarrass already beaten opponents spared Rangers, a team who still harboured delusions of grandeur at this level.
The unfortunate patsy was journeyman full-back Alex Cleland, who was so bamboozled by the merciless skills of Alessandro del Piero that he ended up scything the Italian maestro to the ground and being ordered off. After the game Walter Smith seemed shell-shocked, with Andy Goram reporting: "He came into the dressing-room and never really said much." Later, according to the goalkeeper, the manager encouraged the players to get drunk on the flight home: "Walter stood up and said, 'If I see any of you are sober by the time we arrive back in Glasgow then you are getting fined.' He just wiped the slate clean and it worked because we had a big game on the Saturday and we went out and battered Hearts in the league."
If their experience in Turin wasn't enough, Juventus then arrived in Glasgow two weeks later and humbled Rangers again, extending the margin of victory this time to 4 – 0, with the visitors not flattered by late goals from Ravanelli and Marocchi. Despite these painful reverses, Rangers, theoretically, still had a chance to qualify, although they needed to win both their remaining group games. The club's perilous situation seemed to offer Paul Gascoigne an opportunity to belatedly step into the limelight, but the player's performances in the final two fixtures, both drawn, seemed to sum up the mercurial Geordie – he scored a blinder against Steaua and was sent off against Dortmund. Despite, or perhaps because of the influence of their unknowable midfielder, Rangers finished bottom of the group.
Stephen O'Donnell
An earlier extract from Tangled Up in Blue can be read HERE.
Tangled up in Blue – Stephen O'Donnell on how Rangers lost track of their Foundation Date