SEASON 1921/22 was an epic season in Scottish football. It is a shame that the last day of that season was in 1922 and not in a more modern era when communications would have been a great deal better, and the whole nation might have enjoyed the contest. On second thoughts, maybe as well that it wasn't, for there was an unacceptable amount of hooliganism, certainly at Cappielow on that last day.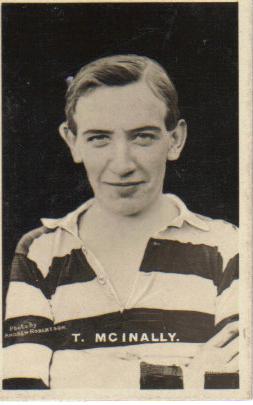 Three quarters of the season were all about Tommy McInally. The "boy wonder" as he had been christened in 1919 when he first arrived on the scene had shown few signs of wanting to grow up. There was, to be unkind about it, an "attitude problem".
His two good points were his undeniable footballing ability and his equally undeniable love for the green and white. His bad point were his inability to get on with some team mates (Patsy Gallacher in particular) and his reluctance to stop clowning, even when the demeanour of manager Maley and his team mates, and the reaction of the crowd should have told him that he was no longer funny.
The Glasgow Cup final had been lost to Rangers on 1 October. The 0-1 scoreline was narrow but decisive, and from then on until the New Year, Celtic's form was sporadic and inconsistent.
After New Year, however, the team began to play a great deal better, until the shock defeat at home in the Scottish Cup to Hamilton Academical in the quarter final of the Scottish Cup at Parkhead.
It was a stormy windy day (there seems to have been a lot of wind around in early 1922, for most newspaper reports mention strong gales) but 20,000 saw Hamilton, playing with the wind in the first half and a chap called Cottingham whom Hamilton had signed from Parkhead Juniors scoring a hat trick. Celtic unable to respond other than with a late penalty kick from Joe Dodds. It was a serious blow, and although Maley gave McInally one last chance in a League match against the same opponents on Wednesday afternoon (this time a far better performance and a 4-0 win), McInally now disappears from the first team, eventually being transferred to Third Lanark in September 1922.
Joe Cassidy now came into the centre forward position with "Jean" McFarlane now at inside left and form picked up, as Celtic charged for the League flag. A team weakened by International commitments drew at Third Lanark, and there was another draw at Falkirk, but the other games were all wins, not necessarily "vintage" wins but competent, professional ones. There was some fine play by Patsy Gallacher and regular goal scoring by Joe Cassidy. Rangers were doing well also, but the final day of the season was reached with Celtic one point ahead. Both teams had away fixtures – Rangers at Clyde and Celtic at the seemingly more difficult venue of Greenock Morton.
Morton were on a high. They had beaten Rangers 1-0 to win the Scottish Cup final a couple of weeks previously, and their supporters were on the crest of the wave. They had played the "Celtic Card" against Rangers at Hampden by singing Irish songs, and now did not shrink from playing the "Rangers Card" against Celtic here.
There were two other factors which could help explain the serious and repeated crowd trouble at this game. One was that the ground was overcrowded, and the other was the general factor that the Great War had taught too many young men how to be brutal and violent. Aggression was a feature of this season with frequent references in the Press to attacks on brake clubs, bottle throwing and general disorder, with those who still thirsted for violence having the option of enlisting with the Black and Tans. Ireland, in spite of treaties and the concession of a Free State, was still far from at peace.
But there is also the point that there is nothing rational about football violence. It does not really need any kind of cause. All that it really needs is a collection of not very bright young men! Sadly, there were loads of them in evidence that day.
A win would win the League for Celtic, but at half time Celtic were 0-1 down. The problem was intensified by the rumours that Rangers were 4-0 up on Clyde. Celtic were frankly playing badly with certain players clearly overawed by the occasion, but in the second half, they rallied and piled on the pressure but were unable to score, until very late in the game when a cross from Adam McLean was palmed out unconvincingly by goalkeeper Edwards and Andy McAtee was close enough to head home.
Andy did not score many headers, but this one was his most valuable in a career which is often sadly undervalued and indeed overlooked by Celtic historians.
The Kaiser, they say, only once saw him play
And remarked, it is said, "Dearie me!"
My German Artillery's just for for the pillory
They can't shoot like young McAtee!
But if Rangers were winning at Shawfield, this would not be enough. The teams would be level on points (two points for a win in 1922) and probably a deciding match would be played, as had happened in 1905. Celtic redoubled their efforts, but Morton held out and full time came with a 1-1 draw.
As supporters dodged bottles and other missiles as they made their way to the train, much was the talk about when the deciding match would be played – if these rumours were true. But one supporters claimed that he had seen a newspaper reporter (with access presumably to some telephone communication with his Glasgow office, if not Shawfield itself) holding up his hands in the "two eggs" gesture, as if to indicate a 0-0. If this were true, Celtic would have won the League.
Indeed 0-0 was the score that day at Shawfield with Rangers unable to break down the Clyde defence. Celtic had won the League, but it was interesting to hear that the Rangers Directors, believing that Morton had beaten Celtic, were seen in a "soft hat" conference in the stand talking about when the deciding match would be. They had not heard about Andy McAtee's late equaliser, and really it was only when the evening newspapers hit the streets at about 5.30 pm (commendably quickly for 1922!) that it was confirmed that Celtic were the champions. It was their 16th success since 1890/91, and the celebrations at the Glasgow Central Station when the trains rolled in from Greenock were something to behold.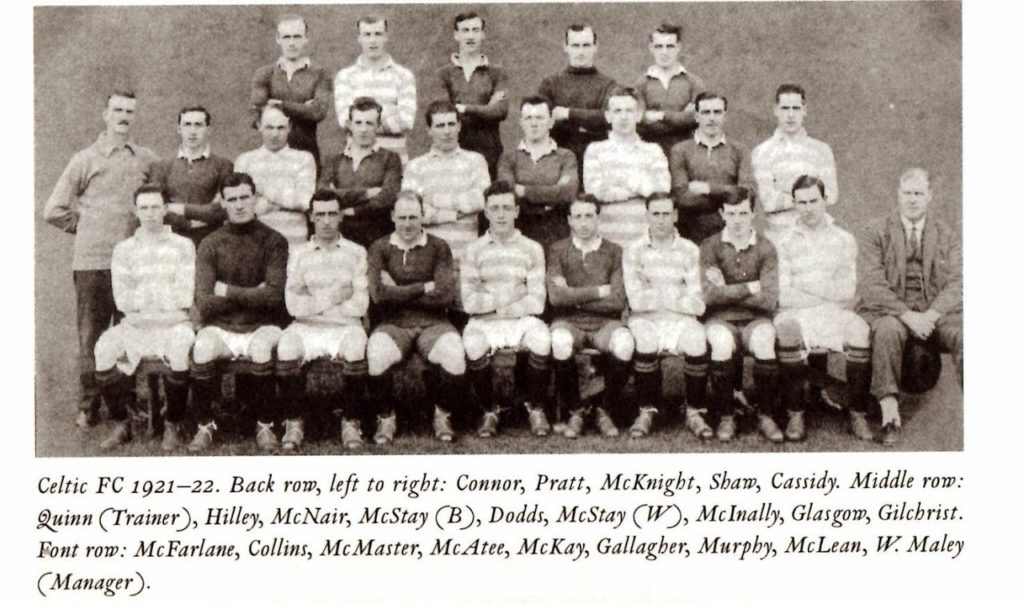 They then played in the Glasgow Charity Cup, losing to Rangers in the final on corner kicks before a none too happy tour of central Europe. But nothing could take away from the fact that they were the Champions of Scotland yet again. And what a breathtaking way to do it!
David Potter
Will Jullien follow in van Dijk's footsteps? Connell Latest, it looks like Luca's Likely
Earlier today David Potter has today made a play to Kieran Tierney not to leave the club for Arsenal.
"It is now time for all Celtic supporters to arouse themselves from their midsummer slumbers and join with one voice to say to Kieran Tierney "Don't Go!", David writes.
"The newspapers have more or less already told us (with alacrity and enthusiasm) that it is going to happen, but now surely, we, the fans, have a major part to play to tell Mr Lawwell, Kieran himself and anyone else that it interested that WE DO NOT WANT KIERAN TIERNEY TO GO. (Those who disagree with that statement, by the way, let them say so!)"…keep reading HERE.
Neil Lennon it seems isn't a fan of social media and while he is aware of the usual reactions to the every changing Celtic story online, he tends to pay little or no attention to it. And as far as player recruitment is concerned he's simply busy working away on his targets and trying to re-shape the squad for the new season.
"It's really easy to ignore it," the Celtic manager said…continue reading HERE.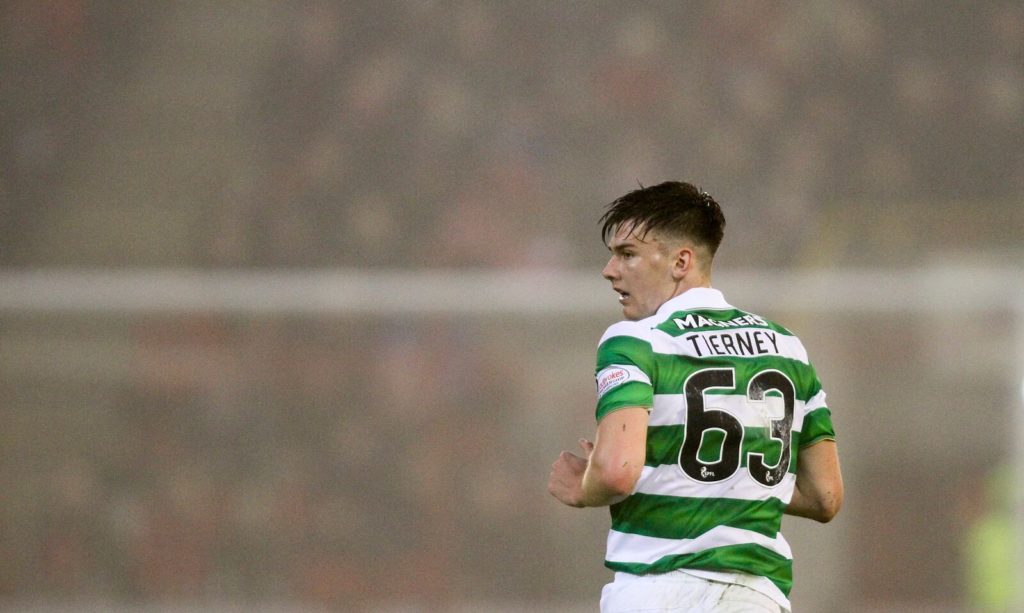 The Celtic manager last week dismissed as completely irrelevant the leaked list of transfer targets from early April which resulted in a cleaner and a security guard losing their jobs at Lennoxtown. The Celtic manager pointed out that the names he's working on at the moment are completely different to those on the leaked list and this morning Stephen McGowan in Daily Mail has perhaps given us the most accurate and up-to-date assessment of the current transfer targets…continue reading HERE.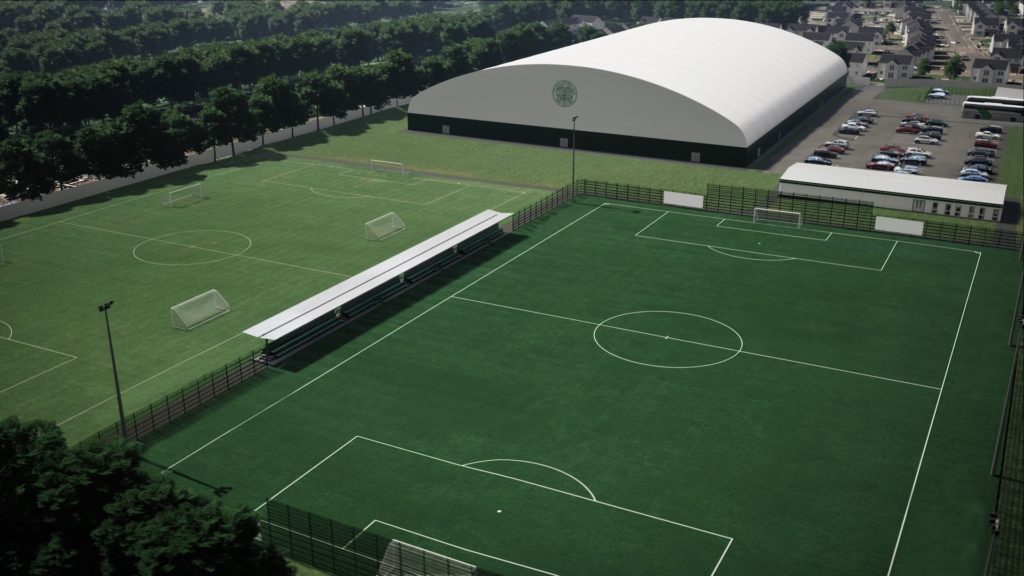 Celtic's Academy, like Motherwell's on a smaller scale, is sustainable, is strategically important to the club and can as the recent transfer activity and speculation outlined above demonstrates, is an area of high and significant revenue for each club. For Celtic and indeed for Motherwell their Academy operations are crucial to the long term success of each club.
Imagine having to dramatically cut back due to, for arguments sake, short-term financial necessities. If that was happening at Celtic, or indeed Motherwell (where the fans themselves are the owners) then the supporters would be up in arms and the media would be all over the story like a rash…read more about this HERE.