Aberdeen 1 Celtic 2
Once again, this team of ours amazes me. This was a game that really we had no right to win, yet managed to do so when most of us would have settled for a draw. It was a victory not brought about by champagne football (that was Wednesday night against Hearts) but by sheer grit and determination against a team who played better on the day and will feel bad about not getting anything from this game.
A draw would probably have been a fairer result.
The wind was a leveller, but then again, if you want to win the League Championship of Scotland, you have to play in all Scottish conditions, and if our foreign players did not know it before, they know now that you get all sorts of weather in Scotland! Once again, you have to hand it to Neil Lennon for his substitutions – all of whom contributed hugely to the cause – in particular that piece of play involving Christie and Rogic at the far corner flag was simply sheer class and professionalism.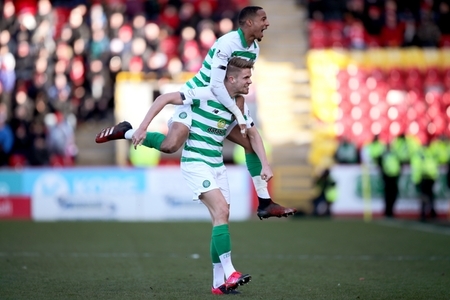 Kristoffer Ajer would have been my Man of the Match even before he scored his winner. In really difficult conditions, he was always well on top of the opposition, and we now have a defence who can stand up to anything, including the weather! You used to say of a defender "even the wind wouldn't get past him". This was literally true of Ajer and Jullien today.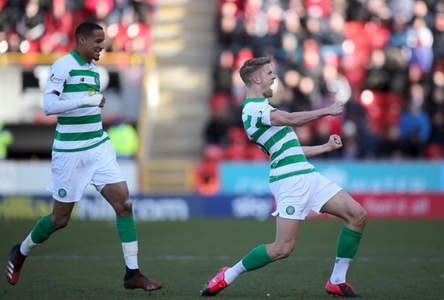 Our ball players, McGregor and Forrest were, not unnaturally, a little quieter today, but they came good when they needed to. Our front two Edouard and Griffiths similarly failed to function today, but neither they nor we need be too upset about that. They will do better in better conditions.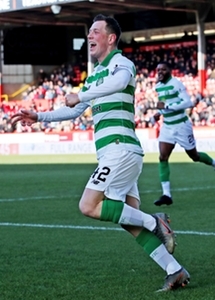 In a game that was short of good football (not unnaturally) there are several things that will stay in the mind. Obviously the goals from CaleyMac and big Kris, but also that appalling miss by Edouard near the end (it was NOT really a save from Lewis, incidentally!), the corner flag play already mentioned involving Rogic and Christie, and for sheer amateur dramatics, that dive by Connor McLelland, and even more impressive, his extravagant claims of innocence! A career on the stage (or perhaps politics or the law) beckons for that man!
And so to Copenhagen on Thursday, then Kilmarnock at home on Sunday. The weather will be better, and the standard of football will therefore be better, but let's hope the result is the same.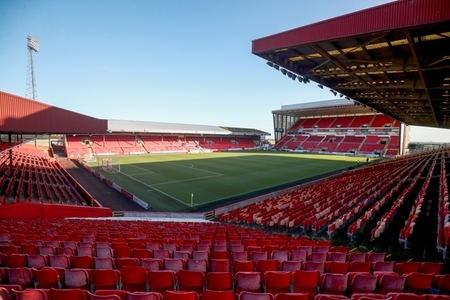 SKY TV? Not the beasts they are painted, and nice to see two pundits who made no attempt to hide their love for Celtic! And Andrew Dallas, if anything, I felt that if anything, he was kinder to Celtic than Aberdeen. Aye, aye, that wind does some strange things to folk!
David Potter
WATCH THIS – Video – Scenes at Full Time
Help raise money for Celtic Youth Development by joining the £1 weekly lottery and you could win up to £25,000 – just click on the photograph below to join. Lots of our readers have already done so and they're now doing their bit to help fund Celtic Youth Development that can deliver the stars of tomorrow and beyond. And you might even win a few bob too!