Tony Mowbray was always, one felt, a very unlucky player, certainly with injuries and more particularly with career decisions. When he played for Celtic he had the tragedy of the illness and death of his wife to cope with as well.
A centre-half by nature, he arrived at Celtic Park from Middlesbrough in November 1991. A very creditable debut against Aberdeen led us to think that something might be happening for Celtic, but the following week John Robertson of Hearts showed him a thing or two about Scottish football, and Tony sunk into the general mediocrity and self-destruction that prevailed at Parkhead in those awful days.
He was however said to have introduced the "huddle" for which he deserves a great deal of credit.
He returned to England with a great deal of admiration among the Celtic fans, but no feeling that Celtic had lost a great player. He was whole hearted, certainly and clearly a man with the Celtic spirit, but without any classy play of the style of McNeill, for example.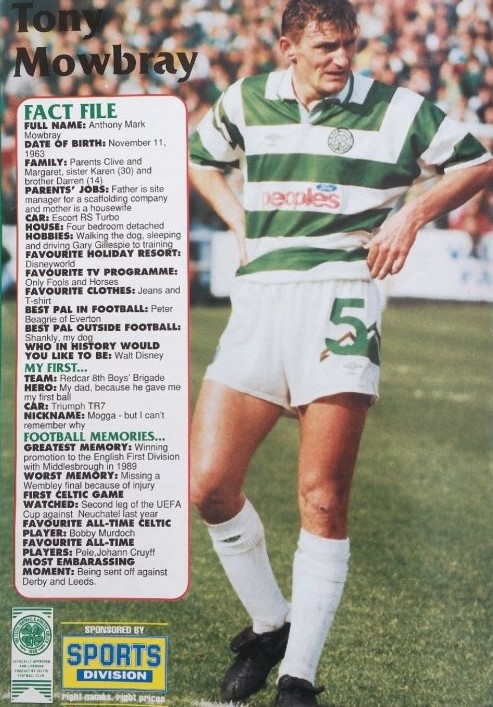 As a Manager, he was a clear success with Hibs and really should have stayed there, but when he came to Celtic the job was clearly too much for him, and he did not see the season out, being sacked after an awful 0-4 defeat at St Mirren. Few regretted his departure but most wished him well.
David Potter