Aye, aye, it was all so depressing and so predictable once again, was it not?
The optimists will say it was only a bad four minutes which lost us the game, and to an extent they have a point, but we never felt that we were likely to get back into it, did we? More to the point, we sensed that the players knew they were beat, and although there was a certain amount of huffing and puffing, the game more or less finished in the 35th minute.
We are now at the stage that we don't really expect to be successful in Europe – and of course with that attitude, we won't be.
The goals were well taken, one must admit – if only Edouard had been half as incisive! – but they were gifted om a plate. Two defenders failed to stop the cross for the first one, and poor Cristian Gamboa was miles away with that tackle which led to the second.
Olivier Ntcham had a total shocker of a game, as indeed did Callum McGregor, and although it was nice to see Lewis Morgan and Ryan Christie get a start, no-one could really say that they did themselves any great favours tonight.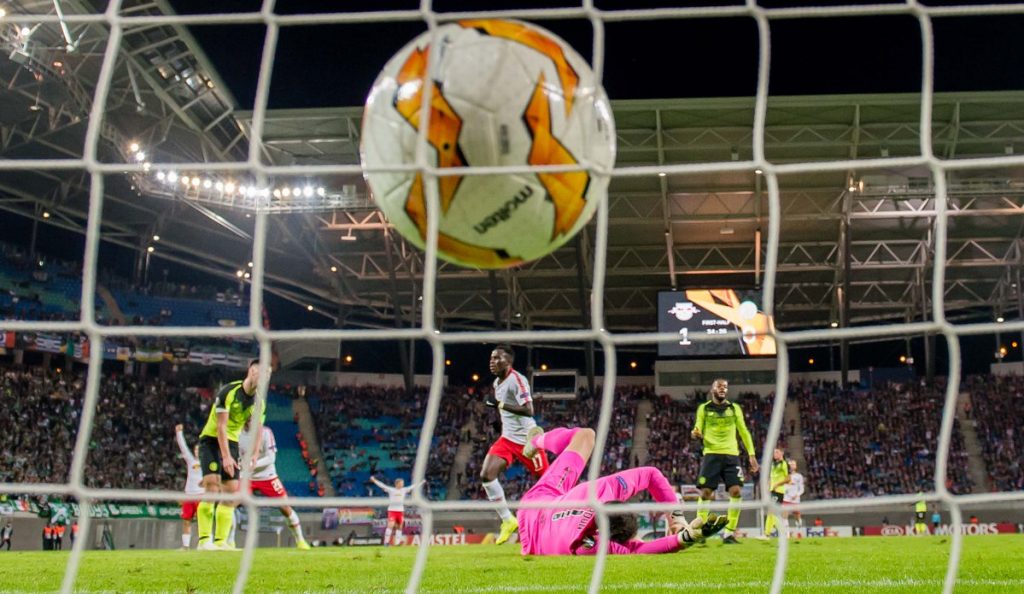 And then there was that strip! Why were we not in green and white? Maybe on reflection, just as well, for no-one can say that the team disgraced the hoops tonight. Yes indeed, there does seem to be a correlation, is there not, between wearing urine yellow and playing a load of p***!
Please, Celtic, wear the green and white on Sunday!
In yet another night of European depression, I am trying hard to be cheerful and have come up with two sliver linings or "positives", as they say.
The one is that this latest fiasco will have nothing whatsoever to do with Sunday (a far more important occasion for everyone!) The team will be different, unless anyone else has picked up an injury. (They haven't, have they?) (Yes two new injuries David, Simunovic and Gamboa are major doubts for Sunday – Ed).
And the other is that we are still not completely out of Europe. God knows, we deserve to be after these last two disgraces, but we still have to play both Salzburg and Leipzig at Celtic Park – AND WE WILL BE WEARING GREEN AND WHITE, WON'T WE? – and we all know that Celtic Park on European nights are totally different matters from anything else on this planet.
So there is still a chance, but it depends on Celtic being able to mobilise their supporters to come along. Frankly, from what we saw tonight, that might be difficult.
But let us take it on the chin. We must be getting used to it by now. Time to out these uppity Jambos in their place! All will be forgiven if we do that.
David Potter
Also on The Celtic Star…
Scunnered! Depressing, predictable, tactically poor Celtic surrender in Leipzig…See HERE.
Matt Corr's brilliant Leipzig Diary (Part 1)…see HERE.
Celtic in Leipzig today..
25/10/2018. #RBLCEL #UEL pic.twitter.com/YzLHw4KpP6

— The Real Casuals (@RealCasuals) October 25, 2018