On this day, in 1991, Celtic had a comfortable 3-0 victory over St Mirren at Celtic Park in a 2nd Round Scottish Cup tie before a crowd of 27,189.
The season had not gone well.
After disposing of Queen of the South and Dundee United on the way to the Scottish League Cup final, Celtic found Rangers in good form and went down 1-2.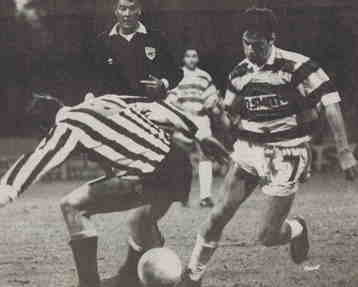 By the above date, in the league campaign, Celtic had a record of P24, W8, D7, L9, F33, A30 and manager, Liam Brady, was under some pressure to deliver a good Scottish Cup run.
He would have been happy enough with the start to the campaign, when Celtic beat Forfar Athletic 2-0 at Station Park, thanks to goals by Tommy Coyne and Dariusz Wdowczyk.
The travelling Celtic fans contributed greatly to the attendance of 8,359.
The Celtic Boss would also have been happy to see his side drawn against the Buddies in the next round, as they were struggling badly in bottom place in the league campaign.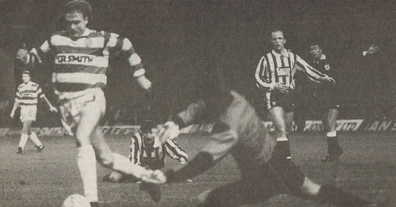 He put out a team of Pat Bonner, Mark McNally, Anton Rogan, Chris Morris, Paul Elliott, Derek Whyte, Joe Miller, Paul McStay, Tommy Coyne, Gerry Creaney and John Collins.
And the win proved to be comfortable enough, Celtic going ahead through an own goal by McWhirter, followed by goals by Gerry Creaney and Tommy Coyne.
The win put them into the semi-final, where Rangers would be waiting.
Jim Craig
NEW – David Low on The Celtic Star Podcast: A Celtic State Of Mind.
The Celtic Star Podcast: A Celtic State of Mind presents its 38th instalment of insightful discussion around the culture of Celtic Football Club, the city of Glasgow, and fans of the reigning treble-winning Scottish champions.
This week, Paul John Dykes and Kevin Graham are joined by one of the main players in the 1994 takeover of the club by Fergus McCann.
David Low – a Celtic-supporting financial analyst – realised that his club were in deep trouble in the late 1980s, around about the same time that Fergus McCann did. Eventually in the early 1990s, David and Fergus became part of a rebel group who would eventually topple the 'biscuit tin' regime.
David explains this incredible journey indepth, and casts doubt on some of the theories that have arisen over the last 25 years reagrding Celtic's near death experience.
A Celtic State of Mind has gone from strength-to-strength over the last few months, and there are many more guests lined up in the weeks ahead from the world of sport, music, film, art, broadcasting, literature and politics.
Subscribe to the podcast via iTunes or Acast or Download or listen below