Being born in the mid-90s, my earliest football memories are from 2000/01 onwards. In many respects that's fortunate where Celtic are concerned. I've only known the new stadium, a minimum of 45,000 season ticket holders, and have seen us win more trophies than I can count.
There have been three real heartbreaks in that period, incidentally all of them were under Martin O'Neill, who also gave me the greatest season of my life, when I first went to Celtic games in the Seville season. Those standout low points were losing the league in 2002/03 on goal difference, losing the UEFA Cup final and losing the league on the last day of the 2004/05 season at Motherwell.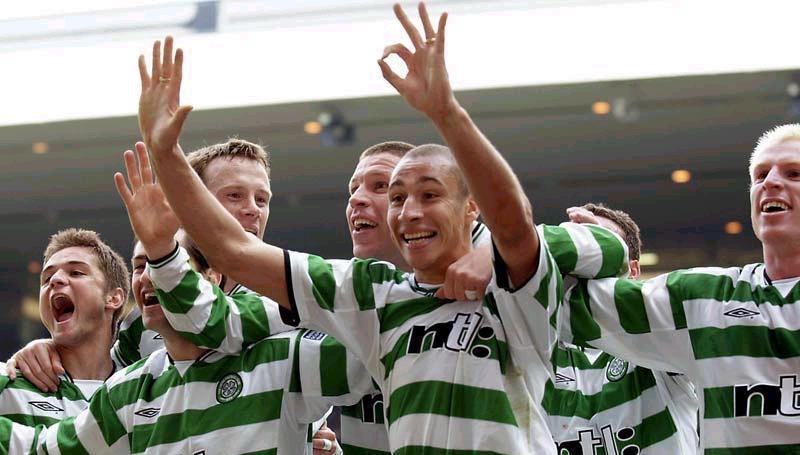 On the whole, supporting Celtic has been a breeze for me and my generation. Nobody could have believed that I'd get to see us lift 9 in a row (hopefully it won't stop there), win four trebles (three in succession and possibly another could be added) and reach a European final.
With so much success, there have been many great players that have come and gone over the last two decades. Dermot Desmond recently claimed that the current Celtic team is better than that which reached the UEFA Cup final. Perhaps the current squad's achievements on the domestic scene have been superior, however I find it hard to agree that they are more talented than the genuine European force that the team of 2003 was.
Thinking on from Dermot's claim, I decided to put my best Celtic XI since the turn of the millennium on paper. I could then see how many of the current squad feature, how many of the 2002/03 squad feature, and how many players from outwith those two sides make the line up. Here are my selections:
3-5-2
GK: Fraser Forster 
In my opinon, the best Celtic goalkeeper that I have seen in my lifetime. His performances in both games against Barcelona in 2012/13 and both matches against Lazio last season stand out, alongside single handedly winning us the League Cup against Rangers a few months ago. The only other keeper in contention was Boruc, but Fraser edges it for me.
LCB: Kieran Tierney

 
A product of the youth academy, who hit the ground running; KT is one of the best defenders I have watched at Celtic. He has speed, crossing ability and controlled aggression in the tackle. He was the closest person to being a footballing hero for me, since Henrik Larsson. However, he left a bit too early to get that status.
CB: Johan Mjallby
 Mjallby skippered Martin O'Neill's side on many occasions and was a terrific footballer. Swedish captain, strong as an ox and able to play in defence or midfield; Mjallby is the best centre back that I have seen in my Celtic supporting lifetime, in terms of when he was actually at the club. (Van Dijk has subsequently went on to be a better player)
RCB: Virgil Van Dijk

 
As time went on it became clear that Van Dijk was destined for better things. He rarely came out of second gear in Scotland and rattled home a number of free kicks, which was impressive for a central defender. Towards the end of his Celtic career he really shone as a top class centre half, before progressing further with Southampton and ultimately going on to become the best defender in the world at Anfield.
CDM: Neil Lennon

 
I was torn between Scott Brown and Neil Lennon for this position, but ultimately went with the current boss for the way he read the game, broke things up and kept the ball. Broony has a better engine and has such a big influence on the players around him, without the luxury of a player like Larsson in the side. However, I can scarcely remember Lennon giving the ball away and recall so many tremendous performances such as his man of the match performance at Anfield in the UEFA Cup Quarter Final. Lennon was underrated and a crucial cog in the team that enjoyed so much success, particularly as Paul Lambert's career was winding down at this point.
CM: Stiliyan Petrov
Stan was one of the best midfielders that I've had the joy of watching at Parkhead over the last 20 years. He had brilliant technical ability, scored goals and was an all round top player. He proved his ability beyond Celtic, by being named Aston Villa's player of the year in his first season with the club.
LM: Alan Thompson 
Another player who was underrated outside of Scottish football circles, Thommo was an incredible left midfielder. He was magnificent at taking free kicks, could pass a ball like David Beckham and could cross the ball too. Thompson was also an aggressive player, not afraid to get in amongst it and he rose to the big occasion every time. Indeed, he scored 7 goals against Rangers and also found the net against genuine top class sides such as Bayern Munich, Stuttgart, Liverpool and Barcelona.
RM: Lubomir Moravcik 
I can only recall watching Lubo play a few times as I was quite young when his career came to an end, but what a player he was. I have vivid memories of him smashing a 35 yard free kick into the top corner with his right foot, and him scoring direct from a corner with his left foot! He was an utter genius, who could score, assist and play anywhere across the midfield.
CAM: Chris Sutton

 
One of the greatest footballers that I have seen, and not just for Celtic. Sutton could do everything. He was strong, good in the air, could score with either foot and had a superb football brain. A Premiership and Golden Boot winner in England, he arrived with strong credentials. Sutton was a world class striker and formed a superb partnership with Larsson. However, he was also brilliant in midfield or at the back. I remember him playing a blinder against Rangers at centre back in about 2004 and was also familiar with seeing him slot in behind Hartson and Larsson to allow others into the starting team. Simply outstanding.
ST: John Hartson 
The holy trinity of my childhood was Sutton, Hartson and Larsson. The latter was on a different level, but Hartson was a special footballer too. He had been the most expensive teenager in Britain when he joined Arsenal and he proved himself at Celtic. He was incredibly strong and powerful, whilst he had a lovely first touch for such a big man. His large frame was deceptive as he was not slow, especially when the ball came into the box. John was prolific in front of goal and has a special place in my heart as I was at my first ever Celtic game when he scored that screamer at Anfield in 2003.
ST: Henrik Larsson
The King of Kings, voted Celtic's second greatest player. In that era, I recall the names of Ronaldo at Real Madrid, Schevchenko and Henry. Henrik Larsson was every bit as good as them. He was a workaholic chasing down defenders, who was brave in many ways. Not only did he bounce back from a horrific injury, but he also never shirked from a tackle or the chance to stick his head in the mix when a goal was to be had. Larsson could ping passes for fun, he had tremendous technical ability and superb passing. His assist record is top drawer and his finishing is the best that I have seen in football, whether at Celtic or elsewhere. He is the greatest Celt that I have watched and an absolute hero.