John Deans' career was going nowhere fast in autumn 1971. He was playing for Motherwell, or rather he wasn't, for he was in the middle of a six week suspension when Jock Stein surprised the world by offering £17,500 for him.
This all happened in the aftermath of Celtic's dreadful League Cup Final defeat at the hands of Partick Thistle, and Stein was clearly making a point to some of his players who, he felt, had let him down.
Yet the chunky under-performing Deans with a bad disciplinary record did not seem to be the man for the job. Some Celtic supporters went back to the debut day of Willie Wallace at Parkhead in December 1966. Motherwell had been the opposition and Deans had been sent off!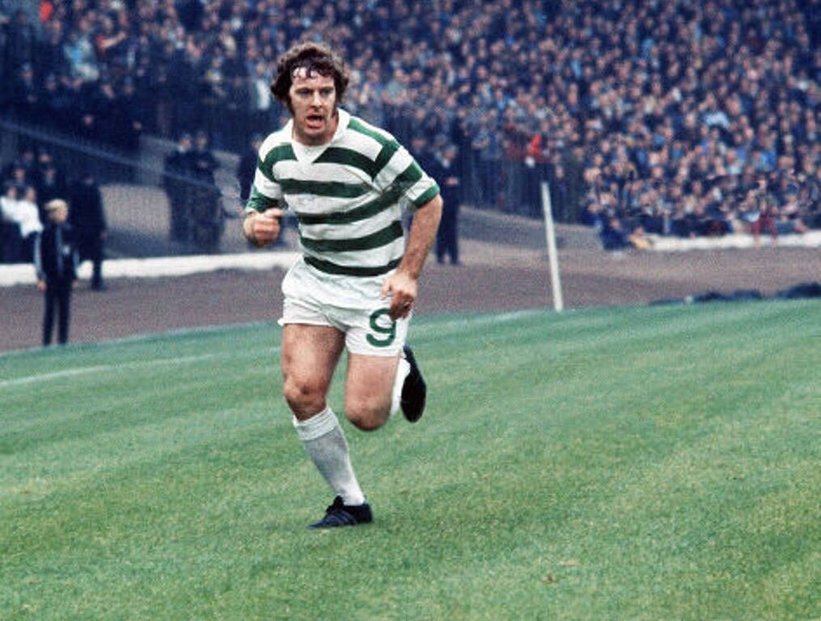 But Deans duly served the suspension, and scored in his debut against Partick Thistle in late November, thereafter finding the net with a certain frequency and teaming up well with the precociously talented Kenny Dalglish as Celtic marched inexorably towards their record breaking seventh League Championship in a row.
But the events of spring 1972 were characterised by Dixie Deans. Celtic might have reached the European Cup Final but Deans was the unlucky man who missed a penalty in the shoot-out. This would have shattered lesser men, but Stein and the fans kept faith with him, and on 6 May in the Scottish Cup final against the not inconsiderable opposition of Eddie Turnbull's Hibs, he scored the hat-trick which put him on the same level as Jimmy Quinn, the only other man to score a hat-trick in a Scottish Cup final.
Further success followed with a League medal in 1973, won in breathtaking circumstances on the last day at Easter Road with two goals from Dixie Deans, and then in 1974 a League and Cup double with Deans again scoring in the Scottish Cup final against the overawed Dundee United.

In seasons 1972/73 and 1973/74 Celtic lost League Cup finals to Hibs and Dundee. It is not without significance that Deans was absent from both those line-ups. But he did play in the League Cup final of 1974/75, and how! He scored a hat-trick in the 6-3 victory, thus becoming the only man ever to score a hat-trick in each of Scotland's domestic Cup Finals.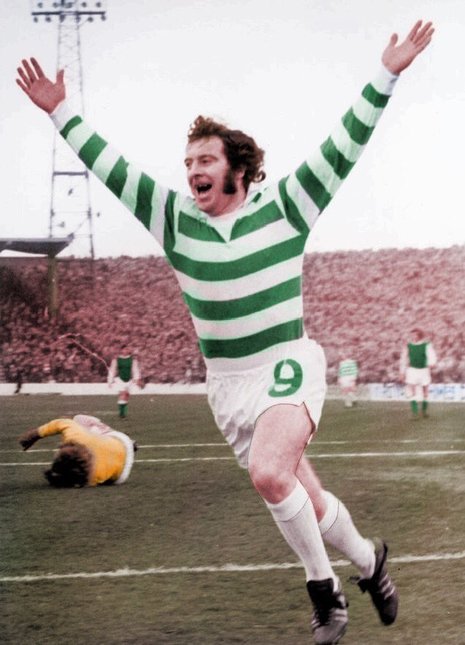 Celtic fans have always loved a goalscorer especially one with the personality and lion heart of Dixie Deans, given that nickname in conscious imitation of Dixie Dean of Everton in the 1920s.
Deans was not a Celt by background. He claims he was a St.Mirren supporter, (although others mention Rangers in this context), but he very soon was adopted by Celtic fans as one of their own.
His relationship with Stein was by no means always cordial, but Stein managed to bring out the best in him and it was no accident that in the 1975/76 season when Stein was in hospital following his motor car accident, Deans' form was patchy and indifferent. By summer 1976 he had moved on to Coventry. It was a pity that he had not come to Celtic a little earlier in his career.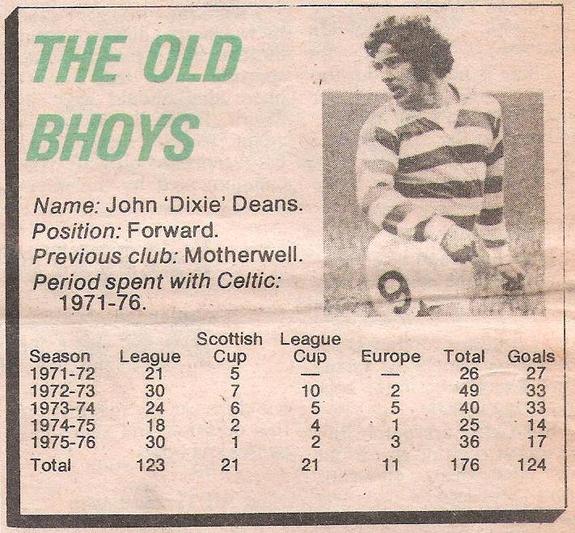 He remains an ever cheerful member of the Celtic family, always ready to talk to supporters, and seen at the Celtic end of Hampden with his suit and green tie before a recent Scottish Cup Final.
When reminded about his hat-trick in 1972, and told that that feat put him in the same bracket as Jimmy Quinn, he smiled and said "Aye, but I did it twice!" – not technically true because one was a Scottish League Cup final, but let's not quibble!
David Potter