Charlie Nicholas reckons that the early departure of the recently appointed Celtic CEO Dom McKay is no big deal as the former Celtic, Arsenal and Aberdeen player regards the former Scottish Rugby executive as being no more than a glove puppet during his short term at Celtic Park.
Before considering what Nicholas has to say in the subject it's worth noting that McKay presumably has signed a non disclosure agreement when negotiating an exit package so we are unlikely to hear much of his side of the story.
Yet since the shock announcement on Friday night we've had a series of leaks all rubbishing McKay and the tactics used – leaking snippets to compliant bloggers and friendly hacks – is exactly the way that Peter Lawwell would operate as Celtic CEO.
Yesterday for instance Lawwell's compliant blogger revealed that McKay had made mistakes – one apparently was "LARGISH" in an article titled "Blood on the Boardroom carpet" – that's presumably Dom McKay's blood that is being referred to.
Was it, you might wonder a larger mistake than appointing a manager in the shower at Hampden without even looking at the CVs of other applicants? Or maybe sending the entire Celtic squad to Dubai in the middle of winter and at the height of a global pandemic resulting in most of the squad being unavailable for the next few games?
Or maybe failing to see that the club was heading for the rocks last October when everyone bar the those in the boardroom – and maybe compliant side kicks – could see that change was urgently needed. Or was it McKay who gave Eddie Howe longer to think about working for Celtic than Mckay actually got in the job? That waiting around for Eddie decision effectively left the club totally ill-equipped for the Champions League.
Whatever the "LARGISH" mistake McKay made – is there no allowance for the fact that he wasn't in the job for even 17 weeks rather than the bloke who made the mistakes listed above – and there are many others that we could add to the list (please feel free to do so in the comments below) – after 17 years in the job?
Back to Charlie's view on all of this now. "Is it really such big news that Dom McKay's time at Celtic has been kicked into touch? the former Sky Sports pundit asks in his weekly Daily Express column. "The chief executive revealed he was stepping down for 'personal reasons' last Friday, after barely a couple of months in the job. But it is not the dramatic story it has been made out to be.
"Some of the comments from pundits have been ridiculously over the top but that's because a lot of those people don't understand the fabric of Celtic.
"For years, the club has been run by an accountant and an owner who isn't there very often. They possess all the power and all the money. Even when Celtic floundered on the pitch last season, (the)Rangers were still playing catch-up to their Old Firm (sic) rivals off it.
"So I don't see why McKay stepping down is a big issue in the grand scheme of things. What did people think he was going to do that was anything radically different to his predecessor Peter Lawwell?
"Let's tell it like it is. McKay was a glove puppet who had come in on Lawwell's recommendation, and it was an appointment that majority shareholder Dermot Desmond was more than happy enough to go along with.
"From what I have seen and heard, I don't think McKay had much influence at all on key decisions at the club. If that wasn't already apparent, then it should have been after Postecoglou's telling weekend remarks of, 'We have to be careful with the narrative of who brought me to the club'.
"A dozen players were brought in by Celtic over the summer transfer window on McKay's watch but does anyone really think he knew much about Kyogo Furuhashi or Cameron Carter-Vickers? Come on, this guy was previously involved with Scottish Rugby."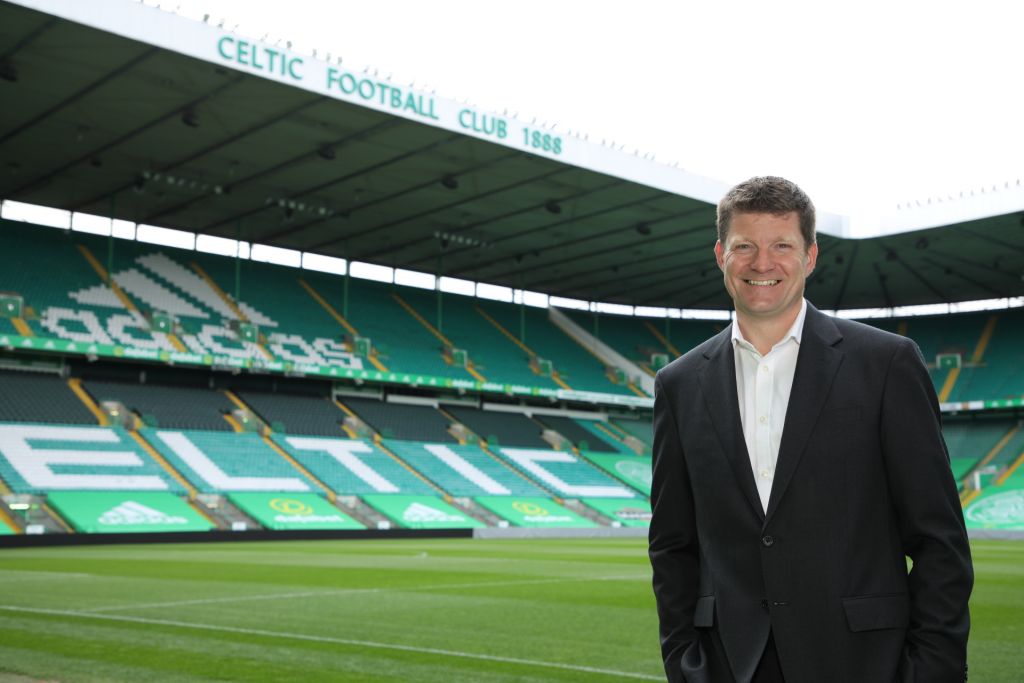 Nicholas also makes a good point on the influence that Peter Lawwell appeared to have in the transfer decisions taken by the club during his time as CEO. "Lawwell had too much influence on recruitment during his reign," Nicholas stated. "But you could argue Postecoglou had to be given more influence than he should have due to McKay's lack of football expertise.
"Celtic failed to come through the Champions League qualifiers this season and, because of that, the club might have been forced to give in to the Aussie manager's demands more than they wanted to. So this McKay story is not dramatic news."
Dom McKay's 'LARGISH' mistake was taking the Celtic CEO job in the first place, believing that he was going to be allowed the elbow room to make the changes that he surely must have set out when discussing the role with the Celtic Board.