Celtic's recruitment challenges for any new manager, Director of Football or Technical Director appear on paper at least to be a mammoth task. As such this summer is going to be a key season to build foundations as Celtic look to ultimately be fully prepared to take advantage of the huge financial changes ahead for the Champions league in 2024.
Celtic chairman Ian Bankier has already indicated, in his February statement to the fans, the ongoing January review, which turned up more concerns than expected, was intended to assist build a blueprint to shift Celtic's thinking towards a competitive European outlook ahead of those changes.
"There are opportunities ahead of us, as the structure of European competitions evolves over the next three to five years. Amongst other things, we will be considering how to take full advantage of what comes our way." Bankier stated via the official Celtic website.
As such Celtic have three years to create, strategise and implement a structure, and at the same time build a sustainable model, one that will firstly return the club to domestic dominance before subsequently positioning themselves as ready to compete, for what early indications signal, could double and more the income for Celtic the current Champions League model supplies. That appears to be the goal of the Celtic Board and one that would be welcomed.
The issue for the club, though clearly not one exclusive to Celtic, is in the midst of this huge shake-up at the club it also appears there could be a financial hit from Covid-19 in the end of year accounts, one projected to leave a £20million deficit for Celtic to overcome. As such you'd assume this black hole will need to be backfilled to ensure any plans thereafter is not a strategy built on sand.
With no fans coming into the stadium, corporate revenue and match day income hit hard, there are limited options other than borrowing for Celtic to ensure plans are not waylaid by a lack of finances. As such you'd assume this Celtic board, and probably rightly so, will look to plug any gaps with player sales this summer rather than borrow. If Celtic were in a position of strength on the field, had Ten-in-a-Row been delivered and had we already a structure in place, this could have been avoided. Sadly, that isn't the case.
Celtic look in need of big personnel changes both on and off the park. Players need replacing and don't come cheap and a new structure will create new positions for talented staff and all of those will also need to be funded.
As such in normal circumstances a tightening of the belt in terms of squad size and wages may have been the plan, a season of transition even. However, any new manager, at least one employed from outside the organisation, is going to want assurances that his re-build can start now and be well funded from the get-go.
There is however no shortage of peripheral figures, many out on loan at this moment in time, and another 'project' in Liam Shaw already signed up on a cross border pre-contract from Sheffield Wednesday, that could allow focus to be placed on the purchase of first team players predominately.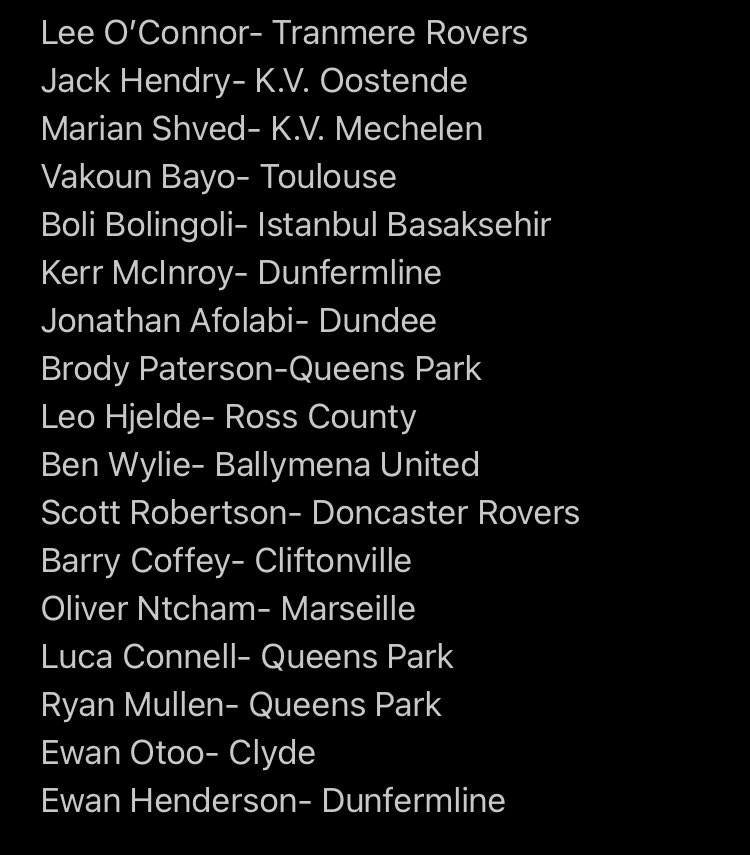 As such in terms of squad fillers and a supporting cast it would make sense for some of those to slot in and deputise for first team players be it through injuries, suspensions and rest periods, and over the course of next season see if some of those can cut the mustard as Celtic players in the years ahead.
Players like Lee O' Connor, Luca Connell, Leo Hjelde and Scott Robertson, all out on loan this season and impressing, will surely be expected to return to the club and play their part. Whilst they may not be expected to have the pressure of being instant first team picks, they will have to be leaned on and they will have to perform when needed. For the players that has to be the goal, establish themselves as the first team pick's understudy and when the inevitable games arise when the main men can't play try to and establish themselves in the new manager's thoughts.
Celtic really need no more than two players for each position in a first team squad, with specialised positions such as goalkeeper maybe requiring one more. Currently even that streamlined approach has some glaring omissions, particularly at full back and wide areas within the current squad, but if it is an approach fully adopted then it means those just outside the first team squad also have hopes of exposure in any given season.
Players like Adam Montgomery and Ewan Otoo would then see a pathway to the first team squad also and as such less likely to look elsewhere as the likes of Barry Hepburn and Liam Morrison felt the need to do.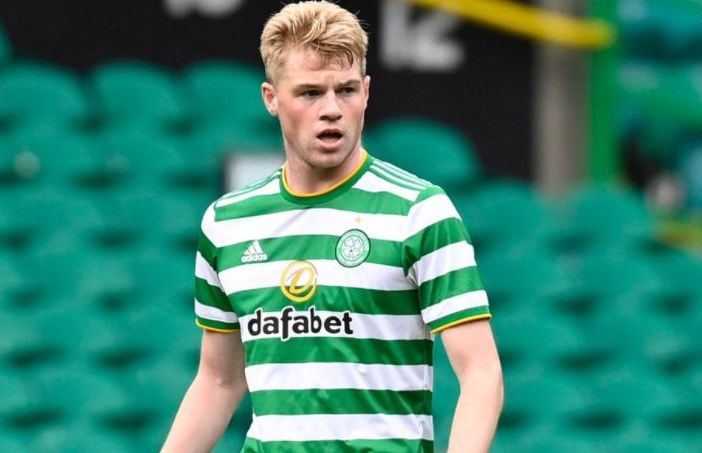 At the moment Celtic are well covered for players in most positions to supply the role of understudy to a first team performer. Scott Bain is a good option as a second-choice keeper, at right back Lee O'Connor – already an Irish international – has to be allowed to supply depth, whilst Stephen Welsh has already shown at centre half, he is a more than capable deputy and evidenced, that with gradual exposure, such understudies can emerge from the shadows and stake a claim.
Meanwhile John Hughes recent praise, alongside a good spell of first team football, should mean Leo Hjelde can also operate as a left sided central defender next season and add Celtic appearances to the Premiership experience he has gained while on loan to Ross County, whilst on the left Greg Taylor may or may not be a first choice for everyone as Celtic's left back but few would say he's not ideal cover.
That would leave Celtic's new manager having to sign a central defender to partner Christopher Jullien, and perhaps a short-term loan deal to cover the Frenchman as he returns from injury by September or October, but there is money to be made to cover those changes.
Boli Bolingoli is unlikely to have a future at Celtic and is a player Celtic could, even conservatively, expect to receive £2m for. Whilst Kris Ajer is the player the new manager would be looking to replace, given all indications are that he sees his future in a bigger league. £20million deals seem fanciful for a player in the last year of his contract, however £10-12 million would surely be achievable. Add to that Jack Hendry has a rumoured £2million option to buy on his current loan deal at Oostende. Could Celtic sign a first choice right back, left back and Central defender for less than the £14-16 million recouped from those sales? You'd like to think that would be achievable and with change left over.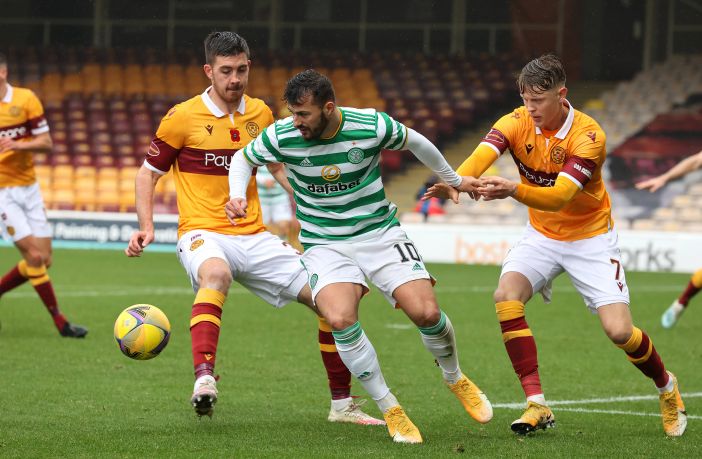 In midfield Celtic seem well covered in the two deeper lying positions. Callum McGregor could be suitably deputised by Luca Connell, whilst Scott Brown's exit frees up substantial wages and already in place is Ismaila Soro, with Scott Robertson or Liam Shaw ready to step in to deputise.
We also have an attacking midfielder in David Turnbull improving so quickly he cannot play second fiddle now.
Tom Rogic you'd then assume would be the alternative to Turnbull now rather than first pick, or indeed Ryan Christie, but in truth it is hard to see either player hanging around now.
Rogic hung on for one more year despite a bid being accepted last season, yet has had little impact sadly, whilst Ryan Christie is in a similar position to Kris Ajer and appears to see his own future in a bigger league. As such the time has come where both would expect and want to move on.
Christie alone could easily gain Celtic some £10 million, perhaps more depending on how he performs on the international stage this summer, whilst Rogic could add another £2milion to the pot.
There is also the returning Olivier Ntcham to add to the mix. A £4.5million option to buy looks unlikely to be activated by loan club Marseille, but even at a conservative estimate Celtic should be able to find a taker at around £2.5 to £3million for a player who has made it clear his future lies away from Celtic.
Celtic would of course have to find a number 10 to deputise for David Turnbull, as well as a right sided central midfielder should Celtic chose to narrow the midfield to a diamond formation or operate with three central midfielders' next season. Ewan Henderson could comfortably deputise for a new signing limiting the outlay Celtic need spend to one addition. Yet both of those positions should easily be identified for less than six or seven million combined and once again there is a surplus left to service the loss of income the pandemic has saddled the club with.
Assuming Celtic will adopt a 4-2-3-1 or midfield 4 next season the wide areas are going to be important. It is also an area Celtic are surprisingly short of this season, especially considering upon the surprise announcement of Maryan Shved's signing at Celtic Brendan Rodgers uttered his famous 'millions of wingers' quote. Despite all of that Celtic have a first team pick and one whose absence made the heart grow fonder in his lengthy absence this season.
James Forrest is a bona fide legend available to any new manager and on the opposite side Mikey Johnston, at least available as an able deputy for a first choice left winger. Forrest will require cover as to leave him as a stand-alone first choice would be folly given his advancing years and the fact, bar his time under Rodgers, prolonged periods of injury have followed him as night follows day.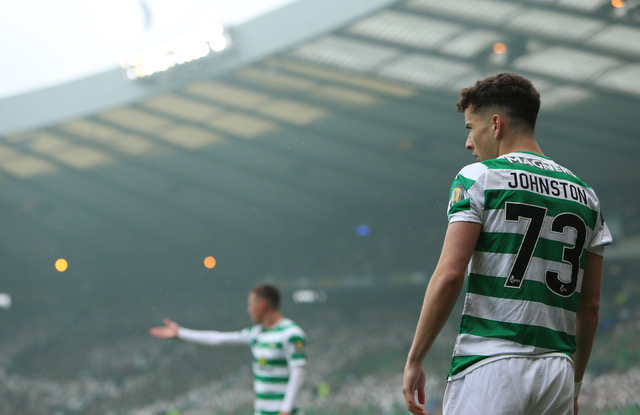 Celtic have choices internally and externally when it comes to these key positions. One involves the return of Moi Elyounoussi on another season loan, or more likely find a permanent deal to suit both parties. In his last season as a £60k a week and under-used winger at Southampton, the south coast club will surely be looking to cash in and subsequently a deal between the player and his parent club to reach an amicable agreement on the last season's wages could be easier this time around.
At the same time Forrest's understudy options could still mean Maryan Shved has some sort of future as Forrest's heir apparent. Even if he doesn't, then the £3/4 million the Ukrainian could fetch in the open market could more than cover the necessary replacement to act as Forrest's apprentice. This is an area Celtic have been short of for some time, yet even in such an underinvested area of the team a £4/5million outlay to snare Elyounoussi as a permanent signing could see Celtic adequately covered for the season ahead.
There are two further positions Celtic will need to address this pre-season, one is the goalkeeping conundrum and secondly somewhat bizarrely considering we started the season with four of them, the striking department is looking bare ahead of next season.
The goalkeeping situation is probably not as bad as first feared, nor should it be an expensive area to address. Scott Bain is a suitable second choice 'keeper and even seems comfortable in that role, whilst Conor Hazard is a young and hungry goalkeeper with belief in his ability to challenge in the season ahead. As such it is the number one slot alone that needs to be examined.
Vasilis Barkas arrived for a hefty fee and with International and Champions League experience, yet for whatever reason – and there will be a multitude of those – it simply hasn't worked out. As things stand confidence is clearly and issue, both his own and the clubs in him.
It would clearly be too much of a gamble to start the season with Barkas as a number one, yet it would also be premature to cut our losses at this stage. As such it would be more beneficial to have the Greek International head out for a season on loan, in the hope it regains his confidence and his reputation, with a view to another attempt as Celtic's number one next season.
In the meantime, a season long loan in the opposite direction would then suit Celtic and give Barkas the confidence to know he can leave the club temporarily without someone having been signed on a permanent basis. Even a 'keeper with a contract expiring offered a 1-year deal, one with experience would suit Celtic and the budget.
The most challenging part of next season's rebuild is now looking to be the striking department, and in a period of finances being impacted such a substantial rebuild, in a market where replacements come at a premium, won't be an easy one to navigate, whilst at the same time looking to clear that Covid deficit.
Yet early indications are Patryk Klimala is off to New York and rumour has it the deal could eventually compensate Celtic with the fee they initially parted with for Polish Paddy, some £3.5 million. Add to that and Vakoun Bayo, currently on loan with French second tier side Toulouse, has an option to buy inserted in his deal.
Much Like Jack Hendry you'd assume such a clause was inserted as the club no longer see Bayo as a player likely to make an impact at Celtic, as such even if the French club don't take up the option it would appear Bayo will head elsewhere and Celtic will be entitled to a fee. Once again looking at the lower end of a value for the player Celtic could still be looking to recoup £1.5million for the striker. With a £5million income from those sales Celtic could easily identify a new forward for next season.
The big deal however will be the sale of Odsonne Edouard and with a number of club's circling for French Eddy, now in the final year of his deal, it is clear Celtic will cash in this summer and in truth there is no other option. Leicester City, West Ham and Arsenal have all been linked with Celtic's talisman and if that results in a bidding war then it can only be to Celtic's benefit. Even at a conservative estimate Celtic could recoup a minimum of £15million but you'd hope with interest from England and abroad – AC Milan have also been linked – that competition for the player could push the figure between £20 and £25m. For both a striking department rebuild and addressing Celtic's financial imbalance reaching that higher figure could be vital.
Whilst the fees for Klimala and Bayo would supply sufficient funds for one new player, Celtic will be looking for a minimum of four strikers, this would be particularly true if Eddie Howe is appointed manager as he's shown a preference to play with two attackers in the past. Albian Ajeti hasn't set the heather alight but it's unlikely he is going anywhere, and there is enough talent in there from his time in Switzerland to indicate a strong pre-season and a tactically minded manager may bring out the best in Ajeti.
So, does that leave Celtic needing to buy one or two further strikers? Much of that would come down to whether Celtic intend to activate the optional year on Leigh Griffiths contract and I just don't see it. Leigh has struggled for fitness and form this season and with new players arriving it is unlikely he'd be a first-choice pick.
As a player who appears to require to play every week to maintain any kind of fitness, any new manager would need someone in reserve ready to come in when required but able to maintain a level of fitness to impact the team when he does. Sadly, Leigh Griffiths cannot be relied upon to do that and it is likely the player will move on. That in itself would be a blow as there is no resale value on Griffiths, however as one of the higher earners it will remove a hefty wage from Celtic's outgoings, something key if Celtic are shopping in the striker market.
The big outlay will surely come after the sale of Odsonne Edouard. Celtic will have to look to spend a substantial amount to replace French Eddy with a player of sufficient quality to call himself Celtic's number one striker. As with the other positions needing addressed, we'll cover options for the positions we need filled over the next few days, but there are suitable players out there and many are likely to come in at around half of the minimum we can expect to get for French Eddy – around the £7-8million mark.
Furthermore, if Celtic utilise the loan market well – Fergal Harkin anyone – then Leigh Griffiths replacement could easily come without a transfer fee attached. As such with one striker already in place, another that could be purchased for the combined sales totals of Bayo and Klimala, and a main striker sourced for £7million to replace Edouard, Celtic could revamp the striking department and have a minimum of £8million, possibly substantially more if a bidding war for Edouard ensues, left over to address the financial black hole that Covid has left the club needing to address alongside the rebuild.
It is crazy to think that Celtic have reached such a position, one where they require to sign a goalkeeper, central defender, two full backs, a right sided central midfielder, cover for David Turnbull, two wide players and find a way to get what looks like at least two, but more likely three, strikers into the club.
It has left Celtic in a position, even assuming those out currently out on loan can supply the positions of a supporting cast for the season ahead, of having to bring in ten or eleven players next season, simply to have a balanced squad and at least seven or eight of those will have to be first eleven players.
The squad management, particularly around contracts has been clearly mismanaged, as such it really is no surprise the review update given by Ian Bankier was described as 'ongoing', nor is it such a surprise the structure of the club is also in need of such a revamp or that it is all taking a great deal of time, something we are actually in rather short supply of.
With so many changes on and off the field it would be very easy indeed to consider next season as a year of transition, but unfortunately for those who have to manage such seismic change, Celtic cannot transition and not win.
There is a huge carrot at the end of this season, the likelihood that the winners of the Scottish title will gain automatic entry to the Champions League and the £30million it brings to a club facing such a financial deficit this season, and one having to outlay a substantial amount this summer just to get the squad back on an even keel.
If Celtic box cleverly, then financially as we've shown even with conservative estimates for income from player sales, Celtic can rebuild and can address the financial black hole the pandemic has left us with at the same time. There is however little margin for error, nor can there be room for gambles on those we seek to bring in. The recruitment this summer is not only a huge logistical challenge with eyes on player scouting so difficult, it will also have to be on point.
There is of course scope for out of contract players to be targeted and a loan market to be utilised, and it could be Celtic can stretch the dealings between the summer and January transfer windows, and we'll look at options in those areas too, but short-term fixes don't solve long term problems, nor do they build a sustainable squad with one eye on the Champions League changes ahead for 2024 and Celtic have to be ready for that, indeed the Chairman has already stated that is Celtic's endgame. In the meantime, there is a huge job ahead.
Niall J