Dominic McKay has quite literally beeb a man in the shadows at Celtic Park in recent months as he began his time at Celtic by shadowing the outgoing CEO Peter Lawwell and got a behind the scenes look at how things operate at Celtic and in doing that no doubt gained an insight into the immediate and necessary changes that he'll ahem to implement in his own tenure as the Chief Executive at Celtic.
The former SRU boss has now come out from those shadows to speak to the New Celtic manager Ange Postecoglou in an interview on Celtic TV (see below) and he's also had his photograph taken and released to the media (fan media and also mainstream media) with him in situ, all smiles, inside Celtic Park.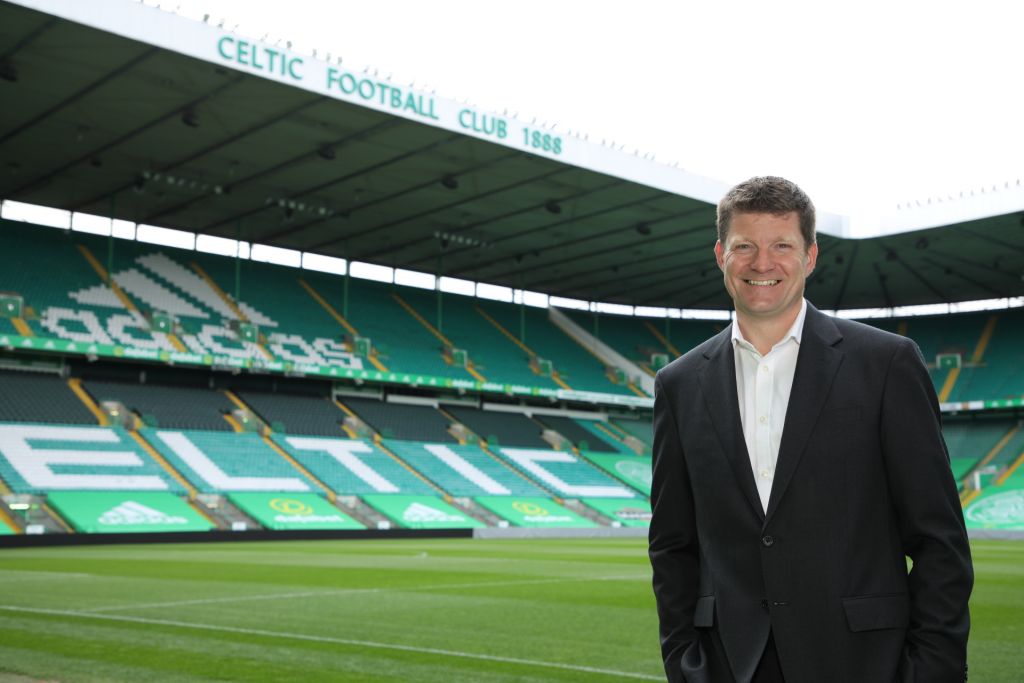 They say that every picture tells a story and this one clearly does. That story is that Dom McKay is now the man in charge and things are going to be done his way. The Celtic Star has complained on here and to McKay directly, about the way in which the club treats fan media and the outdated manner in which it handles news distribution and media access coming from the club.
Incoming CEO Dom McKay today welcomed our first 🇦🇺 Manager to the Club.

"Everyone at Celtic is pleased to welcome Ange & we look forward to working with him to bring our fans the success which their support deserves."

Welcome to #CelticFC 👊🍀#WelcomeAnge🤝#OneClubSince1888

— Celtic Football Club (@CelticFC) June 10, 2021
There has been a remarkable turn around in this over the past week, starting with media 'assets' that Celtic made available to the media after the Champions League qualification for Fran Alonso's side. That could have been a one-off, but it was encouraging nevertheless. Celtic for instance provided us with the entire range of SNS photographs from the 8-0 win at Motherwell (which was a nice surprise, but we'd already organised TWO photographers to cover the game for The Celtic Star before Celtic's gesture).
Personally I have been arguing with Celtic for many years about their shortsighted policy of denying fan media photography access to Celtic matches so that changing pretty much as soon as McKay takes control is worthy of mentioning to you today, not because it affects you as supporters too much but because it suggests that McKay is listening and is prepared to act decisively when he is made aware of concerns.
Here's what the new Celtic CEO Dom McKay had to say about the appointment of Ange Postecoglou this morning…
"I am delighted we have been able to secure Ange as the new Celtic Football Manager.

"In all our discussions, I have been hugely impressed by Ange and his aligned vision to work with me to develop and evolve the Club, focused on bringing back sustained success.

"He is someone I believe has the coaching and managerial credentials to be a real success at Celtic and we are already working closely together on our plans for the season and seasons ahead.

"Throughout all our conversations I have been struck by Ange's passion for Celtic and his strength of feeling for Celtic, he is hugely motivated by this opportunity, honoured to be Celtic Manager and eager to be part of the Club's future success.

"Our discussions have also outlined the exciting vision he has for the team. He is someone who wants to play football the way all Celtic supporters love, an ambition very close to his heart.

"Ange is also very well-connected in global football, contacts which I am sure we will benefit from, he has a modern outlook and he shares my desire to evolve the Club positively for the seasons ahead.

"Importantly, he is also someone we believe who has the mentality and strength of character to lead a club of Celtic's size and stature.

"Everyone at Celtic is pleased to welcome Ange and we look forward to working with him to bring our fans the success which their support deserves."

https://youtu.be/4Rysoc8q3hs