IT was a sign of how far Celtic had slipped that they failed to win a League and Cup double in any of the years between the two wars. In the League, they had not even come close. They won it in 1938, but since then had not even come second!
Since 1945, the League had been dominated by Rangers and Hibs, and Celtic had been nowhere, even in 1948 coming quite close to relegation. The mighty men of 1914 – Sunny Jim, Jimmy McMenemy, Patsy Gallacher et al were the last team to land a Double, and that was now forty years and two world wars ago. Only the mighty Jimmy McMenemy and Joe Dodds of that great side were still alive and well.
Celtic had won the Scottish Cup in 1951, and that was something. 1952 had seen a slipping back with the season dominated, as far as Mr Kelly was concerned, by the issue of whether Celtic should fly the Irish flag.
It was a laudable stand, but it was nevertheless used to disguise the shortcomings of the side in that dire season. 1953 saw Celtic nowhere in the League, and when they exited the Scottish Cup at Ibrox in March, the season seemed to have ended. But then in an amazing and even romantic end of the season, the team rallied and won the all-British Coronation Cup, held as the name suggests to commemorate the crowning of Queen Elizabeth II. Celtic had made the happy signing of Neil Mochan, and suddenly turned it on to beat Manchester United, Arsenal and Hibs in a competition much commemorated in folklore and song.They were not, of course,"meant" to win that trophy, but they did!
But if we thought that this was going to herald a complete turnaround in Celtic's fortunes, we were far wrong. The usual feeble exit from the League Cup was followed by a 4-0 doing by Rangers in the Glasgow Cup. From then on, form could be described as unpredictable. A good win on New Year's Day at Celtic Park over Rangers, for example, was followed by a 2-0 reverse at Pittodrie on 2 January and further away defeats at Raith Rovers and Hearts in early 1954 seemed to indicate that nothing was likely to happen this season.
But there were a few saving graces. The team was not really playing consistently badly, the support stayed loyal with large attendances and the season was what one might have called competitive with no one team grabbing the initiative. Rangers, Hibs, Hearts, East Fife, Aberdeen, Dundee and even Queen of the South all had their moments – good and bad – but the League table at the beginning of February showed Hearts at the top, but because of postponements and games in hand, anything was possible. All that was needed was a good run.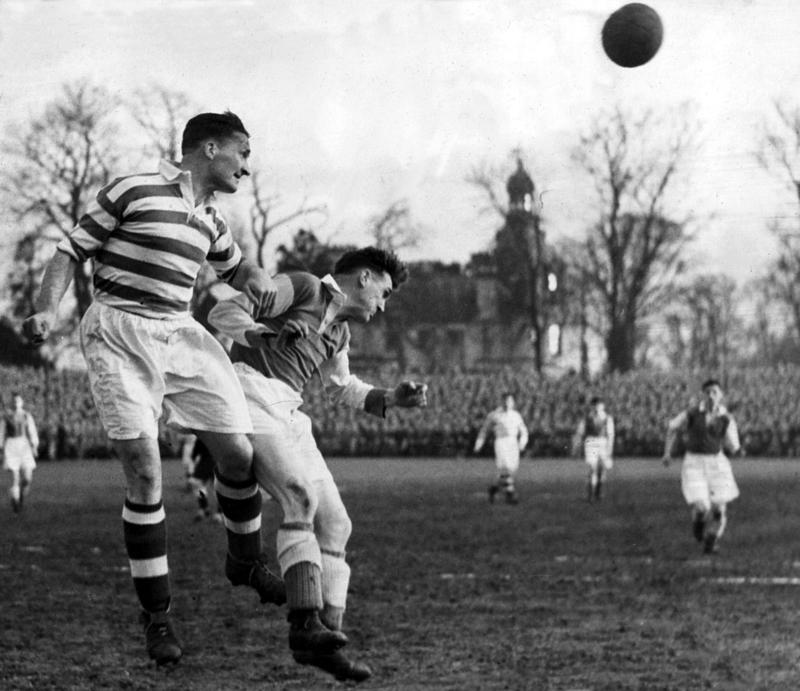 It was at this point that captain Jock Stein took a grip of things. In the absence of any strong leadership from elsewhere, Jock was the de facto player-manager of the team and began to say to Mr McGrory who should play, and where. As the team now began to win, Mr Kelly simply had to acquiesce, tacitly agreeing that Stein knew more about football than he did.
Celtic reached the semi final of the Scottish Cup with three narrow away victories at Falkirk, Stirling Albion and Hamilton Accies. This may not sound all that impressive, but in the context of Celtic's previous form that season, it was very good indeed. Mochan, Fernie and Higgins all began to score goals, and then with the ever under-performing and injury prone John McPhail dropping out, Sean Fallon came in as centre forward.
It was a strange decision, because Fallon was a full back by nature, yet Celtic, in Haughney and Meechan were well staffed at full back, and the ever eager Sean Fallon was prepared to try anything. Funnily enough and to the confounding of the critics in the support, this ploy worked. February and March saw some fine Celtic performances with home form in particular showing a great improvement.
It is one of the unexplained rules of nature (and not just in football) that if you produce your best, your rivals will begin to crack and fall away, even though you are not directly facing them. This was exactly what happened here. Hearts were caught, the others began to beat each other, and before long the possibility of the first League title since 1938 began to be talked about among the denizens of Celtic Park.
Crowds remained high, and a huge attendance of 102,424 appeared at Hampden to see Celtic take on Motherwell in the Scottish Cup semi-final on 27 March. It was all the more astonishing because Motherwell were in the Second Division at the time.Celtic were winning until the very last minute when Motherwell grabbed an equaliser. Nine days later on the Holiday Monday "only" 92,662 saw a reasonably comfortable 3-1 win for Celtic in the replay.
It was the other semi-final two weeks later which raised the eyebrows. No-one saw the scoreline of Rangers 0 Aberdeen 6 coming, not even the red clad Aberdonians who descended on Glasgow in their tens of thousands to see a brilliant performance from Joe O'Neill in particular against an Ibrox team who seemed to be making some sort of point about the ageing and increasingly dictatorial Bill Struth.
The Cup final between Celtic and Aberdeen was now looked forward to with great relish and excitement, even though their talismanic centre forward Joe O'Neill (Celtic daft as his name would suggest) was carrying an ankle injury and had to be ruled out at the last minute.
By the time that Aberdeen beat Rangers, Celtic only had to win two games to secure the Scottish League, both of them away from home. They proceeded to do just that at Falkirk and Hibs, winning 3-0 in both cases. The Easter Road game on 17 April  saw a packed crowd of 45,000 with more locked outside and more than a little tension in the air, but Stein once again organised his defence to tame the Famous Five forward line, and Neil Mochan scored twice to win Celtic's 20th Championship.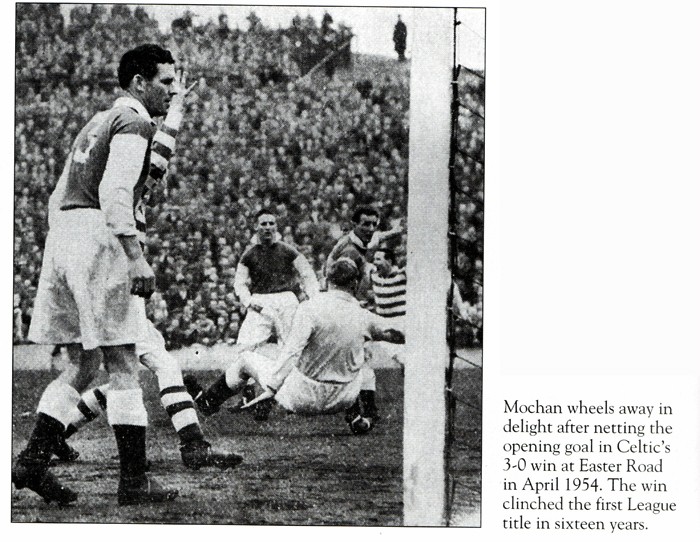 Princes Street and Waverley Station saw great celebrations that night, and they would be replicated the following week at Hampden when Celtic eased home over Aberdeen in a 2-1 win in the Scottish Cup final. It was a dull day, and there was little in the way of sparkling football either from two very well balanced teams to get the all-ticket 134,000 crowd excited. No goals at half time, but then an own goal for Celtic when a Neil Mochan cross hit the luckless Alec Young and the ball ricocheted into the net. A minute later, Paddy Buckley for once got the better of Stein and equalised, but then about half way through the second half a great cross from Willie Fernie found Fallon who tapped in a simple goal, so reminiscent of that of Jimmy McGrory in the 1933 Scottish Cup final.
It was now all hands to the pump as Aberdeen went for an equaliser that would not have been entirely undeserved, but the half back like of Evans, Stein and Peacock held out, and the full time whistle of referee Mr Faultless (who had had a good game and almost lived up to his name!) meant that Celtic had now won the Scottish Cup for the 17th time.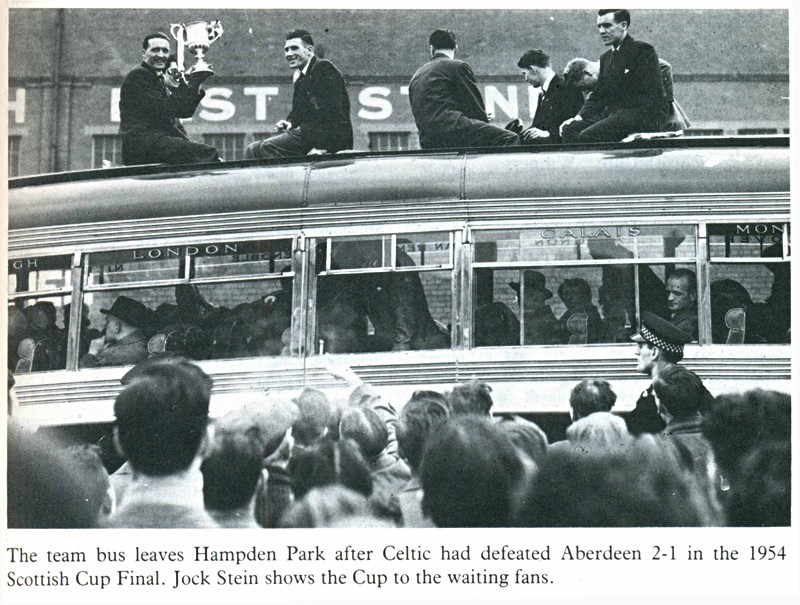 Thus for the second Saturday night in a row, Gorbals, Garngad, Holytown, Croy, Clelland, Lochee and Leith all saw dancing in the streets! The hope was expressed that this would be the start of something. Well, yes, there was some limited success over the next few years, but sustained glory did not return to Celtic Park until today's captain (named in the newsreels as if his name rhymed with "fine") returned as tomorrow's Manager.
But there would be a lot of pain before then!
David Potter