It seems unless you access your culture by way of the Albert Hall, artists and musicians are being left to wither on the vine during the Covid-19 pandemic. Unable to play live, many musicians are having to find alternative ways to get their music out there, find an audience and of course a much-needed source of income. Some have taken to performing gigs on Facebook only to find that door closing too, while others have gone further, thought a little more outside the box and come up with something spectacular.
Stuart Dougan is to all intents and purposes Glasgow's musical gem, The Quilter. Indeed, when it came to recording their latest work, Stuart recorded everything bar the drums. Very impressive I'm sure you'll agree.
To Celtic fans he'll be the well kent voice from the podcasts of the team at The Cynic,  yet there is more far more to the talents of Stuart than defending the merits of Tom Rogic or presenting his new 'The Dugout' podcast.
During Lockdown The Quilter have produced an incredible work of art. Dark Cloud/Grey Area is a Visual Record recorded at Castlemilk Youth Complex, on location around Glasgow and even Stuart's own home.
It is colourful, moving and deeply personal. And inspiring as it is, words cannot do it justice, Dark Cloud Grey Area has to be experienced as the production is all about how it makes you feel. It is humorous and sad in places but mostly it is an ultimately uplifting musical journey. It also contains some top-class music, songs rich in lyrical content and some of the very finest blazers known to man.
The Celtic Star is trying to assist artists reach an audience from their homes when normally they would be taking their music to pubs, clubs and live venues. We also want to encourage as many of you who can to try and send a few quid their way by way of purchasing merchandise and buying the music. Before we go on please take the time to watch Dark Cloud/Grey Area. It's worth an hour of anyone's time. I bet you'll watch it more than once.
You can buy the Audio from Dark Cloud/Grey area via Band Camp HERE and there are also t-shirts, t-bags, badges etc available there too. The artists share from BandCamp far outstrips streaming services like Spotify so if you like what you hear please dig deep and it will head to the artists pocket.
Today Stuart Dougan also known as The Quilter has taken the time to talk to The Celtic Star about his visual record, supporting Celtic and why he'd love the opportunity to infiltrate the mind of James Tavernier. Niall J asks the questions…
Lockdown is impacting on many artists be that financially or emotionally – as you touched on in your film – What advice would you give to other artists to encourage them to keep on writing and performing?
I think it's particularly difficult for artists at the moment, not only from the obvious financial or emotional impact that is almost universal at this stage, but I think there comes a real pressure to create. Suddenly people are locked down with nothing but time to work on projects but with everything going on in the world it can actually be quite stifling.
I know that at the start of lockdown I felt almost overwhelmed that you finally have all this time and feeling bad to not use it productively. It's easy to beat yourself up in that scenario so I guess my best advice would be to give yourself a break. I always tried to do a little each day, even if it was just half an hour or an hour as even the smallest amount of progress is better than none at all. After getting into a habit like that it becomes less daunting and you can start to pull on different threads and before you know it you look back and you've achieved something without even realising it.
Making the film has been brilliant to provide me with some purpose and something to focus on over the last few months, especially as it was a challenging process so I felt stimulated and had some structure which is about all you can hope for at the moment!
You'll be covering the Glasgow Derby weekend on The Cynic this week, if you could do a preview podcast with one player from each side, who would they be and why?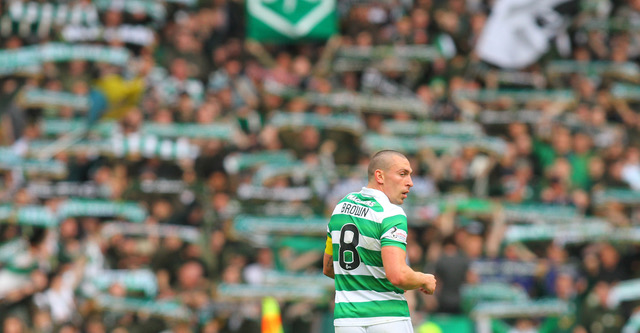 I think in terms of his experience and how important a player he is in these fixtures, it would be fascinating to have a real long form chat with Scott Brown. He's basically seen it all and done it all and would be able to offer great insight into what it takes to win these games. From their side, I'd probably pick Tavernier so I could try and get under the hood of that fragile mentality he was so bold in writing about in his programme notes last season. I'm sure I could find a way to plant some seeds of doubt with him easily enough!
Your Visual record is incredibly moving and the subject matters clearly so personal, was it a tough process to not only record the songs but to then open a window to your personal life too with the visual aspect and personal commentary? What misgivings did you have with this approach to recording and were you concerned about opening up so much?
It wasn't so bad with the songs because they are what they are and I think without the context of the film, they're fairly open to interpretation. With regard to the narrative though, there's no hiding away from the stuff I talk about there and that was certainly daunting and made me feel quite vulnerable. I made a conscious decision from the outset though that I was going to give a very open and honest account of my situation, not only for the catharsis that I knew it would bring, but also, I think it's important not to beat around the bush and I wanted people to hear my story and be able to relate to it.
It's been overwhelming how many people have been in touch to say that they recognised themselves in what I was saying and that it has helped them or been uplifting to them in some way. I was worried that it would potentially come off as a sad story, or be too doom and gloom, but in reality I think it's quite a triumphant story, and I hope that by being so open about it, if people are going through similar, they can see that there is a path out of it and it won't always be like that for them.
If someone was to make a visual record of your life as a Celtic supporter what would be the song for the opening scene, which would play as the credits rolled and who would you choose to narrate it?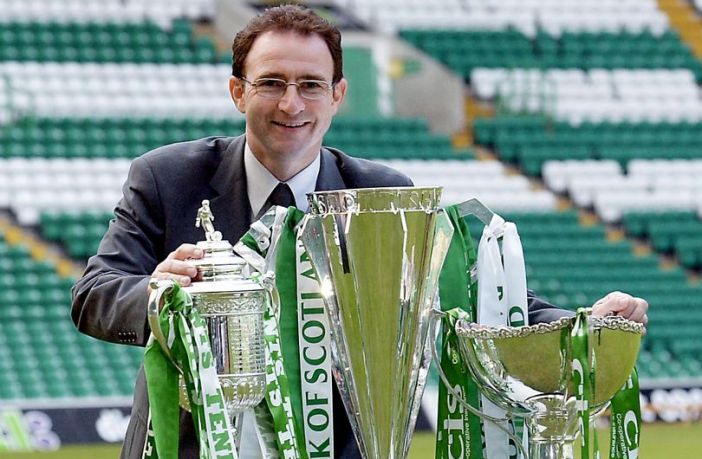 Maybe it's an obvious choice, or a bit of a cliché but I think if it was to focus specifically on Celtic, I would probably have to choose 'You'll Never Walk Alone'. It's such an affecting piece of music even when you strip away the context of it being sung by 60,000 people, but when it is and you're in that environment, it's really incredible to be a part of. As for a narrator, I can't imagine he'd have any interest in talking about my life but I think I'd go for Martin O'Neill. His tenure was such a golden era for the club and is especially fond for me I think just because of the age I was at the time. He's a real Celtic hero of mine so having him say anything I was involved in was 'extraordinary' or 'magnificent' would be a dream come true!
If you could be a Celtic player for one season, which season past or present would you choose and which player would you replace with yourself?
My initial response was to say Brattbakk in the 97/98 season as I quite like the idea of being the underachiever who gets to have the final say/moment of glory. However, it's well documented on The Cynic how much of a fan of Tam Rogic I am and I don't think I can turn down the opportunity to walk a mile in his shoes. I'd probably pick the Invincible Treble season, not only because the football was so easy on the eye and it was such a historic season, but having the last minute Hollywood ending of scoring in the cup final must've been an unrivalled feeling!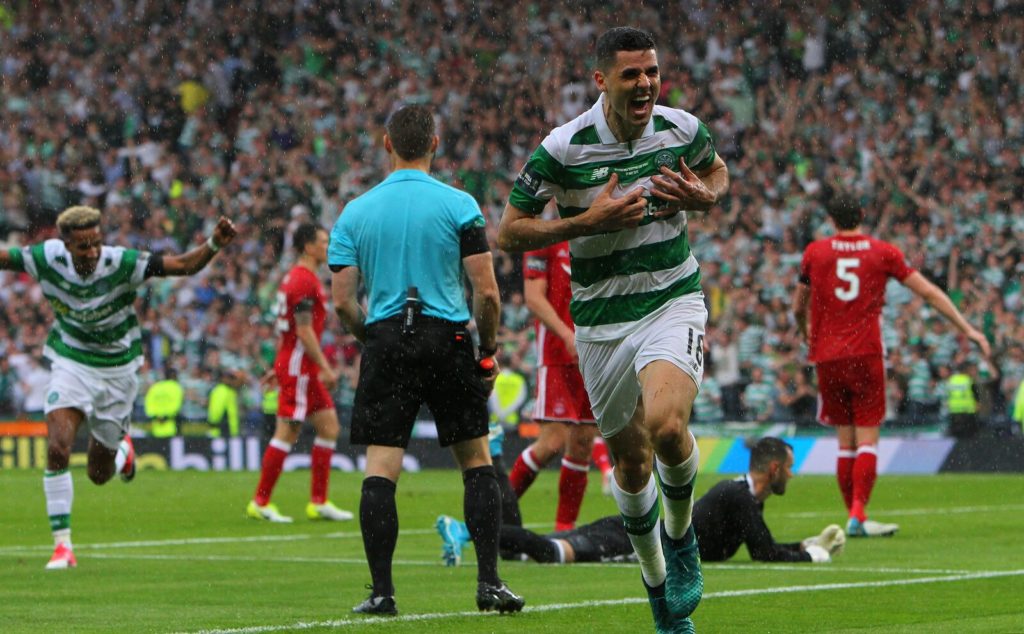 We all have a person who gave us Celtic, who was that person for you and if you were able to give them one gift as a thank you what would it be?
I suppose for me, like most people it would be from my family. Specifically my dad and my brother. When someone gives you your football team at a young age there's not much you can do to repay them. Through thick and thin it's a community that you'll always have and always be a part of it. The best gift you can give them back is to just commit to that and always do your bit to support the team. Failing that I'm sure they would also happily accept Ten-in-a-Row!!
There is I'm sure you'll agree a wonderful honesty in both the Dark Cloud/Grey Area and in Stuart's answers. For my own part my personal favourite from the album would be Lowercase Letters, though Therapy runs it close.
If you have enjoyed it please reach out, share it and let the world know about The Quilter. It's a message worth passing on. As far as social media goes The Quilter are on Twitter, Instagram and Facebook by following the links here: TWITTER —-INSTAGRAM—FACEBOOK
We would also like to hear from other singers, songwriters and musicians with a Celtic connection, it can any musical genre. We will do our best to increase the exposure for you as your live performances are constrained by Lockdown again. If you wish to get in touch please Email at editor@thecelticstar.co.uk and we'll get back to you.
Thanks a million, to Stuart Dougan of The Quilter for taking the time out to talk to us and we wish every bit of success that Dark Cloud/Grey Area brings your way. Perhaps one day The Barrowlands will beckon after all.
Niall J
COMING UP NEXT…Our pre-match sing-a-long session with Danny Kelly, who we featured on The Celtic Star yesterday, see link below…