SOMETIMES you see a photograph and it stops you in your tracks. That's what happened to me this morning when I noticed this photograph on Twitter. It shows the 5 Celtic nominees for the Scottish PFA Player of the Year and Young Player of the Year awards back in 2017 as Celtic under Brendan Rodgers were heading towards an historic Invincible Treble. And that led me to re-discover another photograph of Scotty Sinclair holding aloft a t-shirt that was given to him and Kieran Tierney after the win against St Johnstone in May 2017.
Sinclair had received yet more racist abuse from our neighbours across the city – you know, the ones currently calling racism after the recent Glasgow Derby despite having nothing to back it up. The video at the end of this article is a must watch if you want to understand what the Celtic Support things about racism.
Anyway last night Scotty Sinclair – who picked up that Scottish PFA Player of the Year award back in May 2017 – was the last of the five Nominees to leave Celtic. All five had been given superb songs from the Celtic Support, indeed two of the five actually had a couple of decent Celtic songs!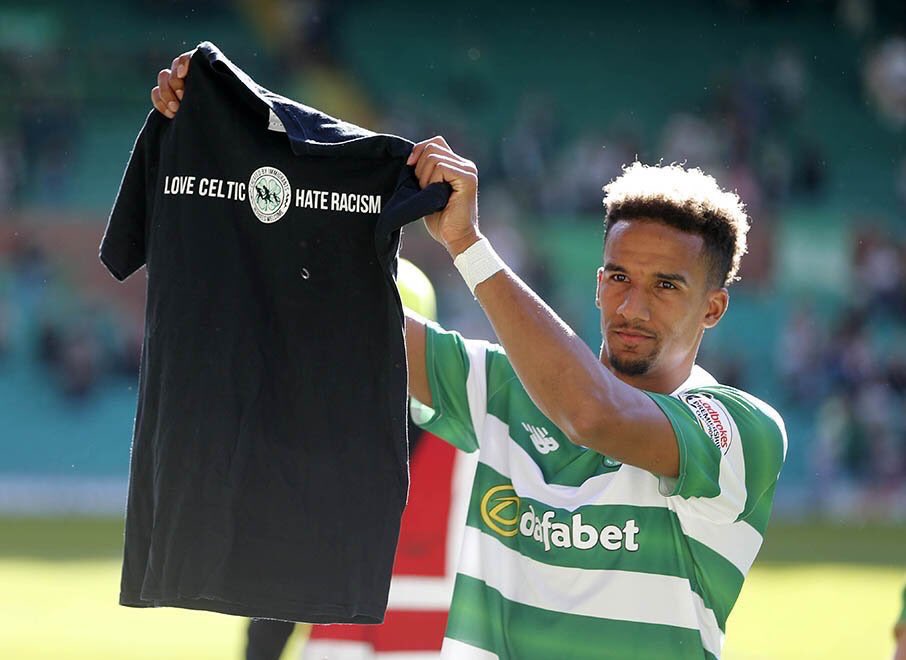 From left to right, Stuart Armstrong left in June 2018, signing for Southampton to fulfil his ambition long-held ambition to play in the English Premier League. The move will of course have increased his earnings considerably but in the park Armstrong has found it difficult and the Saints are currently fighting for their Premiership survival at the bottom of the table with the former Celtic usually spotted coming off the bench.
His song was pretty special though…
Then there's Paddy Roberts who was sensational in that Invincible season while on loan from Manchester City. He returned to City at the end of his loan deal and Celtic came close to a £10million permanent transfer that summer before, at the last minute Pep Guardiola, put the brakes on that deal. It seemed a strange decision at the time but Roberts was allowed back to Glasgow for another season that was injury hit to say the least.
He returned to City at the end of that season before having loan spells in Spain and then this season at Norwich (where he couldn't get a start) before moving last week to Middlesbrough for yet another loan move.
Paddy's career highlights, like Armstrong's will be the medals won at Celtic. He's likely to be cut loose by City at the end of this season and he'll be well aware that he has zero chance of Pep picking him. A parting of the ways will suit both parties and there will be a bargain to be had for any club that reckons that they can get Roberts fit and up to speed.
His name was chanted by 60,000 fans at Celtic Park and he was also mentioned in the Celtic version of Bowie's Star Man.
The man in the middle is Moussa Dembele who had signed for Celtic in June 2016 for a few hundred grand development fee and left in August 2018 after having a very public dispute with Brendan Rodgers who by that time was busy organising his own exit. Dembele was a goalscoring superstar at Celtic, his hat-trick in the first ever Scottish Premiership meeting with the Rangers – the first Celtic player to score three goals in a game against a club playing out of Ibrox since Harry Hood.
Celtic picked up £20million from Lyon who were keen enough to get their man that they paid the fee upfront. Oh and there's a tasty sell-on clause that looks set to pay-out for Celtic this month with front-runners Chelsea and also Manchester United both interested in signing the former Celtic striker.
Some people suggested that Moussa only scored the goals he did because he was playing in a weaker league in Scotland. Well he shut those doubters up while playing for Lyon and he'll go on to be a top striker in the Premier League if he gets his move.
Moussa had a few good songs while at Celtic, here are the troops signing one of them in the Free Broomloan…
Then there's Kieran Tierney, the Celtic Academy player and life-long Celtic supporter who forced his way into the team and was a first pick when fit. He seemed to be as tough as nails but looking back on his time playing in the Scottish Premiership, he was never given the protection he should have from the referees. Indeed shortly after this photograph was taken KT was injured in the Scottish Cup Final against Aberdeen after suffering yet more aggressive attention. He returned from hospital in time to pick up his winners medal.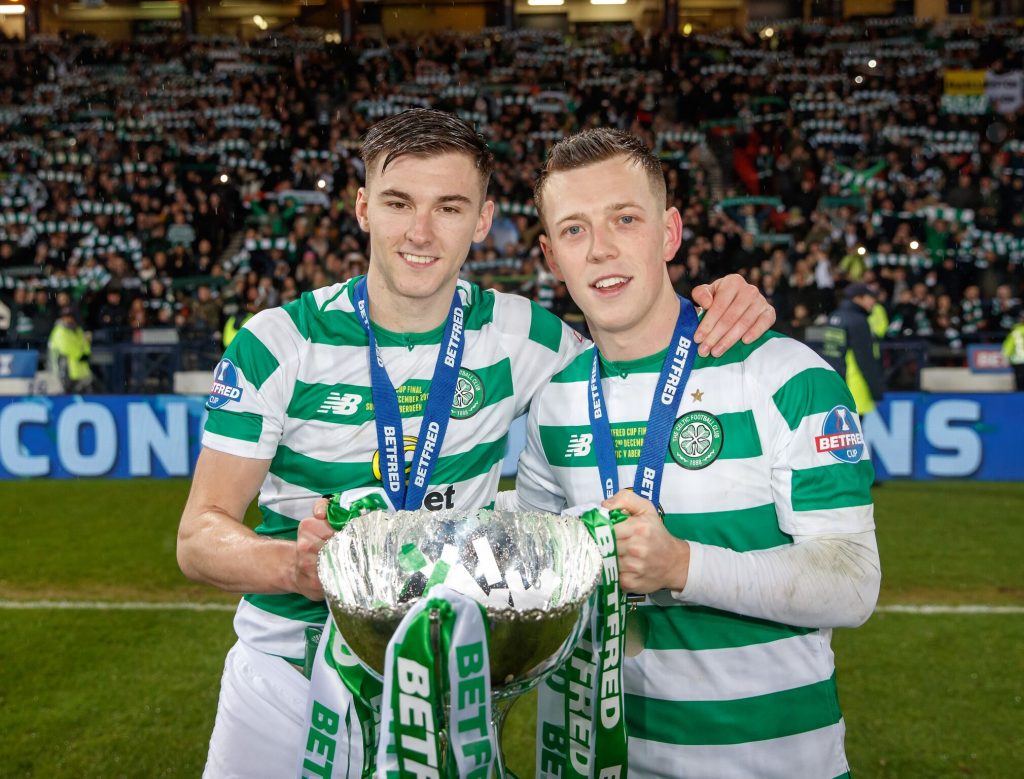 Celtic had put a price on his head in the contract extension and that allowed his agents to find him a club in England who were prepared to meet the asking price of £25million. After some huffing and puffing Arsenal came up with the money last August despite Tierney still recovering from a summer double hernia operation. He eventually got fit enough to play before suffering a reoccurrence of an old shoulder injury and he's now out until March.
Kieran, who was awarded that Young Player of the Year Award by PFA Scotland in 2017, had at least two great songs ands certainly loved by the Celtic Support who regarded him as one of our own, a supporter on the park.
And last but by no means least is Scotty Sinclair who left Celtic last night to sign a two-and-a-half year contract at Celtic. He arrived and hit the ground running immediately, coming off the bench on the opening day of that Invincible season to score the winner at Tynecastle and he never looked back. He won that PFA Scotland Player of the Year Award and was the clubs top scorer in the following season. He completed in ten competitions while in Scotland and won them all and he also had the best song of them all.
What a video that is, what a support! And for those of you who are wondering the t-shirt was carried an anti-racism message after Scotty yet again suffered racist abuse at the hands of our city neighbours.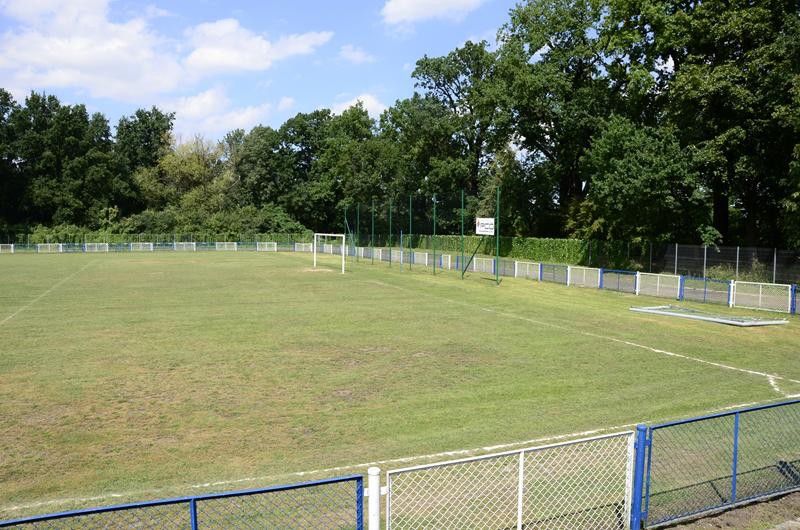 So it feels like an end of an era with all five gone. All left Celtic as Invincible and Double Treble Winners and for KT and Scotty Treble Treble Winners.
ALSO ON THE CELTIC STAR…
'I had an amazing relationship with the Celtic fans,' Scotty Sinclair emotional message to Hoops fans…see HERE.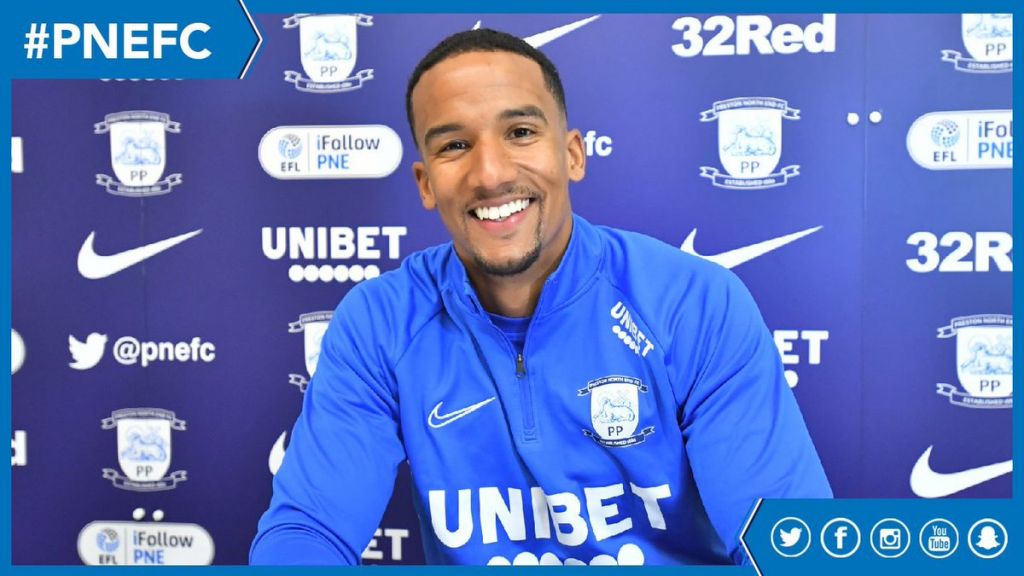 'A beautiful, magical night,' for Preston NE as they sign Scotty Sinclair from Celtic…see HERE.