It would be nice to say that this was a total success, but unfortunately it wasn't – but no blame can be attached to the three young half backs. Games against Airdrie, even "friendly" ones, had often been rough with the added ingredient of religious bigotry thrown in, in the shape of a remark, often a ludicrous one. Thus a god-fearing Presbyterian who just happened to play for Celtic might be called  a "Popehead" or worse.
But then again religious bigotry, by definition almost, owes little to logic or even common sense! We have stated that Rangers had not as yet risen (or sunk!) to the bigotry that was to foul their existence, and ultimately perhaps over a century later lead to their downfall, but anti-Catholic prejudice was by no means absent at places like Airdrie, St Mirren or Motherwell.
This game turned out to be as rough as they come. Right back Hugh Watson, a good player, had his leg broken as early as the 5th minute and thus the half back line was broken up for Sunny was compelled to defend in the right back position. (This was, of course, a good sixty years before the legalisation of substitutes.)
The game was thrilling for the spectators but brutal for the players, and Celtic ended up on the wrong end of a 4-3 defeat following a late Airdrie onslaught. Sunny Jim played well but was unfortunate to concede a penalty kick when he brought down Collins inside "the penalty line" and a penalty was awarded by the referee Mr Jackson of Rangers (sic!). It would be a defeat that would cost Celtic dear in their quest for the League Championship. It is difficult however to resist the conclusion that had Celtic played the whole game with eleven men, they might well have won.
Young was restored to centre half for the next few games because of various injuries to other players, notably Loney and held his place until the end of January for good victories against Motherwell and Morton, then an unlucky defeat against Dundee at Dens Park, which even The Dundee Courier concedes that "It was a great game and with a spice of luck, the Celts would have drawn … so class was the football shown that each team deserved a point.
There was not a dull moment all the time…" Loney returned in February, and this meant a back seat for Young, until a replayed Scottish Cup quarter final at Dens Park (again) when Young, Loney and Hay took the field with captain Willie Orr who had been at right back now in the left back position in which he was to excel.
At right back Donnie "Slasher" McLeod took the place of the now ageing Barney Battles. The main thing, however, was that the penny had dropped with Maley that it might be an idea to see how Young and Loney got on together, even though it meant playing the ever willing Young out of what he then thought to be his better position.
This game on 27 February 1904, so pivotal to Celtic history, very nearly did not take place for a severe snowfall in Dundee and Angus meant that the ground was covered in snow. It was however wet, melting snow and a telegram was despatched to Glasgow assuring Celtic that the game would be on.
Instead of simply allowing the snow to melt however Dundee made the mistake of trying to shovel it off as well, and the result was that the pitch, although just playable, was a sea of mud in the middle of the field. A huge crowd of 20,000 (including many who had travelled through from Glasgow as well as Celtic's sizeable local support) saw a goalless draw in which Dundee might have sneaked it, had it not been for the efforts of goalkeeper Davie Adams.
The Dundee Courier however makes a snide remark about how "Dundee were drawing in the shekels" as a result of drawn cup-ties,but also praises Adams for his "application".
Adams of course came from the small Angus village of Oathlaw and was well known in the locality, but Celtic in 1904 (and for many decades afterwards) had a huge support in Dundee, drawn basically from the Dundee Irish who worked in the jute mills from the 1860s and 1870s onwards.
Sociologically, it is interesting to note that the Dundee Irish remained loyal to Celtic, even though a Dundee Irish team called Dundee Hibs (later Dundee United) was formed in 1909. This would be the case until the rise and promotion to the old First Division of Dundee United in the late 1950s and early 1960s, and it is no accident that Dundee United's rise and growth of support occurred at a time when Celtic were going through a prolonged poor spell.
Maley made two correct decisions after the game. One was that he called correctly in the toss of the coin so that the second replay was at Parkhead the following Saturday (5 March) and the second decision was that the half back line should stay as Young, Loney and Hay.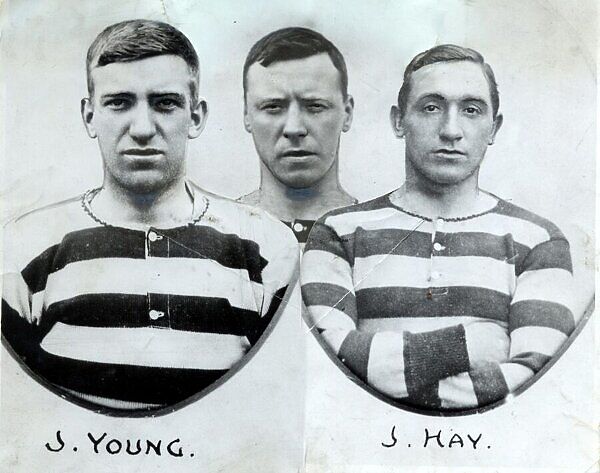 In addition he had a word with Sunny, encouraging him to go forward, to take a grip of the game and not to be afraid to "get stuck in" if necessary. This was the Scottish Cup, said Maley, already won three times by Celtic, and as Third Lanark were going to win the League if they won their backlog of fixtures, there was only really the Scottish Cup left for Celtic.
As if sensing something in the air a big crowd of 35,000 came to Celtic Park to see the decisive game against Dundee. This game, in some ways marking the birth of Maley's great side, was played in splendid spring conditions, although there was a breeze blowing from the west.
Celtic, represented by Adams; McLeod and Orr; Young, Loney and Hay; Muir, McMenemy, Bennett, Quinn and Hamilton, played with the wind in the first half, took an immediate command of the game and by half time Muir, Bennett and Quinn (from an impossibly tight angle) had scored to make it 3-0. Even against the wind, Celtic kept control over a dispirited Dundee side and goals from Muir and McMenemy saw Celtic home by a 5-0 win, and their supporters waiting for their horse-drawn trams to take them back to the city centre were in high spirits, as were those who walked back along London Road and the Gallowgate.
The discerning supporters however were able to point to the real success of the side. The forwards had all done well, but it was the half back line with their control, ball-winning, distribution and spraying of passes which was the key to the success.
"Man In The Know" is in no doubt about why the team played well. It lay in "the improvement of their defenders who gave a display far in advance of that shown in the other games". Sunny Jim had been a revelation in his new role as a wing half, and hopes were now expressed that the Scottish Cup could be landed for the first time since that windy day at Ibrox four years ago in 1900 when they beat Queen's Park.
The Dundee Courier while expressing sympathy with the Dundee supporters, about 1,000 strong, who returned to Dundee West Station at about 11.00 pm with "drooping plumes and sore hearts", recognises that a change is in the air at Celtic Park. "Like the Heathen Chinese, the ways of the Celts are peculiar" it says with a touch of racial superiority, but pays tribute to Celtic's "sterling halves" who sent over a whole series of "high swinging passes" for the forward to capitalise on.
To be continued…
David Potter