JAMES KELLY was probably the first ever Celtic Star….
Celtic's formation was unusually different from most other clubs because firstly they constructed a playing arena sculpted out of the ground with the help of hundreds of volunteers and only then set about recruiting a team to play on the new surface. Even the first ever game at Celtic Park didn't feature Celtic. That honour went to Hibernian and Cowlairs on 8 May 1888.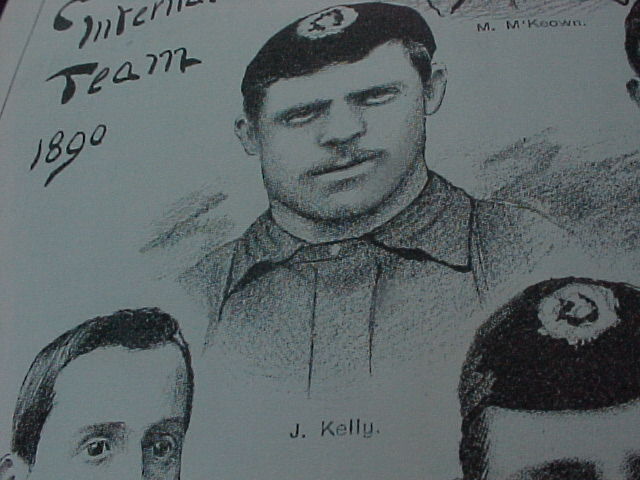 It was a different football set up in 1888 than we are accustomed to nowadays. There was no league structure or professional players in Scotland at that time. Players often regularly "assisted" for other clubs but were only tied to any particular club if they played for that club in a Scottish Cup tie.
James Kelly and his friend Neil McCallum were both Renton players. Renton were a very decent team being crowned champions of the world, (well in Renton anyway!), after beating English cup holders West Bromwich Albion in a 4-1 victory at Hampden Park in May 1888. Beating the English cup holders by that margin who were professional was no mean feat. For good measure they also defeated the losers Preston North End as well.
James Kelly was the pre-eminent player of his era, already 2 times Scottish Cup winner, well respected and held influence with other footballers. The Hibernian secretary, John McFadden had already enlisted James Kelly to assist in a match with James also promising to bring along his club mate Neil McCallum. McFadden was scheming in his approach, as he knew the talented and skilful Kelly would draw others to the club if he could persuade Kelly to assist regularly. On one occasion a "chosen" Hibernian team thrashed a Hearts team in a semi final and went on to win the final against weaker opposition with their own brand players.
Kelly had already been approached by McFadden to play on a full time basis for Hibernian but no agreement had been reached.
The Celtic committee had hoped that James Kelly would assist for them in the same way that he had assisted for Hibernian in Edinburgh, knowing as McFadden did that securing Kelly would be a factor in attracting other established players of that era to take the field for Celtic. The persuasive powers of a Celtic founding father, John Glass succeeded with James Kelly to become a Celt, along with Neil McCallum for one day on the 28 May 1888, with an obvious desire from Celtic for more but nothing agreed or promised.
As Celtic had set a date the committee went about trying to put together a team for that momentous first game against Rangers (1872). To illustrate how flexible playing arrangements were back then the Celtic team that day is shown with their own club in brackets:
Michael Dolan (Drumpellier) Eddie Pearson (Carfin Shamrock) J. McLaughlin (Govan Whitefield) Willie Maley (Cathcart) James Kelly (Renton) Phil Murray (Cambuslang Hibs) Neil McCallum (Renton) Tom Maley (Cathcart) John Madden (Dumbarton) Michael Dunbar (Edinburgh Hibs) Charlie Gorevin (Govan Whitefield).
John Glass had door stepped James Kelly's house in Renton with McFadden of Hibernian using identical tactics, both with the same intention of securing Kelly permanently. Kelly was loyal to Renton and Secretary Peter Campbell but indecision was afoot as the filthy lucre was attracting Renton's top players south to the professional game. Kelly's star teammates at Renton, Hannah and Kelso, were unsettled by money and were as good as fixed up by Everton and Newcastle respectively.
Kelly was a different case. He had a building business to develop at home and as yet his footballing future was uncertain as the Renton side consciously uncoupled and hit the buffers. The new Celtic and others were an option.
Celtic's first ever season in August loomed with a mixture of arranged friendlies and Glasgow Exhibition Cup ties including 3 games on 3 consecutive days. A Scottish cup-tie against Shettleston was drawn for 1 September 1888. This day was red letter day for Celtic. If any player took the field for Celtic in this cup-tie then they would then be tied to Celtic for the remainder of the entire season.
It would have been a sleepless night for John Glass, John O' Hara and the Celtic committee as mystery enveloped what team would take the field on that fateful Saturday at the beginning of September. The men who had worked so hard to get a venue fit for their vision of the new Celtic, arriving comparatively late on the footballing scene, faced an anxious wait to see if they could attract the players to match the arena.
It transpired that James Kelly decided to play for Celtic on that day and this decision undoubtedly inspired others to make the same choice. Good enough for him, good enough for the rest too.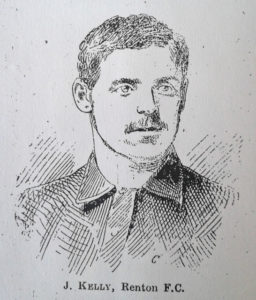 A posse of western born players who had retreated from the far east (Edinburgh) having previously assisted for Hibernian also took the field for Celtic. "Darling" Willie Groves, Mick McKeown, "The Auld Giniral" James McLaren," Michael Dunbar, Coleman, and Paddy Gallagher all officially displayed their allegiance and nailed their colours to the Celtic mast. McFadden was apoplectic with rage and had he lived would still be raging the same way Hibernian are to this day!
The side that took part in Celtic's inaugural Scottish Cup tie against Shettleston featured many changes from the first match 3 months previously. The representatives for Celtic that day were the following:
Dunning, McKeown, Coleman, Gallagher, Kelly, McLaren, McCallum, J Coleman, Groves, M Dunbar and O'Connor.
Celtic won the match 5-1. In the grand scheme of things the result was not so important. The importance is attached to the personnel who took the field for Celtic and in doing so, for the rest of the season. Without James Kelly and this assortment of experienced players Celtic may have gone the same way as the abundance of Scottish clubs with an Irish connection that floundered in their infancy around this time.
Instead the foundations were laid for the arrival of the greats like Johnny Madden (the father of Czechoslovakian football) 1 year later, Dangerous Dan Doyle, Peter Dowds, Sandy McMahon and not forgetting the Maley brothers who were wanted at Cathcart, but now had quality team mates.
A proportion of Celtic's founding fathers, were involved in the wine and spirit licensed trade. With the inducements, financial and otherwise that were abound in the then sham amateur Scottish game it is not a seismic shock to know that soon after his signing, James Kelly the builder became James Kelly the owner of licensed premises too!
To thrust the rapier to the hilt, in the first 2 games against Hibernian, which Celtic won, players who had previously worn Hibernian's colours scored all the Celtic goals. Ouch!!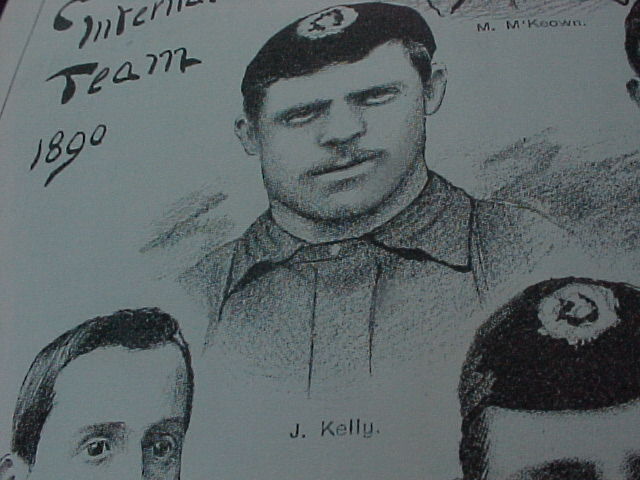 James Kelly didn't only play for Celtic that season. He played for Celtic for the rest of his football career and became chairman of the club presiding on Celtics historical six in a row in 1910.
He also voyaged with Celtic as club ambassador with Tom Maley on Celtic's 1931 tour of North America shortly before his death.
Iain Reynolds