FOLLOWING the anniversary of Celtic's UEFA Cup final appearance in Seville, The Celtic Star asked for your memories of the pilgrimage of 80,000 supporters to the South of Spain back in 2003.
Here is Jon's experience from Seville, dealing with the Spanish secret police and a 12 hour bus journey.
I made my way to Seville with 2 mates (John & Bo), we went under the guise of a weeks holiday in lloret de Mar.
After a few days in lloret de Mar, we embarked on a horrendous 12 hour bus journey to Seville, but upon arriving in Seville, it was worth the journey, a sea of green and white, songs, dance, beer, tapas, and lots of good people.
I had managed to source a ticket through my brother, he had reached a deal with a guy in his work that for every ticket he got for us, we'd give him a hundred quid, the guy sat up for 24 hours and managed to get six tickets from the UEFA website, so my two brothers and I got three, and the other three went to my brothers mates.
The only minor problem was the three pairs of tickets were dotted around different parts of the stadium.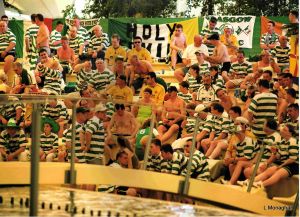 We drank, sang and scoured Seville for somewhere to stay and finally got a small room in a locals house, along with about 10 others all crammed into this one small room, a bit like jigsaw with people!
After savouring the city, well when I say the city, I mean the city's bars …..all day, we arrived at the stadium, and split into three groups of two to take up our seats. I went with my younger brother, he had a pair of huge comical sunglasses on, i had a bandana and was being asked all day if I was Bono, we both had Celtic scarfs, tops etc and we had drank a bucketload too.
We took our seats and were singing and shouting waiting for the game to start, I noticed that there were two guys standing watching us from about 20 feet away, both wearing long overcoat type jackets and dark sunglasses, I thought it was odd as it was about 80 degrees, but then the team came out and my concentration swiftly moved on.
Five minutes into the game, the two odd looking guys walked over to us. One of them leaned over and flashed his secret police badge and asked us to follow them.
Slightly puzzled, we did, they took us underneath the stadium and started interrogating us, asking lots of questions, name, address, how we travelled, who else was with us etc etc.
Bearing in mind we were very drunk, when they asked for my address, I gave them my old address. However, when prompted by my brother I corrected myself (probably not a good thing when being questioned by secret police) but after 15 minutes or so they let us go back to our seats, but followed us and stood 20 feet away watching us for the entire game.
We had no idea what it was all about.
At half time, my older brother called to say "your never gona believe what just happened to us", but we did. It was the exact same thing as had happened to us. The final two guys with tickets had the exact same experience.
None of us could understand what was going on.
Needless to say after the game, we were drinking at a bar and trying to understand what had happened, my brother piped up, "I wonder if it was because Abdul bought the tickets for us?"
Upon further questioning, it became apparent that Abdul who we subcontracted to buy our tickets, which just so happened to be randomly spread throughout the stadium, had not long moved to the UK………. FROM IRAQ, principally to escape the UK invasion of Iraq which had only started a few months prior.
So I guess they had us down as suicide bombers, with tickets all around the stadium for maximum effect.
Hats off to the six secret police for not phoning in sick!!!
And as I shouted at Mourinho and his team of portuguese diving, play acting, cheating rats after the game….. I'll never again in my life buy 'port' …… or 'ugals'
Thanks to Jon for his Seville memories. Whilst the result is still a sickener, the sight of 80,000 Celtic supporters invading Spain for the final is one that will last a lifetime for supporters.