Whilst most of Celtic's victorious Centenary Double squad could head off for a well-earned holiday in June 1988, for three of those heroes there would be further football to be played.
Goalkeeper Pat Bonner and defenders, Chris Morris and Mick McCarthy were all part of the Republic of Ireland squad selected by manager Jack Charlton to play in the '88 European Championship finals, to be held that summer in what was still at that time, West Germany.
Of the three players, only Bonner had actually been born in Ireland, on 24 May 1960 in Cloughglass, just outside Burtonport on Donegal's north-west coast. He had been Jock Stein's last signing for Celtic, spotted by assistant manager Sean Fallon – the Iron Man from neighbouring Sligo – whilst playing for Keadue Rovers, joining up with the Hoops just ten days short of his eighteenth birthday.
Jock would leave Celtic within weeks to take up the manager's post at Leeds United, and so it was his successor, Billy McNeill, who gave Bonner his first-team debut, appropriately enough on St Patrick's Day 1979, after regular No.1, Peter Latchford, had been badly at fault for two goals in the midweek Scottish Cup replay defeat by Aberdeen, the teenager then doing well in a 2-1 win over Motherwell.
The big Englishman would be back between the posts for the following game, as Celts continued the charge which would lead to Ten Men Won the League two months later. And he was an ever-present the following season, 1979/80, as the Hoops lost the title to Ferguson's Dons on the final day at Love St, then won the Scottish Cup, Our Cup, with an extra-time George McCluskey goal at Hampden.
Bonner's big break came at the start of the next campaign, a hand injury for Latchford meaning the Irishman would take his place for Danny McGrain's glamour testimonial against Manchester United in early August 1980. The Donegal youngster would literally grab his chance with both hands, quickly establishing himself as Celtic's first-choice keeper, a position he would retain for the next decade.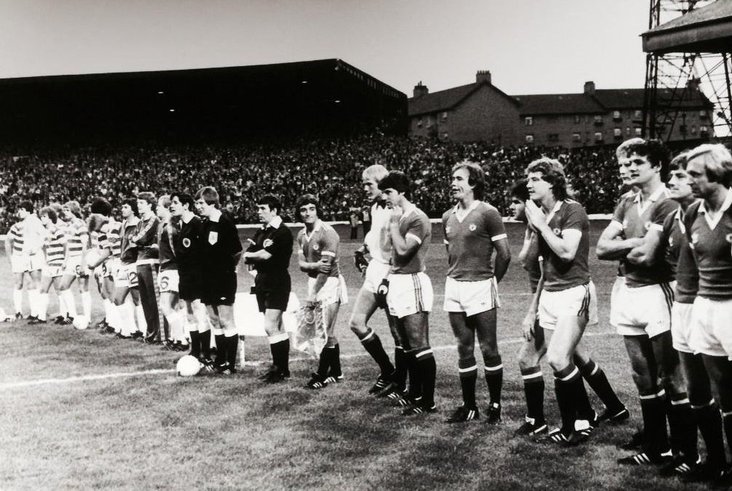 He made his international debut for Ireland in Poland on his 21st birthday, 24 May 1981, shortly after winning his first championship medal with Celtic at Tannadice, and by 1985 he was the automatic first pick for the Republic, appearing against England at Wembley in March of that year, behind both his future club team-mate and manager at Parkhead, Mick McCarthy and Liam Brady.
McCarthy would also made his Ireland debut against Poland, three years after Bonner, in May 1984. The big Yorkshireman had a voice which would not have been out of place in the Goodies' famous 'Ecky Thump!' TV episode from the seventies but he qualified to play for Ireland through his father, Charlie. Big Mick had commenced his career at hometown club, Barnsley, before joining Billy McNeill at Manchester City in 1983. He signed for Celtic in May 1987, then, in a remarkable turn of events, the Celtic manager, David Hay, was sacked the following week to make way for…Billy McNeill!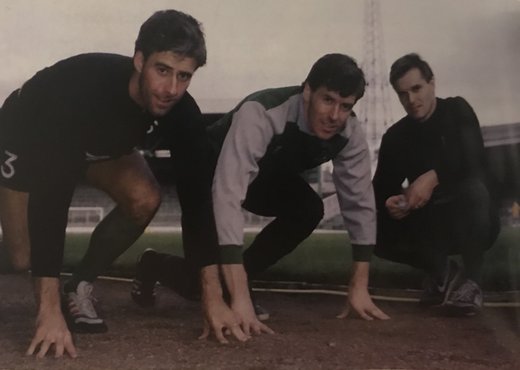 Thus when Ireland were drawn in the same Euro88 qualifying group as Scotland, together with 1986 World Cup semi-finalists, Belgium, dark horses Bulgaria and minnows Luxembourg, both Bonner and McCarthy would be regular starters. Another man from the north of England, World Cup-winner, Jack Charlton, had taken over from Eoin Hand early in 1986 as the new manager of the Republic.
On 15 October 1986, Charlton led his Irish side out against Andy Roxburgh's Scotland at Lansdowne Road in front of over 49,000 fans. The Scots were captained by Celtic's Roy Aitken, with Parkhead teammates Paul McStay, Murdo MacLeod and Maurice Johnston, plus future Hoops boss, Gordon Strachan, also in the visiting team. It was a first away game for Roxburgh, following his shock internal appointment after the Mexico World Cup, when the smart money had been on Billy McNeill, then at Aston Villa, or Dundee United's Jim McLean, to replace interim boss, Alex Ferguson, post-Jock Stein.
Bonner and McCarthy both proudly lined up in the emerald of Ireland, as did McNeill's successor at Celtic, Liam Brady, in a side captained by the man he pipped for that post, Frank Stapleton. This was the second qualifying fixture, Scotland having drawn, disappointingly, at home to Bulgaria, whilst a last-minute Brady penalty secured a fine 2-2 draw in Brussels against the group favourites. The game in Dublin ended in yet another draw, this time goalless, a result which probably helped neither team.
The following February, the Irish secured perhaps the key result in the group, an early strike from Liverpool's Mark Lawrenson enough to beat Scotland at Hampden. Paul McStay and Roy Aitken appeared as second half substitutes in this game, Brian McClair and Maurice Johnston starting in opposition to Parkhead club-mate, Bonner. Within a few months McClair and Johnston would be in Manchester and Nantes respectively, whilst McCarthy would be settling into a new life in Glasgow.
The group would continue to be nip and tuck between the top four seeds until October 1987, 2-0 wins for Ireland and Scotland over Bulgaria and Belgium respectively – Paul McStay scoring in both games against the Belgians – meaning that the Bulgarians only required a point from their final game, at home to Scotland the following month, to qualify ahead of the Irish, who had already completed their schedule. With the clock ticking down in Sofia, Bulgaria were on course to do just that, before Hearts' Gary Mackay scored a sensational 87th minute winner, to send the Republic to Germany.
And so we're all off to Deutschland in the green, in the green.
As a footnote, Scotland had one remaining fixture to complete, away to bottom dogs, Luxembourg, a few weeks later. A four-goal win would have secured second place for Roxburgh's men, buoyant from two successive victories, whilst a 31st goal would have given Kenny Dalglish the international scoring honours outright. However, the Scots somehow contrived to draw a blank, the hosts winning their only point in the group, a sad way for the King to remember the last of his record 102 caps.
The football fates conspired to decide that Ireland's first game in the finals of a major international competition would be against England, with all the historical and political implications that involved. That match would be played on this day in 1988, in the Neckerstadion, Stuttgart, originally known by its less endearing name of the Adolf Hitler Kampfbahn, between 1933 and 1945. Martin O'Neill's Celtic would later grace the arena in another incarnation, the Gottlieb-Daimler Stadion, in February 2003, on the Road to Seville, a last European away trip for my beloved dad.
Pat and Mick would be joined by another Irishman in the line-up for that one, well actually he was a Cornishman! Christopher Barry Morris was born in Newquay, as Frankie Valli sang, 'late December back in '63'. Like Frankie, Chris started off with four good seasons, at Sheffield Wednesday, initially under a certain Jack Charlton, in the English Second Division in 1983.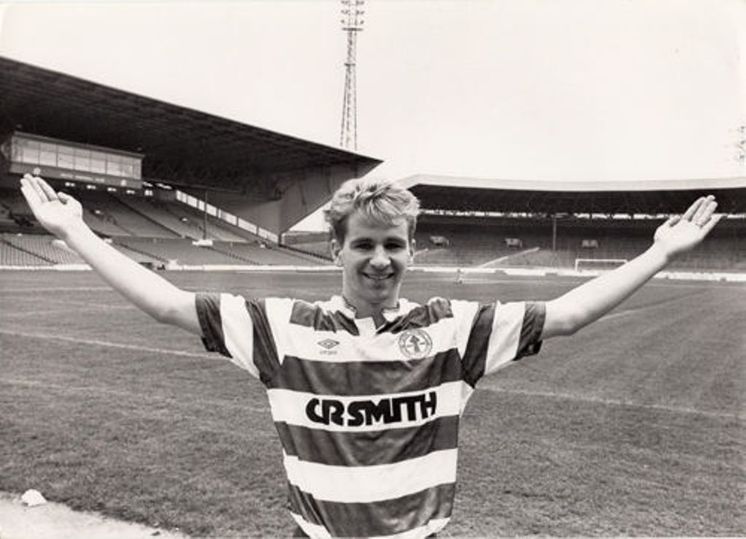 Son of an Irish mother, Chris was one of Billy McNeill's first signings when he returned to Paradise to deliver the Centenary Double, joining the Hoops on 10 August 1987 for a fee of around £125,000. He would be the only ever-present player over that magical season.
Within three months, he was making his international debut for Ireland, against Israel at Dalymount Park on 10 November 1987, one of several players given an opportunity ahead of the next qualifying campaign. A young David Kelly netted a hat-trick on his first appearance for his country that evening, a 5-0 win. Mick McCarthy played alongside Chris in defence, whilst Pat Bonner was given a night off.
Jack Charlton had presumably written off Scotland's chances of winning the following night in Sofia. However, thanks to Mackay's late goal, it would be the Irish rather than the Bulgarians who would be heading for the finals in Germany, the following summer.
Chris retained his place as the Irish won all three of their spring '88 home friendlies, against Poland, Yugoslavia and Romania, before a goalless draw in Oslo, setting themselves up nicely for Stuttgart.
He would be in the team which started against England, together with his two Celtic team-mates. Irish legend, Liam Brady, would be missing though, the world-class midfielder suspended after his red card in the victory over Bulgaria in Dublin, a huge miss.
The English were also without a player well-known to Celtic fans. Terry Butcher had broken his leg whilst playing for Rangers at Pittodrie in November. That would cap an unhappy autumn for the big defender, following charges for his involvement in the events at Ibrox against Celtic in September. Another of those incriminated, Chris Woods, was in the English goals, whilst future Ibrox colleagues Gary Stevens, Trevor Steven and Mark Hateley, would all be involved, the Monaco striker from the bench. There was also a starting place for future Celtic boss, John Barnes, then with Liverpool.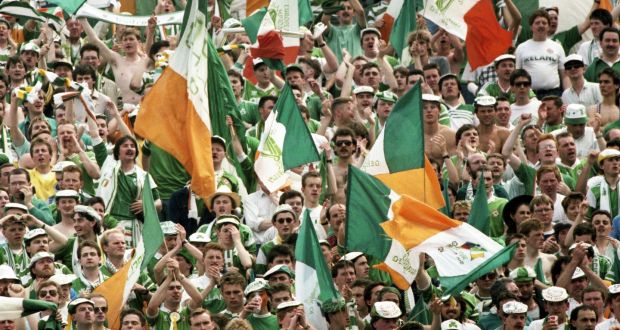 There were tens of thousands of Irish supporters within the 51,000 crowd in the Neckerstadion, and they were on their feet within six minutes as Ray Houghton, now Barnes' team-mate at Anfield, sent a looping header over Peter Shilton to strike first for the underdogs. Houghton was another of Jack Charlton's squad not born in Ireland, giving rise to jibes around qualification being based on one's ability to drink Guinness. However, like McCarthy, he was eligible through his father, a native of Buncrana, in Donegal. Born in Castlemilk, in January 1962, a neighbour of Arthur Graham and the Gray brothers, he had actually played under Andy Roxburgh for Scotland's under-18 team, a senior cap not then forthcoming despite his growing reputation in the south, particularly at Oxford United, where he won the League Cup beside his future Liverpool and international colleague, John Aldridge. That would be Scotland's sad loss, albeit Roxburgh did have a wealth of midfield talent at that time.
Today, Ray Houghton would be a match-winner, sparking scenes of jubilation in Ireland, Germany and in the shamrock diaspora across the globe. A great day for the Irish, indeed, as Glen once sang.
Three days later, Charlton's Republican Army were on the march again, this time north to Hanover, to take on Valery Lobanovskiy's Soviet Union. His team consisted largely of players from Dynamo Kiev, whom he also managed at club level. They had performed well as the Soviet Union in the Mexico World Cup two years earlier, whilst as Dynamo, we had witnessed their quality first-hand in the European Cup ties the following autumn. That trip to a pre-Perestroika, post-Chernobyl Kiev, remains one of the most surreal experiences of my Celtic-supporting life. Travelling on the official trip with my dad and brother, it was a real eye-opener to see how the locals lived. They had nothing. Literally. The hotel ran out of beer within an hour. Change was given in chewing gum. It was bizarre.
At Euro88, the Soviets had beaten the Netherlands in the opening game, thanks to a goal from Rats, a player often linked with Celtic. Their side against the Irish would include two players who would later play at Ibrox, Oleg Kuznetsov and Alexei Mikhailichenko. Ireland's three current Celts were joined by a future player in the last ten minutes, as Tony Cascarino replaced Frank Stapleton. By that time, the game was heading for a 1-1 draw, a result which left the sides tied at the top of the group.
The final game in the group took place on 18 June 1988, in the Parkstadion, Gelsenkirchen, home of Schalke 04. The opponents were the Dutch, built around the AC Milan duo of Gullit and van Basten – soon to be trio as Rijkaard joined from Real Zaragoza – and the spine of the PSV Eindhoven side who had won the European Cup under Guus Hiddink a few weeks earlier, in Stuttgart's Neckerstadion.
The Irish required only a point to reach the semi-final. Chris Morris had been replaced at half-time by Kevin Sheedy and they were within eight minutes of the draw when disaster stroke, Koeman's mishit shot nodded back across goal by Dutch substitute, Wim Kieft, scorer of one of the shootout penalties as PSV had beaten Benfica to lift their first and only European Cup. The former Ajax striker, a Golden Boot winner who had played against Celtic in Amsterdam six years earlier, his colleague, van Basten remaining on the bench, then saw his predatory instincts bear fruit again. Bonner could only look on in anguish as Kieft's spinning header bounced past his despairing dive to curl just inside the far post to knock the Irish out of the tournament.
Whilst it was a cruel way to go out, as Lennon once said, 'this was just the beginning'. There would be many other glory days for the Republic of Ireland under Charlton, with Celtic players to the fore.
For now there would be some consolation in watching both of their group opponents reach the final, whilst England headed home without a point or a prayer to a predictable welcoming committee. The Dutch would beat the Soviets thanks to a first-half header from Ruud Gullit followed by one of the most iconic goals ever seen, Marco van Basten's spectacular volley up and over Dasaev in the Soviet goal. Despite several near misses, before and since, it remains their only major tournament victory.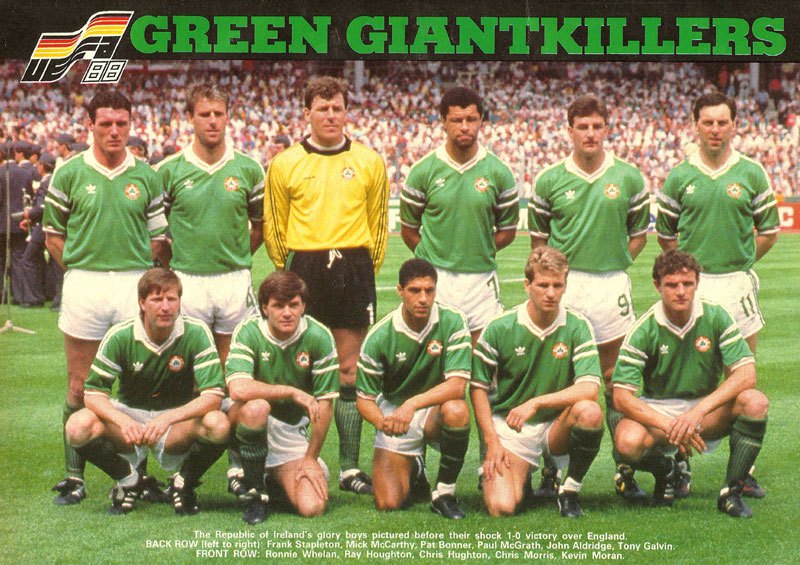 Then for the three Irish Celts, it would be time for a short family holiday then back to prepare for the defence of our Centenary Double in season 1988/89.
Hail Hail,
Matt Corr
Follow Matt on Twitter @Boola_vogue
Thanks and credit as always to the folk behind the wonderful Celtic Wiki, an invaluable resource for Celtic historians.