OVER the weekend we were entertained by Alex, a Rangers supporter who contacted The Celtic Star and got a few things off his chest after we carried a couple of articles contrasting the difference between the behaviour of the Celtic support in three European Finals in Lisbon, Milan and Seville and the Rangers support in Barcelona in 1972 and Manchester in 2008.
You can catch up with that article HERE and also on the follow-up yesterday when Celtic Supporters answered Alex in quite spectacular fashion. Both are well worth a read if you missed what was going on.
Priceless – A Must Read Rangers fan's Response to our Manchester Riot Reminder | The Celtic Star https://t.co/L41vkP5HQA

— The Celtic Star Editor – INVINCIBLE (@CelticStarMag) May 16, 2020
Unmissable! Celtic fans reply to Alex, the Rangers fan – 'the Donald Trump of Pigeons,' 'the pain is fantastic' | The Celtic Star https://t.co/8AhjW8UlMz

— The Celtic Star Editor – INVINCIBLE (@CelticStarMag) May 17, 2020
Anyway, I received another email this morning, this time from Celtic supporter Ross Mcallister who is going to have the last word on this. Enjoy!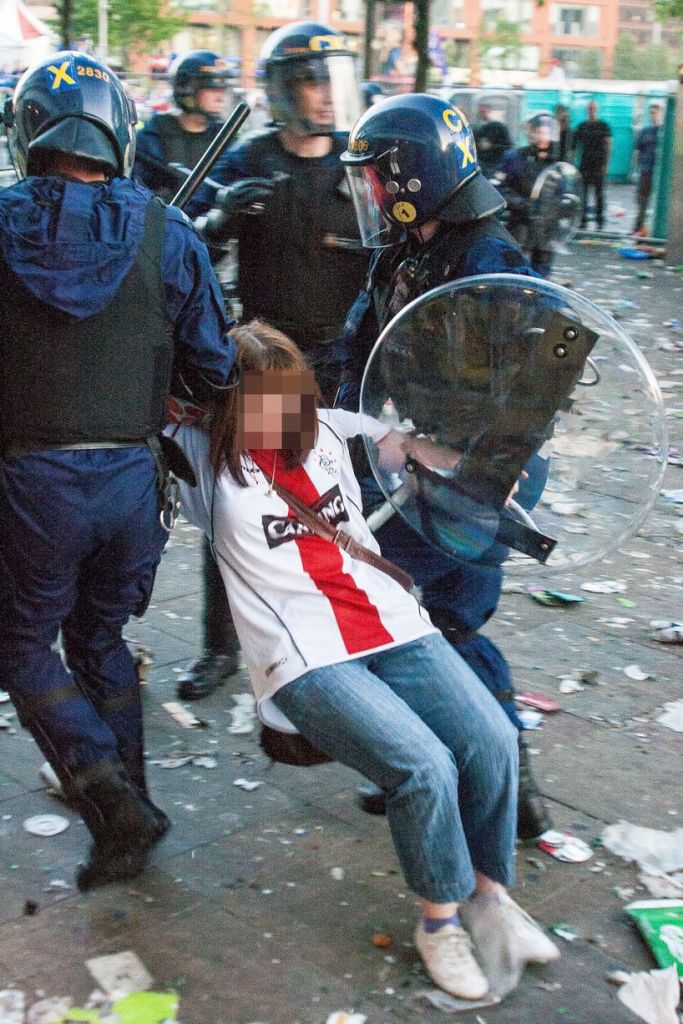 Really, is this guy for real?
Alex talks about us being disgruntled but I think he may be just a wee bit confused. Celtic have not only won the last nine titles, we have also won EVERY domestic trophy since this new club appeared in our league. Why would we be disgruntled? These people have given us the best comedy show since Monty Python and the holy grail. The banter years have been fantastic.
Its a well known fact in psychology that when people are not happy within themselves, they tend to look out and blame others instead of searching for their own answers inside. Maybe if they did that, they would start getting somewhere.
However, all they have to shout about now is the fact that someone who was in charge of a boys club many years ago abused children. Nobody in their right mind condones child abuse but when it is being used as a tool to protect one's ego from being deflated then there is something far wrong. Whether you are connected to Celtic or not people are horrified by the actions of these people but the culprits have been dealt with by the justice system in the same way the guy who was at Rangers has been dealt with. Its time to let it go Alex.
Also, while your letting go of your deep resentments, maybe accept your own misdemeanours and move on.
Manchester was a full scale riot, yes maybe the actions of a minority, given the number of people there but why keep blaming, the English, the Irish, the Russians, the police and the press. YOUR FANS CAUSED IT. Accept it, make amends and get to the root of the problem.
What is the root of the problem?….well here it is. Elitism! Your club, its followers, its links to protestantism, loyalist organisations, right wing politics, imperialism, the monarchy and all its beliefs that you are entitled to have some sort of power over the people beneath you has become your achilles heel. Equal rights have become a way of life today and that has played a significant part in the downfall of your club.
Its a well known fact that sporting integrity in Scotland was blighted for years by the refereeing hierarchy having strong links to the Masonic Lodge and the Orange order. If you dont believe me give this a watch.
The prehistoric bigoted antics of a majority in the journalism world have been replaced with an impartial and unbiased generation who try with all their might to write about the truth. Slowly but surely this type of bigoted behaviour is being eradicated ftom society and it has had a bearing on the demise of your stance as a football club. (Ok, so Donald Trump contradicts that last statement but he will fall as hard as the rest when the time is right).
The once GREAT Britain has become not so great, (thats a whole separate issue which could be discussed until the cows come home), the WE ARE THE PEOPLE slogan that your club has believed for all these years is now the laughing stock of world football and your continued failures both on and off the football field have now become a source of light hearted entertainment for not only us as Celtic fans, but in every nook and cranny of every country, in every continent of this god forsaken world.
Everybody is laughing at you Alex, you, your club, your PEOPLE and everything you stand for.
Here are one or two of your clubs actions ovef the past ten years that should give you a wee chuckle.
The Banter years 😂 😂 🍀 🇮🇪
* The Big Tax Case
* The Wee Tax Case
* Craig Whyte's wealth off the radar
* Craig Whyte buys the club for £1
* Arsenal Shares Sold
* 67 players to sue Rangers
* McCoist is Manager
* Jelavic "Titles In the Bag"
* 14/02/12 – Administration
* The Big Hoose Must Stay Open
* Fans in Tears
* Jelly and Ice Cream
* McCoist "We Don't Do Walking Away"
* £134 Million Debt
* Rangers Fans Say No to Liquidation
* 31/10/12 – Liquidation
* Walter Smith wishes new club well
* Mark Dingwall on STV News
* More Jelly and Ice Cream
* 267 creditors
* The Switcheroo
* Charles Green
* HMRC reject CVA
* Sevco
* Club and Company are separate
* Dallas Cowboys
* Martin Bain ringfenced money
* Charles Green's Christmas Message
* The Blue Knights
* Refused entry into SPL
* Refused entry into SFL1
* Starting in SFL3
* Buying History
* Debenture Seats Relinquished
* John Brown's speech
* Castles and Chateaux
* Googly Eyes
* Dave King to invest £50m
* Dave King to invest north of £30m
* Dave King to invest £20m
* Dave King to invest £8
* Dave King asks fans for money
* Need Extra Time to beat Brechin in the first round of the Ramsdens Cup
* Ball in the Glebe Park Hedge
* Drew 2-2 with Peterhead
* Lose 1-0 against Stirling Albion
* Require a 91st minute winner to beat 10 man Queens Park
* Boycott Tannadice
* Francisco Sandaza Prank Call
* Brand New Team Bus
* Charging fans 99p to watch a video of the new bus
* Bus destroyed by thugs in arson attack
* Nicky Law Claims Rangers can win the Quadruple
* Rangers stealing charity money
* Ian Black betting against his own team
* 3 failed attempts at the Petrofac Cup (or Ramsdens Cup)
* Mike Ashley bought naming rights to Ibrox for £1
* McCoist on gardening leave
* McDowall is caretaker manager
* Rangers AGM in a Gazebo
* Water Piped In from Local Church
* Dave King and the Three Bears
* Gangsters in Charge
* Fans trying to break into Ibrox in protest against Easdales
* Charles Green being interviewed in a hospital bed
* Out Scottish Cup, 2-1 Raith Rovers
* Stuart McCall is manager
* Same Old Alloa, Always Cheating
* Cammy Bell
* Get pumped 6-1 in the playoffs by Motherwell – Submarine Sunday
* Bilel Moshni 7 game ban
* Mark Warburton is manager
* Boyhood Rangers fan Scott Allan to Celtic
* Mike Ashley
* Mike Ashley owns the badge
* Scottish Cup Final – Hibs 3-2 Rangers
* Hampden Riots / Pitch Invasion
* Lee Wallace is a Grass
* The first of many Statements
* Warburton's Magic Hat
* The Gap is Closing
* Bread Wrappers for Hats
* There is No Gap
* Joey Barton
* The Rangers are Coming
* Going For 55
* Pumped 5-1 at Celtic Park
* Barton V Halliday
* Barton 3 week training ban
* Martyn Waghorn getting called Shite outside chippy by schoolboy
* Fans trying to get Joe Garner – Glad All Over chant to number 1 in Christmas chart. It got to 31
* Pumped 4-1 by Hearts
* Mark Warburtons Resigns, Except he hasn't, Except he has, Except he hasn't, Except he has
* Jim Traynor.
* More Statements
* Graeme Murty is caretaker manager
* Headstands
* Pedro Caxixinha is manager
* Here to take your title
* Pedro's Mini Leagues
* Salt & Pepper Tactics
* Pitch Invasion at Firhill
* Going for 55 ends with finishing in 3rd place
* The Invincible Treble
* Caixinha's Press Conferences
* Barking Dogs and Caravans
* Progres 2 – 0 Rangers
* Caixinha arguing with fans in a hedge
* Carlos Pena blows nose of Rangers shorts while signing for new club
* Banning Green Boots
* Statement release regarding Neil Lennon's 'Get It Up Ye' gesture at Ibrox
* Craig Whyte Walks Free
* Caixinha sacked
* Murty as caretaker manager again
* Derek McInnes is Coming Home
* McInnes stays at Aberdeen
* Rangers Fans didn't want McInnes anyway
* Union Bears moving for Home Games
* Miller's re-used shirt
* Another Statement
* Concomitant
* The People's Front of Judea, Meetings about Meetings
* Receive Bid for Morelos from China
* Whits the goalie daein Tam, whits the keeper daein!
* Simunovic sending Kenny Miller into Orbit
* Get beat by 10 man Celtic 3-2 at Ibrox
* Cheering the Scottish cup draw against Celtic
* Battle Fever is On
* Getting Pumped 4-0 by Celtic
* Lustig sending Pedro Caixinha Flying
* Halliday meltdown
* Candeias meltdown
* Captain Lee Wallace suspended
* Kenny Miller suspended
* Fans claim "We Deserve Better"
* Fans padlocked the Gate of the Training Ground
* Dave King says he's skint
* Hummel
* Hibs cut allocation at Easter Road resulting in another statement
* Getting pumped 5-0 at Celtic Park
* Morelos sent sent off
* Andy Halliday, Halliday, Andy Halliday!!
* Another Halliday meltdown
* Scott Brown living tent free
* Union Bears storm player of the year awards
* Steven Gerrard as manager
* Draw 5-5 with Hibs
* Neil Lennon pretends to be an Aeroplane
* Let's Go
* EasyJet Flights, A4 Tickets, Economy Class
* Patio Furniture at Training Camp
* Golf Buggies instead of a Coach
* Wheelie Bins
* Orange Strip
* The Takeover Panel ruling
* Dave King facing jail for contempt court
* Sports Direct Tanks on the Lawn
* Socks on the wrong feet
* Training Tops and No Pennant
* Mike Ashley's £500,000 legal fees
* A Class Above Rangers draw 1-1 with Aberdeen
* Paddy Power paying out Celtic winning the league after one game
* The Airport Loyal
* The Fanzone
* Stadium Tifo Leaked to St Mirren fans – "Our Club, Our City"
* "Your Club Is Dead. Your City Is Shite"
* Miller & Wallace suing for 100k
* Nacho Novo saying "It's Not Fair"
* The Double Treble
* George Peat
* Shin Pads, 1 pair between 2
* Stripe Gate
* Peaky Blinders are Tims
* Staunch News
* Rangers Shareholders and Organised Crime
* Top after 14 games Trophy
* Beat by Aberdeen 1-0 in League Cup Semi Final
* The best day of Andy Hallidays life
* Dallas awarding 4 penalties
* Going All In
* Defoe signs "Let's bring the Trophy home boss"
* Rangers sign Jordan Jones from Kilmarnock
* Jordan Jones scores the winner, Kilmarnock 2-1 Rangers
* The Vanguard Bears BBC protest with 18 people
* Andy Halliday going mental at Celtic Park
* Morelos 3 game ban
* Made Up SFA charges
* Alex Rae cheerleader
* Joe Worrall
* Rangers to become the dominate force once again
* Reject bid for Morelos
* Trophy Room at Ibrox renamed the museum
* The Treble Treble
* Smiles are better than trophies
* Fans celebrate Neil Lennon being offered the Celtic managers job
* Warburton says next season because it's his turn to say it
* Rangers being sued for pulling out of Ibrox Disaster Tribute Garden
* HMRC might have messed up the tax bill
* HMRC confirm tax bill was correct
* Fans funding for Ryan Kent makes £45 in 2 months
* Pop Up Shop at the Louden Tavern
* Ryan Kent for £7m
* Charging fans to watch Ryan Kent first interview
* Battered Celtic in the League Cup Final only to lose 1-0
* Morelos misses a penalty
* Ryan Jack cries
* Winning the "We beat Celtic at Celtic Park" Trophy
* We're back and we're coming for ye
* Alfredo 'Never Scored Against Celtic' Morelos sent off, Cut Throat Gesture
* Another Statement
* Demanding VAR
* Dubai
* Beat by bottom of the league Hearts 2-1
* Celtic were waiting for us to blink. Today we blinked – Big Time
* Man tampers with Morelos car
* Private Investigator confirmed tamper with Morelos car amid cheating claims from wife
* Dave King Held at gunpoint in South Africa
* Dave King's South African House Raided
* Beat by Kilmarnock 2-1
* Jim Traynor struck with Rock in Cumbernauld
* Draw 2-2 with St Johnstone
* Pleased to enter the market for a kit supplier
* Knocked Out Scottish Cup by bottom of the league Hearts
* Gerrard All In
* 8th minute applause #InGerrardWeTrust
* Beat by bottom of the league Hamilton
* 94th minute Boos #GerrardOut
* Celtic have blinked with one eye, but we've blinked with two
# Fake Invoice
I hope this gives you the same enjoyment its given me and thousands of others, so from one "Disgruntled" scottish football fan to another. I'll leave you with a little bit of friendly advice…………
Buy a dictionary and look up the word HUMILITY!!
God Bless you my friend.
Ross Mcallister
A Celtic man who knows his place!!
MATT CORR'S debut Celtic book, Invincible is out now. All copies pre-ordered or bought over the weekend since publication day on Friday, have now been posted and are on their way to Celtic households all over the world. You can order your signed copy of Invincible, which will come with a complimentary copy of That Season in Paradise, covering the Lisbon season, by visiting thecelticstarbookstore.co.uk – it's a beautiful hardback book, the paper is whiter than Brendan's teeth and these two books will make an outstanding Father's Day gift.
There was one 9-in-a-row achieved yesterday. That was the hours involved in signing copies of INVINCIBLE🍀🍀🍀 following their arrival from the printer. Bit calmer today as I catch up on the latest orders. Huge thanks to everyone who has supported us. Staggered by the response. pic.twitter.com/AV7XDG6tN8

— Matt Corr (@Boola_vogue) May 16, 2020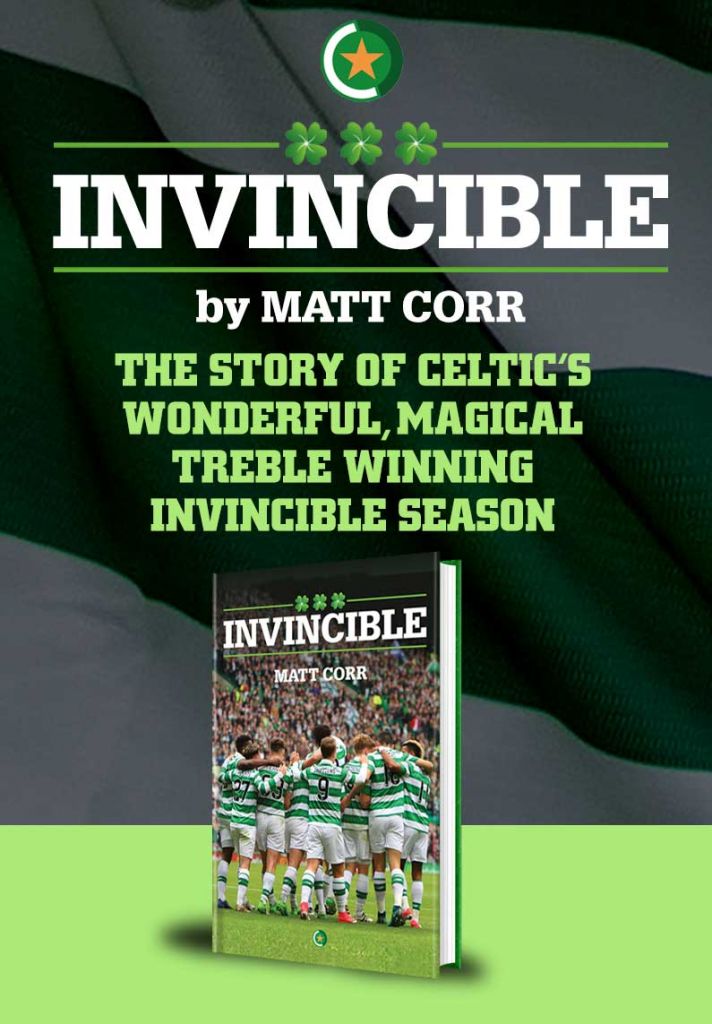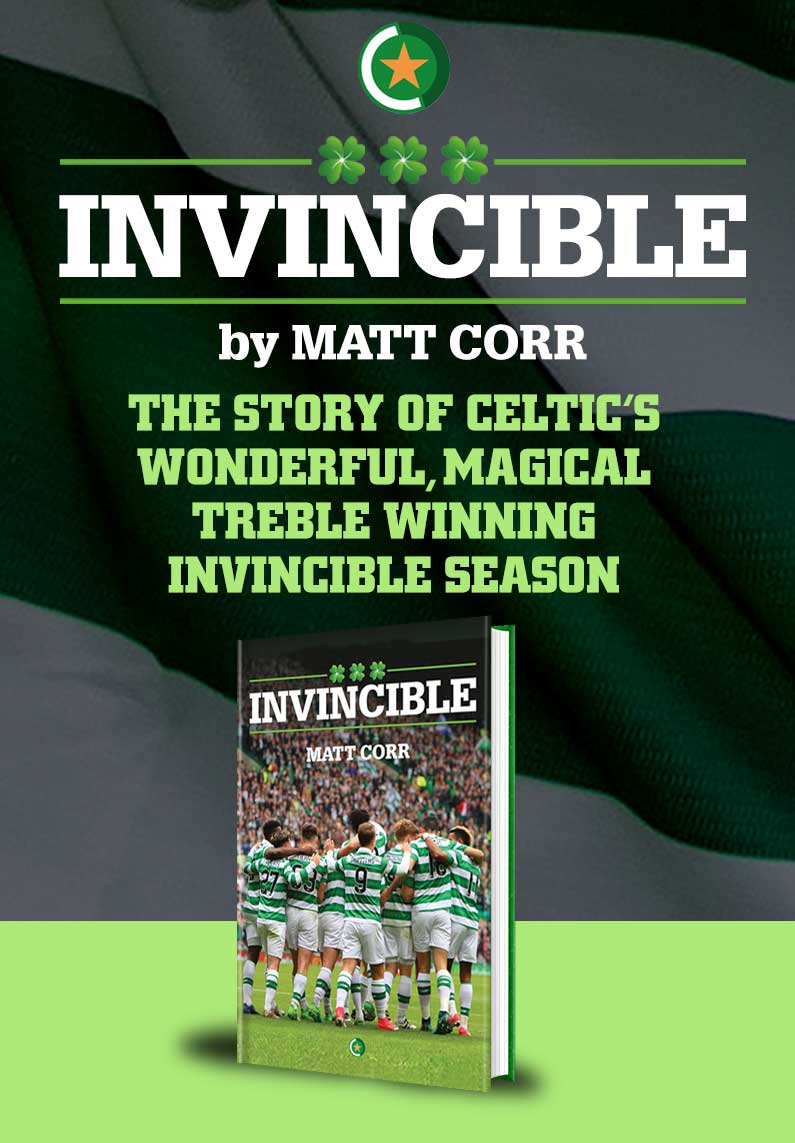 MATT CORR'S INVINCIBLE was published on Friday by The Celtic Star, hundreds of copies have already been sold and Matt signed them all yesterday and these were all  posted on Saturday morning along with a complimentary copy of That Season in Paradise, covering the 1966-67 season. You can order your signed copy of Invincible and receive the complimentary Celtic book from thecelticstarbookstore.co.uk and we'll post it to you on Monday morning. Guaranteed.