GARY GILLESPIE didn't do much when he came to Celtic but was an integral part of the Liverpool side in the late 1980s as the Reds dominated English and European football. The defender was signed for £925,000 in 1991 and spent three years at the club before heading back down south.
The Stirling-born defender was speaking to Sportsound when he took a pop at his rivals in Glasgow as well as in Merseyside. The hilarious putdown suggested that Everton and Rangers supporters were bitter of their rivals success.
"I have a radio programme down here with Ian Snodden, he is an Evertonian, one of these bitter Blues.
"It's the same in every city, you get bitter Blues in every big city."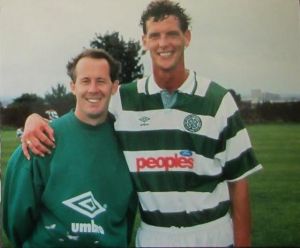 Despite Rangers dominating at the time Gillespie played in Glasgow, Celtic have become the dominant club, winning 11 trophies in a row and equalling Jock Stein's record of 9IAR from 1974. Gillespie grew up a Celtic supporter and despite playing at an unsuccessful period in the club's history, he doesn't regret joining and admitted his shortcomings during his time.
"It was probably the wrong time to be there, but I don't regret joining. It was a privilege and an honour to play for two clubs such as Celtic and Liverpool.
"I was swayed a little by the fact I was a Celtic supporter growing up in the 1960s with the Lisbon Lions, Bobby Lennox, Tommy Gemmell, Willie Wallace. Just having the chance to go to Parkhead was such a big thing for me.
"When I got to the club in 1991, though, I could already see how depressed things were and how far the club was behind Rangers. It was only when you got there that you started to understand it.
"Look, I know myself that I didn't play my part thanks to being in and out through injury and I accept my performance level was not what it should have been.
"I can hardly sit here and pontificate about the failings of others, but Celtic are a great club and I am just pleased they got themselves back on the right track."
Celtic won the Scottish Cup in 1995 under Tommy Burns and by 1998, they had toppled Rangers' bid for 10IAR. The millennium in turn saw a change in the struggle for dominance in Glasgow, Celtic have won 15 league titles out of a possible 20.