SOMETIMES the truth hurts and this weekend three former Celtic heroes each looked at the Rangers position as they desperately attempt to prevent Celtic reaching Nine in a Row and each one came to a very similar conclusion.
It started yesterday morning when Chris Sutton in his newspaper column burst the Ibrox supporters' bubble surrounding the transfer deadline day signing of the Liverpool reserve winger Ryan Kent, apparently on a £7million deal.
Sutton's devoting piece in yesterday's Daily Record started by looking at the record of Celtic winger Scott Sinclair before comparing that to Ryan Kent's and it made for grim reading for the Ibrox hordes.
Sutton concluded that the £7million spend on Kent was simply down to panic after the 2-0 home defeat to Neil Lennon's men at Ibrox last Beautiful Sunday very much put Celtic in the driving seat even this early in the season.
Other than in matches against Celtic, last season Ryan Kent, Sutton noted, played in 9 of the 13 matches that the Rangers dropped points in. He played in both cup matches against Aberdeen that put them out of both the League Cup and the Scottish Cup and his goalscoring record was nowhere near as good as Sinclair's, James Forrest's or even Mickey Johnston's.
Sutton's conclusion on the decision to pay the money for Kent was simply a reaction to the defeat to Celtic. "The situation changed dramatically in the wake of the loss to Celtic last Sunday and it was a big outlay designed to appease fans who had just had their hope ripped away."
Next another former Celtic hero, Kenny Dalglish had his say in his Sunday Post column. The former Liverpool manager told the paper's readers at the end of July that he'd be able to tell them today who he thinks will win the Scottish Premiership this season, ie in his first column after the first Glasgow Derby of the season.
And having watched events at Ibrox last Beautiful Sunday, Dalglish has bad news for another Liverpool legend Steven Gerrard. King Kenny reckons that Gerrard's side need to beat Celtic twice this season – that means winning at Celtic Park – if he has any chance of wrestling the league flag for Neil Lennon. And Dalglish just doesn't see that happening, in fact he thinks that Neil Lennon's side could go through the campaign as Invincibles.
Dalglish can't see any side in the Scottish Premiership – including the Rangers – that are good enough to defeat Celtic who he names as the side he reckons will win the league.
"Neil Lennon's team really impressed me during the 90 minutes at Ibrox," Dalglish stated.
"They played with a really high tempo and closed out the play. They then capitalised when Gers gifted them possession for the opening goal, and hit them on the break to set up Jonny Hayes' clincher.
"On that display, I can see them drawing no more than a couple of games here and there this season.
"Of course, they are not unbeatable and if they have an off day then some sides will be capable of taking advantage – providing that particular team is at the top of their game.
Dalglish reckons that Gerrard's men "face one helluva challenge to get ahead of the Parkhead club," and he goes on to give the Sunday Post readers his prediction.
"It shows the ability in Neil's squad, and their strength of character, in the way they played at Ibrox with less than 1,000 of their own supporters inside the stadium.
"They still won comfortably, and deserve enormous credit for that.
"Since the new O** F*** ticketing allocation came in at the start of last season, that's the first time the away team has won. It should be beneficial for the home team to have almost 50,000 of their own fans. But it can also put them under greater pressure, especially when there is discontent and they go a goal down.
"However, the rules are now there to accommodate all season-ticket holders, and I can't see it going back to the away team being given 7-8,000 tickets any time soon.
"But the 2-0 result shows why Celtic are the Champions, and that's why I think they will go on to do nine-in-a-row."
And the third former Celtic Star (and although he isn't greatly appreciated as a pundit he was a superb player for Celtic and starred in the 4-2 game) who this weekend spelt out the grim reality for Steve Gerrard, is Davie Provan in his column in Scottish Sun.
Provan believes that the Beautiful Sunday defeat to Celtic leaves Steven Gerrard just one more leg defeat away from a crisis. Before explaining himself Provan had to accept that he's got things badly wrong in predicting what would happen at Ibrox last weekend.
"Hands up, I didn't see Celtic winning the derby without breaking sweat. Fair play to Neil Lennon, who outfoxed Steven Gerrard," Provan stated. he went on to describe the Rangers performance as being "pathetic" and "among the worst in the recent history of this picture."
Given that that includes a 5-0, two 5-1s and a 4-0 defeat that is some analysis on just how rotten Gerrard's mob were last Beautiful Sunday!
"Gerrard had two centre-backs who couldn't make a forward pass, a clueless midfield and a striker playing in a different postcode to his team-mates.
Carrying the weight of expectation for the first time, Gers crumbled. Early days, but the defeat leaves Gerrard one league loss from a crisis," Provan predicted.
All in on it's grim reading for Steven Gerrard as these three former Celtic Stars all seem to be rubbing it in.
ALSO ON THE CELTIC STAR THIS EVENING…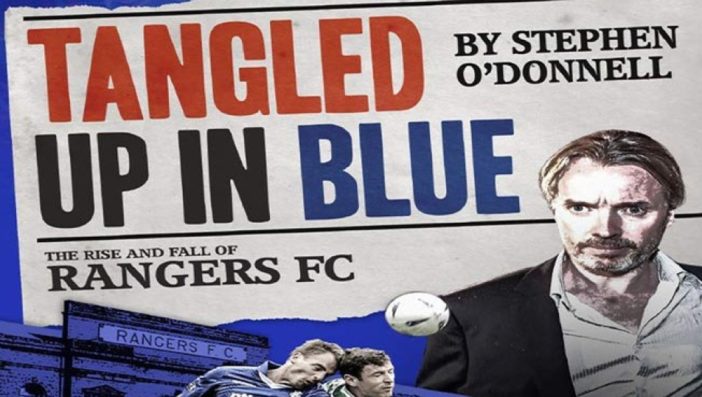 'How the Full Extent of Rangers' Debt Finally Became Public,' Stephen O'Donnell (Tangled Up in Blue)…
IN April 2010, it finally emerged that Rangers were facing a colossal tax bill from HMRC over the club's use of the controversial EBT and DOS tax avoidance schemes. The revenue and customs service were demanding an astonishing total of roughly £50m from the Ibrox club, broken down as £24m in unpaid taxes, known as the 'core amount', plus £12m in backdated interest, as well as non-payment fines, which were a negotiable sum but precedent suggested that penalties of 50% – 75% of the underpayment would also be applied.
Rangers were disputing the assessment and the case was set to go to court, to the first tier tax tribunal in Edinburgh, starting in October 2010, but coming on top of all the other financial woes at Ibrox, including the £30m still owed to Lloyds Bank, this new liability was potentially a killer blow to the club.
Things had started to unravel for Rangers behind the scenes when, in July 2007, the City of London police, who operate in the UK capital's 'square mile' financial district, raided Ibrox in connection with the former Metropolitan Police Commissioner Lord John Stevens' inquiry into under the table transfer 'bungs' in football… CONTINUE READING HERE.
'Can I hire you to video my son's party?' Jonny Hayes' homer offer to Scotty Sinclair…see HERE.
This video Scott Sinclair posted on insta is kinda sad, but goes to show how much of a professional he is still putting the hard work in. Has played a big part in the last few seasons.

16/17 – 25 goals, 11 assists.
17/18 – 18 goals, 17 assists.
18/19 – 17 goals, 6 assists. pic.twitter.com/KQrw6RSclk

— Connor ???????? (@hctelfih) September 8, 2019
SFA – 'Shamateur Stumbling and Bumbling', 'Somnolents', 'Discombobulation of the Cognitive Dissonance …see HERE.